40 Hours
Online Instructor-led Training
USD 1399 (USD 2800)
Save 50% Offer ends on 31-Dec-2023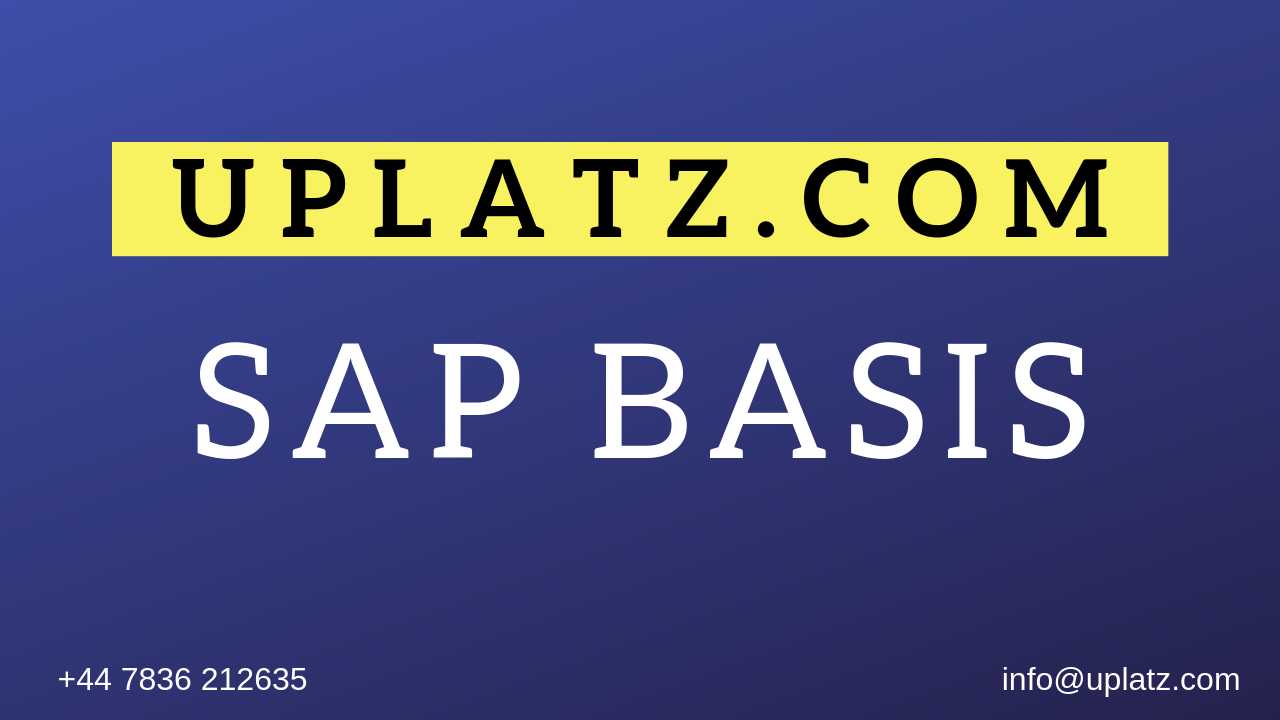 About this Course
SAP Basis refers to the administration of SAP system that includes activities like installation and configuration, load balancing, and performance of SAP applications running on Java stack and SAP ABAP. It includes the maintenance of different services related to database, operating system, application and web servers in SAP system landscape and stopping and starting the system. This SAP Basis training will walk you through the different features of SAP Basis.
SAP BASIS is an exclusive layer in SAP architecture. This BASIS component works as the bridge amid the computing infrastructure, which are like operating system, the database, the network architecture and other SAP modules example FICO, MM, SD, PP, PS, QM etc. We at Uplatz incorporate the complete administration of different SAP products; for example like ECC, CRM, SRM, SCM, BI.PI, EP are some of the modules that are coordinated by this SAP BASIS Training module.
------------------------------------------------------------------------------------------------------
SAP BASIS Training
Course Details & Curriculum
Lesson 00 - INTRODUCTION TO ERP
Introduction to SAP R/3
Lesson 01 - SAP R/3 ARCHITECTURE
- Central System
- Distributed Presentation
- 2-Tier Configuration
- 3-Tier Configuration
Lesson 02 - SYSTEM LANDSCAPE AND FLOW
- Single System Landscape
- Two System Landscape
- Three System Landscape
- Multi System Landscape
Lesson 03 - INSTALLATION OF SAP
- Installation Concepts on Windows & UNIX and Quick Sizing
- Naming Convention, Software Kit, SAP Licensing
- Installation Procedure – Windows Application Server for UNIX SAP System
- R/3 Directory Structure, Kernel
Lesson 04 - GUI ADMINISTRATOR
- Optimization
- Security
Lesson 05 - OPERATION MODES
- Manual Switching of OP Modes
- Exceptional Mode
- Monitoring
Lesson 06 - PROFILE MAINTENANCE & PARAMETER SETTING
- System Profile
- Transport Profile
- Client Profile
- Authorization Profile
Lesson 07 - USER ADMINISTRATION
- Creating and Maintaining Master Records, Architecture
- Logon and Password Security, Protecting Special Users
- Creating and Maintaining Single and Mass Users and User Groups
- Copying, Deleting, Locking/Unlocking Users
- Explanation of Terms Object Class, Authorization Object, Authorization, Profile
- Create/Maintaining Authorization/Profile Manually
- Create/Maintaining Roles/Generating Profiles by using PFCG
Lesson 08 - CLIENT ADMINISTRATION
- Client Maintenance
- Copying Client within R/3 System (Local)
- Copying client between R/3 Systems (Remote)
- Export/Import
- Protecting Client
- Monitoring and Verifying a Client Copy
- Deleting Client
- Tips and Troubleshooting
Lesson 09 - GENERAL ADMINSTRATION
Lesson 10 - TRANSPORT MANAGEMENT SYSTEM
- TMS Terminology and Concepts
- Configuring TMS and Checking Transport Directory
- Configuring Transport Domain, Domain Controller and Group
- Configuring Virtual SAP System and Displaying Configuration
- Including SAP systems in the Transport Domain
- Creating Consolidation and Delivery Routes
- Maintaining SAP Systems without Common Transport Directory
- Configuring External Systems
- Locking and Unlocking TMS for a SAP System
- Deleting SAP System from the Transport Domain
- Deleting TMS Configuration
Lesson 11 - CHANGE AND TRANSPORT SYSTEM
- Releasing and Transporting Change Request and Tasks
- Customizing, Workbench, Transport Organizer
- Importing Change Requests
Lesson 12 - SPOOL ADMINISTRATION
- Print related Terminology in OS/SAP Level
- Setting Local, Remote and Front-End Printing
- Logical and Real Spool Server
- Managing Spool Requests using Output Controller
- Connecting Output Devices to Window System
- SAPLPD, TemSE, Authorization
Lesson 13 - PATCH AND KERNEL ADMINISTRATION
- Checking the Patch, Spam, Kernel Levels
- Downloading Installing Patches, Kernel
- Applying at OS Level, SAPNET, Front-End
- Troubleshooting Various Issues
Lesson 14 – CCMS
- Introduction to CCMS
- CCMS Monitors
- Alert Monitors
- Analyzing Alerts and Performance Tuning
Lesson 15 - BACKGROUND PROCESSING
- Background Dialogs Concept
- Defining Jobs
- Analyzing Jobs
- Maintenance Jobs
Lesson 16 - DISTRIBUTED R/3 SYSTEM
- Creating Regular Instance
- Creating Logon Groups for Load Balancing
Lesson 17 - OSS AND SNOTE CONCEPTS
- How to Use for Different Purposes
- Manually Applying OSS note on SAP Standard Program
Lesson 18 - SAP ROUTER
- Installation of SAP Router
- Creating Route Permission Table
- Setting Route String Entry for SAP Router
- Using Various Administrative Options
Lesson 19 - DATABASE MANAGEMENT
- Introduction to Oracle
- Oracle Architecture
- Introduction to SAPDBA
- Creating Tables and Table Space Adjustment
- Database Backup, Restore and Recovery
Lesson 20 - PERFORMANCE TUNING
- OS, H/W Performance Considerations
- Memory, Management
- R/3 Buffers, Page Buffers, Extended and Heap Memory, PRIV Mode
Lesson 21 - SYSTEM MONITORING
- Daily, Weekly, Monthly Tasks
Lesson 22 - SAP IMPLEMENTATION STRATEGY
Lesson 23 - CONNECTIVITY BETWEEN R/3 AND BW
- BW Architecture
- Defining and Assigning Logical Systems
- Workbench Administration

----------------------------------------------------------------------------------

Job Prospects
The average salary ranges from approx. £51,845 per year for SAP Basis Consultant to £105,982 per year for SAP Basis Lead/Manager.
There are currently 12,000+ open SAP Basis jobs in UK ranging from Basis end-users to consultants to managers.
For more details, please visit Uplatz Resourcing

------------------------------------------------------------------------------------------------------

FAQ
Will this course help me clear the certification exam?
+
Which is better - Self-paced training or Instructor-led training?
+
What if I miss a class?
+
How will I execute the practical?
+
Is the course material accessible after completion of the course?
+
Is there any offer/discount that I can avail?
+
Will I get a refund if I cancel my enrollment?
+
What if I have queries after completion of the course?
+