30 Hours
Online Instructor-led Training
USD 1399 (USD 2800)
Save 50% Offer ends on 31-Dec-2023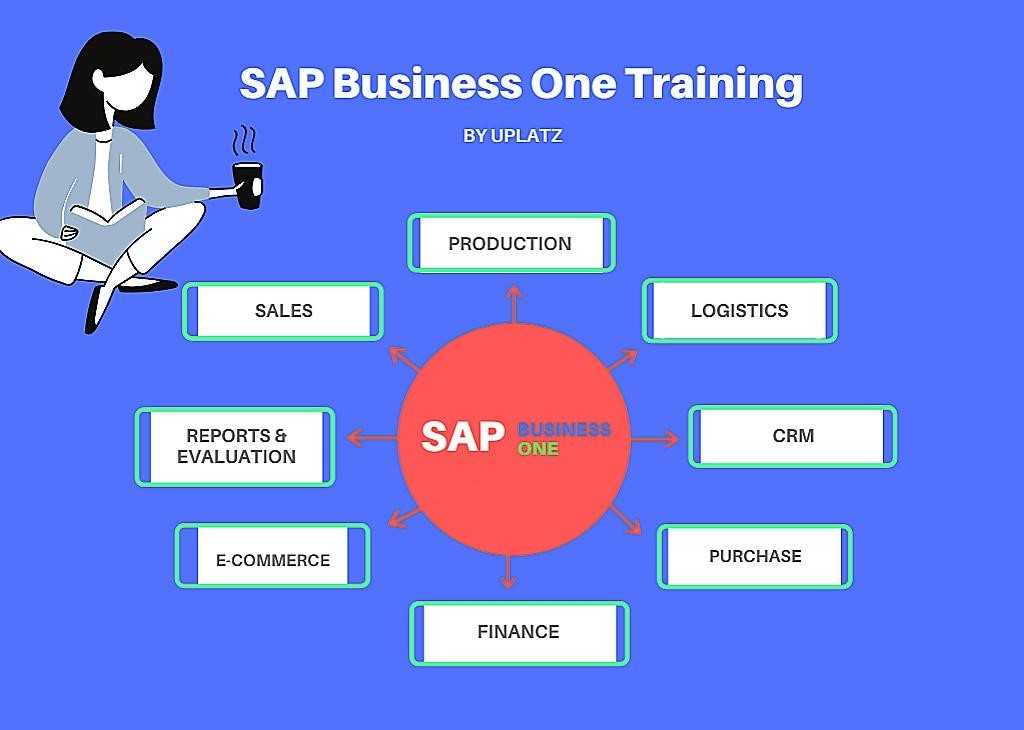 About this Course
SAP Business One is a world-class, accessible and easy-to-use business management software (ERP) solution designed specifically for small and medium-sized businesses.
Unique and integrated, it provides complete visibility of your entire business and full control over any aspect related to your operations. It collects the most important business information and allows the entire company to access and use it. Unlike accounting packages and spreadsheets, this solution makes the task easy for you to manage your key business areas.
Every company is different, and that's why SAP Business One is designed to be flexible. Whether through a local or cloud deployment, you can access SAP Business One at any time, from anywhere and on mobile. SAP Business One works on both SAP HANA and Microsoft SQL server platforms, you can choose which one best suits your business.
SAP Business One centralizes and integrates all your business data from sales, inventory, purchases, operations and finances in a single system. It also optimizes operations from start to finish, so you can focus on making your business more profitable with simple integration with other systems and faster and easier learning experience for users.
It is an accessible and integrated business administration platform, specifically created for small and medium-sized companies. SAP Business One provides an applicant with a single software system that automates business processes and provides a real and unified overview of critical business information, updated minute by minute, linked to customer relationship management (CRM), sales, logistics, production and accounting.

SAP Business One software is created specifically for small and midsized businesses. It's a single, powerful application that can help you better manage practically every aspect of your daily operations. It's affordable, easy to use, and quick to implement.
SAP Business One is another ERP package from SAP that is specifically designed for the Small and Medium Size Enterprise (SME). It is an affordable and easy-to-use business management software. It enables enterprises to manage their critical business functions across sales, distribution, and financials, all in a single integrated system. SAP Business One is highly gaining ground as of today, because of the power of its integration capability.
Majority of SME nowadays are fast migrating/implementing SAP Business One. One of its greatest advantage is its ability to be integrated with the more powerful SAP S/4HANA which are mostly used by the big enterprise.


SAP Business One is an affordable solution for small to mid-size businesses who want to have better visibility of all departments as it covers all core functions from finance, operation, customer relationship management, warehouse, inventory, etc. SAP Business One has the flexibility to meet the business requirements irrespective of the industry in which company services. It is easy to use and inexpensive.
SAP Business One has several benefits as it is a one-stop solution, grows together with the business, provides increased revenue and instant insights, improves business efficiency, business control, implementation process and provides full support at each step. There is a long list of small and mid-size companies using SAP Business One. Some of them are LUMENIX, MARKLYN, Prestige group, medix and much more.
This SAP Business One course by Uplatz provides comprehensive knowledge on the end to end process involved in SAP Business One. This training will help you to have better visibility of all departments in small and mid-sized businesses in great detail.
This is in-depth training by Uplatz on SAP Business One module. The version used for training will be SAP Business One version for SAP HANA 9.2

--------------------------------------------------------------------------------------------------------


Functionalities of SAP Business One:
1) Financial management
SAP Business One allows you to manage all accounting processes from other areas, as well as the management of collections and payments and the control of multiple dimensions of costs.
2) Sales
SAP Business One allows to manage the entire commercial process, from the offer to the collection of the invoices issued with complete traceability.
3) Warehouse and Production
Inventory management in various warehouses, monitoring of stock movements and management of production orders for needs planning.
4) Reporting Management
SAP Business One has multiple reports, as well as different tools that allow the user to generate their own reports including the tool.

5) Customer Relations
To increase customer profitability and satisfaction with effective sales, opportunity management and monitoring of commercial activity.
6) Purchases
It allows you to manage the entire supply process, from the order request to the payment of the supplier's invoice with complete traceability.
7) Internationalization
It facilitates entry to international markets with control of import and export processes with multi-currency and multi-language management.
8) Mobility
SAP Business One also incorporates an App for IOS or Android that allows access from a device, anytime, anywhere.

--------------------------------------------------------------------------------------------------------

Target Audience

Consultants and partner support employees responsible for the implementation and ongoing support of business processes with SAP Business One at customer sites
Consultants responsible for SAP Business One user training at customer sites
All graduates
Any candidate that is familiar with other ERP Application softwares
Sales and presales employees of SAP Business One partners
Customer project teams and superusers who want more detailed information on accounting processes in SAP Business One
--------------------------------------------------------------------------------------------------------

SAP Business One Training
Course Details & Curriculum
Unit 1: Overview
Introduction to SAP Business One

Master Data and Documents
Unit 2: Purchasing A/P
Procurement Process

Purchasing Items

Purchasing Requisitions and Purchase quotations

Issues with Goods receipts POs

Goods returns and A/P Credit Memos
Unit 3: Sales A/R
Overview of the Sales process

Sales Order to Cash

Customers

CRM

Automating Sales Processes

Returns and Exchanges

A/R Credit Memos
Unit 4: Items
Item Master records

Item groups

Units of Measure

Valuation Methods
Unit 5: Inventory
Warehouses

Goods Movements

Serial Numbers and Batches

Physical inventory
Unit 6: Pricing
Master Records in Bank Accounting
Pricing Concepts
Price lists
Period and volume discounts
Special prices for Business partners
Unit 7: Accounting for Sales and Purchasing
Finance basics

Financial Settings

Automatic journal Entry value
Unit 8: Banking Process
Incoming and Outgoing payments

Payment Means

Payment process in SAP Business One

Payment Wizard
Unit 9: Financial Process
Manage the Chart of Accounts

Chart of Accounts Structure in Association with Financial reports

Post journal entries file

Journal entry form

Posting tools
Unit 10: Posting Periods Process
Process Overview

Define period and post transactions

Internal reconciliation process- Monitor and perform internal reconciliation

System reconciliation

Full and Partial reconciliation

User reconciliation

Period -End closing operations
Unit 11: Controlling Reports
Financial Reports

Cash Management Reports
Unit 12: Additional Financial Topics
Currencies at the company level

Posting Exchange Rates Differences

Fixed Assets

Terminology

Solution Overview

Review of the life cycle of a fixed asset master record
Unit 13: Implementation Tools
Implementation Methodology

Express Configuration Wizard

Quick Copy

Solution Packager
Unit 14: Project Realization
Software and Licensing

Security

User Accounts

Document numbering and Printing
Unit 15: Customization Tools
Queries

User- Defined Values

User- Defined Fields and Tables

Alerts

Approval Procedures
Unit 16: Data Migration Tools
Import from Excel
Data Transfer Workbench
Opening Balances
Unit 17: Support Processes
Support Tools

Support Messages

Remote Platform Support (RSP)
Unit 18: Case Study
Job Prospects
This on-demand prospect allows an applicant to work in any type of industry or enterprises and help with the management practices to determine the process and apply SAP system programs. An SAP Business One analyst is capable of analysing system requirements, and also design and implement SAP programs by determining the companies needs. It is a wide field that relatively specialises in information technology (IT) jobs. Thus the job prospects for SAP Business One consultants are very bright.


The SAP Business One Consultant draws an average salary of $88,000 per year depending on the knowledge and hands-on experience. The SAP Business One Consultant job roles are in high demand and make a rewarding career.
The SAP Business One Consultants are recognized across the globe. The increased usage of the Business ERP software in many companies help the participants to find a job opportunity easily. The leading companies hire SAP Business One Consultant considering the efficiency to meet the business requirements for the enhancement of quality and satisfaction.
The learners earn most beneficial SAP Business One certification through our expert training and course curriculum. Being SAP Business One certified is definitely valuable credential and adds value to every organization.
The SAP Business One certification is targeted to those who are from business objects and business consulting background and excel in business management area.
The following are the job titles:
· SAP B1 Associate
· SAP B1 Consultant
· SAP B1 Developer
· SAP B1 Functional Consultant
· SAP Consultant
The SAP Business One certification program helps the participants to get placed in reputed MNCs and organizations.
---------------------------------------------------------------------------------------------------------------
FAQ
What is SAP Business One module?
+
What is the duration of the SAP Business One course?
+
How can I become SAP Business One certified?
+
Is SAP Business One exam difficult?
+