40 Hours
Online Instructor-led Training
USD 700 (USD 1120)
Save 38% Offer ends on 31-Dec-2019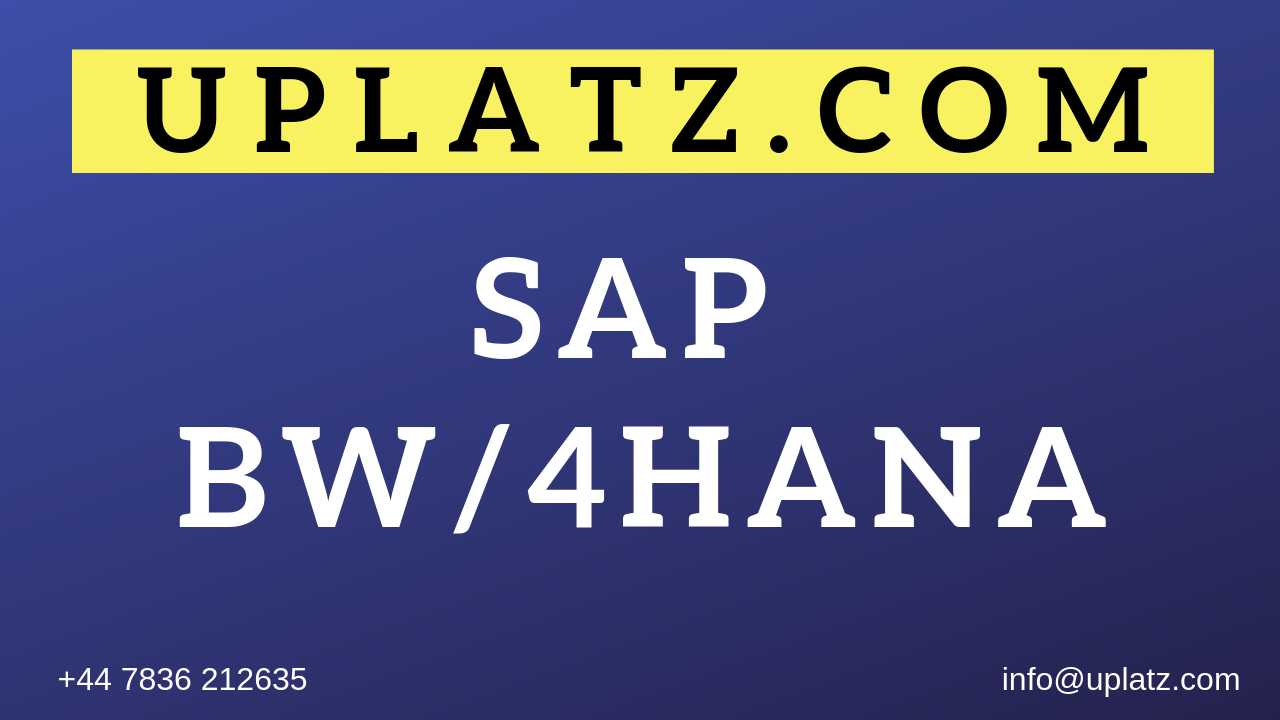 About this Course
SAP BW/4HANA is a modern amendment in SAP BW tool which is empowered with advanced features of in-memory HANA database technology that provide fastest warehouse data analysis reports in real time to improve the productivity and growth of any business. SAP BW/4HANA can be deployed either on premise or on cloud according to business need. Apart from high-performance it has many other best features like real-time data analysis, flexibility, data simplicity, and security etc.

SAP BW/4HANA is latest ERP application tool of business warehousing where SAP BW codes are optimized and rewritten to make it compatible on SAP HANA platform, It provides fastest data warehousing environment and real-time data analysis and reporting tools that help in better growth and development of any organization. SAP BW/4HANA application also provides flexible installation platforms as it can be easily installed on-premise or on cloud according to the choice of business owners.
Because SAP BW/4HANA comes with the modern concepts of operation, data management and data modelling, it helps the organization to run more efficiently. Advancement in the SAP BW ERP application tool has pushed many organizations to upgrade their old SAP warehousing application to modern high featured SAP BW/4HANA and because of that, the demand of SAP BW/4HANA consultants has increased.
SAP BW/4HANA learning can open new doors of career opportunities to freshers, professionals and other SAP consultants. Because of this reason, SAP BW/4HANA Training and certification becomes crucial.
By understanding SAP BW/4 HANA training needs, Uplatz started instructor-led online training program. Our course curriculum is hands-on practical and project-based and makes easy understanding of entire course syllabus. If you are heading towards SAP BW/4HANA online training and certification we are there to help you! Let's start now.

Target Audience
SAP BW/4HANA online training & certification program is beneficial for any interested Graduate/ Post Graduate Students /Professionals or Graduate with computer literacy and SQL Knowledge.

What certification Exam student can give after this course?
As you finish your SAP BW/4 HANA training module, students are advised to appear and qualify for SAP BW/4 HANA certification Exam to increase their market reputation. The Certified candidates have proved their knowledge and ability on BW/4HANA, therefore, get much better career opportunities.
Exam Code: C_BW4HANA_14
SAP BW/4HANA module has two levels of examination:

1. Associate (Fresher)
Exam Duration: 180 Minutes
Total Questions: 80
Types of Question: MCQs, multiple response matching questions and answers


2. Professional (Experienced)
Exam Duration: 180 Minutes
Total Questions: 80
Types of Questions: MCQs, multiple response, scenario based and matching questions and answers.

-----------------------------------------------------------------------------------------------------------
SAP BW/4HANA Training
Course Details & Curriculum
Getting started

SAP HANA
SAP BW/4HANA
SAP BW/4HANA Modeling Tools in Eclipse and SAP BW/4HANA Cockpit

Paths to SAP BW/4HANA

Overview with additional details for In-Place Conversion as well as Remote Conversion.

SAP HANA Modeling

SAP HANA native Modeling of Calculation Views

Modeling and Running the SAP BW/4HANA Data Warehouse

InfoObject Enhancements
Advanced DataStore-Objects
CompositeProviders
BAdI-Providers
HANA-optimized Transformations
Process Chain Enhancements
HANA-optimized Analytic Manager
HANA Analysis Processes
Changes regarding Authorizations
SAP BW/4HANA Statistical Analysis based on ABAP CDS Views
SAP BW/4HANA Tool Collection

Modeling with SAP´s Reference Architecture LSA++

Review of Layered Scalable Architecture (LSA)
From LSA to LSA++: Streamline Core Layers
LSA++: Open Operational Data Store Layer based on Open ODS Views
LSA++: BW/4HANA Workspaces

Hybrid Modeling in Mixed Scenarios

Generation of external HANA-Views for BW/4HANA Objects
Modeling Mixed Scenarios
SAP BW/4HANA Content Add-On
Use case for Mixed Scenarios: SAP Predictive Analytics (optional)

SAP BW/4HANA Data Lifecycle Management

Multi-Temperature Data Management
SAP BW/4HANA Data Tiering Optimization
Additional Tiering Concepts

Data Provisioning into SAP HANA and SAP BW/4HANA

Overview of Data Provisioning Methods into SAP HANA
SAP LT Replication into SAP HANA
SAP HANA Smart Data Access
SAP HANA Smart Data Integration incl. real-time Streaming
Operational Data Provisioning into SAP BW/4HANA based on SAP Extractors, ABAP CDS Views, HANA Information Views and BW InfoProviders
Integration of Big Data
-----------------------------------------------------------------------------------------------------------
Career Path
As you finish SAP BW/4HANA training and Certification, it will open many new job opportunities for you.


1.
SAP BW/4HANA Consultant

2.
SAP BW/4HANA User

3.
SAP BW project manager

4.
SAP BW Analyst

5.
SAP BW/4HANA Operation Manager



-----------------------------------------------------------------------------------------------------------



Job Prospects
The average salary ranges from approx. £57,304 per year for SAP BW/4HANA Consultant to £149,842 per year for SAP BW/4HANA Lead/Manager.
There are currently 14,000+ open SAP BW/4HANA jobs in UK ranging from BW/4HANA end-users to consultants to managers.
For more details, please visit Uplatz Resourcing

------------------------------------------------------------------------------------------------------

Certification
C_BW4HANA_14
FAQ
Will this course help me clear the certification exam?
+
What does BW stand for?
+
What is difference between SAP BW & SAP BW/4HANA training modules?
+
How much time it will take to complete SAP BW/4HANA online course?
+
Who can learn SAP BW/4HANA?
+
What technical knowledge is required to learn SAP BW/4HANA course?
+
Can I install SAP BW/4HANA Application on Cloud?
+
SAP HANA has been developed in which programming language?
+
What is the use of MID ID?
+
Is it possible to disable cache?
+
What is data integrity?
+
What are the types of table partitioning?
+
What is ODS and when it is used?
+
What is the requirement for creating an infocube?
+
Is NetWeaver still associated with SAP BW S/4HANA?
+
Which is better - Self-paced training or Instructor-led training?
+
What if I miss a class?
+
How will I execute the practical?
+
Is the course material accessible after completion of the course?
+
Is there any offer/discount that I can avail?
+
Will I get a refund if I cancel my enrollment?
+
What if I have queries after completion of the course?
+