30 Hours
Online Instructor-led Training
USD 700 (USD 1120)
Save 38% Offer ends on 31-Dec-2019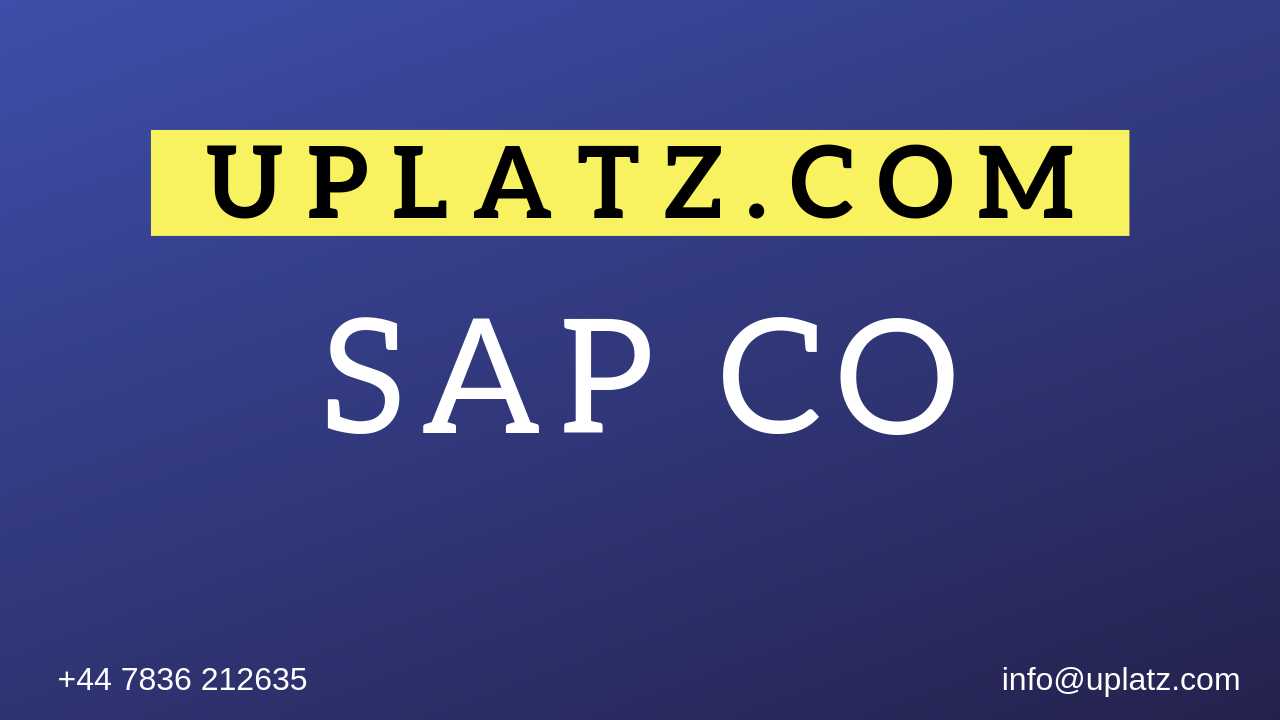 About this Course
SAP CO (SAP Controlling) is very important functional module of SAP ERP Application, which deals with the Cost controlling process of any organisation and helps in better decision making at the management level. As this SAP tool provides critical analytical data of cost/ money flow which is beneficial in the taking decision in right direction for the growth and development of any organisation therefore it is also called as Management Accounting.
The SAP Controlling (SAP CO) Module has the capability of meeting all the accounting and financial needs of an organization. It is within this module that Financial Managers as well as other Managers within your business can review the financial position of the company in real time as compared to legacy systems, which often times require overnight updates before financial statements can be generated and run for management review.
The real-time functionality of the SAP modules allows for better decision making and strategic planning. The CO (Control and Logistics) module integrates with other SAP Modules such as MM (Materials Management), PP (Production Planning), and SD (Sales and Distribution).
SAP CO is one of the most useful SAP ERP Application tool, that provide analytical data reports of Cost and money flow of any organisation. This data is helpful in the cost controlling process and taking better decisions to achieve maximum business growth.
SAP Controlling is also known as Management Accounting or Managerial Accounting because SAP CO ERP application tool accounting details to Managers for taking better decisions in Cost controlling process of their Organisation. Because of its huge industrial importance most of the finance, accounting professionals and students are motivated towards SAP CO Training and Certification.
Due to advancement in online training methods, most of the candidates are interested to go for Online SAP CO training instead of regular classroom course. As online training demand of SAP CO Course is increased, therefore we started delivering SAP CO online training, which is completely practical and project based.
Our aim is to provide high class SAP online training facilities to our participant and making them comfortable to learn entire SAP CO module from basic to advance level so that they would get confidence to qualify the global SAP PO Certification Exam. If you are looking for highly professional and supportive online SAP PO Training & Certification, you are at the right place.

We have a strong panel of SAP CO experts who are always motivated to work on the development and redesigning of SAP CO course syllabus that perfectly meets the modern industrial and SAP CO Certification exam needs. Our SAP CO online Course is best designed to fulfil the SAP CO training needs of every participant whether you are a beginner or a pro.

Target Audience

SAP CO online training & certification course is suitable for account and finance background students, working professionals, ABAP Developers, SAP Functional consultants or anyone who is interested to learn and build a career in SAP CO.


SAP CO Certification

We always motivate and help our students to appear and qualify the SAP CO Certification exam; because this exam gives an approval that you are having all the basic fundamental practical, theoretical and analytical knowledge in the field of SAP CO which help you to grab better job opportunities.

Exam Name: SAP Certified Application Associate - Management Accounting (CO) with SAP ERP 6.0 EhP6
Exam Code: C_TFIN22_66

Exam Name: SAP Certified Application Associate - Management Accounting with SAP ERP 6.0 EhP7
Exam Code: C_TFIN22_67


SAP CO Certification has two levels of examination:

1. Associate (Fresher)

Exam Duration: 180 Minutes
Total Questions: 80
Types of Questions: MCQs, multiple response matching questions and answers

2. Professional (Experienced)
Exam Duration: 180 Minutes
Total Questions: 80
Types of Questions: MCQs, multiple response, scenario-based and matching questions and answers

----------------------------------------------------------------------------------

SAP CO Training
Course Details & Curriculum
1. Introduction
SAP CO Basic Concepts
Setting up Controlling Area
2. Cost center Accounting
Cost center creation, change and Display
Creation of Activity types, Change display.
Distribution and Assessment
Activity dependent planning and Independent Planning
Statistical key figures
Creation of allocation structure
Cost center splitting
Plan and actual activity rate calculations
3. Profit center Accounting
Creation profit center hierarchy
Creation of Profit center
Profit center integration with other module
Profit center reporting
Profit center month end process
4. Cost Element Accounting
Define Primary and secondary cost elements
Automatic and Manual creation of Cost elements
Assigning cost elements to cost centers and profit centers
5. Internal order
Creation of order types
Creation of internal orders
Creation of settlement profile
Creation of budget profile
Creation of planning profile
Internal order settlement
6. Product costing
Cost component structure
Auxiliary cost component structure
Costing variant
Valuation variant
WIP settings
Settlement profile
Date control and transfer control
Costing sheet
Product cost by order process
Product cost by period process
Product cost by sales order process
Co product and By product
CO/PP Integration
CO/MM Integration
FI/CO Integration
Over view of PP Master data
Over view of Material master
7. Profitability analysis
Creation of operating concern
Characteristics and Value fields
Valuation strategy
FI/COPA Integration
CO/COPA integration
SD/COPA Integration
PA transfer structure
Creation of Forms
Creation of reports through report painter
COPA derivation
Product hierarchy
8. Material ledger and Costing
Material ledger and actual costing overview
Month end process
----------------------------------------------------------------------------------

Career Path
SAP CO training & Certification course is beneficial for getting better career growth as it opens many new job opportunities for you such as:


1.
SAP CO / FICO Consultant

2.
SAP CO Front-end User

3.
SAP CO Analyst / SAP Financial Analyst

4.
SAP CO Operations Executive



----------------------------------------------------------------------------------



Job Prospects
The average salary ranges from approx. £70,698 per year for SAP CO Consultant to £148,383 per year for SAP CO Lead/Manager.
There are currently 11,000+ open SAP CO jobs in UK ranging from CO end-users to consultants to managers.
For more details, please visit Uplatz Resourcing

------------------------------------------------------------------------------------------------------

FAQ
Will this course help me clear the certification exam?
+
What is Management Accounting in SAP?
+
What do you understand by SAP?
+
What is a statistical order?
+
What is dependent cost?
+
What technical knowledge is required to learn SAP CO module?
+
What is the duration of instructor-led online SAP CO training?
+
What is the difference between SAP FI and SAP CO?
+
What is the global certification exam code for SAP CO module?
+
Which is better - Self-paced training or Instructor-led training?
+
What if I miss a class?
+
How will I execute the practical?
+
Is the course material accessible after completion of the course?
+
Is there any offer/discount that I can avail?
+
Will I get a refund if I cancel my enrollment?
+
What if I have queries after completion of the course?
+