20 Hours
Online 1:1 Instructor-led Training
USD 671 (USD 1341)
Save 50% Offer ends on 31-Mar-2019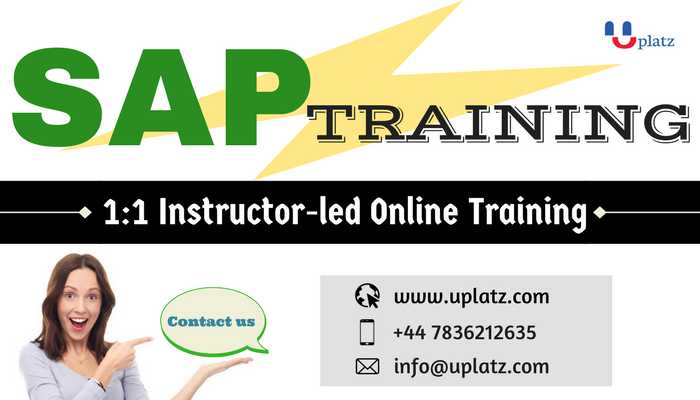 About this Course
Welcome to Uplatz, the biggest IT & SAP training provider in Europe!
Uplatz is well known for providing instructor-led training and video-based courses on SAP, Oracle, Salesforce, AWS, Big Data, Machine Learning, Python, R, SQL, Google & Microsoft Technologies, and Digital Marketing.
SAP and AWS training courses are currently the most sought-after courses globally.
An SAP consultant on an average earns a package of $80,000 ($100,000) per annum based on the skills and experience.
To learn this course -
1) Pay the course fees directly through secured payment gateway by clicking "Pay Now" and relax. After this Uplatz team will take over and get the course conducted for you.
2) If you are based in UK or India, you can directly pay to our respective bank accounts. To do this, you just need to send an email to info@uplatz.com and the Uplatz team will respond back with the details.
For any questions, queries, or payment related issues, simply contact us at -
Call: +44 7836 212635
WhatsApp: +44 7836 212635
Email: info@uplatz.com
https://training.uplatz.com


Exact timing and successful execution of Cutover Plan Activities is crucial during the Cutover Phase Plan in an SAP Implementation Project. Through Career Dragons, learn to prepare and execute the cutover by creating a cutover plan, writing of data migration scripts through LSMW and describe all cutover tasks that need to be performed before the actual go-live. The cutover training will give an opportunity to the trainees a chance to practice and become expert with each data related activity. The results of learning will be documented and reviewed with the cutover training team for lessons learned. This document will be an example document produced to the client during the SAP project Implementation.
SAP Cutover Activities in Project Implementation
Course Details & Curriculum
Learn the process and steps to be aware of while creating the cutover plan and cutover activity sheets. The dedicated trainer will guide you through all the activities for this phase. As each activity is completed, the aforementioned Cutover Activity Sheet is signed by the executor of that activity and turned into the project management function before any dependant activity can be started.
Training into different Areas of the Cutover Phase Training covers
Freezing and releasing of legacy data
Exportation of legacy data into the conversion database input layer
Understanding of Master and Transaction Data
Writing the Data Migration Load programs through LSMW
Transposition of legacy data into the conversion database
Reconciliation of the production data to the Conversion Database
Copy converted data to different SAP System Landscapes
Manual conversion of non-converted accounts