12 Hours
Online Instructor-led Training
USD 700 (USD 1120)
Save 38% Offer ends on 31-Aug-2019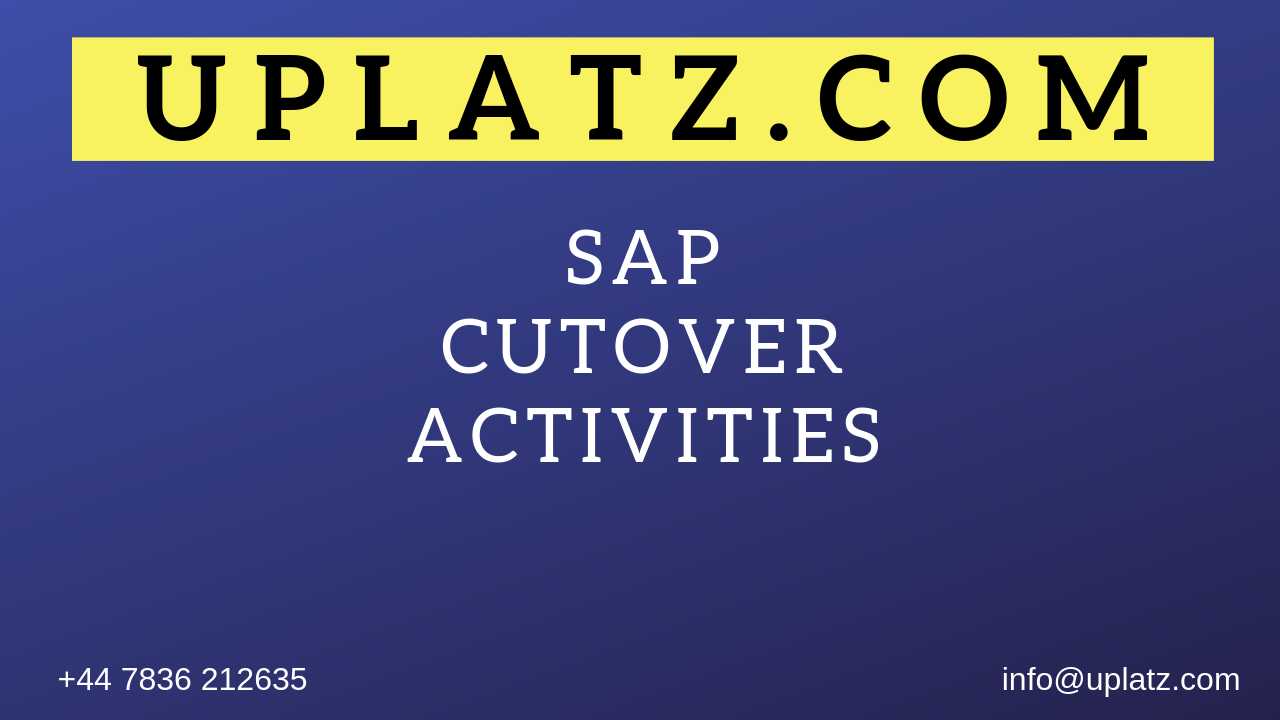 About this Course
SAP Cutover activity is highly specific and critical SAP implementation process where organizations design their data migration plans & strategies from a legacy system to a new SAP system. Or simply cutover activities can be defined as data migration plans management & execution and activities that are involved just before making your project live or on the new system.
Exact timing and successful execution of Cutover Plan Activities is crucial during the Cutover Phase Plan in an SAP Implementation Project. As we know when company owner decides the implementation of SAP system in their own company then it is necessary to transfer the master data and other records from the old system to SAP System, this data migration management is called cutover activity. It means that on the cutover date the company is ready to use the new SAP System.
It is important to make sure that every data point has been successfully entered before making SAP system live therefore every SAP consultant should be able to perform the cutover activity. As cutover activities are one of the most important tasks that have to be performed by almost every SAP consultant, therefore SAP Cutover Activities training is one of the most popular training.
In today's world, SAP Cutover Activities training is in huge demand, and most of the SAP technical & functional consultants are motivated to learn cutover activities so that they can successfully perform activities without any data loss. SAP cutover activities training is also popular among the beginners, who want to indulge their career in SAP world.
Because of the huge demand for SAP Cutover Activities online training, we at Uplatz designed SAP cutover activities course content which has been validated by highly experienced SAP consultants. Our SAP Cutover Activities online course is especially beneficial for both freshers & professionals; it includes all elements that are required to perform successful cutover activities for any organization.
We are highly focused to provide you the best quality SAP Cutover Activities online training and we are always motivated to adopt modern digital training methods. Uplatz is a renowned organization offering SAP Cutover activities online course, our aim is not only to provide you a high class modern online SAP cutover activities training, but also we are having great concern to provide 100% practical and project-oriented SAP cutover activities training so that you can understand every essential requirement to perform successful cutover activities for any organization.
If you are looking for SAP cutover activities online training and desired to learn entire SAP cutover activities course syllabus practically under the monitoring and guidance of SAP cutover activities experts then you are perfectly at the right place.

The cutover training will give an opportunity to the trainees a chance to practice and become expert with each data related activity. The results of learning will be documented and reviewed with the cutover training team for lessons learned.

--------------------------------------------------------------------------------------
SAP Cutover Activities in Project Implementation
Course Details & Curriculum
Learn the process and steps to be aware of while creating the cutover plan and cutover activity sheets. The dedicated trainer will guide you through all the activities for this phase. As each activity is completed, the aforementioned Cutover Activity Sheet is signed by the executor of that activity and turned into the project management function before any dependant activity can be started.
Training into different Areas of the Cutover Phase Training covers
Freezing and releasing of legacy data
Exportation of legacy data into the conversion database input layer
Understanding of Master and Transaction Data
Writing the Data Migration Load programs through LSMW
Transposition of legacy data into the conversion database
Reconciliation of the production data to the Conversion Database
Copy converted data to different SAP System Landscapes
Manual conversion of non-converted accounts
--------------------------------------------------------------------------------------
Career Path
After successful completion of SAP Cutover Activities training, you can materialize many new job opportunities like:

1. SAP Data Cutover Lead
2. SAP Data Cutover Executive
3. SAP Data Cutover Analyst
4. SAP Data Cutover consultant

--------------------------------------------------------------------------------------

Job Prospects
The average salary ranges from approx. £37,462 per year for SAP Cutover Activities Consultant to £105,249 per year for SAP Cutover Activities Lead/Manager.
There are currently 5,000+ open SAP Cutover Activities jobs in UK ranging from Cutover Activities end-users to consultants to managers.
For more details, please visit Uplatz Resourcing

------------------------------------------------------------------------------------------------------

FAQ
Will this course help me clear the certification exam?
+
What do you understand by SAP cutover activities?
+
What is the Cutover Date?
+
What is go-live in SAP cutover activities?
+
What is a legacy system?
+
What are the key activities performed in the cutover process?
+
What are the data migration approaches used in SAP cutover activities?
+
What is the cutover period?
+
What do you understand by the blackout period?
+
Which is better - Self-paced training or Instructor-led training?
+