20 Hours
Online Instructor-led Training
USD 2800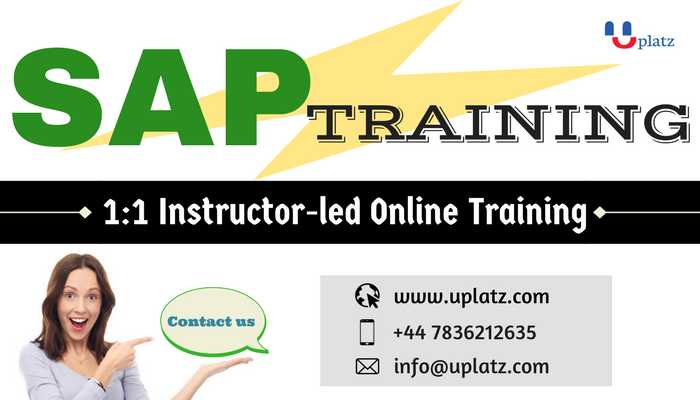 About this Course
Welcome to Uplatz, the biggest IT & SAP training provider in Europe!
Uplatz is well known for providing instructor-led training and video-based courses on SAP, Oracle, Salesforce, AWS, Big Data, Machine Learning, Python, R, SQL, Google & Microsoft Technologies, and Digital Marketing.
SAP and AWS training courses are currently the most sought-after courses globally.
An SAP consultant on an average earns a package of $80,000 ($100,000) per annum based on the skills and experience.
To learn this course -
1) Pay the course fees directly through secured payment gateway by clicking "Pay Now" and relax. After this Uplatz team will take over and get the course conducted for you.
2) If you are based in UK or India, you can directly pay to our respective bank accounts. To do this, you just need to send an email to info@uplatz.com and the Uplatz team will respond back with the details.
For any questions, queries, or payment related issues, simply contact us at -
Call: +44 7836 212635
WhatsApp: +44 7836 212635
Email: info@uplatz.com
https://training.uplatz.com


Functional Specification is the basis for the developments that will be done in an SAP project implementation. People with different roles and the client need to verify and approve it formally. The Realization of the development mentioned in the specification starts only after approval. Learn to write effective SAP Functional Specificationsvwith us. Functional Specifications are documents that articulate how the proposed design will modify standard SAP system. A functional consultant benefits the most when it comes to writing of functional specification and once it is understood the benefits are amazing and we will help you in SAP project implementation.
SAP Functional Specifications in Project Implementation
Course Details & Curriculum
The Specification is the link between the business requirements (another document produced by the client) and the technical design (a separate document). It covers the following:
Reference to the business requirements (customer requirements) given in the solution proposal.
Write mapping rules into standard SAP products.
Describe the solution from an external (user or customer) point of view.
With career dragons, while writing the functional specifications you will be trained to
Learn all the components within the standard Functional specification
Learn to know SAP behind the screens
Speak to ABAP consultants and explain them the change in design expected
Prepare test scripts and learn to write test scenarios for ABAP consultants and business users
Learn to prepare workflow and swim lane diagrams
Work with tables, data dictionary, routines, formulas that are required while writing the Functional Spec.
Customers shall be enabled to recognize that all their requirements are taken into consideration. For approval of the Specification they have to understand the solution. A good functional specification document contains enough detailed information about the business process and equally understandable by the technical developer such as ABAP consultant to complete an accurate technical design document and eventually write the code. The functional specification document should not only highlight the presence of a gap, but should demonstrate how the business process, accompanied by automation, will close the gap. Since most of the developments in an SAP Implementation Project are done by developers based offshore mainly in India and we will teach the coordination with the ABAPer while you will see your written specification will be developed into SAP. You will learn how face-to-face quick resolution scenario typically cannot happen if you have an off-shore technical contingent in play.
FAQ
Will this course help me clear the certification exam?
+
Which is better - Self-paced training or Instructor-led training?
+
What if I miss a class?
+
How will I execute the practical?
+
Is the course material accessible after completion of the course?
+
Is there any offer/discount that I can avail?
+
Will I get a refund if I cancel my enrollment?
+
What if I have queries after completion of the course?
+