20 Hours
Online 1:1 Instructor-led Training
USD 560 (USD 1120)
Save 50% Offer ends on 30-Jun-2019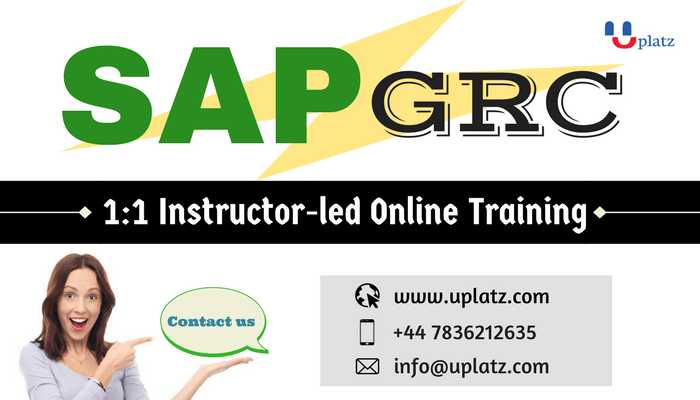 About this Course
Welcome to Uplatz, the biggest IT & SAP training provider in Europe!
Uplatz is well known for providing instructor-led training and video-based courses on SAP, Oracle, Salesforce, AWS, Big Data, Machine Learning, Python, R, SQL, Google & Microsoft Technologies, and Digital Marketing.
SAP and AWS training courses are currently the most sought-after courses globally.
An SAP consultant on an average earns a package of $80,000 ($100,000) per annum based on the skills and experience.
To learn this course -
1) Pay the course fees directly through secured payment gateway by clicking "Pay Now" and relax. After this Uplatz team will take over and get the course conducted for you.
2) If you are based in UK or India, you can directly pay to our respective bank accounts. To do this, you just need to send an email to info@uplatz.com and the Uplatz team will respond back with the details.
For any questions, queries, or payment related issues, simply contact us at -
Call: +44 7836 212635
WhatsApp: +44 7836 212635
Email: info@uplatz.com
https://training.uplatz.com
SAP GRC Training
Course Details & Curriculum
1) Introduction
Introduction to SAP Access Control 10.0

Access Control 10.0 Overview

Key Features and Benefits

Managing Compliance with Access Control 10.0

Segregation of Duties Risk Management Process

Information Architecture, Security, and Authorizations
2) Access Risk Analysis
Analyze and Manage Risk

Shared Master Data

Configuration and Rule Set Maintenance

Risk Analysis Framework

System-Specific Mitigation

Mass Mitigation
3) Emergency Access Management
Emergency Access Management

Emergency Access Management Overview

Centralized Firefighting

Plan for Emergency Access

Monitor Emergency Access
4) Role Management
Design and Manage Roles

Configure Role Methodology

Plan for Technical Role Definition

Plan for Business Role Definition
5) Access Request Management
Provision and Manage Users

Plan for User Access

Request Approval

Review Access Risk (SoD Review)

o Design SOD Ruleset

o Critical Permissions

o Risks and Functions

o Troubleshooting with Tables and Transactions

Monitor User Access

Monitor Role Access
6) Reporting Framework
Reporting

Reporting Framework

Change Existing Reports