30 Hours
Online Instructor-led Training
USD 700 (USD 1120)
Save 38% Offer ends on 31-Dec-2019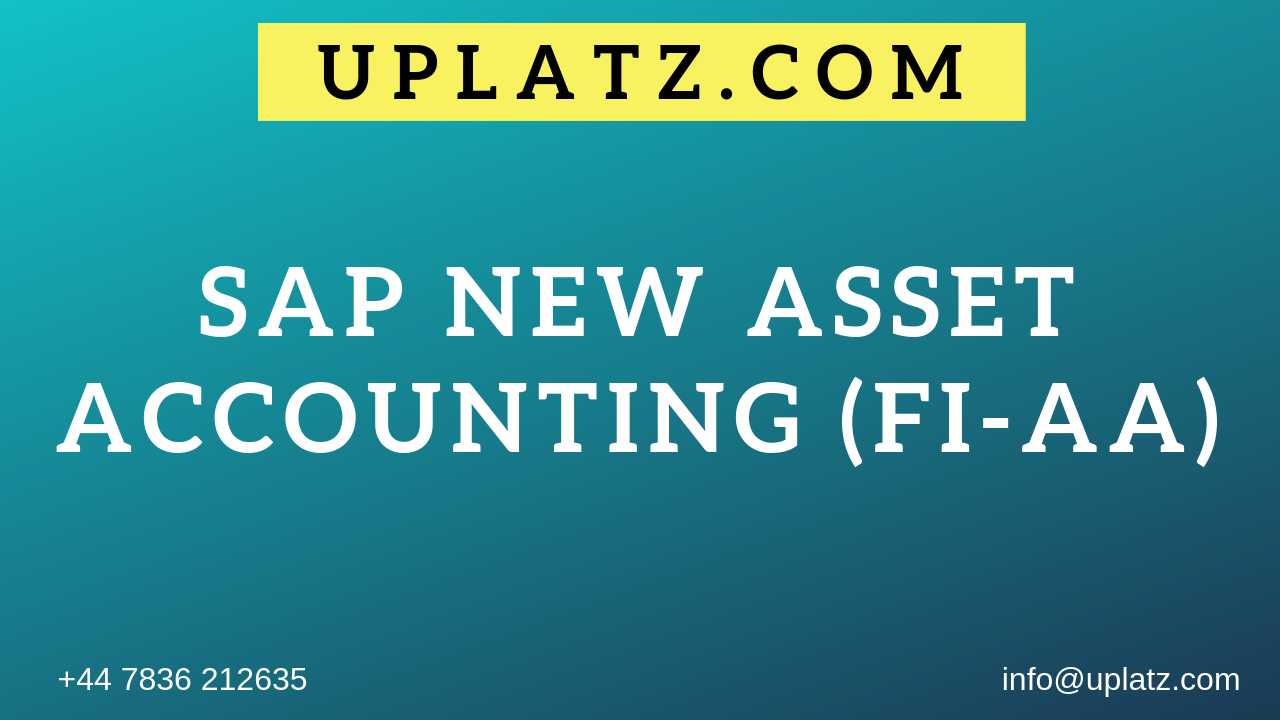 About this Course
SAP New Asset Accounting (FI-AA), a financial module redesigned in the S/4 HANA suite to increase process efficiencies across the lifecycle of an asset, In SAP system is used for managing and monitoring fixed assets. SAP New Asset Accounting offers immense benefit over traditional Asset Accounting. By giving complete information on transactions involved in fixed assets, asset accounting acts as a subsidiary ledger to the general ledger. SAP New Asset Accounting minimizes asset register error rates and increases capital efficiency with optimized SAP asset accounting operations. The increasing demand in skilled finance professionals over last few years has given rise to ample of opportunities for finance professionals. SAP Asset Accounting is a perfect and transparent solution for companies of all sizes that are subject to increased scrutiny by government agencies, regulatory boards and investors, and accountability.
Uplatz
offers an extensive training program on SAP New Asset Accounting (FI-AA) module. Our FI-AA training focuses on managing FI-AA master data and on the handling of the various business processes in FI-AA, including topics such as periodic processing, evaluation and depreciation and standard reporting. As FI-AA is a sub-ledger of FI, the students will learn about organizational structures in Asset Accounting and FI, methods to configure and customize FI-AA, and the like. Find out how configuration possibilities can affect the application and the business processes. This is a perfect course for anyone wishing to make a career in financial accounting and specifically in SAP thus maximizing their chances for a rewarding career.
-----------------------------------------------------------------------------------------------------------------------------------------
Did you know?


·
New functionality is available in SAP New Asset Accounting to manage Parallel Valuations. You can handle parallel valuation of your assets using both the ledger approach and the accounts approach.

·
Data redundancy has reduced, and you must use fewer FI-AA tables. Actuals is stored in the universal journal (ACDOCA) instead of in a variety of tables (including ANEP, ANEK, ANLC, ANLP, and ANEA). Plan and statistical data are stored in individual tables.

·
A mix between human and pure robot advice called Cyborg advice represents a paradigm shift in the path of change in the sap New Asset Accounting management industry.

·
According to the research results, there is a huge demand for resources in the field of asset management. If you are a newly-qualified accountant, now it's a good time to take stock of your career options.


-----------------------------------------------------------------------------------------------------------------------------------------
Objectives of SAP New Asset Accounting Training
·
Configure the Asset Accounting module

·
Create and change master data in Asset Accounting

·
Understand Asset Class, Number range interval, Depreciation keys, Screen Layouts

·
Attain knowledge of depreciation run and transactions
·

Identify which FI-AA reports you need to analyse asset values



-----------------------------------------------------------------------------------------------------------------------------------------



SAP New Asset Accounting Training
Course Details & Curriculum
Lesson 1: Overview of New Asset Accounting

· Overview of New Asset Accounting
· Changes in Asset Accounting
· Configuring Basic New Asset Accounting
· Configuring Fixed Asset Accounting
Lesson 2: Chart of Depreciation/Depreciation Area/Assign COD to Company Code

· Depreciation and Calculation Methods
· Defining Depreciation Areas
· Determining Depreciation Areas in Asset Class
· Fiscal Year Specifications
· Developing Enhancement for determining Company Code Relationship
Lesson 3: Define Asset Class/Number range interval/Creation of Asset G/L accounts

· Asset Class and its usage
· Asset Class creation
· Changing the Field Status of the Asset G/L Account
· Posting GL Account Document for Ledger Group
· Set or Reset Reconciliation Accounts
· Technical Clearing Account
Lesson 4: Screen Layout - Asset class

· Screen Layout Rules
· What are directives
Lesson 5: Depreciation Keys - Define Base Method/Define Multilevel method/Period control methods/Depreciation Groups

· Depreciation Keys
· Period Control Method
· Maintaining Period Control Method
· Straight Line Method
· Changing Key Words in the Evaluation Group
· Defining Validation and Substitution
Lesson 6: Creation of main Asset master and sub asset master data /Asset transactions

· Master Data
· Acquisitions - Defining Transactions types for Acquisition
· Transaction Types for Transfer Posting
· Transaction types for Retirement
· Defining Transaction type for Post Capitalization
· Defining SAP Queries
· Defining Document type for Legacy Data Transfer
· Changing Asset Settings - Master Data
Lesson 7: Depreciation run/display of Balances/Master Data Creation


-----------------------------------------------------------------------------------------------------------------------------------------