30 Hours
Online Instructor-led Training
GBP 2000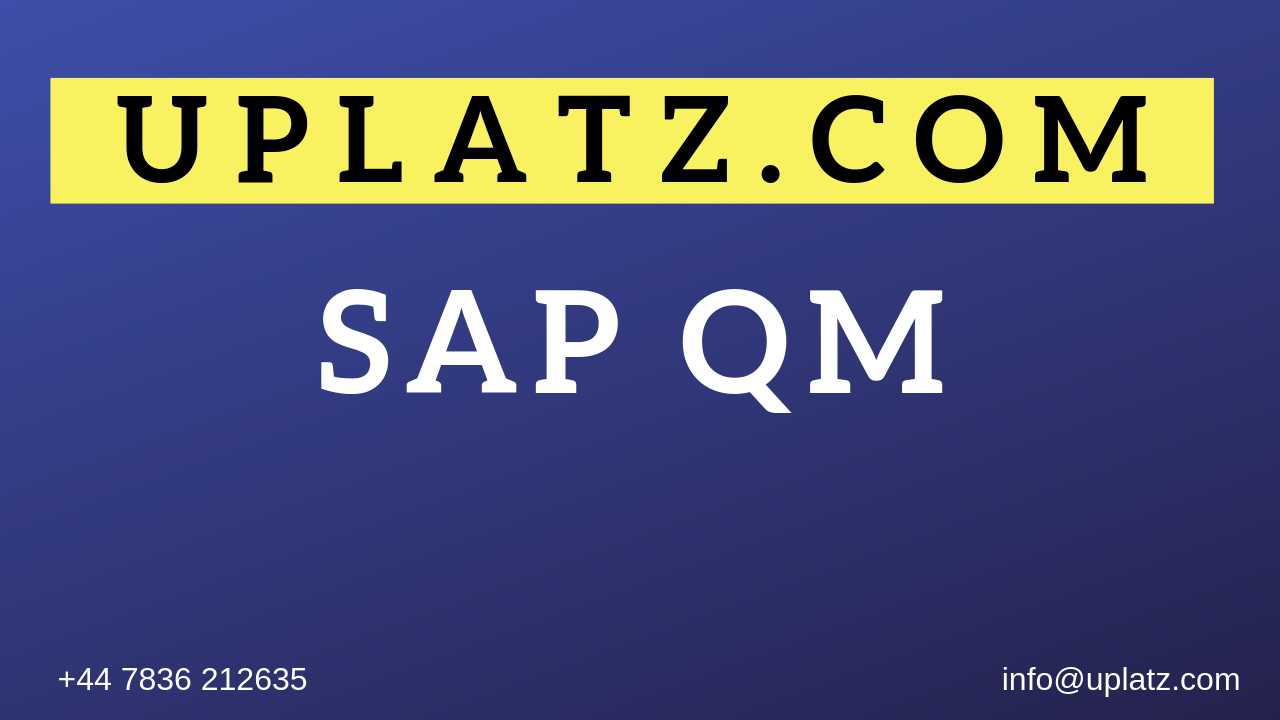 About this Course
SAP Quality Management or SAP QM is very useful SAP ERP application tool which deals with the controlling, monitoring & management of product quality and is integral part of many functional SAP ERPs like logistics, warehousing, supply chain, production, material management, sales & distribution etc.

SAP QM is integral part of logistics, warehousing and production planning processes, as we all know that the quality of products play very important role in the growth and development of any business, therefore quality checking & maintenance very important business function, and SAP QM is well known ERP business suite which provide effective analytical data which is helpful in the monitoring controlling and management of product quality.
Because of its huge benefit, most of the companies are using this SAP QM business application ERP system.
As the popularities and uses of SAP QM ERP tool is increased the industries, the SAP QM training & Certifications are also enhanced and many working professionals, SAP Consultants and freshers are motivated to learn SAP QM ERP Software.
Uplatz is one of the most trusted, hands on practical and project based SAP QM online training provider in the market, our basic to expert level of course curriculum is designed by professional QM certified experts to fulfil the need of every kind of participant.
Here participant will be able to learn all the basic fundamentals of SAP QM course under the guidance of Certified SAP QM consultants. This SAP QM online course is also very much beneficial for those who are looking forward for SAP QM citification exam, our expert tutors and modern SAP digital tutoring methods will help you to understand entire SAP QM course curriculum very easily.
SAP QM Training is a comprehensive course covering all topics of SAP QM (Quality Management). After completion of SAP QM Course you can apply for SAP QM Certification exam.
What is SAP QM?
SAP QM (Quality Management) is an integral part of several key business processes of SAP like production, sales, procurement, material management, etc.
Purpose
With the functions of this component, you can implement the most important elements of a quality management system (QM system), as specified in ISO 9000. These functions are complemented by other integrated application components of the SAP system, such as Materials Management (MM) , Sales and Distribution (SD), and Production Planning (PP) .
Integration
The integration of the QM application component in the SAP system allows quality management tasks to be combined with those in other applications (such as materials management, production, sales and distribution and cost accounting).
Features
The QM application component supports tasks associated with quality planning, quality inspection and quality control. In addition, it controls the creation of quality certificates and manages problems with the help of quality notifications.
Components of QM
- Basic data (for example, material master, catalogs, inspection characteristics, inspection methods and sampling procedures)
- Inspection planning (inspection plans, reference operation sets, material specifications)
- QM in procurement
- QM in sales and distribution
- Inspection lot processing (inspection lot creation and inspection lot completion)
- Results recording
- Defects recording
- Sample management
- Quality Information System
- Dynamic modification of the inspection scope
- Quality certificates
- Quality notifications
- Test equipment management
Quality Planning
Quality planning enables you to manage basic data for quality, inspection planning and material specifications.
The integration of the Quality planning component in the SAP system allows quality planning tasks to be combined with those of other components such as materials management, batch management, inventory management,variant configuration and cost accounting.
Quality Inspection
Quality inspection covers the following functions:
Master data management (material master, catalogs, selected sets,master inspection characteristics, class characteristics, inspection methods, sampling procedures, sampling schemes, dynamic modification rules, sample-drawing procedures, QM work centers).
Inspection planning (inspection plans, reference operation sets, material specifications).
-----------------------------------------------------------------------------------------
Target Audience
SAP QM online training & certification program is most suitable for logistic and warehousing working professionals, production planning managers, executives, Quality control working professionals, SAP functional & technical Consultants and Any Graduate or Post Graduate students.


What you will learn in SAP QM?
SAP QM online training will help you to understand all essential concepts of SAP QM module, its integration & configuration processes like:
1) Integration of unique QM processes in discrete manufacturing
2) Configuration of various QC requirements
3) Quality Controlling inspection Planning & Creation of Mater data in SAP
4) QC Monitoring & Reporting
5) QC notification
6) QC data Analysis
7) Integration of QM with other functional modules like SD, PP, WM, SCM etc.


Which Certification exams student can give after this course?
Uplatz recommends our SAP QM students to appear and qualify the SAP QM certification exam to validate their practical skills and knowledge of SAP QM module as well as to increase their chances significantly for a successful SAP career.
SAP QM Certification Exam Name: SAP Certified Application Associate - Quality Management with SAP ERP 6.0 EHP5
SAP QM Exam Code: C_TPLM40_65

SAP QM module has two levels of examination:

1. Associate (Fresher)

Exam Duration: 180 Minutes
Total Questions: 80
Types of Questions: MCQs, multiple response matching questions and answers

2. Professional (Experienced)

Exam Duration: 180 Minutes
Total Questions: 80
Types of Questions: MCQs, multiple response, scenario based and matching questions and answers

-----------------------------------------------------------------------------------------

SAP QM Training
Course Details & Curriculum
Introduction to ERP
ERP Packages

Introduction to SAP

Functions and Objectives of QM

QM Overview
SAP Navigation
Organizational structure of an Enterprise in the SAP R/3 System
Company, Company code, Controlling Area, Plant, Storage Location, Purchase Organization, Purchasing group

Controlling Settings (Cost Center and Cost Element etc.)
Master Data
Material Master – Activation of QM view

Master Inspection characteristics – Qualitative & Quantitative

Sampling Procedure, Sampling Scheme

Codes and Code Groups

Catalog, Selected set, Catalog Profile

Inspection Method
Planning & Execution
Inspection plan

Creation of inspection lot (Automatic and Manual)

Results Recording

Usage Decision and Stock Posting

Inspection type

Material Specification
Quality Management in Procurement
Goods receipt inspection against Purchase Order

Goods receipt inspection without Purchase Order

Stock Transfer Inspection

Controls in procurement

QM info Record
Quality Management in Production
In process inspection for Production Order

In process inspection for Production Order with Inspection Points

Goods Receipt Inspection after Production
Quality Management in Sales and Distribution
Inspection during delivery

Inspection during customer returns
Inspection with Physical Samples
Types of physical samples

Sample Drawing Procedure

Inspection lot processing for physical samples
Calibration Inspection
Test equipment Management

Process flow of calibration inspection
Quality Management with Batches
Automatic Batch Valuation with QM

Recurring inspection
Quality Certificates
Certificate Profile creation

Certificate Printing
Quality Control
Statistical Process Control

Control charts
Quality Notifications
Quality Notifications in the Logistics Supply Chain

Record and process notifications in the system

Defect notification processing
Stability Studies
Objects in the Stability Study

Stability Study Process Flow
Important Configuration and Integration with other modules
Configuration steps involved in QM

QM integration with MM, PP, PM and SD modules
------------------------------------------------------------------------------------------------------
Career Path
After successful completion of SAP QM Training & Certification, there are many great job opportunities are waiting for you like:

1. SAP QM Consultant
2. SAP QM Front and End User
3. SAP QM Project Manager
4. SAP QM Analyst

------------------------------------------------------------------------------------------------------
Job Prospects
The average salary ranges from approx. £35,555 per year for SAP QM Consultant to £114,828 per year for SAP QM Lead/Manager.
There are currently 8,000+ open SAP QM jobs in UK ranging from QM end-users to consultants to managers.
For more details, please visit Uplatz Resourcing
------------------------------------------------------------------------------------------------------
FAQ
Will this course help me clear the certification exam?
+
SAP QM is integrated with which other SAP modules?
+
What are the main components of SAP QM?
+
What is SAP QM online course duration?
+
Which coding language is mandatory to learn before SAP QM Training?
+
What are the typical tasks performed by SAP QM Consultants?
+
What are important quality procedures?
+
Which T-code is used for results recording in QM?
+
SAP QM is working on which architecture?
+
Why should you go for SAP QM training?
+
Which is better - Self-paced training or Instructor-led training?
+
What if I miss a class?
+
How will I execute the practical?
+
Is the course material accessible after completion of the course?
+
Is there any offer/discount that I can avail?
+
Will I get a refund if I cancel my enrollment?
+
What if I have queries after completion of the course?
+