30 Hours
Online Instructor-led Training
USD 1399 (USD 2800)
Save 50% Offer ends on 31-Dec-2023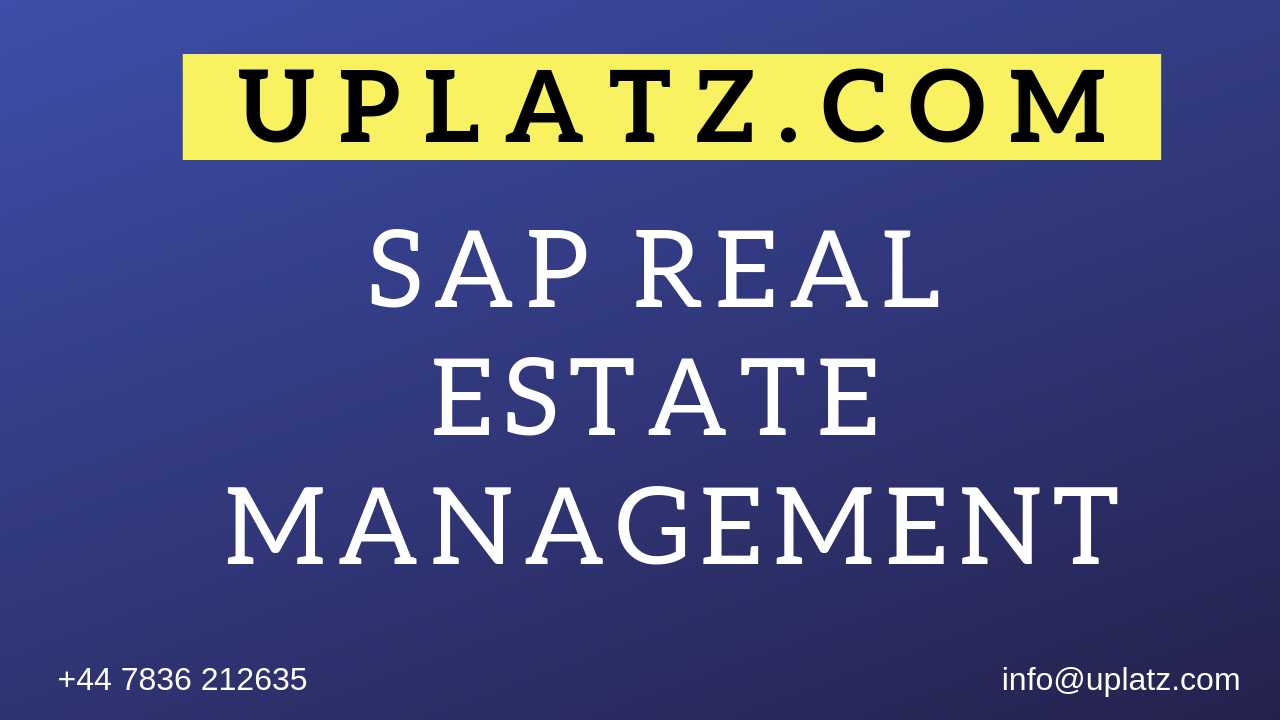 About this Course
SAP Real Estate Management is a full-featured, integrated application for managing all types of real estate – giving us better control of and greater insight into our real estate portfolio.
Addressing a variety of industry-specific requirements, the application supports all phases of the life cycle of real estate assets:
-- Including the acquisition or disposal of real estate
-- Management of the real estate portfolio itself
-- Property and technical management as well as
-- Support processes like management accounting and reporting.
-- SAP Real Estate Management is an SAP proven application and worldwide market-leading ERP solution.
SAP Real Estate Management is closely integrated with the financials and logistics functions of mySAP ERP.
Some of the key highlights of SAP Real Estate Management module are:
-- Manages contracts for both leasing out and leasing in
-- Manages other real-estate specific contracts
-- Provides transparency in real estate management and
-- Improves processes for all types of real estate leasing.
-- Supports our investment strategies by assigning costs on a cause-effect basis and by offering transparent reporting on revenue & costs.

SAP Real Estate Management is flexible so it can handle the real estate requirements of many different industries, including the following:
Airport
Housing Authorities
Postal Services
Building Services
Insurance Companies
Public Sectors
Energy Suppliers
Office Space Managers
Railways
Real Estate Investment Trust
Manufacturers
Shopping Center Managers
Retailers
Banks
Telecommunication Firms
Real Estate Management Solution Map
Property Acquision & Disposal - Buy, Built, Lease & Sell
Property Portfolio - Architecture, Furniture & Fixture, Usage, Partner
Commercial Management - Contract Management, Condition Adjustment, Sales-Based Rents,Service-Charge Settlement etc.
Technical Management - Building Operations, Maintenance & Repair etc.
Controlling & Reporting: Plan, Post & Settle,Analyse, Reporting etc.
This SAP Real Estate course by Uplatz provides comprehensive instructor-led training on all topics of SAP Real Estate module from basic concepts to the most advanced features. Practical hands-on sessions will be conducted as part of this course to familarise you with the module as well as to empower you to work on this module confidently. After completion of SAP Real Estate course, the students are encouraged to qualify the SAP Real Estate Management Certification exam.
------------------------------------------------------------------------------------------------------
SAP Real Estate Management Training
Course Details & Curriculum
System navigation
General ledger accounting
Accounts payable business processes
Accounts receivable business processes
Asset accounting business processes
Bank-related accounting business processes
Financial statement creation business processes
Project Management
Portfolio Management
Lease Administration
Financial Integration
Document Management / Graphical Integration
Space Management
Move Management
Facility Management
Real estate master data (architecture and usage), Business partner master data
Contract management (Real Estate Search, Real Estate Contract, Conditions, condition purpose, calculation methods)
Real Estate Financials (Account determination, flow types, invoice creation, Option rate determination, Correction items, Input tax distribution)
Adjusting conditions (Free and Index-based condition adjustment, Sales-based rent settlement, other & country-specific condition adjustment methods)
Complex service charge settlement methods
Corporate use scenarios (Occupancy Planning, Reservation, Move Management, Internal CO billing, FASB 13 support)
Reporting (Business Intelligence integration)
Integration (CO integration, Enterprise Asset Management integration, Project system integration, PS-CD (FI-CA) integration, Funds management integration)
Tools (correspondence, BDT, data transfer, BAdI, BAPI and ESA Services usage, Migration programs for former product version, Workflow integration, Microsoft Outlook integration, document management)
Country specifics (further localization features (AT, CH, IT, JP, IN), Withholding tax, contained in appendix, but not required course content. Instructor Guide will indicate which slides and appendices to use for which content.
------------------------------------------------------------------------------------------------------
Job Prospects
The average salary ranges from approx. £36,476 per year for SAP Real Estate Consultant to £102,932 per year for SAP Real Estate Lead/Manager.
There are currently 4,000+ open SAP Real Estate jobs in UK ranging from Real Estate end-users to consultants to managers.
For more details, please visit Uplatz Resourcing
------------------------------------------------------------------------------------------------------
FAQ
Will this course help me clear the certification exam?
+
Which is better - Self-paced training or Instructor-led training?
+
What if I miss a class?
+
How will I execute the practical?
+
Is the course material accessible after completion of the course?
+
Is there any offer/discount that I can avail?
+
Will I get a refund if I cancel my enrollment?
+
What if I have queries after completion of the course?
+