30 Hours
Online Instructor-led Training
USD 630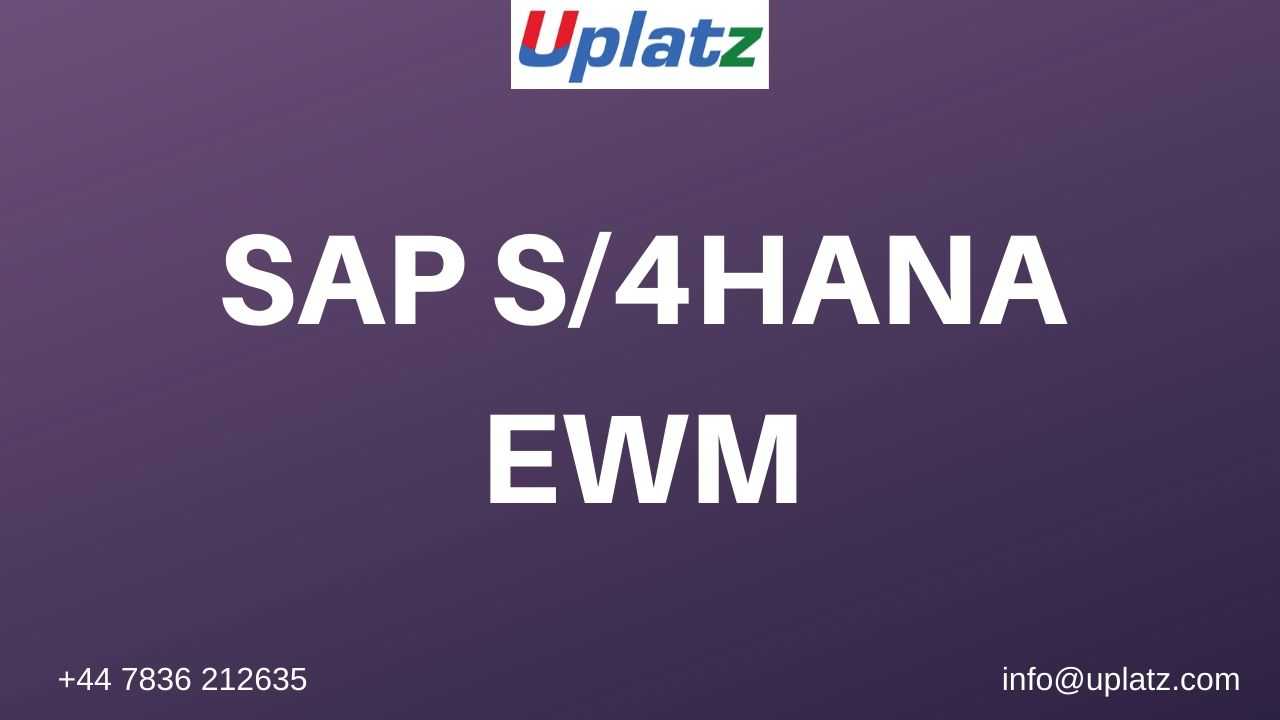 About this Course
SAP EWM is for the management of inventory in different specific locations inside the new release S/4 HANA 1909. Although not needed in all organizations, it is a module every logistics consultant or practitioner should know about.
SAP EWM allows to subdivide SAP Inventory Management Storage Locations in different specific places and at the same time it offers all related functionality for the placement in Warehouses (Putaway processes) and the removal from them (Stock Removal processes).
At the same time it contains different integration functionality with the rest of Logistics or related modules (SAP PP, SAP SD, SAP QM).
SAP S/4HANA EWM
Course Details & Curriculum
SAP EWM: - Online Training
Unit 1: The Extended Warehouse Management System
Introduction to Extended Warehouse Management
Basic ERP and EWM Integration
Delivery Document Integration – SAP EWM Online Training
Unit 2: EWM Structure
Organizational Units – SAP EWM Online Training
EWM Structural Elements
Unit 3: Master Data
APO Core Interface – SAP EWM Online Training
EWM Master Data like Product Master. Packaging Specifications
Warehouse Structure, Storage Types, Storage Sections, Storage Bins, Work centers, Activity Areas and etc.
Unit 4: Warehouse Monitor and RF Framework
Warehouse Monitor, Easy Graphics Framework and Warehouse Cockpit
Introduction to RF UI
Configuration settings for RF
RF usage in Inbound and Outbound Processes
RF Framework – SAP EWM Online Training
Unit 5 : Goods Receipt Process
Goods Receipt Processing Using EWM
ERP and EWM Documents in Goods Receipt
Storage Control
Expected Goods Receipts
QIE and EWM Quality Management
RFID and EWM
Slotting and Rearrangement
Goods Receipt Process Overview
Availability Groups for Inventory Management
Direct Putaway Configuration
Putaway Rules and Strategies
Deconsolidation Process.
Value added Services – SAP EWM Online Training
Quality Inspection and Counting
Unit 6: Goods Issue Process
Outbound Delivery Processing
EWM Outbound Delivery Documents
Storage Control in Outbound Processes
Wave Processing
Value-Added Services
Goods Issue – SAP EWM Online Training
Stock Removal Strategies
Pick Denial/Handling Differences in Picking
Unit 7: Yard Management
Yard Management along with Configuration
Check in and Check out
Check Point to Door
Door to Check Point – SAP EWM Online Training
Unit 8: Storage Control
Storage Control Concepts
Process-oriented Storage Control
Layout-oriented Storage Control – SAP EWM Online Training.
Unit 9: Warehouse Order & Warehouse Task Creation
Product Warehouse Task
HU Warehouse Task – SAP EWM Online Training
Creation of WT for Warehouse Requests
Filters for Warehouse Order Creation Rules
Limit Values for Warehouse Order Creation Rules
Pick, Pack and Pass During Picking Warehouse Task Creation
Unit 10: Posting Changes, Stock Transfers and Replenishment
Posting Changes and Stock Transfers
Ad Hoc Movements and
Replenishment – SAP EWM Online Training
Unit 11: Physical Inventory
Periodic Physical Inventory Procedure
Continuous Physical Inventory Procedures
Cycle Counting
Processing of Physical Inventory Documents
Difference Analysis – SAP EWM Online Training
Physical Inventory Progress
Reports in Physical Inventory
Physical Inventory Using Radio Frequency
Unit 12: Slotting and Rearrangement
Slotting and Rearrangement – SAP EWM Online Training
Unit 13: Strategies
Putaway and Stock Removal Strategies – SAP EWM Online Training
Unit 14:
Kit to Stock
Kit to Order
Reverse Kitting – SAP EWM Online Training
Transportation Cross Docking
Opportunistic Cross Docking
Stock Transfer between IM and EWM Stor.Loc
Stock Transfer between EWM to EWM Loc
Initial Stock Entry -561 Movement
Work Centre Determination without POSC