30 Hours
Online 1:1 Instructor-led Training
USD 700 (USD 1120)
Save 38% Offer ends on 31-May-2019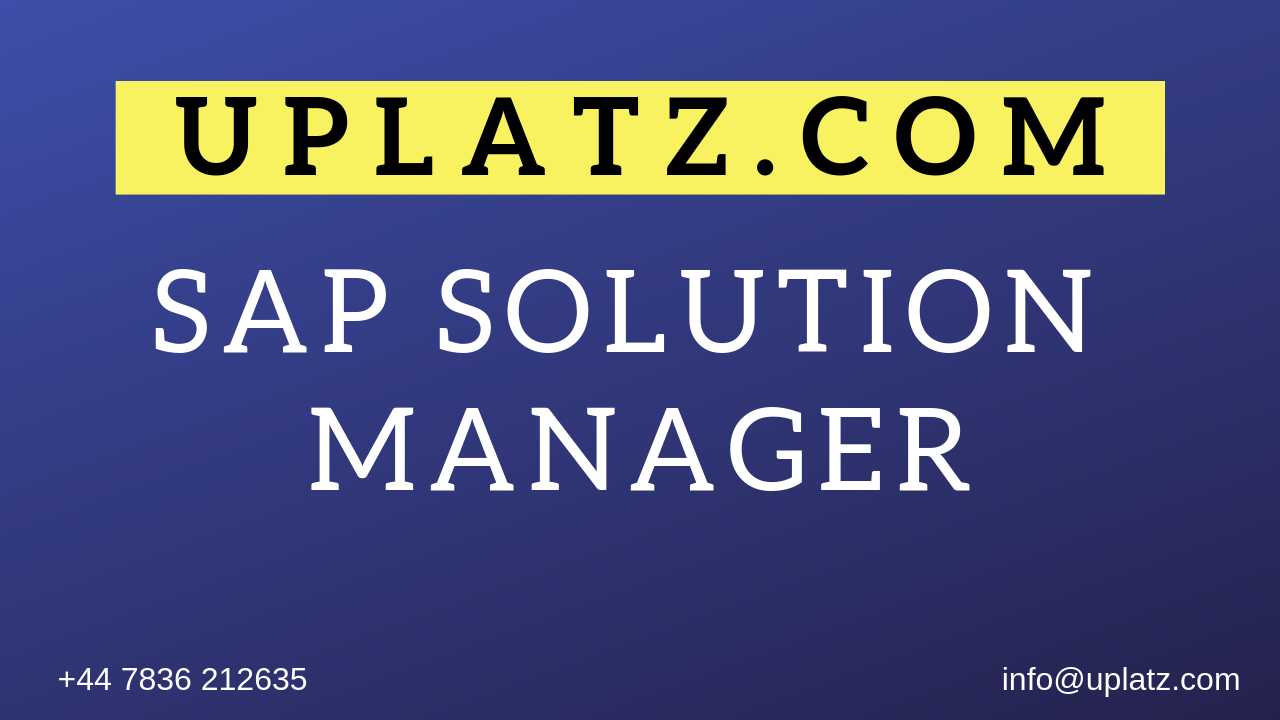 About this Course
SAP Solution Manager (Solman) is a product developed by the software company SAP SE. It is an integrated end-to-end platform intended to assist users in adopting new developments, managing the application lifecycle, and running SAP solutions.
SAP Solution Manager 7.2 is an integrated platform to align business and IT on one business process landscape and drive the "business of IT" from a common understanding of business value, business models, operating models and solution powered by IT.
In today's competitive market, individuals who possess essential business and technological skill enjoy a significant advantage over their peers. This is particularly true if your expertise includes SAP software. The SAP Solution Manager 7.0 program provides that competitive edge. When you are sap certified, you join a distinguished community of experts recognized globally. Today more than 14,000 consultants and users worldwide are part of this exclusive community.
SAP Solman 7.2 online training will equip you with the skills necessary to to drive the portfolio of projects and balance business initiatives and their business value against IT capacity, skills and timelines.
------------------------------------------------------------------------------------------------------
SAP Solution Manager Training
Course Details & Curriculum
SAP Solution Manager Overview
Installation Overview
Customizing SAP Solution Manager
IMG structure (Basic and Optional Settings)
Solution Monitoring
System Monitoring
Business Process Monitoring
Service Desk
Service Desk Reporting
Message Processing
Service Delivery
Service Plan
Issue tracking
Maintenance Optimization
Early Watch Alert Reporting
Service Level Reporting
Solution Reporting
Service Reporting
Availability Reporting
System Administration Reporting
Solution Manager Diagnostics
Change Request Management
SAP Solution Manager – Short overview
SAP Solution Manager Service Desk – Basics
Master data – Short overview
Business-Process "Service Desk Message"
Create a message
Process a messages
Customizing of processes
Reporting and monitoring
Service Desk: additional functions
Service contract and SLA
IC Web Client
ICSS
Solution data base
Interfaces to other helpdesk tools
Roles
The SAP Solution Manager Concept
Overview Change Request Management
Projects and Release Management
Projects and Change Requests
Regular Corrections: Process
Urgent Corrections: Process
Administration and Test Messages
Security Concept and Object Locking
Change Request Reporting
Managing/Extending Task Lists
Change Request Troubleshooting
------------------------------------------------------------------------------------------------------
Job Prospects
The average salary ranges from approx. £33,269 per year for SAP Solution Manager Consultant to £109,268 per year for SAP Solution Manager Lead.
There are currently 5,000+ open SAP Solution Manager jobs in UK ranging from Solution Manager end-users to consultants to managers.
For more details, please visit Uplatz Resourcing
------------------------------------------------------------------------------------------------------