30 Hours
Online Instructor-led Training
USD 1399 (USD 2800)
Save 50% Offer ends on 31-Dec-2023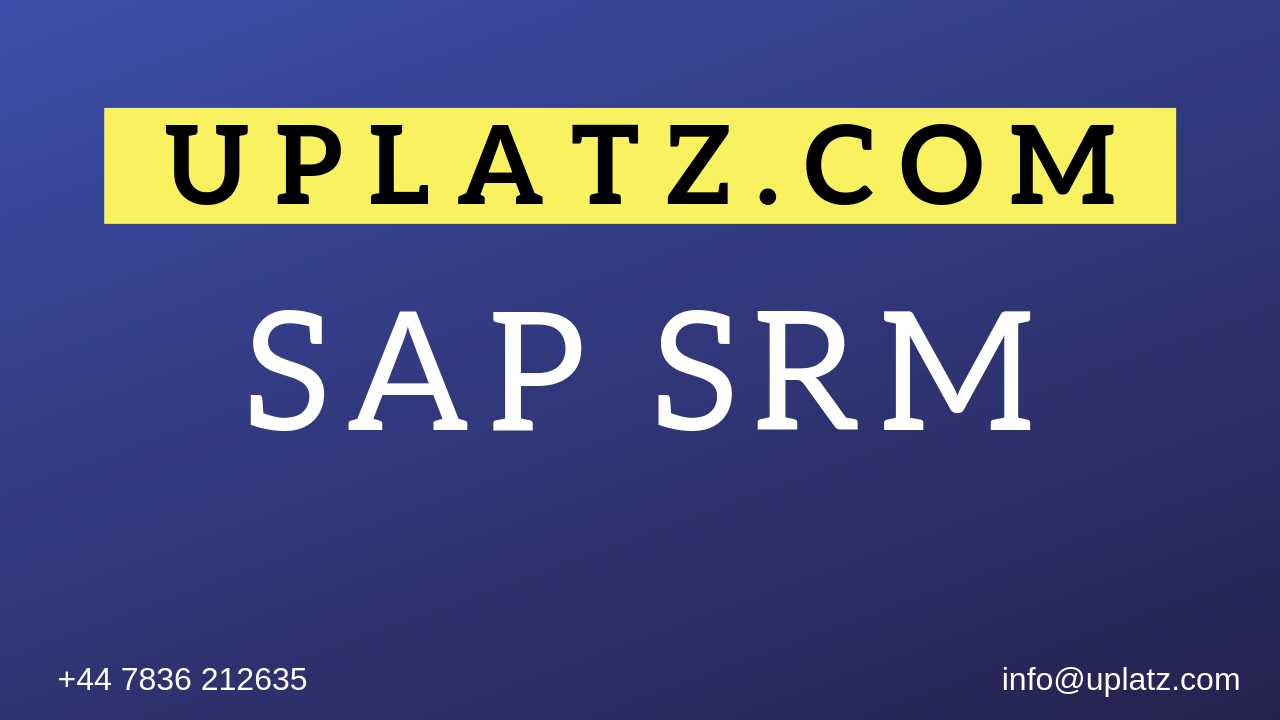 About this Course
Overview
The SAP SRM (Supplier Relationship Management) application provides strategic value through sustainable cost savings, contract compliance, and quick time-to-value. Companies are equipped with tools to drive superior results through an end-to-end source-to-pay process. Activities such as spend analysis, category management, requisitioning, sourcing, operational contracts, invoicing, and supplier management are part of an integrated platform.
Objectives
This training enables you to strategically plan and manage, all interactions with third party organizations that supply goods and services to an organization in order to maximize the value of those interactions. You will get to know about the procurement processes of an organization by automating, accelerating of procure to pay processes for goods and services.
Who is it targeted to?
-Any Graduates/Post Graduates are eligible.
-Anyone having knowledge in Data Warehousing technologies.
-Any technical background consultants are eligible to learn SAP SRM Online Training.

This SAP SRM training by Uplatz covers all topics of SAP's Supplier Relationship Management module in depth to enable you to grasp the concepts well as well as to be confident in implementing and working on this module. Post completion of SAP SRM course, the students are advised to qualify the SAP SRM certification exam. Uplatz tutors focus on not only the theory but will actually show live examples, practicals, and encourage you to practise yourself on the server. Uplatz's SAP SRM training in one of the sought-after training programs.

------------------------------------------------------------------------------------------------------

SAP SRM Training
Course Details & Curriculum
Overview
· Basic SAP GUI Navigation
· Introduction to Supplier Relationship Management
· SAP Procurement Portfolio Overview
· SRM Architecture Overview
· Self-Service Procurement
· Service Procurement
· Direct/Plan-Driven Procurement
· Catalog Content Management
· Central Sourcing Hub
· RFx/Auctioning
· Supplier Collaboration
· Contract Management
Introduction to Organization Structure
Introduction to Master Data
· Introduction to Transactional Data
· SAP Procurement Portfolio Overview
· SRM Architecture Overview
· Self-Service Procurement
· Service Procurement
· Direct/Plan-Driven Procurement
· Catalog Content Management
· Central Sourcing Hub
· RFx/Auctioning
· Supplier Collaboration
· Contract Management
Fundamentals of Server Management & Customization
· Server Management & Configuration
· SRM Server overview
· Backend integration and configuration
· Organization and User Management
· Workflow
· Master data
· Catalog Management
· Self-Service Procurement
· Sourcing
· Service Procurement
· Plan-Driven Procurement
· Bidding Engine
SAP Supplier Self-Services (SUS) & MDM Catalog
· SUS (Supplier Self Services)
· SAP SRM 7.0 landscape with SUS, PI and ERP on EHP 4
· SRM-SUS scenario
· MM-SUS scenario
· Service Procurement
· Master data
· MM, SRM Server, SUS and XI settings
· SRM – MDM Catalog
· RM-MDM Solution Overview and Architecture
· MDM Console
· MDM Import Manager
· MDM Data Manager
· MDM Workflow –
· SRM-MDM Integration
· Web User Interface
Supplier Collaboration with SNC
· Collaboration with SNC
· SAP SNC Overview and system landscape
· Purchase Order Process
· Release Process
· ASN Processing
· Invoice Collaboration
· Master data
· Supplier Managed Inventory (SMI)
· Download / Upload Center
· Further Processes (without exercises)
· Work Order
· Supply Network Inventory (SNI)
· Delivery Control Monitor (DCM)
· Dynamic Replenishment (DR)
· Exception Management
· Authorization
Overview of the Procure to Pay Cycle (P2P)
· SAP Procure to Pay ( Part of Material Management )
· Procuring Goods and Services
· Purchase Requisitions
· Request for Quotation
· Purchase Order
· Goods Receipt
· Invoice Processing
· Paying an Invoice
SRM e-Sourcing
· SAP SRM E-Sourcing
· SAP E-Sourcing Overview
· Workbench
· Supplier Management
· Project Management
· RFX
· Auctions
· Contract Lifecycle Management

------------------------------------------------------------------------------------------------------

Job Prospects
The average salary ranges from approx. £34,184 per year for SAP SRM Consultant to £103,505 per year for SAP SRM Lead/Manager.
There are currently 6,000+ open SAP SRM jobs in UK ranging from SRM end-users to consultants to managers.
------------------------------------------------------------------------------------------------------

SAP SRM Interview Questions
------------------------------------------------------------------------------------------------------

Q.1. What is SRM?
SRM stands for Supplier Relationship Management. It is an extended form of ERP where data gets transferred between SAP R/3 and the SRM screen (vice versa) so that every Vendor's coordination will be better and which will fully avoid the paper work and unwanted confusions. It is very effective for the companies which have large number of users who can directly purchase the material using the Shopping Cart in which the materials can be selected from the available Catalogs.


Q.2. What does SRM handle?
SRM handles analytics, supplier collaboration, operational contracts, service purchasing, self-service procurement, catalog content, supplier qualification, strategic sourcing, and plan-driven procurement.


Q.3. What are SRM sub modules?
These would be the Supplier self-services (SUS) service agent, the SUS order processor, the SUS invoicing party, the SUS administrator supplier, the one-client invoice verification clerk, the survey reviewer, the strategic purchaser, the component planner, the employee and the invoice verification clerk. This is about one third of the sub modules in SRM.


Q.4. How is SRM used?
SRM can be used two ways. First, employees can purchase materials and services they need to complete the company's goals. This process is simplified by a Web-based GUI that simultaneously filters by corporate spending and purchasing compliance. The second way is by an automated system which procures materials as part of a company's supply-chain workflow.


Q.5. What is the relationship between SRM and MM?
The MM module manages the materials of the company. SRM issues purchase orders for MM only; it is where vendor information is managed.


Q.6. What is a business partner?
Business partners cover all stakeholders in the company – employees, vendors/suppliers, customers. A partner function is any function related to these partners, such as invoicing a customer, purchase order issuance, authorization procedures, and so on.


Q.7. What number ranges must be configured in SRM?
Entries should be created in the EBP system to link the EBP purchase orders, requisition and reservation to the backend R/3 system. The logical system ID should reflect that of the EBP application server and client in which the number ranges are being configured. PO, RQ, RS were used to easily distinguish each number range.


Q.7. Discuss about the benefits that SAP SRM brings to a business?
SAP SRM enables the organization to achieve the following business benefits:

a) Sustainable cost savings - which enables the companies to achieve a closed loop from source-to-pay.
b) Contract compliance - provides visibility into enterprise expenditures and enables the procurement organization to effectively demonstrate according to corporate guidelines.
c) Competitive advantage - gives the tools to partner with key suppliers, define supplier management approach, and determine the key metrics.


Q.8. What are the few of the tables available in SRM?
SRM has many tables. Among them, the product table, product category table, Web survey questionnaire, business address services, communication usages, account assignment, PO item confirmation, business transaction item purchasing, value limits, tax, tolerances, transactions, partners, links, chopping cart, invoice and credit memo, and SRM confirmations.


Q.9. What is the Import Status Tab for?
When you are importing and customizing an import scenario, this tab will give you information on the status of the import – how many fields from the source have been mapped to the destination, what source is involved, and what the destination is. It also will tell you what table joins and field look ups are being used.


Q.10. What purpose does the SRM org structure serve?
Organizational attributes serve many purposes in EBP system. The primary purpose is to set attributes that define the users` shopping experience. Examples of such attributes are company code, plant and cost centers that the user can order against, etc.


Q.11. How do we define ITS URL?
Before the Internet Transaction Server (ITS) can process EBP requests, entries in table must be maintained to initiate a connection to a physical URL, which controls the menu on the left hand side of the screen that shows all of the transactions users have access to. The URL varies depending on which the EBP client the configuration is performed in and it also consists of base address for the integrated ITS instance. To enable EBP purchasing for each client, this configuration needs to be performed once.


Q.12. Is there anything in particular that needs to be done to a user or a vendor to make them a valid part of SRM?
A user or supplier record cannot be assigned to an organizational unit it has a business partner recorded. This means, if Business Partner relationships are not established, users cannot be imported into the organizational structure from the User_Gen Transaction. Then the following error occurs: "Business partner of organizational unit does not exist".


Q.13. What is supply management in SRM?
Supply management deals with the oversight and management of materials and services inputs, management of the suppliers, which provides vital inputs. The performance of supply management departments and professionals is measured in terms of amount of money saved for the organization. However, managing risk is one of the aspects of supply management; especially the risk of non-availability of quality goods and services important for an organization's survival and growth.

Q.14. What is the function of supply management in an organization?
The supply management function of an organization is responsible for various aspects such as managing supplier performance, implementing technologies, processes, policies, and procedures to support the purchasing process. Also provide supplier relationship management process for providing the structure for how relationships with suppliers will be developed and maintained.


Q.15. What is the difference between a business partner and a partner function?
- Generally in SRM business, partner means the entire stake Holders. Example: suppliers, customers, vendors, employee, etc. The function of partner is to make the vendors as reference, and then there will be invoicing party, supplying party, etc.
- Business partner means those who supply the raw material to the customer i.e. buyer.


Q.16. What are the key business process in SAP SRM?
The key business process in SAP SRM includes:
a) Procure to pay - we can integrate catalogue based requisition and gain the benefits of e-procurement.
b) Catalogue management - manages catalogue data as master data that is deeply integrated.
c) Centralize sourcing - gain visibility into the demand for goods and services.
d) Centralized contract management - consolidates contract information.
e) Supplier collaboration - links supplier to our purchasing processes through the supplier portal.


Q.17. What is a Purchasing Organization?
A Purchasing Organization is the organizational unit within a business responsible for the procurement of goods and services for plants belonging to a particular region. It also negotiates terms and conditions of contracts and purchases from vendors and also assumes legal responsibility for those purchases for the Plants that PO is responsible for. Those Plants are dependent on its assignment.


Q.18. Why do we create the internal number range for local bid invitation?
An internal number range must be defined to build numerically local bid invitation for RFQ`s and Auction in the Bidding Engine and Live Auction application. These bids does not have a link to any R/3 purchasing document, they are completely local to the ERP system.


Q.19. How SAP SRM is linked with SAP MM?
You can replicate Purch Org,purch group, material master, vendor master from backend. you can create PO in SRM and replicate Po in the R/3. All the procurement done in SRM related to MM only.

------------------------------------------------------------------------------------------------------

FAQ
Will this course help me clear the certification exam?
+
Which is better - Self-paced training or Instructor-led training?
+
What if I miss a class?
+
How will I execute the practical?
+
Is the course material accessible after completion of the course?
+
Is there any offer/discount that I can avail?
+
Will I get a refund if I cancel my enrollment?
+
What if I have queries after completion of the course?
+