30 Hours
Online Instructor-led Training
USD 1399 (USD 2800)
Save 50% Offer ends on 31-Dec-2023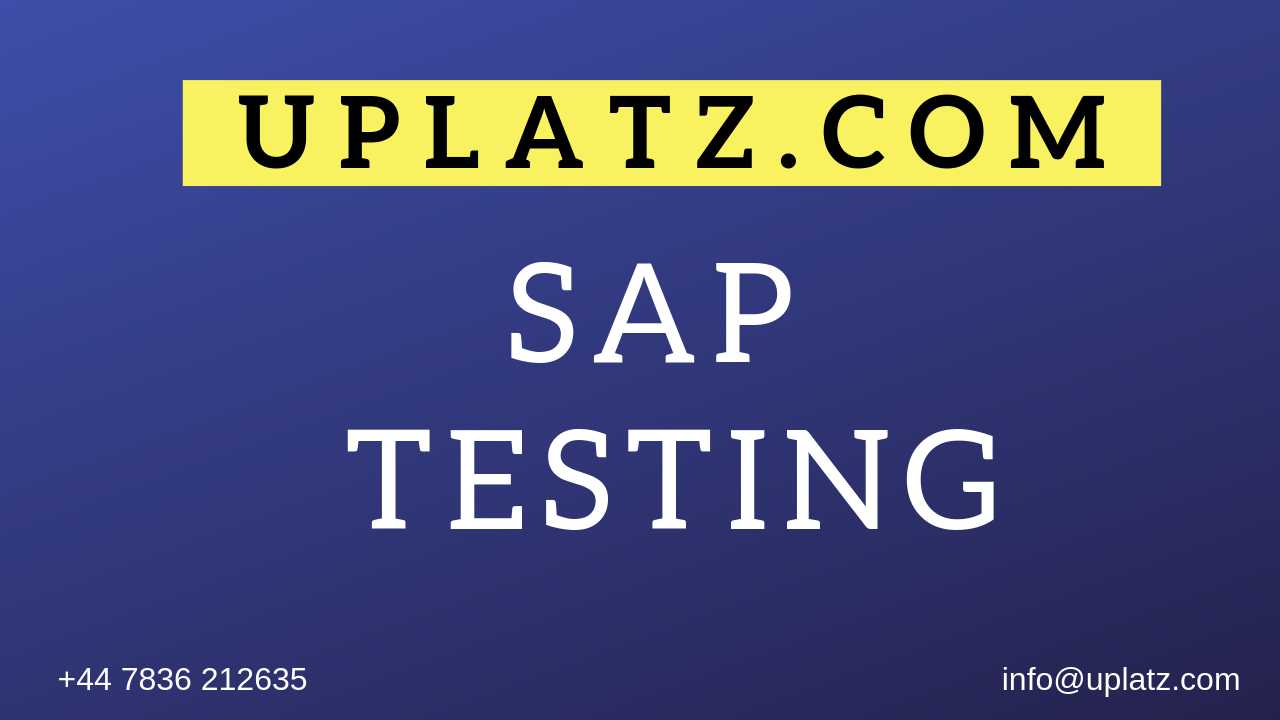 About this Course
In an ever evolving IT industry testing has become critical part of any project and SAP is no exception. SAP testers are integral part of any implementation and help test and analyse the SAP processes in the system. The demand of SAP testers is only increasing given the complex nature of SAP implementations. You will learn the right methodologies and processes to test various SAP processes.

SAP Testing basically means to test the functionality of SAP modules (such as SAP FICO, MM, SD, PM, PP, HCM, SCM, etc.) and to ensure that they perform as per the desired configuration.
An SAP system undergoes various changes and upgrades like patch management and fixes, new module implementations, and various other configuration changes. All these modifications raise a need for regression testing that is to be performed in SAP environments to ensure that the functionality of the impacted modules is intact.
SAP testing automation tools like SAP Test Acceleration and Optimization tools can be used for this purpose. SAP TAO is one such automation tool to generate test cases for end-to-end scenarios for SAP applications. There are many other automation testing tools for SAP testing like HP QTP, and ECATT, etc.
Key reasons why SAP testing is performed and why it is an important function in the growth of an organization:
• System Validation
• Quality Assurance
• Cost Control
• Compliance & Procedures
• New Implementation
• Configuration Changes
• Integration
• Performance
------------------------------------------------------------------------------------------------------
SAP Testing Training
Course Details & Curriculum
Introduction to automated testing of SAP systems
Set up the system landscape for eCATT
eCATT environment (scripts and script language)
Test applications (what can I test and how?)
Develop executable test cases
Version eCATT scripts
Migrate CATT to eCATT
Test Workbench overview
Change Diagnostics
Transparency and documentation of current system configuration and business processes
Introduction of SAP Solution Manager and SAP System Landscape Directory as configuration management and documentation tools
Control Dashboard to control parameter settings across the solution
Transparency on past and planned changes
IT Reporting for software and infrastructure changes
Change Distribution
Focus on technical distribution of changes.
Usage of automation tools in order to reduce manual interaction and to guarantee process reliability
SAP Netweaver development environments for ABAP, EP, PI, NWDI
Transport of Non-ABAP objects via Enhanced Change and Transport System
SAP best practises for transport landscape topologies and release strategies
Change Request Management
Approval process including demand consolidation, prioritisation, categorisation and scheduling of changes
Introduction of Change Request Management in SAP Solution Manager
Demonstration of SAP's best practises in transport management which are implemented in the SAP Solution Manager
Maintenance Management
SAP's best practices for regular maintenance of SAP software (ABAP and JAVA)
Support Package stack strategy and side effect reporting
Support Package content analysis
Proactive implementation of SAP Notes
Maintenance Optimiser and HotNews Inbox in SAP Solution Manager
Test Management
Test organisation with SAP Solution Manager
Test automation with eCATT and SAP Code Inspector
Setup of the test environments
Certification test for the SAP E2E Solution Operations Certification as ApplicationManagement Expert
Change Control Management
------------------------------------------------------------------------------------------------------
Job Prospects
The average salary ranges from approx. £35,295 per year for SAP Testing Consultant to £106,417 per year for SAP Testing Lead/Manager.
There are currently 6,000+ open SAP Testing jobs in UK ranging from Testing end-users to consultants to managers.
For more details, please visit Uplatz Resourcing
------------------------------------------------------------------------------------------------------
FAQ
Will this course help me clear the certification exam?
+
Which is better - Self-paced training or Instructor-led training?
+
What if I miss a class?
+
How will I execute the practical?
+
Is the course material accessible after completion of the course?
+
Is there any offer/discount that I can avail?
+
Will I get a refund if I cancel my enrollment?
+
What if I have queries after completion of the course?
+