40 Hours
LIVE 1:1 TRAINING
USD 537 (USD 805)
Save 33% Offer ends on 31-Dec-2018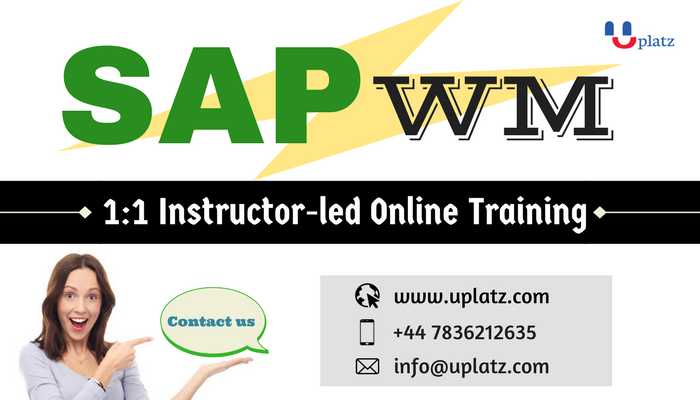 LIFETIME ACCESS TO RECORDINGS OF SESSIONS
UPLATZ TRAINING HUB ACCESS
REAL-TIME PROJECTS & ASSIGNMENTS
RESUME & INTERVIEW PREPARATION SERVICES
CERTIFICATE & BADGE OF COURSE COMPLETION
SAP WM Training
About this Course
Welcome to Uplatz, the biggest IT & SAP training provider in Europe!
Uplatz is well known for providing instructor-led training and video-based courses on SAP, Oracle, Salesforce, AWS, Big Data, Machine Learning, Python, R, SQL, Google & Microsoft Technologies, and Digital Marketing.
SAP and AWS training courses are currently the most sought-after courses globally.
An SAP consultant on an average earns a package of $80,000 ($100,000) per annum based on the skills and experience.
To learn this course -
1) Pay the course fees directly through secured payment gateway by clicking "Pay Now" and relax. After this Uplatz team will take over and get the course conducted for you.
2) If you are based in UK or India, you can directly pay to our respective bank accounts. To do this, you just need to send an email to info@uplatz.com and the Uplatz team will respond back with the details.
For any questions, queries, or payment related issues, simply contact us at -
Call: +44 7836 212635
WhatsApp: +44 7836 212635
Email: info@uplatz.com
https://training.uplatz.com


SAP Warehouse Management (WM) is an important SAP module that provides warehouse management functionality. This module provides tools & processes to maintain inventory at optimum level.
SAP WM course covers all aspects of warehouse management and will provide you skills to become a successful warehouse manager with complete command over SAP WM module.
This is instructor-led online course on SAP WM (Warehouse Management).
Course Details & Curriculum
SAP Warehouse Management
01. Introduction to Warehouse Management
· Warehouse management overview in SAP R/3
· Organization Data
· Warehouse Structure
· Warehouse Master Data
· WM Material master view
02. Organization Data
02.01. Define Warehouse structure
· Warehouse number
· Storage type
· Storage section
· Storage Bin
· Picking Area
· Storage unit
· Quant etc..
02.02. Master Data
· Material Master
· Storage bin
02.03. Transfer Requirement
· Create Transfer requirement automatically
· Create Transfer requirement manually
· Create Transfer requirement for storage type
· Create Transfer requirement for material
03. Transfer Order
· Number Range for TO
· Create TO w.r.t Transfer Requirement
· Create TO w.r.t Posting change notice no
· Create TO w.r.t Storage unit
· Create TO w.r.t Material document
· Create TO w.r.t Inbound delivery
· T.O. Creation In Background
· Confirm the Transfer Order
· Cancel the Transfer Order
· Print Transfer Order
04. Put away Strategies
· Next to empty bin
· Fixed Bin
· Open Storage
· Addition to existing bin
· Pallets
· Fixed bin strategy
05. Picking Strategies
· Shelf life expired
· FIFO
· Stringent FIFO
· LIFO
06. Warehouse Management Business Scenario's (MM)
· Goods Receipt processing with inbound delivery (with ASN)
· Goods receipt processing without inbound delivery
· Goods issue for internal consumption
· Replenishment Control for Storage Type
07. Warehouse movement types
· Define reference movement types for WM
· Assign reference movement types to WM movement types
08. Search Strategies
· Storage type search strategies
· Storage section search strategies
· Storage bin type search strategies
09. Batch Management in WM
· Condition Tables
· Access Sequence
· Strategy Types
· WM Batch Search Procedure
· Batch Status in WM
· Characteristics and class
· SLED In Batch in WM
· Manual And Automatic Batch Display In WM
Availability
Monday
Tuesday
Wednesday
Thursday
Friday
Saturday
Sunday
Time Slot 1 --> 00:00 - 23:30
Time Zone : Europe/London
Tags
SAP
SAP ERP
SAP EWM (Extended Warehouse Management)
SAP WM (Warehouse Management System)
THIS COURSE IS SPREAD OVER
1-3 MONTHS
30-MINS FREE DEMO SESSION AVAILABLE