BUY THIS COURSE (USD 23 USD 69)
Bundle Combo - SAP Finance (FICO and S/4HANA Finance)
Master SAP FICO & S/4HANA Finance at Consultant level. Unleash financial excellence with full training in SAP's dynamic financial management solutions
( add to cart )
Save 67% Offer ends on 31-Dec-2023
Preview Bundle Combo - SAP Finance (FICO and S/4HANA Finance) course
Price Match Guarantee
Full Lifetime Access
Access on any Device
Technical Support
Secure Checkout
&nbsp Course Completion Certificate
Job-oriented
Trending
Bestseller
Instant access
Students also bought -
250 Hours
USD 41
975 Learners
1000 Hours
USD 55
3623 Learners
75 Hours
USD 17
2666 Learners
Completed the course? Request here for Certificate.
ALL COURSES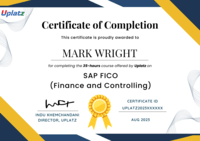 Uplatz provides this bundle combo course on SAP FICO and SAP S/4HANA Finance to equip you with skills in the SAP Finance solutions suite.
SAP FICO (Financial Accounting and Controlling) is a module within the SAP ERP (Enterprise Resource Planning) system that focuses on financial management and accounting functions. It covers areas such as general ledger accounting, accounts payable, accounts receivable, asset accounting, and cost element accounting. FICO enables businesses to manage financial transactions, perform financial analysis, generate financial reports, and support decision-making processes.
SAP S/4HANA Finance is the next-generation financial solution offered by SAP. It is an advanced version of the FICO module, built on the SAP HANA in-memory computing platform. S/4HANA Finance integrates financial processes with other business functions, providing real-time analytics, streamlined workflows, and enhanced reporting capabilities. It incorporates features like centralized finance operations, improved cash management, predictive accounting, and embedded analytics, enabling organizations to achieve greater efficiency and agility in financial management.
Here are some key features of SAP FICO and SAP S/4HANA Finance modules.
SAP FICO:
1) General Ledger Accounting: Manages financial transactions, maintains a comprehensive record of accounts, and provides financial reporting.
2) Accounts Payable: Handles vendor invoices, payment processing, and tracks outstanding payments.
3) Accounts Receivable: Manages customer invoices, tracks incoming payments, and handles collections.
4) Asset Accounting: Tracks and manages fixed assets, including acquisition, depreciation, and disposal.
5) Cost Element Accounting: Tracks costs and revenues for analysis and allocation purposes.
6) Controlling (CO): Provides cost accounting, profit center accounting, internal order accounting, and profitability analysis.
SAP S/4HANA Finance:
1) Real-time Analytics: Offers instant access to real-time financial data for accurate analysis and decision-making.
2) Centralized Finance Operations: Provides a unified platform for managing finance operations across different business units or subsidiaries.
3) Cash Management: Helps optimize cash flows, monitor liquidity, and manage bank relationships effectively.
4) Predictive Accounting: Utilizes advanced analytics and machine learning to forecast future financial outcomes.
5) Integrated Reporting: Enables the creation of customized reports and dashboards to gain insights into financial performance.
6) Embedded Analytics: Provides built-in analytics capabilities within the system, eliminating the need for separate reporting tools.
7) Financial Planning and Analysis: Supports budgeting, forecasting, and financial planning activities to align financial strategies with organizational goals.
8) Compliance and Regulatory Support: Helps ensure adherence to financial regulations and standards.
Overall, SAP FICO and SAP S/4HANA Finance modules offer comprehensive financial management capabilities, but SAP S/4HANA Finance provides additional advanced features and leverages the power of real-time data processing with the SAP HANA platform.
Course/Topic 1 - SAP FICO (comprehensive) - all lectures
This introduction of SAP FICO module will be extremely useful for professionals who aspire to learn the ropes of SAP FICO and implement it in practice. It is especially going to help the consultants who are mainly responsible for implementing Financial Accounting and Cost Accounting with SAP ERP Financials.

In this session, you will learn about the Enterprise structure in SAP is an organizational diagram that shows how the whole group is mapped in SAP. It consists of some company units of different modules created for a specific business-related reason and are grouped together.

This session of SAP FI enterprise structures which are the bedrock of the financial solution; without them, you couldn't integrate and configure your program.

This video of SAP Financial Accounting enterprise structure is Organizational Structure that represent an Enterprise Structure in SAP and Enterprise Structure is the key building block to the entire organization.

This General Ledger (G/L) accounts which are used to provide a picture of external accounting and accounts and to record all the business transactions in a SAP system.

The FI chart of accounts represents the list of GL accounts that are used to meet the daily needs and the operating country's legal requirement in a company. The master chart of accounts must be assigned to each company code.

Validation and substitution in SAP are used in document posting. In SAP all input values are validated either by a program or with a table. However, certain validations are not carried on by these standard programs so you have to specifically use validation program to create validation rules in sap for your specific requirements.

In this video of reversal, you will learn about the reversed document, just go to document posting by entering transaction details in the command field and then start the process step by step.

In this SAP Accounts Payable video, you will learn Accounts Payable submodule in SAP FICO step by step from basics to advanced concepts with scenarios. At the end of the video, you will be able to recognize the scope and function of accounts payable, or the AP sub component of financial accounting.

In this video you will understand any postings made in Accounts Payable is updated in General Ledger as well. The Accounts Payable submodule has tons of reports and forecasting to features to track vendor outstanding and payments.

SAP Accounts Payable is one of the important components of SAP Financial (FI) Module. It represents as FI-AP respectively. This video contains the details about those modules.

In this video, you will learn about Manual Bank reconciliation statement which is reconciliation between the account maintained by your company and the account maintained by the bank.

The Data cap Accounts Payable application uses optical character recognition and location rules to capture invoice data.

Check management is used in cases where, when issuing your checks, you do not want to use the payment document number as the check number, but a different numbering method instead.

In this video we have described the SAP Accounts Receivable sub-module in detail. SAP FI Accounts Receivable component records and manages accounting data of all customers. It is also an integral part of sales management. This session will guide you through the basics of AR and AP, what they are, why they're important, and some things you should keep in mind when recording transactions related to them.

This session is all about the AR/accounts receivable which is any money owed by customers to a company. In other words, it's money that a company has a right to receive because it has provided a product or service. This video also guides you about configuration settings of Accounts Receivable in SAP FICO step by step.

In this video the topics provide an introduction to the SAP FICO Accounts Receivable and Accounts Payable application components. Accounts Receivable is a submodule of SAP FI used to manage and record accounting data for all the customers. It handles customer invoices, approvals, payments and other allied activities.

This video describes the process of recording accounts receivable and the allowance for doubtful accounts. The Accounts Payable application component records and manages accounting data for all vendors. The Accounts Receivable application component records and administers accounting data of all customers. It is also an internal part of Sales Management.

This session explains what is Dunning and how to perform Dunning Run Process along with technical information. You will also understand that if a customer misses the payment for the outstanding invoice by payment due date, then how you can generate a dunning letter using SAP FI and send it to the customer address to remind them of the outstanding payment.

In this part we will learn about SAP FI Tax functionality. This is an introductory tutorial about taxes in SAP FI included in our SAP FI course. Learn about the high-level flow of processing of taxes in FI module of SAP ERP. This tutorial also explains how to implement and configure SAP FI (Financial Accounting) and SAP CO (Controlling) module step by step.

In this tutorial on SAP International Currencies you will learn why and how foreign currency valuation is carried out in SAP. This video explains how to configure valuation methods and areas, and teaches you how to execute the valuation. Overall you will understand the international currencies within SAP FI Accounts Receivable.

Many company codes are involved in a cross-company code transaction. In a cross-company code transaction, the system posts a separate document with its own document number in each of the company codes.

Asset Accounting is an important module in SAP that manages assets of an organization by master records. Asset accounting is a sub ledger to the SAP FI module for managing the Asset records.

The FI-Asset Accounting (FI-AA) component is used for managing the fixed assets in FI system. In Financial Accounting, it serves as a subsidiary ledger to the General Ledger, providing detailed information on transactions involving fixed assets.

SAP Asset Accounting is also called as sub ledger accounting, it is one of the important sub-module of SAP financial accounting (SAP FICO) module. Asset Accounting in SAP (FI-AA) is used for managing and supervising the fixed assets of an organization.

Asset Accounting is a sub component of SAP FI Module. It deals with the fixed assets of the company for their management and analysis. It provides the complete information about the fixed assets transactions inside a company.

The SAP HR Payroll India component integrates with other SAP HR components like Personnel Administration (PA) and Personnel Time Management. There are interfaces to Financial Accounting and Controlling (SAP FICO).

SAP HCM is basically Integrated with FICO through the Cost Centre, GL account, Vendor Account etc. For integration link the symbolic accounts (from HR) to GL accounts. Symbolic accounts are the point of integration between FI and HR.

In this tutorial, you will learn about the integration points between MM and FI (there are several of them) and see an example of the integration in action. This tutorial is part of both our SAP MM course and SAP FI course.

SAP ensures that data from one module automatically flows to another module. In case of SAP MM FI integration, functionality and data from SAP MM (Materials Management) module triggers automatic postings in SAP FI (Financial Accounting) module.

In this part, we learn about SD and FI integration point. Whenever we sale a finish material to customer, then the customer have to pay for that. We send a bill to customer. In that position all billing document which is happens to sales and distribution module will be posted into FI module.

ASAP Methodology (Accelerated SAP) is a standard SAP related project preparation and systems implementation method, developed and updated by consultants that are involved in implementing SAP software products. This methodology is also useful for project managers and others who implement systems that support business processes.

The LSMW (Legacy System Migration Workbench) is a tool based on SAP software that supports single or periodic data transfer from non-SAP to SAP systems (and with restriction from SAP-to-SAP system).

In SAP FICO module, FI stands for Financial Accounting and SAP CO stands for Controlling. SAP FICO is one of the important modules of ERP SAP R/3 that deals with financial activities of an organization. This SAP FICO tutorials are designed for beginners from basic concepts including examples and real time scenarios.

This is an elementary session and you can easily understand the concepts explained here with a basic knowledge of how a business deals with its Financials. However, it will help if you have some prior exposure to accounting and how to deal with financial data.

This tutorial on Controlling (CO) module of SAP provides information to managers & decision makers to understand where the company's money is being spent. Controlling is not restricted by any legal requirements as in case of FI & is essentially an internal cost accounting tool.

This SAP Controlling video provides information on a variety of tools that can be used to provide operational information to the management to support business analysis and decision making.

This SAP controlling video provides core information to management on how to use SAP CO module for effective planning, reporting and monitoring of the business operations of an organization.

In this tutorial, you will learn how to implement SAP Controlling module step-by-step for a business organization with real time scenarios. You will develop skills in managing and configuring master data that covers cost and profit centers, internal orders, and other cost elements and functional areas.

SAP CO Product Costing module is used to find the value of internal cost of products. It is also used for profitability and management accounting for production.

This part will give you an overview of important reports which are used frequently in SAP FICO.
Course/Topic 2 - SAP S/4HANA Finance - all lectures
In this first video on the SAP S/4HANA Finance course, you will be getting a detailed explanation of the Costing-based CO-PA and Account-based PA along with the derivative of characteristics which will be shown in the SAP system by the trainer. Furthermore, you will be learning about the COGS G/L Accounts.

In this video, you will get a brief introduction to S/4HANA Finance module, starting with the release versions of S/4HANA, its advantages, the database, and table structure, the use of Fiori in S/4HANA which will be shown in the SAP system, and the transition scenarios to S4.

In this session, you will learn about the idea and concept of Universal Journal along with the differences between BSEG and ACDOCA. Furthermore, you will learn about the Non-Disruptive approach, the purpose and advantages of Extension Ledger, merging of GL & Cost element master data, the currency configuration, and the steps involved in the configuration of CO Integration.

In this video, you will learn all the configuration settings involved with GL account in S/4HANA Finance which will be shown in a step-by-step process by the trainer in the SAP system.

This is a continuation video to the previous lecture where you will get some more in-depth and detailed concepts associated with the GL accounts in the S/4HANA Simple Finance module.

In this video, you will learn about the complete work process of Ledger for the HANA Simple Finance module and its step-by-step process in the SAP system.

In this video, the trainer will be going through the different apps associated with the General Ledger Accounting, and along with this, the session will also be moving further with the concepts on BP.

In this video, you will be going through the work process of Cash Journal Entry and Master Data Maintenance in the SAP system. Furthermore, you will be learning about the BP groupings in the S/4HANA Finance module.

In this session, you will learn about the concepts related to Bank Accounting Management or commonly abbreviated as BAM. During this session, you will be learning about the Bank Hierarchy, Overdraft Limits, BCM, Centralized BAM, Liquidity Management, and Cash Operations.

In this video, you will get a brief overview of the architecture of New Asset Accounting, the pre-requisites for New Asset Accounting, Migration, Legacy Data Transfer, the limitations associated with Asset Accounting, and others.

In this video, you will learn about the changes associated with Asset Accounting from a user along with the concept of Depreciation Run in the S/4HANA Finance module.

In this video, you will learn about the different configuration steps associated with the Migration process of the S/4HANA Finance module. The trainer will be showing a step-by-step process of the whole work procedure in the SAP system.

In this video, you will know and learn about the different prerequisites for the New Asset Accounting and working on the same in the SAP system.

In this video, you will be going through the taxation part of the SAP S/4HANA Finance module and its work process in the SAP system.

In this video, the trainer will be seen answering some of the queries associated with the S/4HANA Finance course along with explaining the solutions in regard to resolving the queries.

In this video, you will get a brief knowledge on Profitability Analysis starting with an overview on Costing-based CO-PA, Account-based CO-PA, the Profitability Analysis in the Universal Journal, COGS concept and other detailed concepts associated with it.

In this last video on the SAP S/4HANA Finance course, you will learn about the different steps associated with Migration in S/4HANA Simple Finance such as Migration of Customizing, Data Migration, and Activities after Migration and all these steps will be shown with a detailed explanation by the trainer in the SAP system.
After the completion of this course, you will be able to:
• Implementation of SAP FICO module
• Improve financial activities using FICO
• Hands-on experience with SAP system
• Work as SAP End-User and Consultant
• How business process runs on SAP
• How to integrate SAP FICO with SAP MM and SAP SD
• Understand the landscape of SAP S/4HANA Finance
• Learn the configurations involved in SAP S/4HANA Finance module
SAP Finance (FICO and S/4HANA Finance) certification consists of 80 multiple choice questions which you need to complete in 220 minutes of time. SAP Finance (FICO and S/4HANA) has released exams based on the latest version of SAP Finance (FICO and S/4HANA).
SAP FICO is the important module of ERP and both FI and CO modules store the financial transactions data. while SAP S/4HANA Finance is the area of the S/4HANA suite dealing specifically with Financial Management solutions.
Difference Between SAP FICO & SAP S/4HANA Finance
SAP FICO is one of the essential functional modules in SAP ERP components which helps organizations to manage all of their financial data. The primary purpose of SAP FICO is to support the organization to produce and handle all the financial statements for analysis and reporting and also assist with effective business planning and decision making. SAP FICO comprises two modules, i.e., SAP Finance (FI) and SAP Controlling (CO), each of these modules is used to carry out specific financial processes. SAP FI Module focuses on complete financial reporting and accounting while SAP CO emphasis on planning and monitoring costs. SAP FI and SAP CO were originally released as separate modules, but now these modules are integrated so strongly that most people are referring to them as a single module.
SAP S/4HANA Finance
'SAP S/4 HANA Finance' which was known earlier as SAP Simple Finance. The term 'SAP Simple Finance' is no longer an official brand, yet there are still many people who utilize this term interchangeably due to the fact that it was highly marketed by SAP for a while.
S/4HANA is a company suite built on top of SAP's in-memory platform, HANA. The S/4HANA suite includes ERP capabilities across many different business areas such as Human Resources, Sales, Finance, Procurement, Supply Chain, and more.
Uplatz online training guarantees the participants to successfully go through the SAP Finance (FICO and S/4HANA) certification provided by Uplatz. Uplatz provides appropriate teaching and expertise training to equip the participants for implementing the learnt concepts in an organization.
Course Completion Certificate will be awarded by Uplatz upon successful completion of the SAP Finance (FICO and S/4HANA) online course.
The SAP Finance (FICO and S/4HANA Finance) consultant draws an average salary of $108,080 per year depending on the knowledge and hands-on experience. The SAP Finance (FICO and S/4HANA) consultant job roles are in high demand and make for a rewarding career.
Develop functional and technical specifications for the delta design and for tools to support the SAP S4HANA conversion. Execute the necessary system configuration to enable SAP S4 HANA conversion. Lead testing and defect resolution in the context of SAP S4 HANA conversions.
Note that salaries are generally higher at large companies rather than small ones. Your salary will also differ based on the market you work in.
The following are the job titles:
a) SAP Finance (FICO and S/4HANA Finance) Consultant.
b) SAP Finance (FICO and S/4HANA Finance) Marketing Consultant.
1. List the key elements of SAP S/4HANA Finance.
The following are the vital aspects of SAP S/4HANA Finance:
· Financial Planning and Analysis – With SAP Finance, companies can forecast, price range, and layout as an ongoing approach. With the benefit of predictive Analysis, groups can forecast to have an effect on commercial enterprise decisions on their organization's economic reports.
· Finance and Accounting – With the benefits of Advanced Accounting and Finance features, corporations can meet criminal terms. Further, they can finish the reviews of Finance on time.
· Financial Risk Management – With the advantage of Predictive Evaluation, organizations can determine the existing risks in the processes of Finance at the initial stage and take action to correct them. It is easy to determine the exceptional feasible funding costs related to the market standards.
· Compliance and Risk Management – With the robust economic approach, it is easy to keep away from unapproved get right of the entry to important facts in the enterprise. It is easy to perceive abuse as properly as a fraud. The corporations can be in a position to minimize the risk issue in whole financial processes.
2. What is the Posting Period?
The posting duration variant controls which posting periods, both regular and special, are open for every organization code. It is viable to have a one of a kind posting duration variant for each enterprise code in the organization. The posting length is independent of the fiscal year variant.
3. State the ways of Migration from SAP to Simple Finance?
Few ways that how corporations can move from SAP traditional FICO module to Simple Finance (that is SFIN 2.0). The ones that are new GL are capable of moving directly to Simple Finance. Those who are on usual GL intend to migrate to New GL first and then migrate to Simple Finance. This sort of migration happens only with SPRO and doesn't need technical aid.
4. In SAP Simple Finance, even in case the client never uses the Asset Accounting, Is it compulsory to have a new Asset Accounting?
In Asset Accounting, in case there is no data that refers to both customizing and transactional facts that have to be moved, in such a scenario there is no required for doing the migration steps in Asset Accounting. If the consumer chose to use the Asset Accounting in their new Asset Accounting later, then they can set up the personalizing in the IMG.
5. What is Modeling Studio?
There are several tasks a modeling studio performs in SAP S/4Hana Finance. A few of them are protected in the following: Handle Data Services in order to enter the records from the SAP Business Warehouse States, which tables are placed in HANA, the preliminary thing is to receive metadata and then software data duplication tasks, Utilize Data services for modeling, Manage ERP requests connection Perform modeling.
6. What is the distinction between Logistics and Transport?
The following table gives the difference between Logistics and Transport:
7. Is it viable for a company to have an excellent quality money float nevertheless additionally remain in serious monetary difficulty?
Yes, it is. An organization that is selling off stock but delaying payables will show beneficial money float for some time even although they are in trouble. An additional instance would be where an employer has robust revenues for the length but future projections reveal that revenues will decrease. This would manifest when a business enterprise hasn't focused on ensuring there have been new prospects/sales in the pipeline.
8. How is Account type related to File type?
We can differentiate the document type with a 2-character code like DG and more however an account type is designated by a single character code like D and so on. Defining which debts a unique file can be posted to. The frequent account types include:
· A Assets
· D Customer (Debtor)
· K Vendor (Creditor)
· M Materials
· S GL
9. Is it possible to exchange an existing B/S, GL A/C to the P/L type?
Technically, you will be in a position to exchange all the fields, without the account number, of a G/L account in the Chart of Accounts area. Nonetheless, on this specific event when you Change the B/S to P&L in the GL account type then can be sure that it is stable to carry the application forward by saving the changes which will help the system to correct the suitability for the account balances.
10. What are the various available compression techniques?
There are three sorts of accessible compression techniques namely:
· Cluster Encoding
· Run-length Encoding
· Dictionary Inscribing
11. What is Document type?
SAP comes delivered with a number of document types, which are used in numerous posts. The record type assists to classify an accounting transaction within the system and is utilized to handle the complete transaction and identify the account types a precise document type can submit to.
As an example, the file type AB allows you to submit to all the accounts, whereas type DZ allows you to submit only the customer payments. Every report type is assigned a number range. The common file types consist of:
· AA — Asset posting
· KG — Vendor credit score memo
· AB —Accounting document
· KN — Net vendors
· AF — Depreciation postings
· KR — Vendor invoice
· DG — Customer credit score memo
· KZ — Vendor payment
· DR — Customer invoice
· KG — Vendor deposit memo
· DZ — Customer payment
· SA — GL account document
· X1 — Recurring entry doc.
· X2 —Sample document
12. What are the essential grant chain challenges that organizations face?
The five big challenges that organizations face these days are:
· Ignoring the ongoing growth of e-commerce as a channel in the industrial zone.
· No attention to the practicable risk like risky transport costs.
· Over expectation that furnishes chain administration technologies will fix everything, over-reliance on past performance to anticipate future sales.
· Boost complexity delivered to equip chain operations with the implementation of pointless applied sciences.
· Lack of understanding of the complete abilities of suppliers and service.
13. What is the SAP FI Organizational Structure?
In this image, SAP FI Organisational Structure is mentioned. With the help of this image, aspirants can easily understand.
14. How is it viable for the employer to show excellent quality net earnings and declare bankruptcy?
Two instances consist of deterioration of working capital (i.e. growing accounts receivable and lowering bills payable), and monetary shenanigans.
15. What is deferred tax liability and its purpose?
Deferred tax liability is merely contrary to a deferred tax asset. The deferred tax liability happens when a tax price claimed on the earnings statement is not paid to the IRS in the course of the same length it is recognized, it's paid at a future date.
When there are differences in depreciation price between ebook reporting and IRS reporting, deferred tax liabilities can end up resulting in invariants of profits as reflected on a company's earnings assertion versus what's recommended to the IRS and which results in lower taxes payable to the IRS (in the quick run).
Q1. What are the payment options? A1. We have multiple payment options: 1) Book your course on our webiste by clicking on Buy this course button on top right of this course page 2) Pay via Invoice using any credit or debit card 3) Pay to our UK or India bank account 4) If your HR or employer is making the payment, then we can send them an invoice to pay. Q2. Will I get certificate? A2. Yes, you will receive course completion certificate from Uplatz confirming that you have completed this course with Uplatz. Once you complete your learning please submit this for to request for your certificate https://training.uplatz.com/certificate-request.php Q3. How long is the course access? A3. All our video courses comes with lifetime access. Once you purchase a video course with Uplatz you have lifetime access to the course i.e. forever. You can access your course any time via our website and/or mobile app and learn at your own convenience. Q4. Are the videos downloadable? A4. Video courses cannot be downloaded, but you have lifetime access to any video course you purchase on our website. You will be able to play the videos on our our website and mobile app. Q5. Do you take exam? Do I need to pass exam? How to book exam? A5. We do not take exam as part of the our training programs whether it is video course or live online class. These courses are professional courses and are offered to upskill and move on in the career ladder. However if there is an associated exam to the subject you are learning with us then you need to contact the relevant examination authority for booking your exam. Q6. Can I get study material with the course? A6. The study material might or might not be available for this course. Please note that though we strive to provide you the best materials but we cannot guarantee the exact study material that is mentioned anywhere within the lecture videos. Please submit study material request using the form https://training.uplatz.com/study-material-request.php Q7. What is your refund policy? A7. Please refer to our Refund policy mentioned on our website, here is the link to Uplatz refund policy https://training.uplatz.com/refund-and-cancellation-policy.php Q8. Do you provide any discounts? A8. We run promotions and discounts from time to time, we suggest you to register on our website so you can receive our emails related to promotions and offers. Q9. What are overview courses? A9. Overview courses are 1-2 hours short to help you decide if you want to go for the full course on that particular subject. Uplatz overview courses are either free or minimally charged such as GBP 1 / USD 2 / EUR 2 / INR 100 Q10. What are individual courses? A10. Individual courses are simply our video courses available on Uplatz website and app across more than 300 technologies. Each course varies in duration from 5 hours uptop 150 hours. Check all our courses here https://training.uplatz.com/online-it-courses.php?search=individual Q11. What are bundle courses? A11. Bundle courses offered by Uplatz are combo of 2 or more video courses. We have Bundle up the similar technologies together in Bundles so offer you better value in pricing and give you an enhaced learning experience. Check all Bundle courses here https://training.uplatz.com/online-it-courses.php?search=bundle Q12. What are Career Path programs? A12. Career Path programs are our comprehensive learning package of video course. These are combined in a way by keeping in mind the career you would like to aim after doing career path program. Career path programs ranges from 100 hours to 600 hours and covers wide variety of courses for you to become an expert on those technologies. Check all Career Path Programs here https://training.uplatz.com/online-it-courses.php?career_path_courses=done Q13. What are Learning Path programs? A13. Learning Path programs are dedicated courses designed by SAP professionals to start and enhance their career in an SAP domain. It covers from basic to advance level of all courses across each business function. These programs are available across SAP finance, SAP Logistics, SAP HR, SAP succcessfactors, SAP Technical, SAP Sales, SAP S/4HANA and many more Check all Learning path here https://training.uplatz.com/online-it-courses.php?learning_path_courses=done Q14. What are Premium Career tracks? A14. Premium Career tracks are programs consisting of video courses that lead to skills required by C-suite executives such as CEO, CTO, CFO, and so on. These programs will help you gain knowledge and acumen to become a senior management executive. Q15. How unlimited subscription works? A15. Uplatz offers 2 types of unlimited subscription, Monthly and Yearly. Our monthly subscription give you unlimited access to our more than 300 video courses with 6000 hours of learning content. The plan renews each month. Minimum committment is for 1 year, you can cancel anytime after 1 year of enrolment. Our yearly subscription gives you unlimited access to our more than 300 video courses with 6000 hours of learning content. The plan renews every year. Minimum committment is for 1 year, you can cancel the plan anytime after 1 year. Check our monthly and yearly subscription here https://training.uplatz.com/online-it-courses.php?search=subscription Q16. Do you provide software access with video course? A16. Software access can be purchased seperately at an additional cost. The cost varies from course to course but is generally in between GBP 20 to GBP 40 per month. Q17. Does your course guarantee a job? A17. Our course is designed to provide you with a solid foundation in the subject and equip you with valuable skills. While the course is a significant step toward your career goals, its important to note that the job market can vary, and some positions might require additional certifications or experience. Remember that the job landscape is constantly evolving. We encourage you to continue learning and stay updated on industry trends even after completing the course. Many successful professionals combine formal education with ongoing self-improvement to excel in their careers. We are here to support you in your journey! Q18. Do you provide placement services? A18. While our course is designed to provide you with a comprehensive understanding of the subject, we currently do not offer placement services as part of the course package. Our main focus is on delivering high-quality education and equipping you with essential skills in this field. However, we understand that finding job opportunities is a crucial aspect of your career journey. We recommend exploring various avenues to enhance your job search: a) Career Counseling: Seek guidance from career counselors who can provide personalized advice and help you tailor your job search strategy. b) Networking: Attend industry events, workshops, and conferences to build connections with professionals in your field. Networking can often lead to job referrals and valuable insights. c) Online Professional Network: Leverage platforms like LinkedIn, a reputable online professional network, to explore job opportunities that resonate with your skills and interests. d) Online Job Platforms: Investigate prominent online job platforms in your region and submit applications for suitable positions considering both your prior experience and the newly acquired knowledge. e.g in UK the major job platforms are Reed, Indeed, CV library, Total Jobs, Linkedin. While we may not offer placement services, we are here to support you in other ways. If you have any questions about the industry, job search strategies, or interview preparation, please dont hesitate to reach out. Remember that taking an active role in your job search process can lead to valuable experiences and opportunities.