BUY THIS COURSE (USD 23 USD 69)
Bundle Course - Programming Languages
Learn cutting-edge programming languages such as Python, R, Java, JavaScript, more. Explore syntax, semantics, paradigms. Become a software developer.
( add to cart )
Save 67% Offer ends on 31-Dec-2023
Preview Bundle Course - Programming Languages course
View Course Curriculum
Price Match Guarantee
Full Lifetime Access
Access on any Device
Technical Support
Secure Checkout
&nbsp Course Completion Certificate
Cutting-edge
Trending
Job-oriented
Instant access
Students also bought -
120 Hours
USD 23
3779 Learners
200 Hours
USD 23
3788 Learners
50 Hours
USD 23
4202 Learners
Completed the course? Request here for Certificate.
ALL COURSES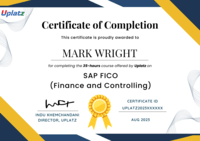 Courses included in Bundle Course Programming Languages by Uplatz are:
1) Python Programming
2) R Programming
3) Java Programming
4) Java Programming (advanced)
5) Java Server Pages (JSP)
6) Java Servlets
7) HTML5 and CSS3
8) JavaScript
9) ReactJS
10) Node.js
11) Angular 8
12) Shell Scripting
13) C and Embedded C Programming
14) C++ Programming
15) SQL Programming with MySQL
16) DataWeave Programming
Python Programming - Python is a powerful general-purpose in a programming language. It is used in web development, data science, creating software prototypes, and so on. The syntax of python is very simple so a beginner can learn python with ease.
R Programming - R is a programming language and software environment for statistical analysis, graphics representation, and reporting. R is freely available under the GNU General Public License, and pre-compiled binary versions are provided for various operating systems like Linux, Windows and Mac.
Java Programming - Core Java is a part of Java programming the language used to create or develop general purpose applications, general-purpose application development, online application development, and mobile applications.
JSP (Java Server Pages) - JSP is a server-side technology that does all the processing at the server. It is used for creating dynamic web applications, using java as the programming language.
Java Servlets - Java Servlet is a java programming language used to extend the capabilities of a server to handle the complex request obtained from the webserver. Servlet is fast as it doesn't create a new process for every new request received.
HTML5 AND CSS3 - XHTML is a variant of HTML that uses the syntax of XML, the Extensible Markup Language. XHTML has all the same elements as the HTML variant, but the syntax is slightly different. CSS is the language for describing the presentation of Web pages, including colors, layout, and fonts.
JavaScript - JavaScript is a scripting language used to create and control dynamic website content, i.e. anything that moves, refreshes, or otherwise changes on your screen without requiring you to manually reload a web page.
ReactJS - React is a library for building composable user interfaces. It encourages the creation of reusable UI components, which present data that changes over time. Lots of people use React as the V in MVC.
Node.js - Node.js is a server-side platform built on Google Chrome's JavaScript Engine (V8 Engine). Node.js is an open-source, a cross-platform runtime environment for developing server-side and networking applications. Node.js applications are written in JavaScript and can be run within the Node.js runtime on OS X, Microsoft Windows, and Linux.
Angular 8 - Angular is a Typescript-based open-source framework for building client-side web applications. Since Typescript is a superset of JavaScript. Typically, JavaScript is used for interface interactions, slideshows, and other interactive components.
Shell Scripting - provides you with an interface to the Unix system. It gathers input from you and executes programs based on that input. When a program finishes executing, it displays that program's output.
C and Embedded C - C is a general-purpose language known for its efficiency and portability. It offers low-level memory manipulation and features like pointers, making it suitable for tasks requiring direct hardware interaction and performance optimization. Embedded C extends C's capabilities by focusing on constrained environments, such as microcontrollers, with specific syntax and libraries tailored for resource-limited systems.
C++ is an extension of the C programming language that adds object-oriented features, making it a versatile language for various software development tasks. It combines the capabilities of low-level memory manipulation from C with high-level abstractions like classes, inheritance, polymorphism, and templates.
SQL Programming with MYSQL - MySQL is a very powerful program in its own right. It handles a large subset of the functionality of the most expensive and powerful database packages. It is very friendly to PHP, the most appreciated language for web development. SQL is the standard language for Relational Database System.
DataWeave - DataWeave is a domain-specific programming language primarily used for data transformation & manipulation tasks, often within the context of integration & data processing. Developed by MuleSoft, it's especially tailored for handling structured data formats like XML, JSON, CSV.
Course/Topic 1 - Python Programming - all lectures
In this lecture session we learn about introduction to python programming for beginners and also talk about features of python programming.

In this lecture session we learn about basic elements of python in python programming and also talk about features of elements of python.

In this lecture session we learn about installation of python in your system and also talk about the best way of installation of python for beginners.

In this lecture session we learn about input and output statements in python programming and also talk about features of input and output statements.

In this lecture session we learn about data types in python programming and also talk about all the data types in python programming.

In this lecture session we learn about operators in python and also talk about how we use operators in python programming.

In this lecture session we learn about different types of operators in python programming and also talk about features of operators in python.

In this lecture session we learn about type conversion in python programming and also talk about features of type conversion in python.

In this lecture session we learn about basic programming in python programming for beginners.

In this lecture session we learn about features of basic programming in python and also talk about the importance of programming in python.

In this lecture session we learn about math modules in python programming and also talk about features of math modules in python.

In this lecture session we learn about conditional statements in python and also talk about conditional statements in python programming.

In this lecture session we talk about basic examples of conditional statements in python.

In this lecture session we learn about greater and less then conditional statements in python programming.

In this lecture session we learn about nested IF Else statements and also talk about features of nested IF else statements.

In this lecture session we learn about looping in python in programming for beginners and also talk about looping in python.

In this lecture session we learn about break and continue keywords and also talk about features of break continue keywords.

In this lecture session we learn about prime number programs in python and also talk about functions of prime number programs in python.

In this lecture session we learn about while loop in python programming and also talk about features of while loop in python.

In this lecture session we learn about nested For loop in python programming and also talk about features of nested For loop.

In this lecture session we learn about features of nested for loop in python and also talk about the importance of nested For loop in python.

In this lecture session we learn about functions in python and also talk about different types of functions in pythons.

In this lecture session we learn about passing arguments to functions in python programming and also talk about features of passing arguments to functions

In this lecture session we learn about return keywords in python and also talk about features of return keywords in python.

In this lecture session we learn about calling a function in python programming and also talk about calling a function.

In this lecture session we learn about factors of calling a function in python programming and also talk about features of calling a function.

In this lecture session we learn about a program to swap 2 numbers using calling a function in python programming.

In this lecture session we learn about functions of arbitrary arguments in python programming and also talk about features of arbitrary arguments.

In this lecture session we learn about functions keywords arguments in python programming and also talk about features of keyword arguments.

In this lecture session we learn about functions default arguments in python programming and also talk about features of default argument.

In this lecture session we learn about global and local variables in python programming and also talk about features of global and local variables.

In this lecture session we learn about global and local keywords and also talk about features of global and local keywords.

In this lecture session we learn about strings in python programming and also talk about features of string in python.

In this lecture session we learn about string methods in python programming and also talk about features of string methods in python.

In this lecture session we learn about string functions in python and also talk about features of strings functions in python.

In this lecture session we learn about string indexing in python programming and also talk about features of string indexing in python programming.

In this lecture session we learn about introduction of lists in python programming and also talk about features of introduction to lists.

In this lecture session we learn about basics of lists python programming and also talk about features of basics of lists in python.

In this lecture session we learn about list methods and also talk about features of list method python programming.

In this lecture session we learn about linear search on list and also talk about features of linear search on list in brief.

In this lecture session we learn about the biggest and smallest number of the list and also talk about features of MAX and Min in a list.

In this lecture session we learn about the difference between 2 lists in python programming and also talk about features of 2 lists.

In this lecture session we learn about tuples in python programming and also talk about tuples in python programming.

In this lecture session we learn about introduction to sets in python and also talk about functions of introduction to sets in python.

In this lecture session we learn about set operations in python programming and also talk about features of set operation in brief.

In this lecture session we learn about set examples and also talk about features set examples.

In this lecture session we learn about introduction to dictionaries in python programming and also talk about featured dictionaries.

In this lecture session we learn about creating and updating dictionaries in python programming and also talk about features of creating and updating dictionaries.

In this lecture session we learn about deleting items in a dictionary in python programming and also talk about features of deleting items in a dictionary.

In this lecture session we learn about values and items in a dictionary in python programming and also talk about features of values and items in the dictionary.

In this lecture session we learn about dictionary methods in python programming and also talk about features of dictionary methods.

In this lecture session we learn about built in methods in python programming and also talk about features of built in methods in python.

In this lecture session we learn about lambda functions and also talk about features of lambda function in python programming.

In this lecture session we learn about file handling in python programming and also also talk about the importance of file handling in python.

In this lecture session we learn about file handling in python programming and also talk about features of file handling in python.

In this lecture session we learn about exception handling in python and also talk about features of exception handling in python.

In this lecture session we learn about exception handling examples in python programming.

In this lecture session we learn about python programs in python programming and also talk about features of python programs

In this lecture session we learn about the program of printing odd numbers in python programming and also talk about the best way of printing.

In this lecture session we learn about counting the number of vowels and consonants in a string and also talk about features of these programs.

In this lecture session we learn about python programs of swapping two numbers in a list by taking indexes as parameters.

In this lecture session we learn about bubble sort and also talk about features of bubble sort in brief.

In this lecture session we learn about operator precedence in python and also talk about features of operator precedence in python.

In this lecture session we learn about operator precedence in python and also talk about features of operator precedence types.

In this lecture session we learn about recursion in python and also talk about features of recursion in python.

In this lecture session we learn about binary search in python and also talk about features of binary search in python programming.

In this lecture session we learn about binary search in python and also talk about the importance of binary search in python.

In this lecture session we learn about object oriented programming and also talk about features of object oriented programming in brief.

In this lecture session we learn about factors and types of object oriented programming in python programming.

In this lecture session we learn about OOPS and procedural programming and also talk about features of OOPS and procedural programming in OOPS.

In this lecture session we learn about OOPS programs in python and also talk about the importance of OOPS.

In this lecture session we learn about inheritance in python programming and also talk about features of inheritance.

In these lecture sessions we learn about features of object creation in python programming and also talk about object creation in python.

In this lecture session we learn about OOPS terminology and functions and also talk about features of OOPS terminology and functions.

In this lecture session we learn about built in class attributes and garbage collection in python programming.

In this lecture session we learn about inheritance in python and also talk about features of inheritance in python.

In this lecture session we learn about the importance of inheritance in python programming and also talk about functions of inheritance.

In this lecture session we learn about programs in inheritance in python programming and also talk about features of inheritance in python.

In this lecture session we learn about polymorphism in python programming polymorphism and also talk about polymorphism in python.

In this lecture session we learn about features of polymorphism in python and also talk about the importance of polymorphism in python.

In this lecture session we learn about the time module in python and also talk about features time module in python in features.

In this lecture session we learn about the importance of time modules in python time module in python in brief.

In this lecture session we learn about the calendar module in python programming in brief.

In these lecture sessions we learn about calendar methods in python programming and also talk about the importance of calendar methods.

Class 28.1 - Boolean in Python