BUY THIS COURSE (USD 45 USD 139)
Career Path - Software Developer
Learn to Design, develop, test, maintain computer, mobile and web software. Write & implement code, troubleshoot programs, design & create IT systems.
( add to cart )
Save 68% Offer ends on 31-Dec-2023
Preview Career Path - Software Developer course
Price Match Guarantee
Full Lifetime Access
Access on any Device
Technical Support
Secure Checkout
&nbsp Course Completion Certificate
Bestseller
Trending
Job-oriented
Instant access
Students also bought -
300 Hours
USD 45
4412 Learners
200 Hours
USD 45
5851 Learners
30 Hours
USD 17
1554 Learners
Completed the course? Request here for Certificate.
ALL COURSES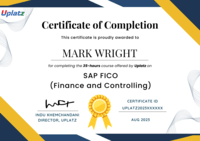 Courses included in Software Developer Career Path Program by Uplatz are:
1) Python Programming
2) Python Programming (advanced)
3) Python Programming (basic to advanced)
4) GUI Programming in Python
5) R Programming
6) Java Programming
7) JSP (JavaServer Pages)
8) Java Servlets
9) JavaScript
10) C and Embedded C Programming
11) C++ Programming
12) Angular 8
13) Node.js
14) React
15) SQL Programming with MySQL
16) Unix and Shell Scripting
17) Linux Shells and Shell Programming (Bash)
A software developer is a professional who specializes in designing, creating, and maintaining software applications and systems. They are responsible for translating the requirements of users or clients into functional software that can perform specific tasks or solve particular problems. Here are some key aspects of what a software developer does:
1. Coding and Programming: Software developers write code using programming languages like Python, Java, JavaScript, C++, and many others. They use these languages to create the software that powers various applications and systems.
2. Software Design: They design the architecture and structure of the software, determining how different components will interact and function together. This involves creating diagrams, flowcharts, and technical specifications.
3. Problem Solving: Software developers are problem solvers. They analyze complex issues, find efficient solutions, and implement them in code. Debugging and troubleshooting are common tasks in this role.
4. Testing and Quality Assurance: Developers create unit tests and perform testing to identify and fix bugs and issues in the software. Ensuring that the software functions correctly and meets quality standards is a critical responsibility.
5. Collaboration: They work closely with other professionals, including product managers, designers, testers, and fellow developers, to develop software collaboratively. Effective communication and teamwork are essential.
6. Continuous Learning: The field of software development is constantly evolving, with new technologies and tools emerging regularly. Software developers need to stay updated, learn new languages or frameworks, and adapt to changes in the industry.
7. Documentation: Developers maintain documentation for their code, APIs, and software systems. This documentation helps other team members understand and work with the codebase.
8. Version Control: They use version control systems like Git to manage and track changes to code. This allows for collaboration and keeps a history of code revisions.
9. Security: Ensuring the security of software is crucial. Developers follow best practices to protect software from vulnerabilities and potential cyber threats.
10. Deployment and Maintenance: Developers may be responsible for deploying software to servers, cloud platforms, or app stores. They also provide ongoing maintenance, updates, and improvements to keep the software running smoothly.
11. Customization: Depending on the project, software developers may need to customize software to suit specific client needs or adapt it to various platforms and devices.
12. Specialization: Some developers specialize in certain areas, such as front-end development (working on the user interface), back-end development (managing server-side logic and databases), full-stack development (working on both front-end and back-end), mobile app development, web development, game development, and more.
Software developers can work in various industries, including IT, finance, healthcare, entertainment, and e-commerce, among others. They play a crucial role in shaping the technology landscape by creating software that powers our everyday lives and businesses.
Course/Topic 1 - Python Programming - all lectures
In this lecture session we learn about introduction to python programming for beginners and also talk about features of python programming.

In this lecture session we learn about basic elements of python in python programming and also talk about features of elements of python.

In this lecture session we learn about installation of python in your system and also talk about the best way of installation of python for beginners.

In this lecture session we learn about input and output statements in python programming and also talk about features of input and output statements.

In this lecture session we learn about data types in python programming and also talk about all the data types in python programming.

In this lecture session we learn about operators in python and also talk about how we use operators in python programming.

In this lecture session we learn about different types of operators in python programming and also talk about features of operators in python.

In this lecture session we learn about type conversion in python programming and also talk about features of type conversion in python.

In this lecture session we learn about basic programming in python programming for beginners.

In this lecture session we learn about features of basic programming in python and also talk about the importance of programming in python.

In this lecture session we learn about math modules in python programming and also talk about features of math modules in python.

In this lecture session we learn about conditional statements in python and also talk about conditional statements in python programming.

In this lecture session we talk about basic examples of conditional statements in python.

In this lecture session we learn about greater and less then conditional statements in python programming.

In this lecture session we learn about nested IF Else statements and also talk about features of nested IF else statements.

In this lecture session we learn about looping in python in programming for beginners and also talk about looping in python.

In this lecture session we learn about break and continue keywords and also talk about features of break continue keywords.

In this lecture session we learn about prime number programs in python and also talk about functions of prime number programs in python.

In this lecture session we learn about while loop in python programming and also talk about features of while loop in python.

In this lecture session we learn about nested For loop in python programming and also talk about features of nested For loop.

In this lecture session we learn about features of nested for loop in python and also talk about the importance of nested For loop in python.

In this lecture session we learn about functions in python and also talk about different types of functions in pythons.

In this lecture session we learn about passing arguments to functions in python programming and also talk about features of passing arguments to functions

In this lecture session we learn about return keywords in python and also talk about features of return keywords in python.

In this lecture session we learn about calling a function in python programming and also talk about calling a function.

In this lecture session we learn about factors of calling a function in python programming and also talk about features of calling a function.

In this lecture session we learn about a program to swap 2 numbers using calling a function in python programming.

In this lecture session we learn about functions of arbitrary arguments in python programming and also talk about features of arbitrary arguments.

In this lecture session we learn about functions keywords arguments in python programming and also talk about features of keyword arguments.

In this lecture session we learn about functions default arguments in python programming and also talk about features of default argument.

In this lecture session we learn about global and local variables in python programming and also talk about features of global and local variables.

In this lecture session we learn about global and local keywords and also talk about features of global and local keywords.

In this lecture session we learn about strings in python programming and also talk about features of string in python.

In this lecture session we learn about string methods in python programming and also talk about features of string methods in python.

In this lecture session we learn about string functions in python and also talk about features of strings functions in python.

In this lecture session we learn about string indexing in python programming and also talk about features of string indexing in python programming.

In this lecture session we learn about introduction of lists in python programming and also talk about features of introduction to lists.

In this lecture session we learn about basics of lists python programming and also talk about features of basics of lists in python.

In this lecture session we learn about list methods and also talk about features of list method python programming.

In this lecture session we learn about linear search on list and also talk about features of linear search on list in brief.

In this lecture session we learn about the biggest and smallest number of the list and also talk about features of MAX and Min in a list.

In this lecture session we learn about the difference between 2 lists in python programming and also talk about features of 2 lists.

In this lecture session we learn about tuples in python programming and also talk about tuples in python programming.

In this lecture session we learn about introduction to sets in python and also talk about functions of introduction to sets in python.

In this lecture session we learn about set operations in python programming and also talk about features of set operation in brief.

In this lecture session we learn about set examples and also talk about features set examples.

In this lecture session we learn about introduction to dictionaries in python programming and also talk about featured dictionaries.

In this lecture session we learn about creating and updating dictionaries in python programming and also talk about features of creating and updating dictionaries.

In this lecture session we learn about deleting items in a dictionary in python programming and also talk about features of deleting items in a dictionary.

In this lecture session we learn about values and items in a dictionary in python programming and also talk about features of values and items in the dictionary.

In this lecture session we learn about dictionary methods in python programming and also talk about features of dictionary methods.

In this lecture session we learn about built in methods in python programming and also talk about features of built in methods in python.

In this lecture session we learn about lambda functions and also talk about features of lambda function in python programming.

In this lecture session we learn about file handling in python programming and also also talk about the importance of file handling in python.

In this lecture session we learn about file handling in python programming and also talk about features of file handling in python.

In this lecture session we learn about exception handling in python and also talk about features of exception handling in python.

In this lecture session we learn about exception handling examples in python programming.

In this lecture session we learn about python programs in python programming and also talk about features of python programs

In this lecture session we learn about the program of printing odd numbers in python programming and also talk about the best way of printing.

In this lecture session we learn about counting the number of vowels and consonants in a string and also talk about features of these programs.

In this lecture session we learn about python programs of swapping two numbers in a list by taking indexes as parameters.

In this lecture session we learn about bubble sort and also talk about features of bubble sort in brief.

In this lecture session we learn about operator precedence in python and also talk about features of operator precedence in python.

In this lecture session we learn about operator precedence in python and also talk about features of operator precedence types.

In this lecture session we learn about recursion in python and also talk about features of recursion in python.

In this lecture session we learn about binary search in python and also talk about features of binary search in python programming.

In this lecture session we learn about binary search in python and also talk about the importance of binary search in python.

In this lecture session we learn about object oriented programming and also talk about features of object oriented programming in brief.

In this lecture session we learn about factors and types of object oriented programming in python programming.

In this lecture session we learn about OOPS and procedural programming and also talk about features of OOPS and procedural programming in OOPS.

In this lecture session we learn about OOPS programs in python and also talk about the importance of OOPS.

In this lecture session we learn about inheritance in python programming and also talk about features of inheritance.

In these lecture sessions we learn about features of object creation in python programming and also talk about object creation in python.

In this lecture session we learn about OOPS terminology and functions and also talk about features of OOPS terminology and functions.

In this lecture session we learn about built in class attributes and garbage collection in python programming.

In this lecture session we learn about inheritance in python and also talk about features of inheritance in python.

In this lecture session we learn about the importance of inheritance in python programming and also talk about functions of inheritance.

In this lecture session we learn about programs in inheritance in python programming and also talk about features of inheritance in python.

In this lecture session we learn about polymorphism in python programming polymorphism and also talk about polymorphism in python.

In this lecture session we learn about features of polymorphism in python and also talk about the importance of polymorphism in python.

In this lecture session we learn about the time module in python and also talk about features time module in python in features.

In this lecture session we learn about the importance of time modules in python time module in python in brief.

In this lecture session we learn about the calendar module in python programming in brief.

In these lecture sessions we learn about calendar methods in python programming and also talk about the importance of calendar methods.

Class 28.1 - Boolean in Python