BUY THIS COURSE (USD 17 USD 41)
Oracle WebLogic Server
Learn how to create WebLogic domains, and administer WebLogic etc.
( add to cart )
Save 59% Offer ends on 31-Dec-2023
Preview Oracle WebLogic Server course
View Course Curriculum
Price Match Guarantee
Full Lifetime Access
Access on any Device
Technical Support
Secure Checkout
&nbsp Course Completion Certificate
Bestseller
Trending
Job-oriented
Instant access
Students also bought -
5 Hours
USD 17
24 Learners
8 Hours
USD 17
723 Learners
10 Hours
USD 17
478 Learners
Completed the course? Request here for Certificate.
ALL COURSES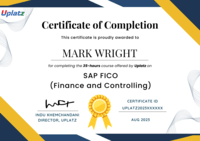 Oracle WebLogic Server is the industry leading application server for building enterprise applications using Java EE standards, and deploying them on a reliable, scalable runtime with low cost of ownership. It is strategically integrated with Oracle's full product and cloud service portfolio.
Oracle WebLogic Server provides compatibility with prior versions, and supports new features for developer productivity, high availability, manageability and deployment to cloud native Kubernetes-based environments.
Oracle WebLogic Server is used everywhere be it Oracle E-Business Suite 12.2 or Oracle SOA, OBIEE, WebCenter, OAM, OIM BPM for FMW Admins, OEM 13c / 12c for Apps DBAs or Fusion Applications. These entire products use Oracle Weblogic Server. Oracle WebLogic allows users to develop and deploy an application that has business logic and allows the application to access other services like database, messaging, or other enterprise systems.
This Oracle WebLogic Server course by Uplatz will helps students to acquire skills necessary to understand basic WebLogic concepts and administrative tasks. This course is geared toward administrators, developers, or architects who are looking to understand fundamental WebLogic concepts and how to spin up a WebLogic environment quickly. This course is meant for developers, administrators, or architects looking to gain a basic understanding of WebLogic from installation of WebLogic to creating a WebLogic domain.
At the end of Oracle Weblogic Server administration & application deployment course by Uplatz, the student will learn how to install WebLogic, create WebLogic domains, and administer WebLogic and also receive a course completion certificate.
Course/Topic - Oracle WebLogic Server - all lectures
In this first video tutorial on the Oracle WebLogic Server course. You will get to know the complete step by-by-step on how to download and install Linux 6.7 on Oracle Virtual Box. The trainer will be seen teaching the complete work process in his work system.

In this video, you will learn how to install the WebLogic using the Oracle Virtual Box environment. This will be a complete end-to-end work process which will be shown practically by the trainer in his system.

In this video, you will learn how to create a simple domain using the Configuration Wizard. You will then use the Template Builder to create a template for your domain. Lastly, you will be introduced to the WebLogic Scripting Tool where you will create a domain from the domain template using a series of WLST commands.

This is a continuation video of Installing WebLogic and creating Domain where in this video you will see how to start the admin server of the lab domain and then try to login to the WebLogic server. The tutor will be showing this in a step-by-step process in his system.

This is the first part of the video where at the end of it, you will be able to create and start a Managed Server and also learn to create a boot.properties file. You will also learn how to monitor the Managed Server via the admin console.

This is a continuation video to the previous Managed Server where this time you will see how to shut down the lab domain through the Managed Server command mode screen.

In this video, you will learn how to start Derby DB along with configuring generic data source for Derby and lastly, testing and monitoring a data source.

By the end of this video, you will be able to create a JMS server, Connection Factory, and Queue along with creating file-based persistent storage, publishing a JMS message, and monitoring JMS statistics. The complete end-to-end steps will be shown by the trainer in the system.

In this video, you will learn how to deploy an application using the admin console, deploy an application using WebLogic Deployer, and monitoring an application using the admin console.

In this session, you will learn how to enable the Administration Port, creating users and groups, configuring an authentication and auditing provider, securing an application using roles and policies, and defining password complexity and user lockout.

In this tutorial, you will learn about the concept of Clusters, how to configure WebLogic for high availability by creating WebLogic clusters and configuring server and service level migration. Once the cluster is configured, you will be able to configure a simple web proxy for load balancing web browser, requests across the cluster.

In this video, you will learn how to configure the Node Manager to control the startup and shutdown of WebLogic-managed servers rather than executing shell scripts from the command line. You will also learn how to use both the admin console for starting servers and using WebLogic Scripting Tool or WLST for starting servers.

In this last session of the Oracle WebLogic Server course, you will learn and understand Offline versus Online modes, creating and configuring a domain, how to navigate and manipulate MBeans, and lastly, generating and executing WLST scripts.
• Understand Basic WebLogic Concepts
• Install WebLogic
• Create a WebLogic Domain
• Access the WebLogic Admin Console
• Install, configure, and administer Oracle WebLogic Server
• Monitor domain resources
• Deploy applications
• Create a domain
• Start servers
• Monitor domain resources
• Set up and use node manager
• Deploy applications
• Deploy share libraries and associated applications
• Configure database resources
• Configure a cluste
ORACLE WEB LOGIC SERVER – Course Syllabus
• Installation of Linux 6.7 in Oracle Virtual Box
• Installing WebLogic
• Creating a Domain
• Admin Servers
• Managed Servers
• Data Sources
• JMS Resources
• Application Deployment
• WebLogic Security
• Clusters
• Node Manager
• WLST
The Oracle WebLogic Server Certification ensures you know planning, production and measurement techniques needed to stand out from the competition.
Oracle WebLogic Server is a unified and extensible platform for developing, deploying and running enterprise applications, such as Java, for on-premises and in the cloud. WebLogic Server offers a robust, mature, and scalable implementation of Java Enterprise Edition (EE) and Jakarta EE.
WebLogic Server is an application server: a platform for developing and deploying multi tier distributed enterprise applications. WebLogic Server centralizes application services such as Web server functionality, business components, and access to backend enterprise systems.
It includes Oracle WebLogic Server, the #1 application server for developing and deploying applications across conventional and cloud environments, Oracle Coherence Enterprise Edition, Oracle Web Tier, Oracle TopLink, Oracle Java Mission Control and Flight Recorder, and other component technologies.
Whereas the latest announcement of the WebLogic server only supports Java EE 5. Configuration and administration are much easier in JBoss, but a UI is not provided. Furthermore, WebLogic is an expensive product; it has various features that are not provided in JBoss.
Oracle WebLogic Server 14.1. 1 is a new major version, adding support for Java Platform, Enterprise Edition (EE) 8 and Java SE 8 and 11. It is supported on-premises and in the cloud, including support and tooling for running Oracle WebLogic Server in containers and Kubernetes and certification on Oracle Cloud.
Uplatz online training guarantees the participants to successfully go through the Oracle WebLogic Server Certification provided by Uplatz. Uplatz provides appropriate teaching and expertise training to equip the participants for implementing the learnt concepts in an organization.
Course Completion Certificate will be awarded by Uplatz upon successful completion of the Oracle WebLogic Server online course.
The Oracle WebLogic Server draws an average salary of $120,000 per year depending on their knowledge and hands-on experience.
A WebLogic Administrator specializes in developing and overseeing procedures involving the Oracle WebLogic application and utilities, ensuring everything runs smoothly and efficiently according to performance standards and client needs.
WebLogic Server Instance is a run-time JVM and it is part of WebLogic Domain. First Server Instance is called an Administration Server and it is used for Administering the domain. Other Server Instances in a domain are called Managed Servers and they are used for hosting the deployed applications.
WebLogic Server is based on Java Platform, Enterprise Edition (Java EE) (formerly known as Java 2 Platform, Enterprise Edition or J2EE), the standard platform used to create Java-based multi-tier enterprise applications.
Note that salaries are generally higher at large companies rather than small ones. Your salary will also differ based on the market you work in.
Oracle WebLogic Administrator.
Senior Oracle WebLogic Administrator.
Oracle Applications DBA.
WebLogic Administrator.
1. Explain deployment descriptors?
Deployment descriptors are associated with almost all the modules as well as applications. The deployment descriptors can be seen in the form of XML documents, and they are capable of describing the contents that are part of the directory or the jar file. J2EE specifications usually define the standard as well as the deployment descriptors which are portable for J2EE applications and modules.
2. What is web.xml ?
Web.xml is an XML document that is mainly for application purpose and it helps in listing out the J2EE components and configuration that of your application in J2EE modules format.
3. What is the name of default JVM that is made used for WebLogic?
The sun hotspot JDK default is made used for development, JRockit is the one used for production of WebLogic 11g as well as 12c. Operating system is another factor that helps in choosing the certified JDK JVM.
4. Explain the methods for providing user credentials for starting the server?
At the time of the creation of domain, the wizard for setting configuration asks for the details like user name, password etc. from the user who is logging in for the first time as an administrator. If the domain is created in development mode, the configuration wizard saves the encrypted password as well as the username inside an identity file. This file is available for reference during the time of booting so that in the absence of this file, system can prompt the user for the purpose of entering credentials. A new boot – identity file can be created if you want to change the use credentials or else if you are having the requirement of creating domain in the production mode.
5. Is there any possibility for starting managed server during the absence of administrator server?
The usual process is that in case of any difficulty for the manager server to get connected to any administration server at the time of start up, there is an option for the managed server to retrieve the configuration related to it from the configuration files as well as other files involved. The information thus retrieved cannot be altered and it is possible only when the administration server is really available. When the administration server is unavailable, then the managed server enters into its independence mode for carrying out its operations.
6. Explain WebLogic server.
This is a kind of server that supports various services as well as infrastructure that are related with JEE applications. WebLogic server is capable of deploying components as well as applications through WSDL, UDDI and SOAP. This server gets configured as a web server by making use of HTTP listener for supporting the HTTP. Web servers like that of Apache, Netscape and Microsoft are utilized. The configuration of a web server allows WebLogic is capable of providing services to dynamic and static requests that are usually generated by servlets, HTML and JSP.
7. What are the capabilities of WebLogic server?
There are various capabilities associated with WebLogic server and they are
Changes in dynamic configuration.
Production application redeployment
Rolling upgrades.
8. Explain about the function associated with T3 in WebLogic server ?
T3 provides enhancements support for the messages of WebLogic server. The enhancements comprise of the object replacement, the working of the seblogic server – clusters and also HTTP. T3 also performs serialization of java object and also predation of RMI. T3 can be considered as a superset associated with java object. T3 is mandated between WebLogic servers, programmatic clients and cluster associated with WebLogic server. The protocols HTTP and IIOP are made used for enabling communication between WebLogic server and processes.
9. Explain the use of HTTP ?
HTTP is the protocol that is made used for the purpose of enabling communication between the WebLogic server and processes.
10. Explain the functionality of IIOP ?
IIOP is a kind of protocol helpful in enabling the communication between WebLogic server and object request broker.
Q1. What are the payment options? A1. We have multiple payment options: 1) Book your course on our webiste by clicking on Buy this course button on top right of this course page 2) Pay via Invoice using any credit or debit card 3) Pay to our UK or India bank account 4) If your HR or employer is making the payment, then we can send them an invoice to pay. Q2. Will I get certificate? A2. Yes, you will receive course completion certificate from Uplatz confirming that you have completed this course with Uplatz. Once you complete your learning please submit this for to request for your certificate https://training.uplatz.com/certificate-request.php Q3. How long is the course access? A3. All our video courses comes with lifetime access. Once you purchase a video course with Uplatz you have lifetime access to the course i.e. forever. You can access your course any time via our website and/or mobile app and learn at your own convenience. Q4. Are the videos downloadable? A4. Video courses cannot be downloaded, but you have lifetime access to any video course you purchase on our website. You will be able to play the videos on our our website and mobile app. Q5. Do you take exam? Do I need to pass exam? How to book exam? A5. We do not take exam as part of the our training programs whether it is video course or live online class. These courses are professional courses and are offered to upskill and move on in the career ladder. However if there is an associated exam to the subject you are learning with us then you need to contact the relevant examination authority for booking your exam. Q6. Can I get study material with the course? A6. The study material might or might not be available for this course. Please note that though we strive to provide you the best materials but we cannot guarantee the exact study material that is mentioned anywhere within the lecture videos. Please submit study material request using the form https://training.uplatz.com/study-material-request.php Q7. What is your refund policy? A7. Please refer to our Refund policy mentioned on our website, here is the link to Uplatz refund policy https://training.uplatz.com/refund-and-cancellation-policy.php Q8. Do you provide any discounts? A8. We run promotions and discounts from time to time, we suggest you to register on our website so you can receive our emails related to promotions and offers. Q9. What are overview courses? A9. Overview courses are 1-2 hours short to help you decide if you want to go for the full course on that particular subject. Uplatz overview courses are either free or minimally charged such as GBP 1 / USD 2 / EUR 2 / INR 100 Q10. What are individual courses? A10. Individual courses are simply our video courses available on Uplatz website and app across more than 300 technologies. Each course varies in duration from 5 hours uptop 150 hours. Check all our courses here https://training.uplatz.com/online-it-courses.php?search=individual Q11. What are bundle courses? A11. Bundle courses offered by Uplatz are combo of 2 or more video courses. We have Bundle up the similar technologies together in Bundles so offer you better value in pricing and give you an enhaced learning experience. Check all Bundle courses here https://training.uplatz.com/online-it-courses.php?search=bundle Q12. What are Career Path programs? A12. Career Path programs are our comprehensive learning package of video course. These are combined in a way by keeping in mind the career you would like to aim after doing career path program. Career path programs ranges from 100 hours to 600 hours and covers wide variety of courses for you to become an expert on those technologies. Check all Career Path Programs here https://training.uplatz.com/online-it-courses.php?career_path_courses=done Q13. What are Learning Path programs? A13. Learning Path programs are dedicated courses designed by SAP professionals to start and enhance their career in an SAP domain. It covers from basic to advance level of all courses across each business function. These programs are available across SAP finance, SAP Logistics, SAP HR, SAP succcessfactors, SAP Technical, SAP Sales, SAP S/4HANA and many more Check all Learning path here https://training.uplatz.com/online-it-courses.php?learning_path_courses=done Q14. What are Premium Career tracks? A14. Premium Career tracks are programs consisting of video courses that lead to skills required by C-suite executives such as CEO, CTO, CFO, and so on. These programs will help you gain knowledge and acumen to become a senior management executive. Q15. How unlimited subscription works? A15. Uplatz offers 2 types of unlimited subscription, Monthly and Yearly. Our monthly subscription give you unlimited access to our more than 300 video courses with 6000 hours of learning content. The plan renews each month. Minimum committment is for 1 year, you can cancel anytime after 1 year of enrolment. Our yearly subscription gives you unlimited access to our more than 300 video courses with 6000 hours of learning content. The plan renews every year. Minimum committment is for 1 year, you can cancel the plan anytime after 1 year. Check our monthly and yearly subscription here https://training.uplatz.com/online-it-courses.php?search=subscription Q16. Do you provide software access with video course? A16. Software access can be purchased seperately at an additional cost. The cost varies from course to course but is generally in between GBP 20 to GBP 40 per month. Q17. Does your course guarantee a job? A17. Our course is designed to provide you with a solid foundation in the subject and equip you with valuable skills. While the course is a significant step toward your career goals, its important to note that the job market can vary, and some positions might require additional certifications or experience. Remember that the job landscape is constantly evolving. We encourage you to continue learning and stay updated on industry trends even after completing the course. Many successful professionals combine formal education with ongoing self-improvement to excel in their careers. We are here to support you in your journey! Q18. Do you provide placement services? A18. While our course is designed to provide you with a comprehensive understanding of the subject, we currently do not offer placement services as part of the course package. Our main focus is on delivering high-quality education and equipping you with essential skills in this field. However, we understand that finding job opportunities is a crucial aspect of your career journey. We recommend exploring various avenues to enhance your job search: a) Career Counseling: Seek guidance from career counselors who can provide personalized advice and help you tailor your job search strategy. b) Networking: Attend industry events, workshops, and conferences to build connections with professionals in your field. Networking can often lead to job referrals and valuable insights. c) Online Professional Network: Leverage platforms like LinkedIn, a reputable online professional network, to explore job opportunities that resonate with your skills and interests. d) Online Job Platforms: Investigate prominent online job platforms in your region and submit applications for suitable positions considering both your prior experience and the newly acquired knowledge. e.g in UK the major job platforms are Reed, Indeed, CV library, Total Jobs, Linkedin. While we may not offer placement services, we are here to support you in other ways. If you have any questions about the industry, job search strategies, or interview preparation, please dont hesitate to reach out. Remember that taking an active role in your job search process can lead to valuable experiences and opportunities.