BUY THIS COURSE (USD 41)
SAP BW/4HANA (basic to advanced)
Learn SAP BW/4HANA module - SAP Reporting, Modeling & Data Acquisition with BW/4HANA. Leverage new data models and functions provided by SAP BW/4HANA.
( add to cart )
Preview SAP BW/4HANA (basic to advanced) course
Price Match Guarantee
Full Lifetime Access
Access on any Device
Technical Support
Secure Checkout
&nbsp Course Completion Certificate
Popular
Job-oriented
Best Service
Instant access
Students also bought -
30 Hours
GBP 29
142 Learners
30 Hours
USD 41
349 Learners
300 Hours
GBP 99
4145 Learners
Completed the course? Request here for Certificate.
ALL COURSES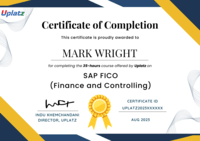 SAP BW/4HANA module brings a new opportunity for agile enterprise data warehousing (EDW) modeling and fast delivery of business analytics' requirements for organizations seeking solutions in reporting, planning, dashboarding, Big Data, and predictive and prescriptive analytics. SAP is working on combining SAP HANA and SAP BW into one product, and, today, SAP BW/4HANA is the recommended technology for an EDW platform by SAP.
SAP BW/4HANA is the next generation of SAP Business Warehouse powered by SAP HANA. Designed to run on SAP HANA only, it delivers new levels of simplicity for building and operating data warehouse solutions with flexible data management capabilities in a modernized user experience.This course provides a high-level overview of SAP BW/4HANA. Starting from the value proposition, we will show system demos covering some of the major functional aspects. Another central aspect for customers running SAP BW powered by SAP HANA is the migration path to SAP BW/4HANA. Finally, we will have a look at the future development roadmap for SAP BW/4HANA.
As the pace of change increases, the ability to create analytic solutions quickly and effectively can mean the difference between an organization performing or outperforming. The concept of agile data warehousing solves many of the thorny problems typically associated with data warehouse development—most notably high costs, low user adoption, ever-changing business requirements, and the inability to rapidly adapt as business conditions change. SAP BW/4HANA is technically prepared for fast deployments and rapid delivery of complex business analytics scenarios.
SAP's HANA software is designed to make the most of today's hardware capabilities. It provides modeling abilities and other functionality that Oracle and SQL Server don't offer, as well as tight integration with applications such as SLT and PI that pull information from the SAP system to transform it into a usable business format. It has a built-in web application server, data extraction engine, data federation engine, statistical engine, semantic layer, and more.
SAP BW/4HANA allows you to model data coming from SAP using a streamlined BW methodology and combine it with third-party data in either the BW/4 layer or native HANA. It then exposes the data, using a variety of methods, to BusinessObjects or any of the business reporting solutions you might have. BW/4HANA also drastically reduces the quantity of data objects, requiring less maintenance and storage. All future innovations will happen in SAP BW/4HANA.
In this SAP BW/4HANA (basic to advanced) course offered by Uplatz you will be able to understand the new data models or functions and distinct features of SAP BW/4HANA and also learn new Data Warehousing concepts on BW/4HANA, on native SAP HANA, or in mixed scenarios. With this basic to advanced SAP BW/4HANA training, you will gain the ability to enable the assistance for migration projects to SAP BW/4HANA from the application side and master in core concepts of SAP BW/4HANA.
Course/Topic - SAP BW/4HANA (basic to advanced) - all lectures
In this lecture session we learn about SAP BW on HANA and BW4/HANA are different application suites running on the same database. SAP BW on HANA uses SAP's legacy BW software, but moves it to the HANA database. BW/4HANA uses a reengineered software suite designed to fully harness the power of the HANA database.

In this tutorial we learn about SAP Data Warehouse Cloud is an analytic and persona-driven data warehouse-as-a-service solution tailored for business and IT users. It provides instant access to data via pre-built business content and adapters to integrate data from various sources.

In this lecture session we learn about SAP HANA is an in-memory database technology which acts as the core technology for a lot of other SAP or non-SAP applications whereas SAP S/4 HANA is a new generation ERP solution which runs on SAP HANA database architecture.

In this tutorial we learn about S/4HANA stands for Suite for HANA, as the product was written to take advantage of HANA, which debuted in 2011. S/4HANA was completely rewritten for HANA, differentiating it from Business Suite on HANA, a version of S/4HANA's predecessor, SAP ERP Central Component (ECC), released in 2013 that ran on HANA.

In this lecture session we learn about Fiori is a streamlined application, delivering a role-based user experience that can be personalized across all lines of business, tasks and devices. It uses tiles to encapsulate standard tasks like viewing sales orders or approving timesheets.

In this tutorial we learn about SAP Business One, or are already using SAP Business One on Microsoft SQL, you've probably heard a lot of talk about HANA. SAP HANA and Microsoft SQL are relational database management systems developed by SAP and Microsoft respectively.

In this lecture session we learn about what is Hana calc view star join in SAP BWHANA SAP HANA (High-performance ANalytic Appliance) is a multi-model database that stores data in its memory instead of keeping it on a disk.

In this lecture session we learn about Flow graphs The flowgraph comprises two data sources which are joined (MARA + MARC), filtered and pushed into some data sink, a target table. The source tables can be based on a remote source of any adapter, it is generally applicable for such kinds of ELT flows.

In this tutorial we learn about SAP BW/4HANA is a packaged data warehouse based on SAP HANA. As the on-premise data warehouse layer of SAP's Business Technology Platform, it allows you to consolidate data across the enterprise to get a consistent, agreed-upon view of your data.

In this lecture session we learn about An SAP extractor is a program that can be used to retrieve data in a SAP source system and transfer it to an SAP BW or BI system. The extractor prepares and captures data through an extract structure for transferring to SAP BW.

In this lecture session we learn about Double click on MC11VA0ITM or go to SE11, give the exact structure name and display. Click on Append Structure and click on Create and give an append name. Here give the component and component type. Save, check, and activate.

In this lecture session we learn about Enhancement points are the positions in a SAP ABAP program where enhancements are made. The enhancements, when compiled with the current source code work as if it was a part of the source code.

In this lecture session we learn about A DataSource is a set of fields that provide the data for a business unit for data access and extraction and data transfer into SAP BW∕4HANA.

In this lecture session we learn about SAP CDS stands for SAP Core Data Services. SAP CDS is an infrastructure for data modeling that enables data models to be defined and consumed on the database server rather than the application server.

In this lecture session we learn about ABAP CDS Views allow developers to create semantically rich data models which the application services expose to UI clients. It is the central pillar of S/4HANA development and is used as the core technology in most of SAP's programming models.

In this lecture session we learn about The delta process is a feature of the extractor and specifies how data is to be transferred. As a DataSource attribute, it specifies how the DataSource data is passed on to the data target.

In this tutorial we learn about The delta process is a feature of the extractor and specifies how data is to be transferred. As a DataSource attribute, it specifies how the DataSource data is passed on to the data target.

In this tutorial we learn about Data flow in data acquisition involves transformation, info package for loading to PSA, and data transfer process for distribution of data within BI. In SAP BI, you determine which data source fields are required for decision making and should be transferred.

In this lecture session we learn about how a CDS view serves to define the structure of an SQL view and represents a projection onto one or several Dictionary tables or Dictionary views. Note SQL views and CDS entities are part of one and the same namespace. Therefore, you must assign different names for an SQL view and the entity.

In this tutorial we learn about A data mart is a simple form of a data warehouse that is focused on a single subject or line of business, such as sales, finance, or marketing. Given their focus, data marts draw data from fewer sources than data warehouses.

In this tutorial we learn about Data mart is focused only on a particular function of an organization and it is maintained by single authority only, e.g.m finance, Marketing.

In this lecture session we learn about The concept of layered scalable architecture (LSA) assists you in designing and implementing various layers in the BW system for data acquisition, Corporate Memory, data distribution and data analysis.

In this lecture session we learn about Composite Providers are used to combine multiple InfoProviders using Join or Union operations. When you use SAP BW on HANA, one of the InfoProvider should use an in-memory database and the data in composite providers can be used for reporting and analysis.
· Outlining advantages of the SAP "In-Memory" database foundation for SAP BW/4HANA in general.
· Introducing new user interfaces for working with SAP BW/4HANA: SAP BW/4HANA Cockpit and SAP BW/4HANA Modeling Tools.
· Outlining the SAP BW/4HANA conversion approaches and the related tools for a transformation project.
· Explaining the roles and features data models in SAP BW/4HANA and position them in the context of SAP´s reference architecture Layered Scalable Architecture (LSA++).
· Explaining native SAP HANA modeling and how both, SAP HANA Calculation Views as well as SAP BW/4HANA objects can complement each other in so-called "mixed scenarios".
· Outlining Multi-Temperature data management concepts and its implementation in SAP BW/4HANA.
· Providing an overview of all source system interfaces and data provisioning methods for consuming data in SAP BW/4HANA.
· Introducing SAP Core Data Services and related use cases in the context of SAP BW/4HANA: Extraction from SAP S/4HANA including available SAP Content, Statistical Analysis of the Data Warehouse Infrastructure and SAP S/4HANA Embedded Analytics.
· Describing the impact SAP S/4HANA might have on your SAP BW strategy.
The SAP BW/4HANA Certification ensures you know planning, production and measurement techniques needed to stand out from the competition.
SAP BW/4HANA is a packaged data warehouse based on SAP HANA. As the on-premise data warehouse layer of SAP's Business Technology Platform, it allows you to consolidate data across the enterprise to get a consistent, agreed-upon view of your data.
SAP Business Warehouse (SAP BW) provides tools and functions that enable companies to attain these goals. In SAP BW, you can integrate, transform, and consolidate relevant business information from productive SAP applications and external data sources.
Once this process is approved and signed off by the requester(users), then conversion of this into practically usable tasks using the SAP BW software. This is called Technical. The whole process of creating an InfoProvider, InfoObjects, InforeSources, Source system, etc falls under the Technical domain.
SAP is a good choice for Freshers. If you want to get started with SAP, consider these modules as a Fresher. Once you have completed experience or certificate in one of the above domains, you can skip to jumping on getting started with SAP BW as a Fresher.
Uplatz online training guarantees the participants to successfully go through the SAP BW/4HANA Certification provided by Uplatz. Uplatz provides appropriate teaching and expertise training to equip the participants for implementing the learnt concepts in an organization.
Course Completion Certificate will be awarded by Uplatz upon successful completion of the SAP BW/4HANA online course.
The SAP BW/4HANA draws an average salary of $106,000 per year depending on their knowledge and hands-on experience.
It is clear that companies should lose no time in setting the course for the future in terms of reporting, analytics and planning: "In principle, there is nothing to be said against continuing with SAP BW 7.5 until 2027 or 2030.
SAP BW/4HANA aims to reduce the complexity of the development environment and decrease the end-to-end development time. BW/4HANA has reduced the number of modeling objects from 10 to 4. Two of the objects will allow for persistence of data and 2 objects are for virtualisation that allows for fewer layers.
Note that salaries are generally higher at large companies rather than small ones. Your salary will also differ based on the market you work in.
Sr. Functional Specialist, SAP Ana.
SAP BW/4HANA Application Designer.
SAP HANA Design Specialist.
SAP Analytics on Cloud (SAC).
Q.1. What is SAP BW/4HANA?
SAP BW/4HANA is SAP's latest and greatest in-memory, HANA-native, data warehousing solution that runs exclusively on SAP HANA. The naming convention used is consistent with their S/4HANA solution that came out 18 months ago. This shouldn't come as a surprise as HANA is an essential piece of SAP's long-term innovation roadmap.
Q.2. What is SAP advertising about SAP BW/4HANA?
1. Simplicity: After many years, SAP's BW product has released many options and features, which have resulted in new customers wondering which options, should be taken into consideration when embarking on a BW implementation journey. SAP has chosen to remove the redundant options and provide customers with more relevant, and easier to understand, choices to consider for their BW/4HANA implementations. BW/4HANA only offers building blocks that customers "should" be leveraging for the predictable future.
One of the most convincing features of SAP BW/4HANA is its ability to recognize the types of data that reside in each table. With this, it can automatically determine which data needs to be in memory (hot) and which data can be stored on disk (warm). This type of automated intelligent data storage allows for a more efficient use of an SAP customer's hardware investment.
2. Openness: Pre-built, standardized templates called, "Building Blocks" are leveraged for building a data warehouse. BW/4HANA models and data can be exposed as native HANA views and accessed through standard SQL, which is a huge upside for customers. These views can then be consumed by various visualization tools (i.e. BusinessObjects, Lumira, etc.).
3. Modern UIs: Let's all say good removal to SAP GUI. SAP has worked diligently to improve its UX across its various product lines and SAP customers are beginning to enjoy the fruits of SAP's labor. This trend continues in SAP BW/4HANA. BusinessObjects Cloud provides a modern UX for visualization, storytelling, and data exploration. BW/4HANA can also be accessed by the digital boardroom. Finally, administrators should be excited because front ends are now accessed through HANA Studio and modern browsers.
4. High Performance: Top-notch performance has been the SAP mantra for HANA since day one. So, expect no exceptions with BW/4HANA. This is the only data warehousing solution that was built from the ground up with optimal performance in mind. Expect significantly improved performance for data loading, querying, analysis, and staging.
Q.3. Is SAP BW/4HANA available on premise?
Not yet, but it will be. SAP is even discussing an on-premise Rapid Deployment Solution (RDS). SAP chose a "cloud first" approach for this launch through SAP HANA Enterprise Cloud (HEC) and Amazon Web Services (AWS). AWS is their day-one announcement partner, but it's expected that SAP will announce more partners shortly thereafter. AWS can support a 14TB scale-out cluster, running on seven of its X1 instances as certified by SAP. This allows BW/4HANA customers to try out, run, and optimize large workloads on AWS.
Q.4. Which companies does SAP suggest leverage this new technology?
SAP currently has nearly 17,000 BW customers that haven't yet made the move to HANA. There are also 3,700 customers who have already made the move to HANA from whatever database they were using in the past. SAP has committed to providing a straightforward way to switch to new HANA-native data warehouse. Fairfax media was one of the first BW/4HANA implementations to occur.
Q.5. What is the upgrade path for SAP BW customers?
The most efficient approach is to move to SAP BW 7.5 SP4 on HANA. This facilitates the conversion to the new object types and the activation of "HANA-only mode", which prevents legacy objects from being created. This will be a single-step process for most customers.
Q.6. SAP BW/4HANA is the next-generation business warehouse application. What makes it more advanced than SAP Business Warehouse (SAP BW) 7.5?
SAP BW/4HANA simplifies data structures, data flows, and data life-cycle management. Because it connects with SAP HANA and enterprise information management (EIM), it can access any non-SAP data in the company. And it has the latest user interfaces (UI) for end users, BW modelers, and administrators, plus the powerful in-memory platform SAP HANA, which gives it excellent performance.
Q.7. Why should companies deploy SAP BW/4HANA? What are the benefits?
Companies deploy SAP BW/4HANA to achieve business agility. Because the warehouse structure has been hugely simplified, and it has a new data flow modeller, SAP BW/4HANA users can respond quickly and easily to the business needs of new models and to changes in current ones. With the help of SAP BW/4HANA objects, users are able to generate views automatically, edit them using any SQL tool, and visualize the data with SAP BusinessObjects Cloud or SAP Lumira. This makes agile database development possible, giving businesses better insights in real time and at lower cost.
In SAP BW/4HANA there are lots of flexible deployment options available in the cloud and on premise. Deployment in the cloud allows customers to set up their infrastructure quickly and flexibly, and provides great value for money. The cloud version of SAP BW/4HANA can currently be deployed through SAP HANA Enterprise Cloud, Amazon Web Services, and Microsoft Azure.
Q.8. How does SAP BW/4HANA fit into SAP's data warehousing strategy?
SAP continuously offers data warehousing customers an SAP, SQL-based and business warehouse approach. SAP BW/4HANA is a model or application driven approach with highly-integrated services for data modelling, data management, monitoring and scheduling, and ETL. In the future, SAP BW/4HANA will be more interoperable with SQL-based data warehouses.
Q.9. Will customers continue to receive support for older versions of SAP BW?
SAP BW on SAP HANA and SAP BW on conventional databases (xDB) will still be supported, though SAP BW/4HANA will be SAP's primary innovative data warehouse solution. For customers that are already planning to switch from SAP BW on xDB to SAP BW/4HANA, we recommend them to transfer their database to SAP HANA and to upgrade to SAP BW 7.5. For customers planning to switch from SAP BW 7.3 or 7.4 to SAP BW/4HANA, we recommend an upgrade to SAP BW 7.5. Customers should then implement SAP BW 7.5 edition add-on for SAP HANA as an intermediate step. The edition add-on can be used to deploy tools to convert from classic SAP BW objects to objects and data flows optimized for SAP HANA. Custom adjustments can reduce the level of automation that the tools could otherwise achieve. Once the customer has transferred all objects and data flows and run a preliminary system check without error, they can migrate to SAP BW/4HANA.
Q.10. Can customers carry on using SQL-based SAP HANA data warehousing?
Yes, we will continue to support the SQL approach. This provides customers an option additional to SAP BW/4HANA. Which solution is best depends on the customer's priorities, level of expertise, and the model determining their requirements. There is no right or wrong answer. Many customers find that a hybrid approach best meets their needs.
Q.11. Will SAP BW/4HANA have the same capabilities as both the SAP BW 7.5 on SAP HANA releases?
SAP BW/4HANA has similar functions as SAP BW powered by SAP HANA. But SAP BW/4HANA processes only SAP HANA-optimized objects, which cuts modelling effort and the overall complexity of SAP BW/4HANA. Following the SAP S/4HANA road map, within six months SAP BW/4HANA would differ significantly from SAP BW 7.5 powered by SAP HANA. SAP BW/4HANA is not valid for other database platforms.
Q.12. Why should customers switch to SAP BW/4HANA if they have just upgraded to SAP BW 7.5?
The main benefits of SAP BW/4HANA for SAP BW on SAP HANA customers are its simplicity, openness, advanced UIs, and performance. As the road map shows, we plan to enhance the solution considerably in the three releases in the quarters ahead.
Q.13. How do SAP BW/4HANA and SAP S/4HANA relate?
SAP BW/4HANA is completely independent from SAP S/4HANA. Customers do not have to implement one to use the other. SAP S/4HANA Analytics can be used for operational reporting on data taken straight from S/4HANA systems. SAP BW/4HANA on the other hand is an advanced data warehouse that can be used to create reports on current, historical, and external data from a multitude of SAP and non-SAP sources.
Q.14. Is SAP BW/4HANA only for customers already on SAP?
No, it can be used for any data warehousing needs, for data from SAP and non-SAP sources alike.
Q.15. Which analytics tools can be used with SAP BW/4HANA?
SAP BW/4HANA supports SAP BusinessObjects Cloud and SAP BusinessObjects BI. It also has interfaces open to third-party providers.
Q1. What are the payment options? A1. We have multiple payment options: 1) Book your course on our webiste by clicking on Buy this course button on top right of this course page 2) Pay via Invoice using any credit or debit card 3) Pay to our UK or India bank account 4) If your HR or employer is making the payment, then we can send them an invoice to pay. Q2. Will I get certificate? A2. Yes, you will receive course completion certificate from Uplatz confirming that you have completed this course with Uplatz. Once you complete your learning please submit this for to request for your certificate https://training.uplatz.com/certificate-request.php Q3. How long is the course access? A3. All our video courses comes with lifetime access. Once you purchase a video course with Uplatz you have lifetime access to the course i.e. forever. You can access your course any time via our website and/or mobile app and learn at your own convenience. Q4. Are the videos downloadable? A4. Video courses cannot be downloaded, but you have lifetime access to any video course you purchase on our website. You will be able to play the videos on our our website and mobile app. Q5. Do you take exam? Do I need to pass exam? How to book exam? A5. We do not take exam as part of the our training programs whether it is video course or live online class. These courses are professional courses and are offered to upskill and move on in the career ladder. However if there is an associated exam to the subject you are learning with us then you need to contact the relevant examination authority for booking your exam. Q6. Can I get study material with the course? A6. The study material might or might not be available for this course. Please note that though we strive to provide you the best materials but we cannot guarantee the exact study material that is mentioned anywhere within the lecture videos. Please submit study material request using the form https://training.uplatz.com/study-material-request.php Q7. What is your refund policy? A7. Please refer to our Refund policy mentioned on our website, here is the link to Uplatz refund policy https://training.uplatz.com/refund-and-cancellation-policy.php Q8. Do you provide any discounts? A8. We run promotions and discounts from time to time, we suggest you to register on our website so you can receive our emails related to promotions and offers. Q9. What are overview courses? A9. Overview courses are 1-2 hours short to help you decide if you want to go for the full course on that particular subject. Uplatz overview courses are either free or minimally charged such as GBP 1 / USD 2 / EUR 2 / INR 100 Q10. What are individual courses? A10. Individual courses are simply our video courses available on Uplatz website and app across more than 300 technologies. Each course varies in duration from 5 hours uptop 150 hours. Check all our courses here https://training.uplatz.com/online-it-courses.php?search=individual Q11. What are bundle courses? A11. Bundle courses offered by Uplatz are combo of 2 or more video courses. We have Bundle up the similar technologies together in Bundles so offer you better value in pricing and give you an enhaced learning experience. Check all Bundle courses here https://training.uplatz.com/online-it-courses.php?search=bundle Q12. What are Career Path programs? A12. Career Path programs are our comprehensive learning package of video course. These are combined in a way by keeping in mind the career you would like to aim after doing career path program. Career path programs ranges from 100 hours to 600 hours and covers wide variety of courses for you to become an expert on those technologies. Check all Career Path Programs here https://training.uplatz.com/online-it-courses.php?career_path_courses=done Q13. What are Learning Path programs? A13. Learning Path programs are dedicated courses designed by SAP professionals to start and enhance their career in an SAP domain. It covers from basic to advance level of all courses across each business function. These programs are available across SAP finance, SAP Logistics, SAP HR, SAP succcessfactors, SAP Technical, SAP Sales, SAP S/4HANA and many more Check all Learning path here https://training.uplatz.com/online-it-courses.php?learning_path_courses=done Q14. What are Premium Career tracks? A14. Premium Career tracks are programs consisting of video courses that lead to skills required by C-suite executives such as CEO, CTO, CFO, and so on. These programs will help you gain knowledge and acumen to become a senior management executive. Q15. How unlimited subscription works? A15. Uplatz offers 2 types of unlimited subscription, Monthly and Yearly. Our monthly subscription give you unlimited access to our more than 300 video courses with 6000 hours of learning content. The plan renews each month. Minimum committment is for 1 year, you can cancel anytime after 1 year of enrolment. Our yearly subscription gives you unlimited access to our more than 300 video courses with 6000 hours of learning content. The plan renews every year. Minimum committment is for 1 year, you can cancel the plan anytime after 1 year. Check our monthly and yearly subscription here https://training.uplatz.com/online-it-courses.php?search=subscription Q16. Do you provide software access with video course? A16. Software access can be purchased seperately at an additional cost. The cost varies from course to course but is generally in between GBP 20 to GBP 40 per month. Q17. Does your course guarantee a job? A17. Our course is designed to provide you with a solid foundation in the subject and equip you with valuable skills. While the course is a significant step toward your career goals, its important to note that the job market can vary, and some positions might require additional certifications or experience. Remember that the job landscape is constantly evolving. We encourage you to continue learning and stay updated on industry trends even after completing the course. Many successful professionals combine formal education with ongoing self-improvement to excel in their careers. We are here to support you in your journey! Q18. Do you provide placement services? A18. While our course is designed to provide you with a comprehensive understanding of the subject, we currently do not offer placement services as part of the course package. Our main focus is on delivering high-quality education and equipping you with essential skills in this field. However, we understand that finding job opportunities is a crucial aspect of your career journey. We recommend exploring various avenues to enhance your job search: a) Career Counseling: Seek guidance from career counselors who can provide personalized advice and help you tailor your job search strategy. b) Networking: Attend industry events, workshops, and conferences to build connections with professionals in your field. Networking can often lead to job referrals and valuable insights. c) Online Professional Network: Leverage platforms like LinkedIn, a reputable online professional network, to explore job opportunities that resonate with your skills and interests. d) Online Job Platforms: Investigate prominent online job platforms in your region and submit applications for suitable positions considering both your prior experience and the newly acquired knowledge. e.g in UK the major job platforms are Reed, Indeed, CV library, Total Jobs, Linkedin. While we may not offer placement services, we are here to support you in other ways. If you have any questions about the industry, job search strategies, or interview preparation, please dont hesitate to reach out. Remember that taking an active role in your job search process can lead to valuable experiences and opportunities.