BUY THIS COURSE (USD 17 USD 41)
SAP HANA Admin (basic to advanced)
Learn how to install, configure, operate, and administer the end-to-end SAP HANA landscape. Master HANA architecture, sizing, backup, replication etc.
( add to cart )
Save 59% Offer ends on 30-Nov-2023
Preview SAP HANA Admin (basic to advanced) course
View Course Curriculum
Price Match Guarantee
Full Lifetime Access
Access on any Device
Technical Support
Secure Checkout
&nbsp Course Completion Certificate
Bestseller
Trending
Job-oriented
Google Drive access
Students also bought -
300 Hours
GBP 32
4145 Learners
25 Hours
USD 17
392 Learners
30 Hours
USD 17
111 Learners
Completed the course? Request here for Certificate.
ALL COURSES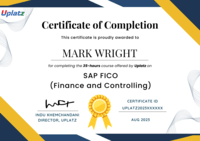 SAP HANA is an in-memory columnar relational database management system developed by SAP SE for performing real-time data analysis, and development of applications. It is designed to handle large volumes of data in real-time, enabling businesses to process and analyze data quickly. SAP HANA administration involves managing and maintaining the SAP HANA database and system landscape to ensure optimal performance, reliability, and security.
HANA administration deals with managing SAP HANA system in a single and distributed system environment. Each HANA system can contain multi node architecture with each node containing multiple processors for fast speed data analysis and real-time data provisioning. You can use Smart data access to get the data from non-SAP systems without importing the data to HANA database, and virtual tables can be used to perform read/write data operations
SAP HANA features a cloud-based functioning, it works in real time and SAP HANA supports multiple isolated databases (multitenant database containers) in a single SAP HANA system. Hence correct d esigning and installation of latest hardware and alternative SAP suits on the cloud are needed.
Key aspects of SAP HANA administration include:
1. Installation and Configuration: The first step in SAP HANA administration is installing the SAP HANA software on the server and configuring the system according to the specific requirements of the organization. This involves setting up the necessary hardware, network, and software components.
2. System Monitoring: Monitoring is crucial to keep track of the health and performance of the SAP HANA system. Administrators use various tools and dashboards to monitor CPU and memory usage, data storage, query performance, and other critical metrics.
3. User and Security Management: SAP HANA administrators manage user access and permissions to ensure data security. This includes creating and maintaining user accounts, roles, and privileges, as well as implementing security policies to protect sensitive information.
4. Backup and Recovery: Regular backups are essential to safeguard data in case of hardware failures, data corruption, or other disasters. SAP HANA administrators schedule and execute backup processes, and they should also be familiar with recovery procedures to restore the system to a consistent state.
5. Performance Tuning: SAP HANA administration involves identifying and resolving performance bottlenecks to optimize the system's speed and efficiency. This may involve tuning SQL queries, adjusting memory settings, or making other configuration changes.
6. High Availability and Disaster Recovery: To ensure uninterrupted business operations, administrators implement high availability and disaster recovery strategies. This may involve setting up system replication across multiple servers and data centers.
7. Patching and Upgrades: Administrators are responsible for applying patches, fixes, and updates to keep the SAP HANA system up-to-date with the latest features and security enhancements.
8. System Optimization: Optimizing the SAP HANA system for specific workloads and use cases is an essential task. This may involve adjusting memory allocation, partitioning data, or creating appropriate indexes.
9. Data Modeling and Administration: SAP HANA administrators work closely with data modelers and developers to design and manage the database schema, data models, and data artifacts.
10. Troubleshooting and Issue Resolution: When problems arise, administrators are responsible for identifying the root cause and resolving issues promptly to minimize downtime and disruptions.
It's worth noting that SAP HANA administration requires a solid understanding of database concepts, system administration, and SAP HANA-specific tools and technologies. As with any complex system, continuous learning and staying up-to-date with the latest best practices are essential for effective SAP HANA administration.
Uplatz provides this comprehensive course on SAP HANA Administration covering all aspects of HANA admin.
Course/Topic 1 - Course access through Google Drive
The key objectives of SAP HANA Admin (basic to advanced) course are:
1) Learn SAP HANA basics, features, architecture, and terminology involved
2) Work on HANA Studio Modelers and gain expertise in modeling
3) Master SAP HANA Interface, client and connectivity
4) Auto-documentation process and SAP BO Analysis
5) Learn SAP HANA administration activities like managing users, storage and security
6) Master System Replication, data provisioning, and ABAP Dataflow
7) Configuring, reporting, monitoring & dashboard creation using SAP HANA
8) Work on real-time and complex HANA projects
9) Writing SAP HANA queries and performance tuning
10) Prepare for SAP Certified Application Associate Exam
11) Learn SAP HANA Introduction, Architecture, Sizing
SAP Hana Admin (basic to adv) - Course Syllabus
SAP HANA Landscape
o SAP HANA components, editions ,scenarios and guides
SAP HANA Architecture
o SAP HANA persistence
o Sizing SAP HANA
o Scale out SAP HANA
SAP HANA Tool Overview
o SAP HANA studio for administrator
o DBA Cockpit
Pre & Post Installation of SAP HANA
o Preparing SAP HANA installation
o On-site configuration tool
o Post installation steps
Operate SAP HANA
o Starting and stopping SAP HANA
o Backup and recovery
o Maintaining Users and Authorizations
o Periodic manual task
o Monitoring with SAP HANA Studio
o Monitoring with DBACOCKPIT
o Software Lifecycle Management
o Monitor and Troubleshoot SAP HANA
o Updating SAP HANA and SAP HANA Studio
Data Provisioning
o Configure data replication with SAP Landscape Transformation (SLT)
Configure data replication with SAP Data Services
The SAP HANA Admin (basic to advanced) Certification ensures you know planning, production and measurement techniques needed to stand out from the competition.
SAP HANA is an in-memory database and application, which runs on SAP authenticated hardware and Software. SAP HANA has three versions – platform, enterprises and extended. SAP HANA can load data from SAP and Non-SAP data sources through SLT, BODS, DXC, and Sybase. SAP HANA provides real-time provisioning and reporting.
HANA is a system designed for efficient management of relational databases. To provide high performance and efficiency, SAP HANA uses in-system memory and data columns. HANA is commonly used by many organizations and data professionals.
Freshers can learn SAP HANA but at the geeting opportunity will be a bit challenging. You should be strong in SAP HANA with SQL & Analytics as well. If you are well versed with Any Traditional Database & Functionality then it will help you understand HANA.
Uplatz online training guarantees the participants to successfully go through the SAP HANA Admin (basic to advanced) Certification provided by Uplatz. Uplatz provides appropriate teaching and expertise training to equip the participants for implementing the learnt concepts in an organization.
Course Completion Certificate will be awarded by Uplatz upon successful completion of the SAP HANA Admin (basic to advanced) online course.
The SAP HANA Admin (basic to advanced) draws an average salary of $117,000 per year depending on their knowledge and hands-on experience.
SAP certification is an excellent career option for those candidates who dream to become a successful SAP HANA consultant. There is no doubt that SAP HANA job offers complete job satisfaction with a greater salary range.
SAP HANA's future is great. According to the expert of SAP HANA uses the latest and very innovative technology no one is going to beat in nearly two or three decades. The current version of SAP HANA has advanced data analytics that's useful in predicting customer patterns and behavior.
Note that salaries are generally higher at large companies rather than small ones. Your salary will also differ based on the market you work in.
SAP HANA Payroll Consultant.
SAP SF / HANA – Manager.
SAP HANA Consultant.
1. Mention what's SAP HANA?
Ans:
SAP HANA stands for top Performance Analytical Appliance- in-memory computing engine. HANA is connected to ERP systems; Frontend modeling studios are often used for replication server management and cargo management. (sap Hana admin interview questions)
2. Mention the 2 sorts of relative knowledge keep in HANA?
Ans:
The two sorts of relative knowledge keep in HANA includes
3. Mention what's modeling studio?
Ans:
Declares that tables area unit keep in HANA, 1st half is to urge the meta-data and so schedule knowledge replication jobs
Manage knowledge Services to enter the info from SAP Business Warehouse and different systems
Manage ERP instances affiliation, this unleashes doesn't support connecting to many ERP instances
Use knowledge services for the modeling
Do modeling in HANA itself
essential licenses for SAP BO knowledge services
4. Mention what area unit the various compression techniques?
Ans:
There are unit 3 totally different compression techniques
Run-length encryption
Cluster encryption
Dictionary encryption
5. Mention what's latency?
Ans:
Latency is said the length of your time to copy knowledge from the supply system to the target system.
6. justify what's transformation rules?
Ans:
The transformation rule is that the rule laid out in the advanced replication setting group action for the supply table specified knowledge is remodeled throughout the replication method.
7. Mention what's the advantage of SLT replication?
Ans:
It allows a period of time knowledge replication, replicating solely connected knowledge into HANA from non-SAP and SAP supply systems
It is totally integrated with HANA studios
Replication from many supply systems to 1 HANA system is allowed, additionally from one supply system to multiple HANA systems is allowed.
8. justify however you'll avoid unnecessary data from being stored?
Ans:
To avoid unnecessary data from being kept, you have got to pause the replication by stopping the scheme-related jobs (sap Hana admin interview questions)
9. what's the role of the master controller job in SAP HANA?
Ans:
The job is organized on demand and is accountable for
Creating info triggers and work table into the supply system
Creating Synonyms
10. justify what happens if the replication is suspended for an extended amount of your time or system outage of SLT or HANA system?
Ans:
If the replication is suspended for an extended amount of your time, the dimensions of the work tables will increase.
Q1. What are the payment options? A1. We have multiple payment options: 1) Book your course on our webiste by clicking on Buy this course button on top right of this course page 2) Pay via Invoice using any credit or debit card 3) Pay to our UK or India bank account 4) If your HR or employer is making the payment, then we can send them an invoice to pay. Q2. Will I get certificate? A2. Yes, you will receive course completion certificate from Uplatz confirming that you have completed this course with Uplatz. Once you complete your learning please submit this for to request for your certificate https://training.uplatz.com/certificate-request.php Q3. How long is the course access? A3. All our video courses comes with lifetime access. Once you purchase a video course with Uplatz you have lifetime access to the course i.e. forever. You can access your course any time via our website and/or mobile app and learn at your own convenience. Q4. Are the videos downloadable? A4. Video courses cannot be downloaded, but you have lifetime access to any video course you purchase on our website. You will be able to play the videos on our our website and mobile app. Q5. Do you take exam? Do I need to pass exam? How to book exam? A5. We do not take exam as part of the our training programs whether it is video course or live online class. These courses are professional courses and are offered to upskill and move on in the career ladder. However if there is an associated exam to the subject you are learning with us then you need to contact the relevant examination authority for booking your exam. Q6. Can I get study material with the course? A6. The study material might or might not be available for this course. Please note that though we strive to provide you the best materials but we cannot guarantee the exact study material that is mentioned anywhere within the lecture videos. Please submit study material request using the form https://training.uplatz.com/study-material-request.php Q7. What is your refund policy? A7. Please refer to our Refund policy mentioned on our website, here is the link to Uplatz refund policy https://training.uplatz.com/refund-and-cancellation-policy.php Q8. Do you provide any discounts? A8. We run promotions and discounts from time to time, we suggest you to register on our website so you can receive our emails related to promotions and offers. Q9. What are overview courses? A9. Overview courses are 1-2 hours short to help you decide if you want to go for the full course on that particular subject. Uplatz overview courses are either free or minimally charged such as GBP 1 / USD 2 / EUR 2 / INR 100 Q10. What are individual courses? A10. Individual courses are simply our video courses available on Uplatz website and app across more than 300 technologies. Each course varies in duration from 5 hours uptop 150 hours. Check all our courses here https://training.uplatz.com/online-it-courses.php?search=individual Q11. What are bundle courses? A11. Bundle courses offered by Uplatz are combo of 2 or more video courses. We have Bundle up the similar technologies together in Bundles so offer you better value in pricing and give you an enhaced learning experience. Check all Bundle courses here https://training.uplatz.com/online-it-courses.php?search=bundle Q12. What are Career Path programs? A12. Career Path programs are our comprehensive learning package of video course. These are combined in a way by keeping in mind the career you would like to aim after doing career path program. Career path programs ranges from 100 hours to 600 hours and covers wide variety of courses for you to become an expert on those technologies. Check all Career Path Programs here https://training.uplatz.com/online-it-courses.php?career_path_courses=done Q13. What are Learning Path programs? A13. Learning Path programs are dedicated courses designed by SAP professionals to start and enhance their career in an SAP domain. It covers from basic to advance level of all courses across each business function. These programs are available across SAP finance, SAP Logistics, SAP HR, SAP succcessfactors, SAP Technical, SAP Sales, SAP S/4HANA and many more Check all Learning path here https://training.uplatz.com/online-it-courses.php?learning_path_courses=done Q14. What are Premium Career tracks? A14. Premium Career tracks are programs consisting of video courses that lead to skills required by C-suite executives such as CEO, CTO, CFO, and so on. These programs will help you gain knowledge and acumen to become a senior management executive. Q15. How unlimited subscription works? A15. Uplatz offers 2 types of unlimited subscription, Monthly and Yearly. Our monthly subscription give you unlimited access to our more than 300 video courses with 6000 hours of learning content. The plan renews each month. Minimum committment is for 1 year, you can cancel anytime after 1 year of enrolment. Our yearly subscription gives you unlimited access to our more than 300 video courses with 6000 hours of learning content. The plan renews every year. Minimum committment is for 1 year, you can cancel the plan anytime after 1 year. Check our monthly and yearly subscription here https://training.uplatz.com/online-it-courses.php?search=subscription Q16. Do you provide software access with video course? A16. Software access can be purchased seperately at an additional cost. The cost varies from course to course but is generally in between GBP 20 to GBP 40 per month. Q17. Does your course guarantee a job? A17. Our course is designed to provide you with a solid foundation in the subject and equip you with valuable skills. While the course is a significant step toward your career goals, its important to note that the job market can vary, and some positions might require additional certifications or experience. Remember that the job landscape is constantly evolving. We encourage you to continue learning and stay updated on industry trends even after completing the course. Many successful professionals combine formal education with ongoing self-improvement to excel in their careers. We are here to support you in your journey! Q18. Do you provide placement services? A18. While our course is designed to provide you with a comprehensive understanding of the subject, we currently do not offer placement services as part of the course package. Our main focus is on delivering high-quality education and equipping you with essential skills in this field. However, we understand that finding job opportunities is a crucial aspect of your career journey. We recommend exploring various avenues to enhance your job search: a) Career Counseling: Seek guidance from career counselors who can provide personalized advice and help you tailor your job search strategy. b) Networking: Attend industry events, workshops, and conferences to build connections with professionals in your field. Networking can often lead to job referrals and valuable insights. c) Online Professional Network: Leverage platforms like LinkedIn, a reputable online professional network, to explore job opportunities that resonate with your skills and interests. d) Online Job Platforms: Investigate prominent online job platforms in your region and submit applications for suitable positions considering both your prior experience and the newly acquired knowledge. e.g in UK the major job platforms are Reed, Indeed, CV library, Total Jobs, Linkedin. While we may not offer placement services, we are here to support you in other ways. If you have any questions about the industry, job search strategies, or interview preparation, please dont hesitate to reach out. Remember that taking an active role in your job search process can lead to valuable experiences and opportunities.