BUY THIS COURSE (USD 17 USD 41)
SAP Lumira Designer
Learn how to extend power of data, the role of Designer, create Interactive executive dashboards and BI applications etc.
( add to cart )
Save 59% Offer ends on 31-Dec-2023
Preview SAP Lumira Designer course
View Course Curriculum
Price Match Guarantee
Full Lifetime Access
Access on any Device
Technical Support
Secure Checkout
&nbsp Course Completion Certificate
Bestseller
Trending
Job-oriented
Instant access
Students also bought -
30 Hours
USD 17
349 Learners
30 Hours
USD 17
111 Learners
30 Hours
USD 17
1504 Learners
Completed the course? Request here for Certificate.
ALL COURSES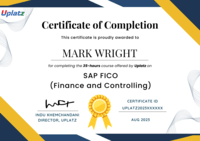 SAP Lumira Designer is an analysis tool for exploring business data through innovative visualization. Lumira is for business analysts and power business users who want to do deep-dive into their data coupled with sophisticated analysis.
With SAP Lumira, you increase the understanding and use of your data, discover hidden patterns in information, and make better business decisions.
Key features of SAP Lumira include:
a) Quickly build stunning visualizations with just a few clicks;
b) Visualize large volumes of data without having to sacrifice performance, security, or scale;
c) Maximize data knowledge and drive immediate outcomes across the enterprise.
With SAP Lumira, you can acquire, manipulate, and visualize any data source. You can combine multiple data sets in the same view or leverage your BI platform for trust and scale. Lumira heps to visualize any amount of data in real time in a few simple steps. With a fluid drag and drop interface, users can quickly create stunning visualizations and discover hidden insights.
Explore the possibilities of data by building storyboards and infographics and become a storyteller. Lumira allows you to share insights across the entire organization by publishing data sets and visualizations in the cloud.
With this SAP Lumira training by Uplatz you will learn:
a) How to extend the power of data and make better business decisions,
b) Understand the role of Designer in the overall SAP BI portfolio,
c) Create Interactive executive dashboards and BI applications,
d) Serve business needs effectively with deeper exposure and training in Lumira's features and functionalities.
Course/Topic - SAP Lumira - all lectures
In this lecture, you will get to learn how a Lumira view is created using the remote desktop and will be able to see a live demonstration on creating a Lumira view in an user's system. You will also be able to see a walk around view of the HANA Studio in respect to the SAP Lumira Design.

In this video, you will get to see how to work on the SAP Lumira Studio after installing the module and connecting to SAP HANA server, locating the packages, working on different visualization templates, creating objects and reports.

In this video, you will learn how to create a new dataset in SAP Lumira using HANA server and working with different dimension tables.

In this tutorial, you will learn and understand how to work on the visualization in SAP Lumira by adding different dimensions to it. You will also see a demonstration on how to create charts in the visualization. Further, it will be proceeded with composing dashboard and creating templates using it.

In this final lecture, you will learn how to create Visualized dashboard using tables for Non-SAP data. Also, you will learn how to make charts and reports for these kinds of data in SAP Lumira.
• Explain SAP Lumira discovery 2.0 with SAP lumira designer
• Create documents and acquire data
• Prepare datasets
• Visualize data
• Share stories
• This course will prepare you to:
• Create applications for desktop clients and mobile devices using SAP Lumira Designer 2.
• The goal of this course is to walk you thru steps (step by step) to create two dashboards (Basic and Advanced) for a Retail Store International Company. The dashboards are developed for Top Management and for Sales Representative to track their sales revenue using Key Performance Indicators (KPIs)
SAP Lumira Discovery
Positioning and Overview of SAP Lumira Discovery

Navigating the BI Launchpad

Acquiring Data

Enrich the Dataset

Create a Story

Create Visualizations

Export Options

Using the Lumira Discovery Formula Editor

Additional Data Sources

Working with Multiple Datasets


SAP Lumira 2.1 Designer
Positioning and Architecture

Describing the positioning of SAP Lumira

Describing the architecture of SAP Lumira, Designer Edition

Creating an Application
Understanding and Using the Format LUMX

Creating an Application with Online Data Access

Using a Data Source with Data Acquisition

Creating a Basic Application

Using Filter Components

Using Data Bound Component Properties

Using Scorecards

Using Structural Elements for Design

Creating the Simple Map Component Presentation

Using Composites

Describing Interoperability Between BI Clients



Defining Layouts and Formats

Using Standard and Custom Templates

Working with Themes, CSS Formatting, and the Embedded CSS Editor

Using Conditional Formatting Setting Components



Advanced Design Techniques

Describing the Script Editor

Defining the Navigation Behavior of Basic Components by Scripting

Defining Local Variables in Script Functions

Using Metadata and Single Values in Documents

Using Global Variables for Scripting

Using Keyboard Shortcuts

Outlining Export Scenarios

Using Action Sheets

Describing Commentary Functionality

Optimizing Applications on Mobile Devices

Accessing Application on Mobile Devices

Using the Adaptive Layout Container

Using Movable Components

Optimizing Components for Mobile Devices


SAP Lumira Advanced
Creating geo maps

Geo maps basics

Understanding and creating GeoJSON files

Geo maps scripting



Composites

Using composites

Creating composites



Using the result set in the script

Looping over the result set in the script

Dynamic creation of components



Creating components within scripting

Creating property binding within scripting



Advanced application design techniques

Creating generic applications

Using the new bookmarking concept

Understanding and using the commentary framework

Understanding and using scheduling of documents



Performance Optimization

Basic performance topics

Performance recommendations for application designers

Details for parallel processing scenarios


Performance recommendations for administrators
This SAP Lumira Designertraining course is designed for clearing the SAP Certified Application Associate- SAP Lumira Designer 2.3exam.
The SAP Lumira DesignerCourse module the participants learn about the Design Studio solution. In the SAP Lumira Designer course, the participants will learn to build dashboards and application using SAP Lumira Designer. This seems to be an essential learning for all SAP Lumira module users.
SAP Lumira Designer Certification is an important benchmark in becoming a SAP Lumira Designer. The exam topics cover fundamentals of SAP Lumira, scripting applications, optimize the performance of an application. SAP Lumira Designer training helps the participants to learn about Lumira application management and thus attaining a unique SAP certification. SAP Lumira Designer course offers complete information about the SAP Lumira designer dashboards thus making the participant a skilled SAP Lumira Application Consultant.
Uplatz online training prepares the participants to successfully apply for the SAP Lumira Designer certification provided by SAP. Uplatz provides appropriate teaching and expertise training to equip the participants with skills for implementing the learnt concepts of SAP Lumira in an organization.
Course Completion Certificate will be awarded by Uplatz upon the completion of the SAP Lumira Designer course training.
The SAP Lumira Designer certification exam verifies that the participants possess basic knowledge and can prove their skills in the area of SAP Lumira Application. This SAP Lumira Designer certification exam validates that the participant has an overall understanding about this consultant profile, and able to implement the knowledge practically in projects.
Below given are the certification details of SAP Certified Application Associate - SAP Lumira Designer 2.3
• Certification Level: Associate
• Exam Name: SAP Certified Application Associate- SAP Lumira Designer 2.3
• Exam Code: C_LUMIRA_23
• Exam Mode: Online
• Total Number of Questions: 80
• Pass Score: 73%
• Time Duration: 180 Minutes
The SAP Lumira Application Consultant draws an average salary of $104,400 per year depending on the knowledge and hands-on experience. The SAP Lumira Application Consultant job roles are in high demand and make a rewarding career.
The SAP Lumira Application Consultants are recognized across the globe. The increased usage of the SAP Lumira Design studio in many companieshelp the participants to find a job opportunity easily. The leading companies hire SAP Lumira Application Consultant considering the skill of creating interactive dashboards and scalable applications.
The learners earn most beneficial SAP Lumira Designercertification through our expert training and course curriculum. Being SAP Lumira Designer certified is definitely a valuable credential and adds value to every organization.
The SAP Lumira Designer certification is targeted to those participants who are from application consulting, business analyst background and wish to excel as SAP Lumira Application consultant.
The following are the job titles in SAP Lumira career:
• SAP Lumira Associate
• SAP Lumira Developer
• SAP BusinessObjects Administrator
• SAP Lumira Consultant
• SAP BusinessObjects Designer
The SAP Lumira Designer certification program helps the participants to get placed in reputed MNCs and organizations.
Q.1. What are the uses of SAP Lumira?
Predict future outcomes and forecast as per changing market situations & data visualizations and stories from multiple data sources.
Q.2. What are the uses of different tabs in Lumira?
Prepare, Visualize, Compare, Share
Prepare: import data set in SAP Lumira converted into the appropriate measures or attributes for the reports
Visualize: add graphs and charts on the data that has been imported You can add different attributes and measures to Label axis.
Compose: create stories and presentation, including background colors, titles, pictures, and text.
Share: publish your visualizations to different platforms
Q.3. Can we access SAP Lumira Server Via mobile server
SAP Lumira Server can be easily accessed from any mobile device supporting HTML5
Q.4. Different chart types present in SAP Lumira?
Bar Chart, Column Chart, Radar Chart, Donut chart, Tree, Scatter Plot, Bubble Chart etc
Q.5. How do we add Custom Charts in SAP Lumira?
The user has the option of adding the custom charts in SAP Lumira using VizPacker and these charts will be added to list of available charts in canvas
Q.6. How to affix Datasets in Lumira?
Navigate to Data → Combine → Append
These are the above commands
Q.7. Different chart canvas properties that set in Lumira?
· Chart Canvas Layout
· Chart Style
· Template
· Font Zoom, etc.
Q.8. What is Conditional formatting?
Conditional formatting mentions critical data points in a chart by different values meeting certain condition
Q.9. What are the uses of filters?
Filters limit the data in Lumira Visualizations and pass various filter conditions to restrict data comes in visualizations and stories.
Q.10. What are the uses of hierarchies?
Hierarchies are used to display data at different granularity level and you can update different levels for better understanding of relationship between objects.
Q.11. Whets the Use of Merge type option in SAP Lumira?
Merge defines the type of join. You can select from different join types – Inner join, outer join.
Q.12. How to measures as dimensions in SAP Lumira charts?
Go to Settings and click on use Measures as dimensions option Once you select this option, measures are displayed as new measure dimension in Dimension panel
Q.13. Different formats you can export your data sets in SAP Lumira?
You can save dataset as .csv or. xls file.
Q.14. How to open multiple dataset in a single Lumira document?
Go to Data pane at the top → Add new Dataset
Q.15. What is Conditional formatting?
Mention critical data points in a chart by different values meeting certain condition. Multiple conditional formatting rules can be applied on measures or dimensions.
Q1. What are the payment options? A1. We have multiple payment options: 1) Book your course on our webiste by clicking on Buy this course button on top right of this course page 2) Pay via Invoice using any credit or debit card 3) Pay to our UK or India bank account 4) If your HR or employer is making the payment, then we can send them an invoice to pay. Q2. Will I get certificate? A2. Yes, you will receive course completion certificate from Uplatz confirming that you have completed this course with Uplatz. Once you complete your learning please submit this for to request for your certificate https://training.uplatz.com/certificate-request.php Q3. How long is the course access? A3. All our video courses comes with lifetime access. Once you purchase a video course with Uplatz you have lifetime access to the course i.e. forever. You can access your course any time via our website and/or mobile app and learn at your own convenience. Q4. Are the videos downloadable? A4. Video courses cannot be downloaded, but you have lifetime access to any video course you purchase on our website. You will be able to play the videos on our our website and mobile app. Q5. Do you take exam? Do I need to pass exam? How to book exam? A5. We do not take exam as part of the our training programs whether it is video course or live online class. These courses are professional courses and are offered to upskill and move on in the career ladder. However if there is an associated exam to the subject you are learning with us then you need to contact the relevant examination authority for booking your exam. Q6. Can I get study material with the course? A6. The study material might or might not be available for this course. Please note that though we strive to provide you the best materials but we cannot guarantee the exact study material that is mentioned anywhere within the lecture videos. Please submit study material request using the form https://training.uplatz.com/study-material-request.php Q7. What is your refund policy? A7. Please refer to our Refund policy mentioned on our website, here is the link to Uplatz refund policy https://training.uplatz.com/refund-and-cancellation-policy.php Q8. Do you provide any discounts? A8. We run promotions and discounts from time to time, we suggest you to register on our website so you can receive our emails related to promotions and offers. Q9. What are overview courses? A9. Overview courses are 1-2 hours short to help you decide if you want to go for the full course on that particular subject. Uplatz overview courses are either free or minimally charged such as GBP 1 / USD 2 / EUR 2 / INR 100 Q10. What are individual courses? A10. Individual courses are simply our video courses available on Uplatz website and app across more than 300 technologies. Each course varies in duration from 5 hours uptop 150 hours. Check all our courses here https://training.uplatz.com/online-it-courses.php?search=individual Q11. What are bundle courses? A11. Bundle courses offered by Uplatz are combo of 2 or more video courses. We have Bundle up the similar technologies together in Bundles so offer you better value in pricing and give you an enhaced learning experience. Check all Bundle courses here https://training.uplatz.com/online-it-courses.php?search=bundle Q12. What are Career Path programs? A12. Career Path programs are our comprehensive learning package of video course. These are combined in a way by keeping in mind the career you would like to aim after doing career path program. Career path programs ranges from 100 hours to 600 hours and covers wide variety of courses for you to become an expert on those technologies. Check all Career Path Programs here https://training.uplatz.com/online-it-courses.php?career_path_courses=done Q13. What are Learning Path programs? A13. Learning Path programs are dedicated courses designed by SAP professionals to start and enhance their career in an SAP domain. It covers from basic to advance level of all courses across each business function. These programs are available across SAP finance, SAP Logistics, SAP HR, SAP succcessfactors, SAP Technical, SAP Sales, SAP S/4HANA and many more Check all Learning path here https://training.uplatz.com/online-it-courses.php?learning_path_courses=done Q14. What are Premium Career tracks? A14. Premium Career tracks are programs consisting of video courses that lead to skills required by C-suite executives such as CEO, CTO, CFO, and so on. These programs will help you gain knowledge and acumen to become a senior management executive. Q15. How unlimited subscription works? A15. Uplatz offers 2 types of unlimited subscription, Monthly and Yearly. Our monthly subscription give you unlimited access to our more than 300 video courses with 6000 hours of learning content. The plan renews each month. Minimum committment is for 1 year, you can cancel anytime after 1 year of enrolment. Our yearly subscription gives you unlimited access to our more than 300 video courses with 6000 hours of learning content. The plan renews every year. Minimum committment is for 1 year, you can cancel the plan anytime after 1 year. Check our monthly and yearly subscription here https://training.uplatz.com/online-it-courses.php?search=subscription Q16. Do you provide software access with video course? A16. Software access can be purchased seperately at an additional cost. The cost varies from course to course but is generally in between GBP 20 to GBP 40 per month. Q17. Does your course guarantee a job? A17. Our course is designed to provide you with a solid foundation in the subject and equip you with valuable skills. While the course is a significant step toward your career goals, its important to note that the job market can vary, and some positions might require additional certifications or experience. Remember that the job landscape is constantly evolving. We encourage you to continue learning and stay updated on industry trends even after completing the course. Many successful professionals combine formal education with ongoing self-improvement to excel in their careers. We are here to support you in your journey! Q18. Do you provide placement services? A18. While our course is designed to provide you with a comprehensive understanding of the subject, we currently do not offer placement services as part of the course package. Our main focus is on delivering high-quality education and equipping you with essential skills in this field. However, we understand that finding job opportunities is a crucial aspect of your career journey. We recommend exploring various avenues to enhance your job search: a) Career Counseling: Seek guidance from career counselors who can provide personalized advice and help you tailor your job search strategy. b) Networking: Attend industry events, workshops, and conferences to build connections with professionals in your field. Networking can often lead to job referrals and valuable insights. c) Online Professional Network: Leverage platforms like LinkedIn, a reputable online professional network, to explore job opportunities that resonate with your skills and interests. d) Online Job Platforms: Investigate prominent online job platforms in your region and submit applications for suitable positions considering both your prior experience and the newly acquired knowledge. e.g in UK the major job platforms are Reed, Indeed, CV library, Total Jobs, Linkedin. While we may not offer placement services, we are here to support you in other ways. If you have any questions about the industry, job search strategies, or interview preparation, please dont hesitate to reach out. Remember that taking an active role in your job search process can lead to valuable experiences and opportunities.