200 Hours
Self-paced Training (pre-recorded videos)
USD 2730 (USD 2800)
Save 3% Offer ends on 31-Dec-2023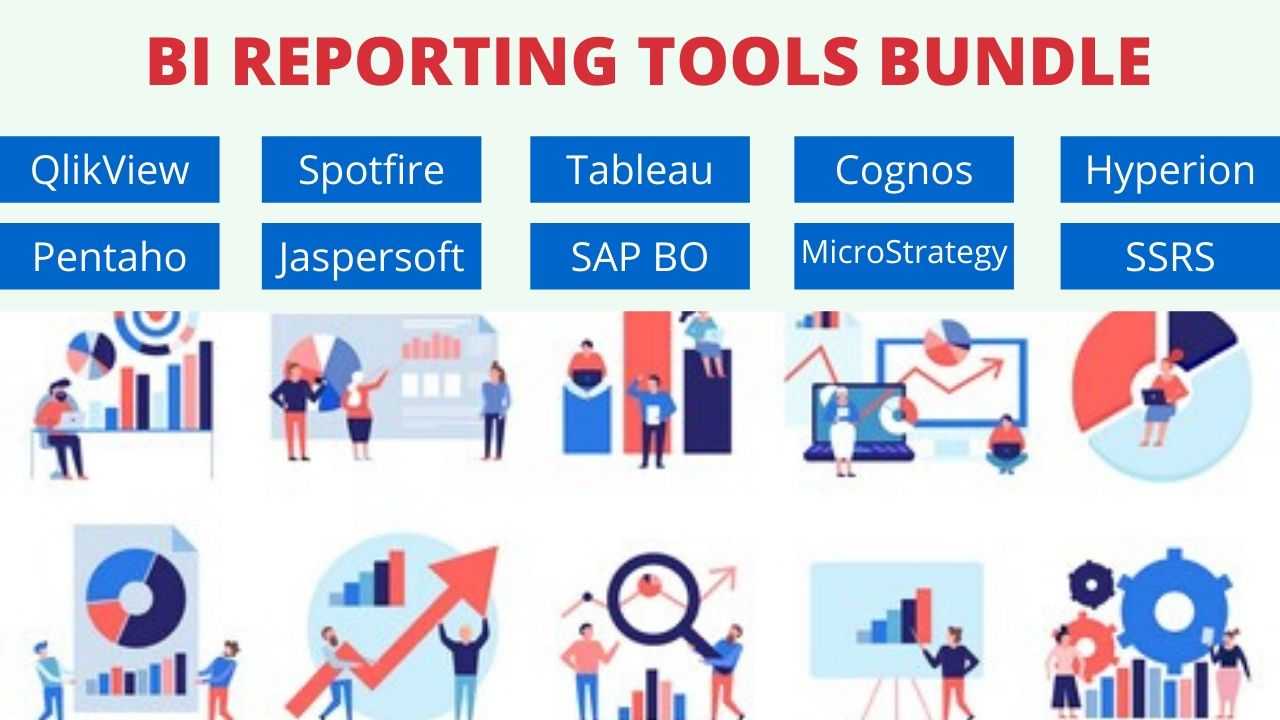 About this Course
This is a bundle course by
Uplatz
consisting of all major
BI Reporting Tools
and lets you gain proficiency in the top BI Reporting tools.
This training includes the BI Reporting tools like QlikView, Spotfire, Tableau, Cognos, Cognos Insight, Pentaho, Jaspersoft, MicroStrategy, Hyperion, and SSRS. You will see the BI tools implementation on projects in data visualization, deploy dashboards, analytics, reports for deriving business insights, etc.
In this BI Tools training, you will be able to make sense of disparate sets of data, work on data to slice it, dice it and analyze it, all to detect hidden patterns. You will get trained in data visualization techniques, work with interactive dashboards, generate reports, charts and graphs. Taking this all-in-one course that includes 10 Business Intelligence tools will equip you with all skills needed to be a complete BI professional.
List of BI Reporting Tools included in this training are:
QlikView
Spotfire
Tableau
IBM Cognos
SAP BO
Pentaho
Jaspersoft
MicroStrategy
Hyperion
SSRS
--------------------------------------------------------------------------------------------------------------
Course Objectives
Business Intelligence and its important concepts
Various BI tools and how they can be used together for a greater effect
Decision-making process in an enterprise and the steps involved
Setting up and installation of various BI tools
Concept of data warehouse and its deployment in BI
Data mining process, OLAP database, building cubes, and data schemas
Working with various BI tools, creating dashboards, statistics and reports
Predictive analytics and business forecasting with the right tools
Implementing data aggregation and data blending
Proficiency in deploying software programming for getting business insights
--------------------------------------------------------------------------------------------------------------
Bundle Course - BI Reporting Tools
Course Details & Curriculum
QLIKVIEW

· Introduction to QlikView
· QlikView Products
· Introduction to Data and Scripting
· Loading Data from the DataBase
· Structuring the Script
· Basic Data Model and Table Viewer
· Data Relationships
· Data Modelling Considerations
· Qlikview Data (QVD) Files
· Creating a Master Calendar
· Qlikview Security
· Handling Null Values
· Sheets and Sheet Objects
· The List Box
· The Table Box
· The Multi Box
· The Button & Text Object
· Charts
· Multi Dimensional Charts, Pivot Tables
· Gauges
· The Other Sheet Objects
· Additional Editing in The Layout
· Uses Of Expressions
· The Settings Menu
· Qlikview Functions
· Adhoc Reports and Bookmarks
· Layout Themes
· Extensions
· Set Analysis
· Alternate States
· What-IF Analysis
· Server Installation & Deployment
--------------------------------------------------------------------------------------------------------------
SPOTFIRE

· TIBCO Spotfire Introduction
· Spotfire Data Table & Data Sources
· Spotfire Data Visualization
· Advanced Visualization & Analysis
· Spotfire Server Features
· Deep Dive into Data Analysis and Organization
· Spotfire Administration
· Predictive Analytics - Map Visualization
· Spotfire Visual Insights

--------------------------------------------------------------------------------------------------------------

TABLEAU

· Introduction to Data Visualization and Power of Tableau
· Architecture of Tableau
· Working with Metadata and Data Blending
· Creation of Sets
· Working with Filters
· Organizing Data and Visual Analytics
· Working with Mapping
· Working with Calculations and Expressions
· Working with Parameters
· Charts and Graphs
· Dashboards and Stories
· Tableau Prep
· Integration of Tableau with R and Hadoop

--------------------------------------------------------------------------------------------------------------


IBM COGNOS

· Overview IBM Cognos Business Intelligence and Cognos BI Architecture
· IBM Cognos Framework Manager Modelling
· New UI features of Cognos Analytics 11
· Cognos Analytics 11 Data Modules
· Working with Dashboards
· IBM Cognos Advance Framework Manager and Performance Improvement
· Cognos Report Studio
· Reporting Using Filters, Formatting, and Charts
· Reports Using Prompts and Calculations
· Advance Report Building Techniques
· Drilling through Reports
· Advanced Dynamic Reports
· Report Distribution Using Bursting
· Statistical Reports
· Cognos Active Reports
· Active Reports – Multi-Dimensional
· Active Reports - Advance Dimensional Reporting
· Advanced Drilling Techniques
· Transformer-multi-dimensional Data Modelling
· Transformer-Dynamic Cubes
· Advance Features in Transformer-Dynamic Cubes
· Analyzing and Administering Queries
· Advanced features of Cognos 11
· Storytelling with Cognos 11

--------------------------------------------------------------------------------------------------------------

PENTAHO

· Introduction to Pentaho Tool
· Data Architecture
· Clustering in Pentaho
· Data Transformation
· Pentaho Flow
· Deploying SCD
· Type of Repository in Pentaho
· Pentaho Repository & Report Designing
· Pentaho Dashboard
· Understanding Cube
· Multi-Dimensional Expression
· Pentaho Analyzer
· Pentaho Data Integration (PDI) Development
· Hadoop ETL Connectivity
· Creating Dashboards in Pentaho
· Performance Tuning
· Security
--------------------------------------------------------------------------------------------------------------

JASPERSOFT

· Jaspersoft Architecture and iReport Introduction
· Creating Basic Reports
· Advanced Reporting Features
· Jaspersoft Customization
· Introduction to JasperServer
· Ad Hoc Reports
· Jaspersoft User Interface
· Jaspersoft Group by Bands
· Jaspersoft Datasource and Graphs
· Jaspersoft Components
· Jaspersoft Advanced Properties
· Jaspersoft Styles
· Jaspersoft Scriptlets
· JFreeCharts in JasperReports
· JR Datasource
· Advanced Features of Jaspersoft Server
· Scheduling of Reports
· Dynamic Jasper and Custom Visualization
· Advanced Dashboard
· Adhoc Editor
· Introduction to Cubes and Multi Tenancy
· Performance Tuning
--------------------------------------------------------------------------------------------------------------
MICROSTRATEGY

· MicroStrategy Introduction & Installation
· DW & BI Architecture
· Business Intelligence Capability
· Analytical Models
· MicroStrategy Platform Architecture
· MicroStrategy Architecture Flow
· Connectivity and the Data Ecosystems
· Analyzing Data
· Measures & Metrics
· Logical & Physical Warehouse Schema
· Project Source and Creation
· Schema Architect
· Organizing Schema Objects
· Creation of Hierarchies
· Creating Metrics
· Creating Filters
· Creating Prompts
· Search Objects
· Consolidation
· Custom Groups
· Drill Maps
· Partition Mapping
· Different type of Reports Creation
· MicroStrategy Web
· Web Dashboard
· MicroStrategy Intelligence Server
--------------------------------------------------------------------------------------------------------------
HYPERION

· Getting started with Hyperion
· Introduction to IR, Relational vs. Multidimensional Reporting Tools, ODBC and DSN, OCE Optimization
· SQL Queries and Important Operations and Functions
· Pivot, Report and Table Sections, Spotlighter, and Getting started with Java Scripting
· Insights into Toolbar
· Advanced operations on BQY and Java Scripting
· Workspace and Admin Demonstrations
--------------------------------------------------------------------------------------------------------------
SSRS (SQL Server Reporting Services)

· Introduction to SSRS
· Matrix and Tablix Overview
· Parameters and Expression
· Reports and Charts creation
· Dashboard Building
· Reports and Authenticity
--------------------------------------------------------------------------------------------------------------
SAP BO (SAP BusinessObjects Business Intelligence)

· Introduction
· SAP Business Objects Web Intelligence and BI Launch Pad 4.2
· Information Design Tool 4.2
· Universe Designer Tool 4.2
· SAP BusinessObjects Dashboards 4.2 (Xcelsius)
· SAP Crystal Reports
--------------------------------------------------------------------------------------------------------------
Job Prospects
16% is the annual growth rate of the BI industry as a whole – Pringle & Company
Worldwide Business Intelligence and Analytics market to grow to $22.8 billion in the next 2 years – Gartner
A lead Business Intelligence Developer in the United States can earn $106,000 – Indeed
The diverse range of Business Intelligence, Analytics, Reporting and Data Visualization tools included in this course will help you master every aspect of Business Intelligence process along with the ability to work in any industry domain. You will be proficient in integrating the results of the multiple Business Intelligence tools with other technologies to drive larger business goals of any organization ahead. Upon the completion of the training, you will be rightly in a position to clear the certification exams conducted by the requisite organization and command top salaries.

--------------------------------------------------------------------------------------------------------------