5 Hours
Self-paced Training (pre-recorded videos)
USD 17 (USD 140)
Save 88% Offer ends on 31-Dec-2023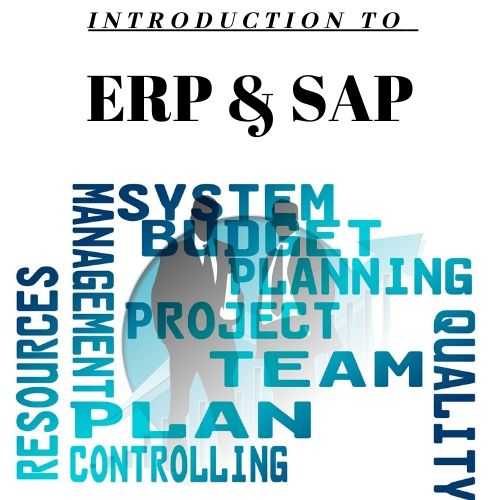 About this Course
ERP or Enterprise Resource Planning is a Business Management Software build to simplify the data sharing process within various departments in an organization. It is mainly used for integrating the financial and customer order information in an organization, speeding up and standardizing the operation process, reducing inventory and standardizing the Human Resource information for that organization.
SAP is a multinational software company originating from Germany which makes Enterprise Software to manage all the business activities within an organization. Founded in 1972, this company was originally called as System Analysis Program Development which was later abbreviated as SAP.
In this course curriculum, one will get to know:
Ø
Introduction on ERP and SAP
Ø
Characteristics and the benefits of using ERP as a software
Ø
Products of ERP and SAP
Ø
Types of SAP Projects and Roles
Ø
Architecture of SAP, etc.
At the end of this course, a learner will be congratulated with a Certificate of Completion from Uplatz and will be able to make his career as an SAP Consultant in an organization.
Introduction to ERP & SAP
Course Details & Curriculum
Introduction to ERP & SAP course curriculum
1. INTRODUCTION TO ERP
· ERP Definition
· Characteristics of ERP
· Products of ERP
· Benefits of using ERP
2. INTRODUCTION TO SAP
· SAP History
· SAP Product line
· New Products of SAP
· Relation of New SAP Products with the core product
· Industry specific Products
· Type of SAP Projects
· Type of SAP Roles
· Architecture of SAP
· System Landscape
· Types of data used in the SAP system
3. INITIAL SCREENS
· How to login to the SAP system
· SAP Client / GUI
· SAP Session - What it is
· How to open a new Session
· Create new Sessions
· Navigation between Sessions
· Transactions and Activities
· Shortcuts or Transaction Codes
· SAP Easy Access screen
· SAP IMG screen
· Difference between Easy Access and IMG screens
4. ENTERPRISE STRUCTURE
i. What is Enterprise Structure
ii. The different types of Enterprise Structure
iii. Company structure in real time
iv. Company structure for each process
v. MM Structure against other process structure
vi. Enterprise Structure terms in real time against those used in the SAP system
vii. Definitions of the elements of enterprise structure
viii. Creation of Enterprise Structure elements in the SAP system
a. Group
b. Company
c. Plant
d. Store
e. Purchasing Department
f. Valuation Area
g. Controlling Area
ix. Assignment of the Enterprise Structure elements in the SAP system
a. Assign Company to Group
b. Assign Plant to Company
c. Assign Store to Plant
d. Assign Purchasing Departments
e. Assign Controlling Area
Certification
Introduction to ERP & SAP