30 Hours
Self-paced Training (pre-recorded videos)
USD 17 (USD 140)
Save 88% Offer ends on 31-Dec-2023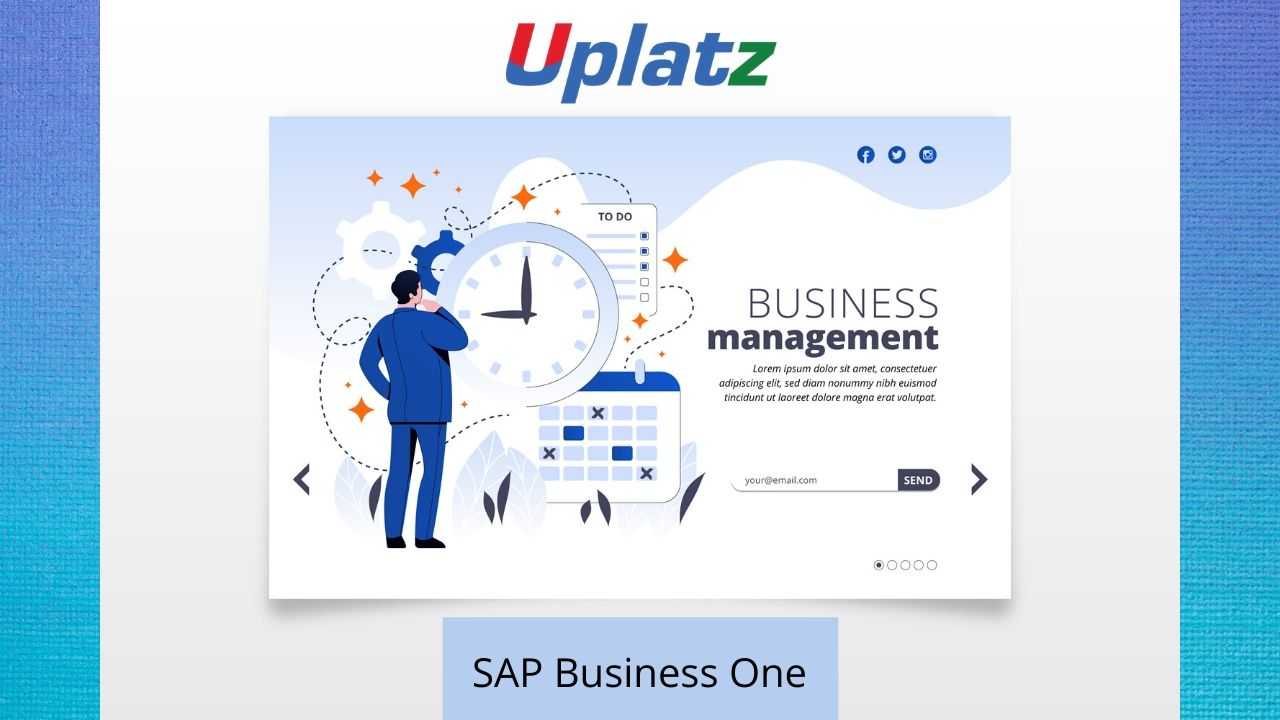 About this Course
SAP Business One is an ERP package from SAP that is specifically designed for the Small and Medium Size Enterprise (SME) to enable them to manage their critical business functions across sales, distribution, and financials, all in a single integrated system. It is an affordable and easy-to-use business management software. SAP Business One is highly gaining ground as of today, because of the power of its integration capability.
Business One is an enterprise resource planning (ERP) system designed for small and medium-size businesses, originally developed by TopManage Financial Systems, an Israeli company acquired by SAP in 2002.
SAP Business One is a simple yet powerful business management software that provides the basic business functionality used in most businesses. Containing accounting, sales, purchasing, item management, production and service - it is designed specifically for the small to midsize business. Today thousands of businesses, including many retailers, use SAP Business One to power their operations.
Majority of SME nowadays are fast migrating/implementing SAP Business One. One of its greatest advantages is its ability to be integrated with the powerful SAP S/4HANA infrastructure which are mostly used by the big enterprises. From Finance to CRM to Warehouse Management, you can manage every aspect of your business with SAP Business One - it's the end of disparate systems and manual processioning.
SAP Business One is an effective yet simple and easy to use SAP cloud platform which helps businesses to run in real-time and drive profit for the organization. It helps small businesses to grow big, allows to make smarter decisions, anytime and anywhere. It also helps the accounting system for a business, acting as a great ERP software solution package to manage all the financial activities. Some of the key features in the SAP Business One module include Financial Management, Accounting, Controlling, Sales, Customer Management etc.
SAP Business One acts as a single application that eliminates the need for multiple point solutions. It is a one-stop-solution for businesses to handle all of the activities for a business, starting from the financial management to sales, inventory management, project management, customer service management etc.
SAP B1 software suite consists of:
accounting and financial management tools

purchasing and inventory control

sales and opportunity management

strong reporting functions

real-time analytics

-----------------------------------------------------------------------------------------------------

Uplatz provides this comprehensive training on SAP Business One covering the implementation and configuration steps for each function in detail such as Financials (accounting, banking, cost accounting), Operations (sales, procurement, inventory management, production), CRM (activities management, opportunity management, service management, calendar), Human Resources (payroll, employee data management).

In this SAP Business One course the students will get in-depth knowledge and analysis of the different functional activities involved in a business. They will get practical demonstrations from the instructor who will be working on the SAP Business One system.

The students will be provided a Certificate of Completion from Uplatz on successful completion of the Business One course.
-----------------------------------------------------------------------------------------------------


Course Objectives
To implement, configure and manage SAP Business One application module end-to-end

SAP B1 Logistics topic will teach you the concepts and methods of SAP Business One. You will learn how to perform the steps in the core logistics processes, map customer logistics processes in SAP Business One, and set up master data for the standard business processes in logistics.

SAP Business One Accounting Course topic teaches you how to outline the main financial accounting processes in SAP Business One, perform the main accounting and banking tasks in each financial process, manage your accounting procedures, utilize controlling tools and company reports, and point out the essential settings for accounting functions.

SAP Business One Implementation & Support topic will teach you how to initialize and configure a sample company based on a set of requirements using a case study. This course focuses on the tasks that the implementation and support consultant performs within the framework of an implementation methodology.

Give tools to analyze the steps needed to improve decision-making
-----------------------------------------------------------------------------------------------------


Target Audience

· SAP Business One Consultants and End Users
· SAP B1 In-house Consultants
· Newbies and beginners aspiring for a career in SAP Business One
· SAP and ERP Professionals
· Business Consultants and Business Analysts
· ERP Support Consultants with interest in SAP Business One
· SAP Business One Project Managers
· SAP B1 Support Consultants
· SAP Business One IT Managers
· Anyone interested to learn SAP Business One module
· SAP B1 Data and Reporting Engineer / Administrator – SQL
· SAP Business Analysts, ERP, SAP S/4HANA
· SAP Business One Trainers / Implementers
· SAP Business One Finance Analysts
· SAP Business One Specialists
· SAP Business One Manager End User
-----------------------------------------------------------------------------------------------------


What you will learn in this course

· Deep dive into SAP Business One module with detailed implementation, configuration, and management steps
· Become an SAP Business One Consultant / Manager / End user
· Prepare for SAP Business One Certification exam
· Understand what SAP Business One is and how does it work
· Administration - Setting up a company, General Authorization, Alerts, Utilities, Approval Process, Settings
· Financials (Accounting) - General Ledger, Journal Entries, Journal Vouchers, Multi-currency, Fixed Assets, Financial Reports
· Financials (Accounting) - Cash Flow Data, G/L Accounts & Business Partners, Aging Reports, Tax, Reconciliation
· Banking - Incoming Payments, Credit Card Management, Payment Engine
· Banking - Bank Statements Processing, Reconciliation
· Cost Accounting - Profit Centers
· Operations (Sales) - Sales Order, Delivery, Pick & Pack, Gross Profit Calculation
· Operations (Sales) - Structured Marketing Docs, Sales Analysis Report
· Procurement - Purchase Order, MRP, Purchase Analysis Report
· Inventory Management - Batch/Serial Numbers, Customer/Vendor Catalog Numbers, Stock Management, Price Lists
· Production - Bill of Material, Production Orders, MRP
· CRM - Activities Management, Opportunity Management, Opportunity Analysis Reports & Pipeline
· Service Management - Service Call, Customer Equipment Card, Service Contract, Solutions Knowledge Base, Service Reports
· Calendar - Calendar, Microsoft Outlook Integration
· Human Resources - Payroll, Employee Data Management (Employee, HR Reports)
-----------------------------------------------------------------------------------------------------


Features of SAP Business One solution
One simple, scalable business solution

Insight and visibility into your business Business

Streamline your core business processes from Accounting and CRM to Supply Chain Management and Purchasing

Deploy on premise or in the cloud in as little as two to eight weeks

Fully customisable to fit your business needs
-----------------------------------------------------------------------------------------------------

Benefits of SAP Business One
Get visibility into profitability and margins, sales, marketing, inventory, and more

Take more effective buying decisions using sales forecasts

Reduce capital binding in inventory through effective stock management

Get real-time reporting and analytics thanks to the two-way information flow


-----------------------------------------------------------------------------------------------------

Key Topics covered in this SAP Business One course

· Fundamentals of SAP Business One
· SAP Business One for Executives
· SAP Business One for Financial Reporting
· Analytics
· Localized Pages
· Entering Business Partner Details
· CRM for customer service and sales representatives
· Manufacturing Resource Planning & Production
· Inventory Management
· Entering Opening Balances Detailed
· Entering Vendor Details
· Accounting
· Bulk Importing Company Partners in SAP
· Creating Consumers and Sellers in SAP
· Business Technologies and the ERP environment
· Advance SAP Reports
· Removing Business Partner Records
· Importing Business Partner Data
· Integration & improvement
· MRP Functionality
· Getting Consumer Payments
· Logistics
· Importing BP Seller Data
· Incorporated Partner Solution
· Conclusion of User Defined COA Creation
· Implementation & Support
· Finalizing Company Building
· Tailor-made Chart of Accounts in SAP
· Warehouse Management in SAP
· Administration and master files

-----------------------------------------------------------------------------------------------------

SAP Business One
Course Details & Curriculum
Administration

Setting up a company

General Authorization

Basic Set up

Alerts

Utilities

Approval Process

General Setting

Financials

Chart of Accounts

Journal Entry

Journal Voucher

Recurring Posting

Reconciliations

Tax

Budget Overview

Reports

Opportunities (CRM)

Sales Opportunity

Activities

Sales A/R

Blanket Agreement

Sales Quotation

Sales Order

Delivery

A/R Invoice

Sales Returns

Down Payment (Advance Payment)

A/R Credit Memo

Purchasing A/P

Blanket Agreement

Purchase Request (Intent)

Purchase Quotation

Purchase Order

GRPO

A/P Invoice

Goods Return

Down Payment (Advance Payment)

A/P Credit Memo

Business Partner

Creation of the Customer Master

Creation of the Vendor Master

Creation of the Lead

Internal Reconciliation

Inventory

Creation of the Item Master

Inventory Transactions

Price List

Pick and Pack

Bin Locations

Managing Serial and Batch Items

Banking

Incoming Payment

Outgoing Payment

Resource

Managing the Resource Master

Production

Creation of BOM

Production Order

Issue for Production

Receipt from Production

MRP

Forecast

Run MRP

Service

Service Call Register

Service Contract

Knowledge Base

HR

Managing the Employee Master

Project Management

Managing Project

Reports

General Standard Report

Overview

General Overview about the Real Time scenario

Overview of Development

Overview of Industry Requirement
-----------------------------------------------------------------------------------------------------
Certification
SAP Certified Application Associate - SAP Business One
The SAP B1 certification is mainly targeted to those candidates who are from SAP BusinessObjects and business consulting background and want to build their career as SAP B1 consultant. The SAP B1 Certification Exam verifies that the candidate possesses fundamental knowledge and proven skills in the area of SAP Business One. This exam validates that the candidate has a good and overall understanding within this consultant profile, and can implement this knowledge practically in projects under guidance of an experienced consultant.
SAP B1 Certification Exam details:
Exam Name - SAP Certified Application Associate - SAP Business One

Release - 9.3

Exam Code - C_TB1200_93 » SAP B1 Certification Online Practice Exam

Level - Associate

Exam Price - $550 (USD)

Duration- 180 mins

Number of Questions - 80

Passing Score - C_TB1200_93 - 65%
Topic areas for SAP B1 Certification exam:
Logistics (40%) -
Demonstrate knowledge of the business processes for sales, purchasing, warehouse management, MRP, production, and customer service. Describe how to set up logistics, CRM, and service in SAP Business One. Demonstrate the ability perform common tasks for logistics. This topic area represents 40% of the exam.
Financials (30%) -
Demonstrate knowledge of the business processes for posting journal entries, payments, reconciliations, fixed assets, cost accounting, financial and accounting reports. Describe how to set up financials including G/L account defaults, the chart of accounts, currencies and posting periods. Demonstrate the ability to perform common financial and banking tasks. This topic area represents 30% of the exam.
Implementation (30%) -
Explain how to use the tools provided in the Implementation Center and in SAP's implementation methodology to run a successful implementation project. Demonstrate the ability to set up and configure a new SAP Business One company, including initialization settings, customization tools, cockpit analytics, user settings and authorizations. Demonstrate compliance with the SAP maintenance policy. This topic area represents 30% of the exam.
This SAP Business One training will prepare you for the SAP Business One certification exam. Uplatz will also award a Course Completion Certificate upon successful completion of this course.
-----------------------------------------------------------------------------------------------------

Career Path
There is a high-growth career path for SAP Business One professionals.
SAP Business One is a single view of your commercial enterprise to assist you to continue to be in managebusiness desires and large goals, and as your commercial enterprise grows it can be challenging to get a single view of what is going on at any given time when records reside in unique functions or even locations.
----------------------------------------------------------
Job Prospects
Following are some of the key job titles in SAP Business One area:
SAP B1 Consultant

SAP B1 Functional Consultant

Sap Business One Consultant - Technical
-----------------------------------------------------------------------------------------------------