30 Hours
Self-paced Training (pre-recorded videos)
USD 70 (USD 280)
Save 75% Offer ends on 31-Aug-2019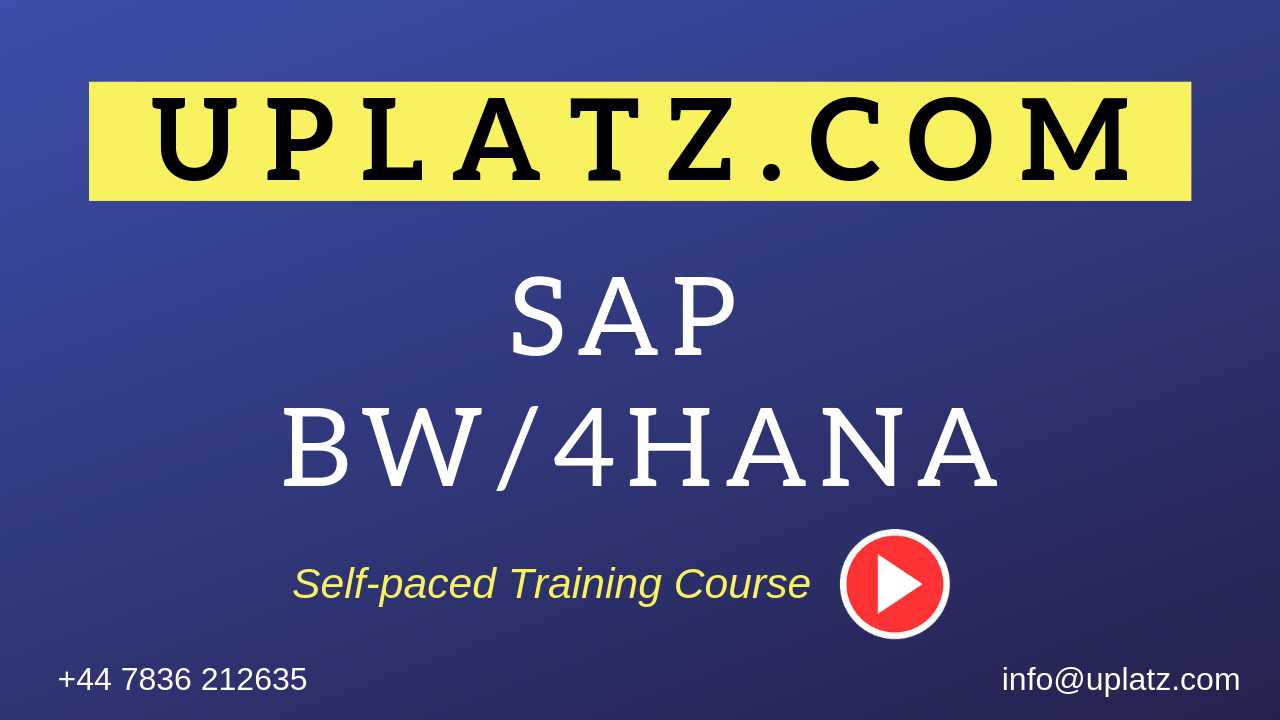 About this Course
BW functions performed within SAP HANA benefit from its in-memory planning capabilities and calculation engines, accelerating BW data access. No need for aggregates in it. The system creates logical indexes for the SAP HANA-optimized InfoCube. Composite Provider enables to combine ad-hoc data with consolidated data and use the OLAP functions of the BW system for analysis. It creates a VirtualProvider based on a SAP HANA model. SAP BW on HANA training enables implement SAP BW powered by SAP HANA and advantages of the "In-Memory" Solution with SAP BW.

Welcome to Uplatz, the SAP Training UK biggest hub!
Uplatz is UK-based leading provider of SAP training, Oracle training, Big Data & Machine Learning courses, Programming & IT courses.
SAP Training can help you master the in-demand industry skills and significantly increase your chances of working with leading companies of the world. An SAP course can turnaround your career by placing you in the elite company of top domain consultants.
Going through this comprehensive course, you'll also be able to prepare for SAP certification for this module.
Doing an SAP course online can jumpstart your career in just 40 hours!
SAP training courses are currently the most sought-after courses globally.
An SAP consultant earns a salary of $80,000 per year going upto $300,000 per year based on the skills and experience.


Interested to learn?
Get in touch with us Phone: +44 7836 212635
Whats App: + 44 7836 212635
Website: https://www.uplatz.com
Browse www.uplatz.com to see more courses.
Uplatz.com is a leading Marketplace for IT and Certification courses.

SAP BW/4HANA
Course Details & Curriculum
Getting started

SAP HANA
SAP BW/4HANA
SAP BW/4HANA Modeling Tools in Eclipse and SAP BW/4HANA Cockpit

Paths to SAP BW/4HANA

Overview with additional details for In-Place Conversion as well as Remote Conversion.

SAP HANA Modeling

SAP HANA native Modeling of Calculation Views

Modeling and Running the SAP BW/4HANA Data Warehouse

InfoObject Enhancements
Advanced DataStore-Objects
CompositeProviders
BAdI-Providers
HANA-optimized Transformations
Process Chain Enhancements
HANA-optimized Analytic Manager
HANA Analysis Processes
Changes regarding Authorizations
SAP BW/4HANA Statistical Analysis based on ABAP CDS Views
SAP BW/4HANA Tool Collection

Modeling with SAP´s Reference Architecture LSA++

Review of Layered Scalable Architecture (LSA)
From LSA to LSA++: Streamline Core Layers
LSA++: Open Operational Data Store Layer based on Open ODS Views
LSA++: BW/4HANA Workspaces

Hybrid Modeling in Mixed Scenarios

Generation of external HANA-Views for BW/4HANA Objects
Modeling Mixed Scenarios
SAP BW/4HANA Content Add-On
Use case for Mixed Scenarios: SAP Predictive Analytics (optional)

SAP BW/4HANA Data Lifecycle Management

Multi-Temperature Data Management
SAP BW/4HANA Data Tiering Optimization
Additional Tiering Concepts

Data Provisioning into SAP HANA and SAP BW/4HANA

Overview of Data Provisioning Methods into SAP HANA
SAP LT Replication into SAP HANA
SAP HANA Smart Data Access
SAP HANA Smart Data Integration incl. real-time Streaming
Operational Data Provisioning into SAP BW/4HANA based on SAP Extractors, ABAP CDS Views, HANA Information Views and BW InfoProviders
Integration of Big Data
Career Path
Basics of SQL, Database & Data Warehouse
FAQs
Will this course help me clear the certification exam?
+
Which is better - Self-paced training or Instructor-led training?
+