30 Hours
Self-paced Training (pre-recorded videos)
USD 17 (USD 140)
Save 88% Offer ends on 30-Nov-2023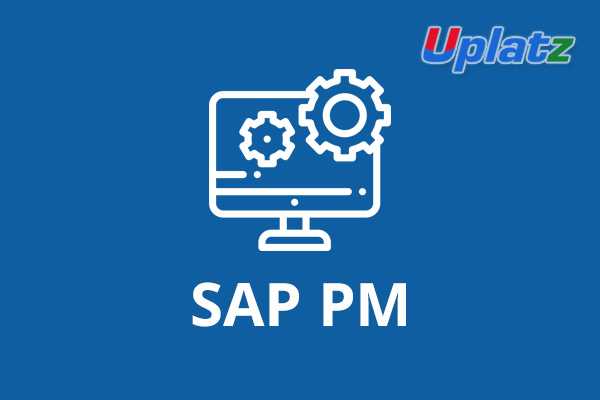 About this Course
SAP PM or Plant Maintenance is a module in SAP which involves managing all maintenance activities within an organization. It includes key activities like inspection, corrective and preventive maintenance, repairs and other such measures in a system. SAP PM is also integrated with other SAP modules like SAP PP, SAP MM, Sales & Distribution, Accounting, etc.
Why we need SAP PM?

The cost of a significant breakdown of a system will always be a problematic issue for organizations. SAP PM ensures running of all the systems smoothly and in an efficient manner. It ensures all machines are working in their optimal condition.
Course Contents of SAP PM at Uplatz:
Ø SAP PM overview and organizational structure
Ø Technical objects in PM
Ø Notifications and Maintenance Orders
Ø Maintenance Planning (Scheduling) and Reporting
Ø Configuration and Integration, and more.

At the end of this course, Uplatz is offering a Certificate of Completion on the SAP PM (Basics to Advanced) Course.
SAP PM (basic to advanced)
Course Details & Curriculum
SAP PM course curriculum
1. PM Overview and Organizational Structure
PM Overview
· Process Overview
· Overview - Integration & Interaction with other modules
PM Organization Structure
· Plant
· Planning Plant
· Maintenance Planning Plant
· Relationship between organization Units
2. Technical Objects in PM
PM Master Data (Technical Objects)
· Functional Locations
· Equipment
· Material Master
· Bills of Material
· Functional Location BoM
· Equipment BoM
· Material BoM
· Work Centers
· Task Lists
· Measuring Points
· Warranties
· Permits
· Maintenance Items / Plans
3. Notifications and Maintenance Orders
Notifications
· Notification Types
· Create, Change & Display
Maintenance Orders
· Order Types
· Create, Change & Display
Order completion
· Technical Completion of the order
· Closing order and notification
· Cost Settlement
Order Status
4. Maintenance Planning (Scheduling) and Reporting
Preventative Maintenance (Maintenance Planning)
· Preventative Maintenance Process
· Task List
· Scheduling Plans
Reporting in SAP PM
· Reporting at Document Level
· Reporting with the Logistics Information System
5. Configuration & Integration
· Configuration in PM
· Integration with other modules
· Case Study
Certification
SAP PM (Basics to Advanced)
Career Path
SAP PM Consultants
SAP Consultants