30 Hours
Self-paced Training (pre-recorded videos)
USD 17 (USD 140)
Save 88% Offer ends on 31-Dec-2023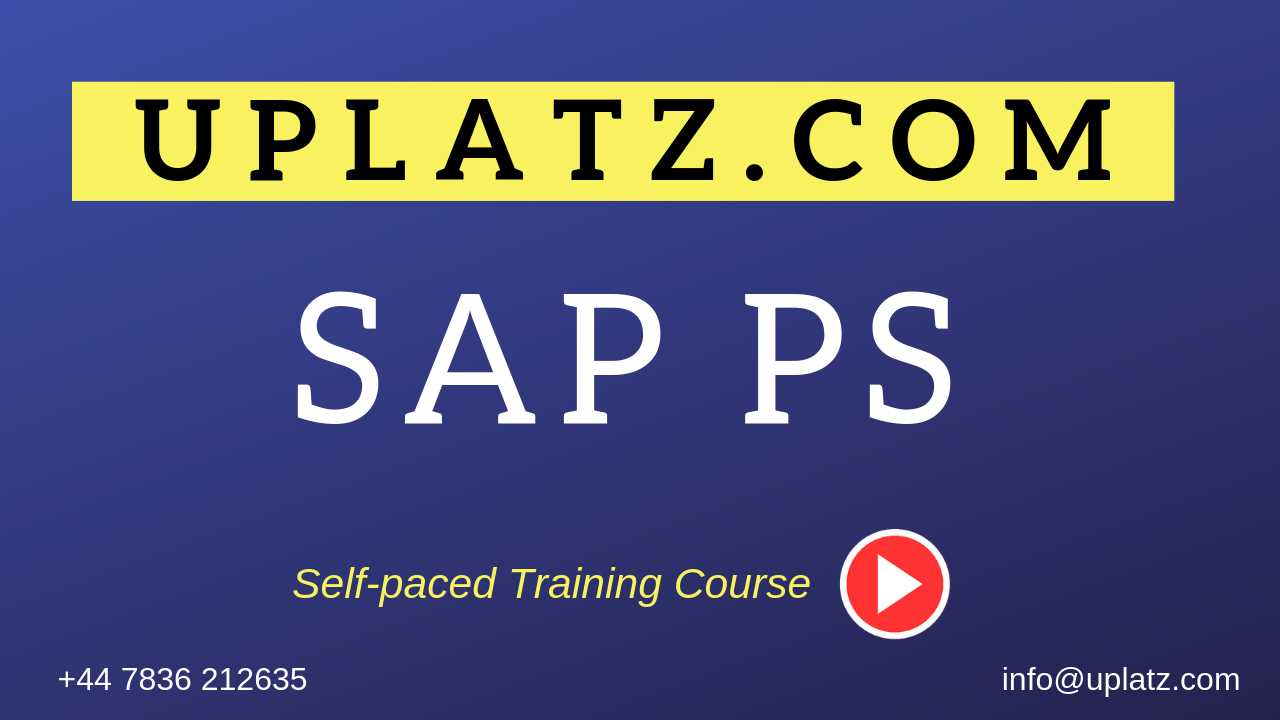 About this Course
In today's competitive market, individuals who possess essential business and technological skill enjoy a significant advantage over their peers. This is particularly true if your expertise includes SAP software. The SAP Project Systems program provides that competitive edge. When you are sap certified, you join a distinguished community of experts recognized globally. Today more than 14,000 consultants and users worldwide are part of this exclusive community.
SAP PS (Project System)
Course Details & Curriculum
Work Breakdown Structure (WBS)
Activities and networks
Milestones
Standard structures
Simulations and project versions
Project Builder & Project Planning Board
Mass changes, substitution, and validation
Network
Project Builder & Project Planning Board
Appointment Planning
Resource Planning
Project Material
Cost Planning, Revenue Planning
Budgeting
Commitment and Actual Data
Period-End Processing
Information Systems
Cost planning, structure planning, detailed planning, easy cost planning, network calculation
Revenue planning – structure planning, billing plan, integration with sales and distribution
Budgeting – cost projects, investment projects, availability controls
Commitment management
Project stock (valuated/unvaluated)
Actual costs – confirmation, CATS, purchasing, execution services
Actual revenues – resource-based billing, milestone billing
Period end closing – overhead rates, interest determination, overhead rates, accounting
Job Prospects
-----------------------------------------------------------------------------------------
SAP PS (Project System) Interview Questions
-----------------------------------------------------------------------------------------
1. What is SAP PS?
Ans. Project System provides tools to track project milestones, costs, and resources. SAP's Project System module contains tight integration to the Controlling, Human Resources, and Logistics modules. It utilizes personnel records from HR, rolls costs into Controlling and links to materials or customers in the Logistics modules.
Two key objects that define the Project in SAP are:
• Work Breakdown Structure - defines tasks and assign resources to those tasks
• Network - defines the dependencies within the Work Breakdown Structure (WBS)
2. What is WBS?
Ans. A Work Breakdown Structure (WBS) is a model of a project and shows the project activities to be fulfilled in hierarchical form. It forms the operative basis for planning costs, revenues, and payments, as well as for scheduling, and budgeting. It also shows responsibility.
One definition from the Project Management Institute is as follows:
• The Work Breakdown Structure (WBS) is a key planning tool used to define a project in terms of its deliverables while providing a method for breaking these deliverables into meaningful work efforts.
• It is the functional basis for further planning steps in a project, for example, for process planning, cost planning, scheduling, capacity planning or costing, as well as project control.
• It provides a clear picture of the project and facilitates the coordination and implementation of the project from a management standpoint.
• It shows the work involved in a project.
• Work Breakdown Structures (WBS) is created under an object known as Project definition.
3. For raising Client billing, is there any possibility of linking line items in the SD module with Activities / WBS in PS module?
Ans. It can be linked through DIP Profile and do Resource Related Billing for raising billing.
4. Can Revenues be linked with Activities?
Ans. No, it can be done at the WBS level with 'Billing' operative indicator.
5. Can progress be updated in WBS elements?
Ans. Yes, You can use Progress Analysis (EVA) for this.
6. Workforce Planning and Project Status?
Ans. When a project status is set back to REL from TECO or CLSD status, the workforce planning done is getting deleted completely at the activity. Run cmp9(Evaluation again) and you will have workforce planning back.
7. What is Easy Cost Planning?
Ans. It is another function for planning costs at WBS elements level. It uses the existing Controlling, purchasing or MM data in the form of costing items. Also you can have predefined costing models to simplify repeated entries.
8. What is settlement rules?
Ans. Settlement rules are nothing but settling the account for a cost center.Which WBS are accounts assigned the cost of corresponding WBS should be settled to the respective cost center assigned for that WBS. Settlement rule is assigned in settlement profile in which you will define (like asset) the rules of settlement.
9. What do you understand by Project?
Ans. A project is a system which involves 1. project, sub-project, activities & tasks. It will have the good integration with the other modules like MM, Fi/co, & PM modules.
10. How can PS be linked to COPA? How will the settlement take place in this case (when PS is linked to Controlling through COPA)?
Ans. The settlement will take place via a profitability segment. Level 1 WBS should have a settlement rule define to be settled to PSG and level 2 WBS should be settled to superior one WBS element. The main one level 1 WBS/ Project will be settled to PSG and variance will be posted to COPA.
11. What is SAP-Project System
Ans. Project System is a Project management tool from SAP. Which has very good integration with the other modules of SAP like FI, CO, MM, SD, PP, HR, DMS? This module basically coordinates and controls all the phases of a project, in direct coordination with purchasing and controlling, from quotation to design and approval, to resource management and cost settlement.
Also beside the integration with the SAP module this Project system also has an integration with the third party popular Project management tools like Microsoft Projects and Primavera.
12. What is Project Definition ?
Ans. Project definition is a binding framework in SAP for all organizational elements created within a project (e.g. WBS and Networks). Data like company code, plant and person responsible can be defaulted into WBS if initially entered in the project definition. Such data can also default into the project definition via project profile which will then default it to subsequent WBS.
13. What is Project Coding Mask?
Ans. Project Coding helps display complex project numbers. They can also be used to indicate the position of a WBS element in the project hierarchy.
We can create a mask for every key you want to use in project coding. Project Definition has to be unique in the SAP System and also WBS Element has to be unique in the SAP System.
Project code is changeable and the hierarchy can be changed up to certain point of project status.
Project Code has 2 parts
Part 1: Project Identifier (Project Coding Mask)
Part 2: Project Number (usually a serial number)
Every project begins with a Project-ID (max. 5 Characters), Using separators to distinguish the different WBS levels. e.g.: "/", "-", "."
14. Explain What is unit costing?
Ans. Unit costing is a means of recording all the costs - direct and indirect - associated with the delivery of services. Total cost of service provision divided by the total amount of service provided.
15. What is the milestone triggering?
Ans. Whenever the confirmation of activities done and if the milestone is attached with that particular activity the milestone triggers the milestone as per the configuration done and it will do the billing through SD module.
16. How LSMW and BAPI works?
Ans. LSMW is an encapsulated data transfer tool. It can provide the same functionality as BDC in fact much more but when coming to technical perspective most the parameters are encapsulated.
To list out some of the differences :
LSMW is basically designed for a functional consultant who do not do much coding but need to explore the functionality while BDC is designed for a technical consultant.
LSMW offers a different technique for migrating data: Direct input ,BAPI,Idoc,Batch input recording. While BDC basically uses recording.
LSMW mapping is done by SAP while in BDC we have to do it explicitly.
LSMW is basically for standard SAP application while BDC basically for customized applications.
17. How can PS be linked to COPA? How will the settlement take place in this case (when PS is linked to Controlling through COPA)?
Ans. Level 1 WBS should have a settlement rule define to be settled to PSG and level 2 WBS should be settled to superior one WBS element. The main one level 1 WBS/ Project will be settled to PSG, and variance will be posted to COPA.
18. How to calculate WIP in PS for all wbs pertaining to that particular project? Any specific Tcode in ECC 6.0?
Ans. KKA2 for calculating result Analysis;
KKAJ - for calculating WIP
19. What are the parameters of the Project System?
Ans. There are several parameters to define here at the level of the structure. First, its the Project Definition (Proj. Profile), then we have the WBS Level, and then, if used, the Network/Activity/Sub Activity Level. You may include components and services. The configuration goes into Proj. Definition, WBS and Activity profiles.
20. What do Activities, NTW, WBS represents?
Ans. WBS and Networks are two structures that differ in the way in which they enable you to structure projects and in the functions provided for them in the SAP system. For example, if you need a hierarchical budget management function for a project, you would want to use a WBS structure. If, in addition, you also want to do capacity planning, you would have to use one or several networks as well. Depending on the specific requirements you may be able to map a project only via a WBS structure, or by using only one or several networks, or a combination of both.
21. What is the menu path & T. Code for defining special characters for Projects?
Ans. It can be found at the following location:
Project System >>> Structures >>> Operative Structures >>> Work Breakdown Structures >>> Project Coding Mask >>> Define Special Characters for Projects
Transaction is OPSK
22. The structure of NTW is similar to what type of order?
Ans. Maintenance order.
23. What is the impact of the coding mask on the project and where is it created (menu path)?
Ans. Coding masks contain the sections for the external identification of projects, and they are separated by special characters. A section consists either of numbers that are represented by "0" characters in the coding mask, or alphanumeric characters that are represented by "X" characters in the mask. You can store a descriptive text for each coding mask and use lock indicators to control whether the key and the associated mask can be used for operative or standard WBS structures.
Project System >>> Structures >>> Operative Structures >>> Work Breakdown Structures >>> Project Coding Mask >>> Define Project Coding Mask
Transaction is OPSJ
24. How to set field status of WBS as mandatory, (WBS Element, NTW)?
Ans. There are five different transactions. Project Definition, WBS Elements, Network Header, Networks Overview and Network Details. There you will see a table with radio buttons that indicate whether a field should be set as Input, Required (mandatory), Display, Hide. You can also define Influence Fields and Field Groups.
For Project Definition and WBS Elements:
Project System >>> Structures >>> Operative Structures >>> Work Breakdown Structures >>> User Interface Settings >>> Define Field Selection for Work Breakdown Structures
Transactions are OPUK (Project Definition), OPUJ (WBS Elements)
For Networks:
Project System >>> Structures >>> Operative Structures >>> Network >>> User Interface Settings >>> Define Field Selection for Networks
Transactions are OPUA (Header), OPUB (Overview), OPUC (Details)
25. Difference between validation & substitution?
Ans. Substitution enables us to automatically change master data fields of Project Definitions, WBS Elements, Network Headers and Activities. For example, you can automatically set the cost centre 9999 for those WBS Elements into which responsible persons with numbers 0 to 20 have been entered.
Validation enables you to carry out self-defined checks for master data fields of the same elements. But the result of validations consists of informational messages, warnings or error messages. For example, you can validate that projects with a specific project profile always begin with the same key.
26. What do time profiles do?
Ans. The profile is part of the"Planning Board Profile" and it determines the beginning and the end of the evaluation and planning periods. This means that pre evaluation and post evaluation periods are defined automatically. This is how the Planning Board is displayed graphically.
27. Where do we define time profiles? What is the evaluation period?
Ans. The evaluation period is the period in which you want to control your project, and it will be displayed in your planning board. Don't get confused with scheduling, which is how time is managed in a project.
Project System >>> Structures >>> Project Planning Board >>> Define Time Profiles
Transactions are OPTY
28. What are the different time profiles?
Ans. There are two, but you can define your own. SAPPS_Z001 and SAPPS_Z002.
29. What are the fields in the pricing procedure?
Ans. There are 16 fields that are given below:
Step
Counter
Condition type
Description
From
To
Manual
Mandatory
Statistic
Print
Subtotal
Requirement
Alternative calculation type
Alternative condition base value
Account key
Accrual
30. What are the Standard output types in SD?
Ans. BA00 for order LD00 for delivery RD00 for billing and RD03 for Cash sales.
31. What is Condition type?
Ans. Condition type is a pricing element such as discount,freight,surcharge. This is used in pricing procedure to represent condition record.
32. What is difference between delivery document & scheduling?
Ans. Delivery document is an electronic document where store when how much quantity of materials and where the materials should go on the other side, scheduling represent when materials will be delivered in that case backwards scheduling and forward scheduling is used.
34. How is item category determined?
Ans. In general item category determination is happened through sales document type+itemusage+item category group+higher level item category +default item category
In the creating from reference document item category determination is happened from copy control where source item category to target item category.if it is not maintained ,item category determination is happened though normal determination like sales document type+ item usage+item category group + higher level item category+default item category.
35. What is Extract used in condition tech. in pricing?
Ans. Condition table+Accesssequence+Conditiontype+pricing procedure=condition technique. The above extract is used to find suitable condition record.
36. What is the difference between plant and storage location?
Ans. A plant may be delivering plant and production plant and storage plant. In Sales and Distribution, since the plant is assigned with the sales organization and distribution channel, it is called delivering plant.
37. What is the purpose of the transaction code in SYSTEM?
Ans. The transaction code is the short path to reach a specific screen in SYSTEM. Instead of going through the routine menu, you can enter the Transaction Code and then press "Enter," which would directly take you to the specific transaction. For example, you can access the VA22 transaction code to reach the Change Quotation screen. However, the VA01 transaction code is used to create Sales document in SYSTEM.
38. What is meant by match code in SYSTEM?
Ans. The comparison key that helps you to find the key of a specific database record, depending on the field value entered in the record, is known as match code. On the basis of the match code, the system then displays a list of records from which you can select the appropriate one.
39. Explain the three main areas of customer master data.
Ans. The customer master is a part of the SD module and forms the basis for customer-related transactions. It is divided into three areas:
General Data—It is used for the maintenance of general customer details such as name, address, phone/fax nos., and so on.
Sales Area Data—It is used for Sales-related data maintenance.
Company Code data—It is used for accounts-related data maintenance.
40. What is the purpose of the Implementation Guide (IMG Menu) in the SYSTEM?
Ans. The Implementation Guide (IMG Menu) is used to collectively group the areas that must be configured and customized, and form a basic structure of an organization in the System to run.
41. How will you maintain a company code in SYSTEM?
Ans. To maintain a company code, navigate the following menu path:
Customizing Implementation Guide (MG Menu)). Enterprise Structure > Definition > Financial Accounting > Edit, Copy, Delete, Check Company Code.
42. What do you mean by Enterprise Resource Planning (ERP)?
Ans. ERP is a way to integrate processes and data of an organization into a single system to provide easy access and workflow in an organization. It refers to the way in which large organizations efficiently plan to use resources to their fullest.
43. List the advantages of implementing an ERP system in an organization.
Ans. The advantages of implementing an ERP system in an organization are as follows:
Various processes and workflow of an organization are integrated into a single system.
Efficient utilization of resources in an organization.
Ability to easily share organizational data across different departments.
Improves efficiency and productivity levels.
Lower costs
Better customer service.
44. What is the relationship in SAP PS?
Ans. Relationship basically denotes how activities in a network order are related to each other. They can be classified into 4 categories - SS (Start-Start), SF(Start-Finish), FF (Finish-Finish), FS (Finish - Start). For 2 activities say A and B
SS -->> Both A and B start together
SF -->> Start of A coincides with finish of B and so on.
We can also specify the time gap between which these relationships work. Say in an SS relationship, there can be a 10 minutes gap between the start of A and B and so on.
45. What mean by valuated stock, non-valuated stock? Which category you are using in po&pr?
Ans. In Valuated stock every material in stock is managed on both a quantity basis and a value basis. The monetary value of each quantity of material is calculated separately. while non-valuated material is maintained as per quantity and not on the basis of its value.
46. What is the Primary integration for PS?
Ans.
• Controlling (CO) – Substantial integration exists between PS and CO. This is because PS relies on so many objects that belong to CO for Integrated Cost Planning, Settlement, Results Analysis, Resource Planning and any reporting that involves Cost Elements. Controlling Area is the most obvious connection, without which PS could not function. In Workforce Planning via Work Centres/Activity Types, there is integration with Human Resources (HR) to register personnel who are assigned to projects.
• Materials Management (MM) – Based on Materials and BOMs, PS has the ability to create Reservations, Purchase Requisitions and Purchase Orders via Easy Cost Planning Execution Services and Networks in general. This powerful integration makes PS a key player in the logistics cycle, including the ability to handle Services via Service Masters. Further, the ability of Networks to work with Catalogues takes PS into SRM (Supply Relationship Management), where the internet plays a large part in sourcing materials. Additionally, PS can help manage the MRP (Material Requirements Planning) cycle with its MRP Grouping functionality. PS is the 'owner' of the ProMan facility which tracks and helps manage all the Procurement document flows.
• Sales and Distribution (SD) – PS has a fairly straight-forward integration with SD via Order Numbers. All SD Orders (Quotations, Sales Orders, Consignment Orders etc) can be assigned to a project for the purpose of planning revenue, creating Billing Plans and attracting costs. DIP Profiles (Dynamic Item Processors) assist in the process of simulating and automatically creating Sales Documents, plus providing a means to bill customers based on activity within a project (Resource-Related Billing). Additionally, Assembly Processing provides the means for a Sales Order or Quotation to automatically generate a Project using Configurable Materials.
• Finance (FI) – As PS is primarily a Cost Planner and Cost Collector and therefore a slave to FI/CO, its primary objects (WBS and Network) rely on actual expenditure to manage Account Determination, which is really the Chart of Accounts. Ultimately, all costs end up somewhere in Finance. Cash-flow management is also a feature that PS can be used for, via Funding Areas in Treasury.
• Production Planning (PP) – Though not a major player in the PS side of integration, it is via MM that PP is informed of Production Orders using special settings in the Material Master.
• Plant Maintenance (PM) – At the heart of this integration is Maintenance Orders, which like most external orders can connect to PS for Planning and Settlement purposes. Generally, Maintenance and Service Orders apply to Capital or Customer-based projects, where equipment serviced on-site can be managed in a Project.
• Investment Management (IM) – Quite a substantial amount of integration here. IM seamlessly integrates with PS to manage Assets Under Construction (AUCs). Cost Planning can be managed in PS, sent to Investment Programs and returned to the project as a managed Budget. AUCs are automatically generated when a project is released, so there is a relatively important connection to Fixed Assets.
47. What is the Standard Project Structure?
Ans. Standard structures in Project System can be found in Standard project definitions and in Standard WBS These standard structures can be used as a template to standardize project management.
This brings about the advantage of Making the processing of projects more transparent (everyone create an operative project from a standard project), Enabling comparison of projects with similar structures, Facilitates project controlling.
Standard project templates CANNOT be used to capture any actual data (e.g. costs, actual materials used) and they serve as a quick way to create an operative project during the implementation stage. As such, it is recommended that nominated users maintain these standard project templates at least once a year or whenever there are process changes for each type of project.
-----------------------------------------------------------------------------------------
FAQs
Will this course help me clear the certification exam?
+
Which is better - Self-paced training or Instructor-led training?
+
What if I miss a class?
+
How will I execute the practical?
+
Is the course material accessible after completion of the course?
+
Is there any offer/discount that I can avail?
+
Will I get a refund if I cancel my enrollment?
+
What if I have queries after completion of the course?
+