20 Hours
Self-paced Training (pre-recorded videos)
USD 70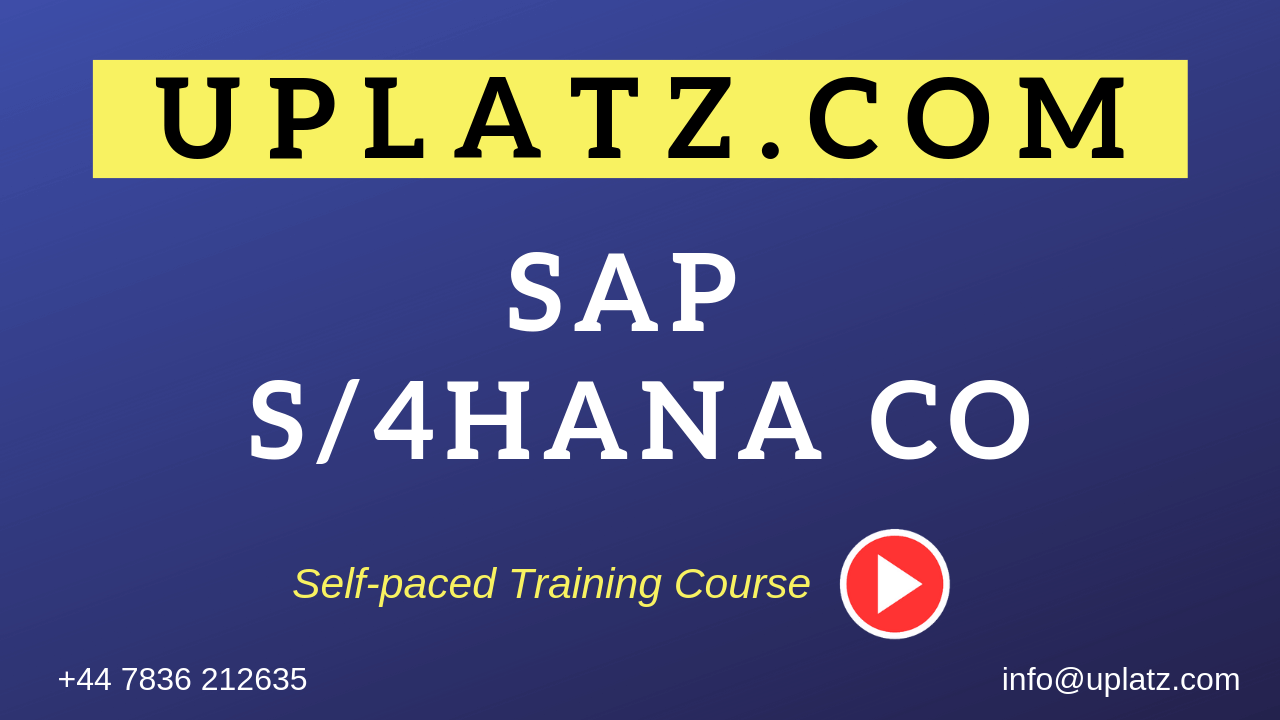 About this Course
SAP S/4HANA CO covers all the topics that are part of the certification courses on S/4HANA Management Accounting, viz. TS4F03 & TS4F04 (Version 1709). This course will empower you to write the certification exam for S/4HANA Management Accounting. The course covers a total of 100 hours wherein apart from covering the theory you will be shown how to perform the exercises on the system. You will also be provided scanned copies of the course material. Each participant will also be provided with a separate User ID along with remote connection to a Server on which he/she can practise the exercises for a period of 3 months.
SAP S/4HANA CO
Course Details & Curriculum
Course Curriculum for S4HANA CO (Version 1709)
~ Overview of SAP, S4HANA & CO module
~ Characteristics of S4HANA and SAP FIori
~ Org. Units relevant to CO
~ Master Data in CO
~ Cost Center Accounting
~ Cost Element Accounting
~ Statistical Key Figures
~ Activity Types
~ Event-based postings
~ Period-end closing in CO
~ Internal Orders
~ Reporting in S4HANA
~ Planning & Budgeting in S4HANA
~ Product Cost Planning
~ Costing Variant
~ Marking & Releasing of Standard Cost Estimate
~ Costing Run
~ Activity Based Costing (ABC)
~ Cost Object Controlling
~ Made-to-Stock (MTS) and Made-to-Order (MTO) scenarios
~ Result Analysis
~ Profit Center Accounting
~ New General Ledger (New GL)
~ Parallel Ledgers
~ Document Splitting
~ Real-time CO-FI Reconciliation
~ Automatic Account Assignment
~ Controlling - Profitability Analysis (CO-PA)
~ Operating Concern, Characteristics & Value Fields
~ Settlement of Variances to CO-PA
~ Costing-based and Account-based CO-PA
~ Flow of Actual Values
~ Characteristic Derivation
~ Valuation
~ Record Types
~ Key Figure Scheme in CO-PA
~ Designing Simple Reports using Report Painter
~ Form-based Reports
Career Path
A basic understanding of Finance, Costing & Computers.
FAQs
Will this course help me clear the certification exam?
+
Which is better - Self-paced training or Instructor-led training?
+
What if I miss a class?
+
How will I execute the practical?
+
Is the course material accessible after completion of the course?
+
Is there any offer/discount that I can avail?
+
Will I get a refund if I cancel my enrollment?
+
What if I have queries after completion of the course?
+