15 Hours
Self-paced Training (pre-recorded videos)
USD 17 (USD 140)
Save 88% Offer ends on 31-Dec-2023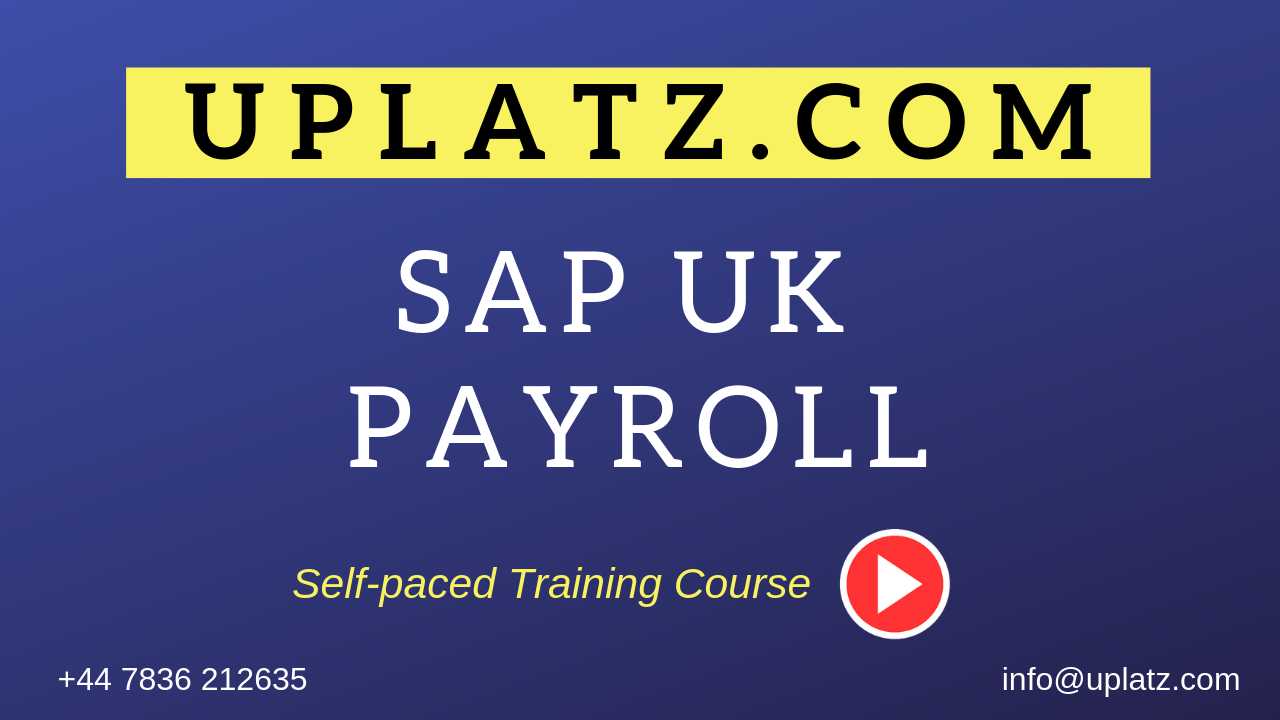 About this Course
This is a specialised course for SAP HR consultants looking to gain payroll specific advanced knowledge. The course takes you through end to end payroll processes covering UK legislations. Since payroll is a critical operation in any organisation the specialised knowledge not only improves your career prospects but also makes you highly valuable in SAP HR projects.

There is no denying the fact that SAP solutions are one of the fastest growing solutions used in different industries for various applications. Different SAP modules are installing UK payroll system in order to ensure that the payroll system is highly effective. However, in order to configure and maintain this particular module of SAP, it is important to acquire training in Sap ukpayroll.There are courses available in this module, and if you are interested, you can obtain these courses. You can even find institutions offering training online that can help you to gain valuable insights on the module right from the comfort and convenience of your home.
When you enroll into this course, you will get the opportunity to learn various things that are associated with the payroll system of UK. You will get an overview of SAP HR along with organizational management, different wage types, time management payroll, reporting HR, configuration of master data, and many more things to mention.
SAP UK PAYROLL
Course Details & Curriculum
UK – GENERAL PAYROLL TRAINING
SAP PAYROLL
PERSONAL ADMINISTRATION – NATIONAL FEATURES GREAT BRITAIN
PAYROLL – NATIONAL FEATURES GREAT BRITAIN
OFF – CYCLE PAYROLL
ON DEMAND PAYROLL
ADVANCE HOLIDAY PAYMENT(AHP)
PAYROLL HISTORY
EXTENDED AHP SOLUTION
SSP AND SMP EVALUATION
OSP AND OMP
SSP/SMP ABSENCE CONVERSION REPORT
TAX AND PAYE
TAXABLE BENEFITS
WFTC/DPTC
NATIONAL INSURANCE CONTRIBUTIONS
PENSIONS
COURT ORDERS AND STUDENT LOANS
AUTOMATIC ARREARS CALCULATION
COMPANY CARS
OFFSHORE GB PAYROLL
DEDUCTIONS AND REPAYMENT
FINAL PAYROLL PROCESSING
P45 ISSUE
RUNNING P35, P14, P60 FORM
PAYROLL RESULTS CHECK
GROSS TO NET CONTROL REPORT
WAGE AND SALARY PAYMENTS
DATA MEDIUM EXCHANGE
PAYROLL EXCEPTIONS
END OF YEAR RETURNS
START OF YEAR REPORTS
SSP/SMP REPORTING AND FORMS
PENSION RESULTS
FAQs
Will this course help me clear the certification exam?
+
Which is better - Self-paced training or Instructor-led training?
+
What if I miss a class?
+
How will I execute the practical?
+
Is the course material accessible after completion of the course?
+
Is there any offer/discount that I can avail?
+
Will I get a refund if I cancel my enrollment?
+
What if I have queries after completion of the course?
+