10 Hours
Self-paced Training (pre-recorded videos)
USD 280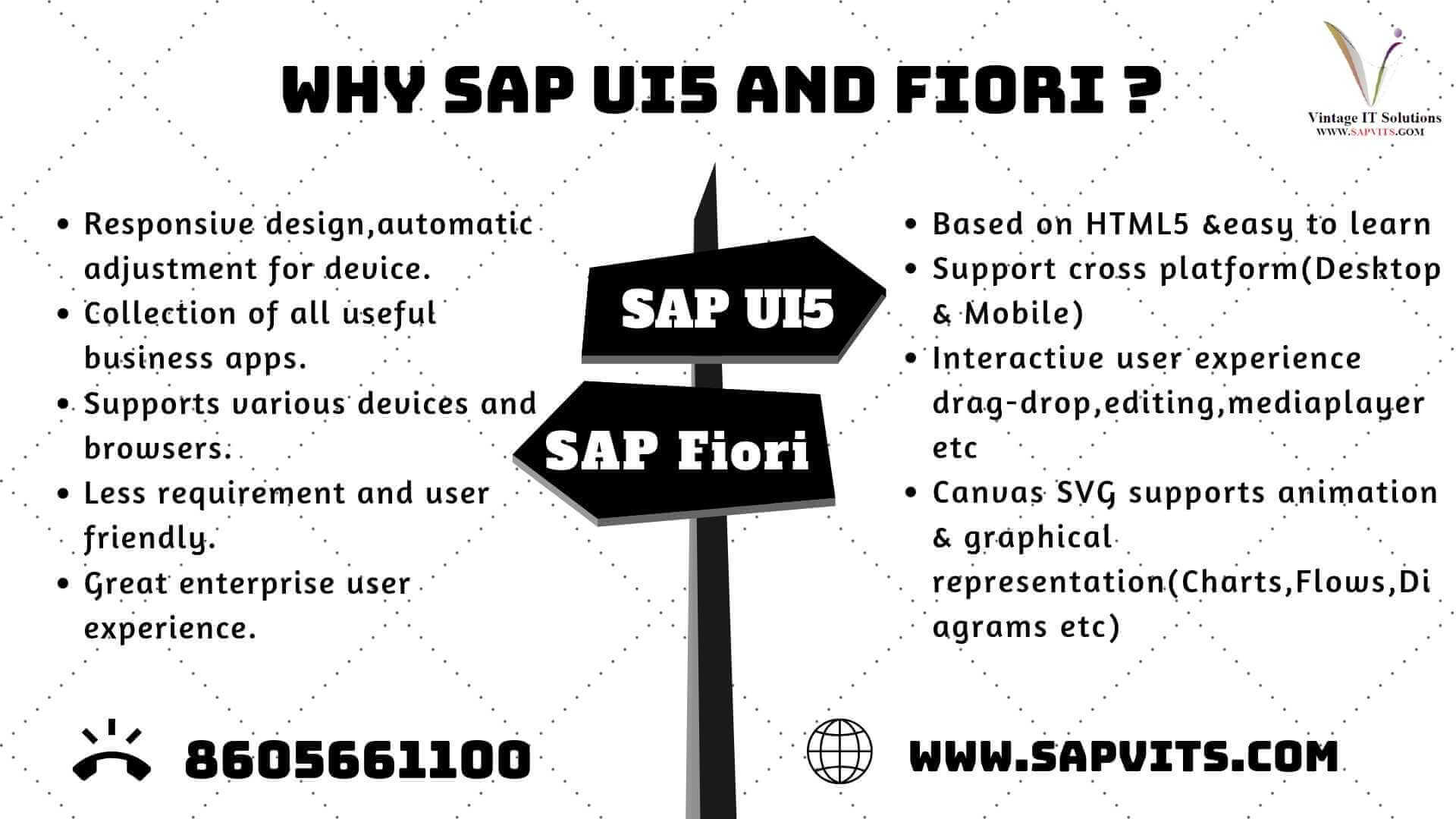 About this Course
SAPVITS provides sap ui5 and fiori training in Hyderabad,Banglore etc We also provide sapui5 and fiori training material like PDF,PPT,course content and free demo with flexibility of learning anytime from anywhere by professional industry experts.
SAPUI5 Training in Hyderabad | SAP UI5 and Fiori Training
Course Details & Curriculum
SAP UI5Overview
Overview
ControlLibs
Architecture
Exercise –Application
Programming Applications
UI5Bootstrap
CoreControls
Exercise
SAP UI5 DeveloperStudio
Overview about IDE
Creating sample project
Exercise – Sample project
Resource Handling
Localization &Modularization
Exercise –localization
MVC Architecture ofSAPUI5
Views and Controllers
Exercise
DataBinding
Overview
Model
Binding Model with UIelement
Types ofBindings
OData
Styling and Theming
AdjustingStyles
Themes
Exercise
ExtendingUI5
Overview
Exercise
Notepadcontrols
Overview
Exercise
Charting
Types of chartingExercise
Optimizing UI5Applications
Overview
Caching
SAPUI5MobileApplicationdevelopment
Overview
Split App Control
MVC pattern Core Controls
Charting Controls
Certification
SAP UI5 Consultant
Institution Certificate will be provided.
FAQs
Will this course help me clear the certification exam?
+
Which is better - Self-paced training or Instructor-led training?
+
What if I miss a class?
+
How will I execute the practical?
+
Is the course material accessible after completion of the course?
+
Is there any offer/discount that I can avail?
+
Will I get a refund if I cancel my enrollment?
+
What if I have queries after completion of the course?
+