30 Hours
Self-paced Training (pre-recorded videos)
USD 17 (USD 140)
Save 88% Offer ends on 31-Dec-2023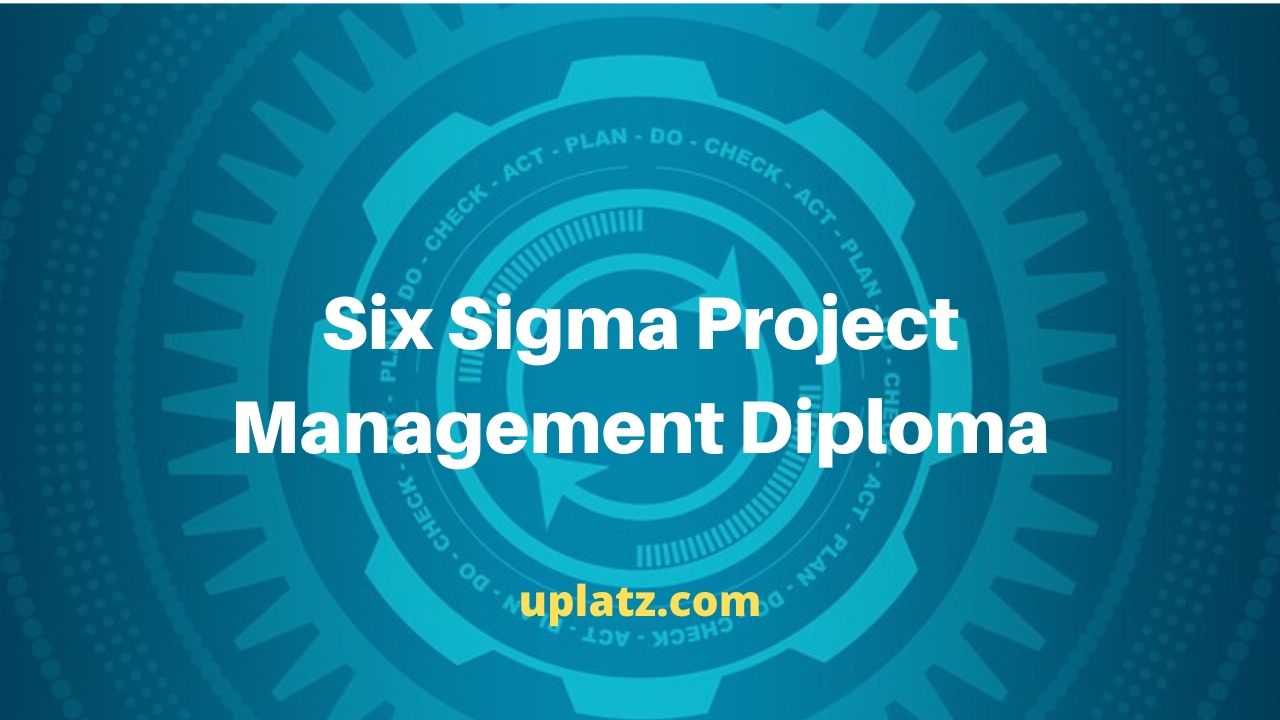 About this Course
The Six Sigma project management philosophy was introduced in 1986 by Motorola, though has since gone on to change the way thousands of businesses approach project management and process improvement. Six Sigma is a unique project management methodology, which can be applied to almost any business process or activity in any setting. Engineered to optimise performance while minimising waste, Six Sigma has become the go-to project management framework for successful businesses worldwide. Such heavy emphasis is placed on Six Sigma that it has become a prerequisite in the eyes of employers and decision-makers worldwide.
This Six Sigma Project Management Diploma by Uplatz provides a fascinating deep-dive to one of the world's most important and relevant project management methodologies. Study the DMAIC process (define, measure, analyse, improve, control) in-depth, build your knowledge of key project management tools and learn how to strive for continuous improvement throughout the project life cycle. Work towards the Lean Six Sigma Green Belt Certification Online, with no deadlines imposed and no time-restrictions to worry about.

-------------------------------------------------------------------------------------------------------------
Who Should Take This Course?
Uplatz exclusively offers flexible and enjoyable self learning opportunities for ambitious candidates. This Six Sigma Project Management Diploma could be the ideal (but is not restricted to) course for the following applicants:


· Newcomers exploring Six Sigma for the first time
· Current and prospective project managers
· Business owners and prospective entrepreneurs
· Employees looking to climb the career ladder
· Anyone interested in high-level project management
· Jobseekers working on their CVs and career prospects
-------------------------------------------------------------------------------------------------------------
Six Sigma Project Management Diploma
Course Details & Curriculum
Module 1: Six Sigma Basics
The course begins by providing candidates with a detailed introduction to the functions and objectives of Six Sigma, along with the potential benefits and limitations of the methodology. The DMAIC project management approach (Define, Measure, Analyse, Improve, Control) is also discussed, along with key Six Sigma project management integration considerations and the different Six Sigma 'belts'.


Module 2: Project Improvement Tools
Module two brings a selection of important project improvement tools into discussion, along with their respective functions and applications. Examples of which include Cause and Effect Diagrams, Histograms, Flowcharts, Scatter Diagrams, Pareto Analysis, Check Sheets and Control Charts.


Module 3: Management Tools for Generating Ideas
Candidates are then introduced to several popular methods for generating ideas, alongside a series of essential project management tools. Candidates discuss the concepts of minor and major nonconformance, quality audits, the nominal group technique, multi-voting, consensus-building and more.


Module 4: Project Lifecycle
A detailed breakdown of the project life cycle is presented in module four, which discusses each of its component stages - Initiation, Strategic Planning, Execution, Control and Closure. The importance of setting targets using the SMART methodology is discussed - Specific, Measurable, Accurate, Realistic and Time-Bound - along with project charters, project resource planning and project cost control.


Module 5: Continuous Improvement
Module five examines the value of striving for continuous improvement at all stages throughout the project life cycle. The DMAIC project management approach is brought back into discussion, along with essential tools and techniques for monitoring and analysing the performance of a project at various stages.


Module 6: Project Risk Management
A crash-course introduction to project risk management follows in module six, which provides a detailed overview of each component stage in the risk management and mitigation process. Candidates learn how to identify, categorise, prioritise and control risk at a variety of levels, by creating and implementing an effective risk management framework.


Module 7: Customer Relationships
Concluding the course, module seven discusses the extent to which customer satisfaction affects wider business performance. Candidates learn how to use the ServQual model to produce a customer satisfaction questionnaire, analyse the quality of customer feedback and manage customer relations using the RATER model: Reliability, Assurance, Tangibles, Empathy and Responsiveness.
-------------------------------------------------------------------------------------------------------------
Certification
Six Sigma Project Management Diploma
Post completion of this course, you will receive Six Sigma Project Management Diploma by Uplatz.
Career Path
This Six Sigma Project Management Diploma could help you take the biggest and most important step in your career journey to date. Successful candidates will have the opportunity to pursue a variety of project management roles, including project planner, implementation manager, communications officer, team assistant, associate project manager, PMO specialist, project coordinator and project controller. Typical salaries in the field of project management start at around £25,000, with no upper-limits for more senior personnel.

-------------------------------------------------------------------------------------------------------------