15 Hours
Online Instructor-led Training
USD 70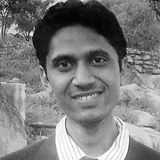 About this Course
I love to teach all basic Mathematics courses (Class 6 - Class 12) for CBSE and ICSE board exams.

You can reach me at himanshubitspilani465@gmail.com.

I have completed my Btech in Mechanical Engineering and minors in Mathematics from BITS Pilani.India.
Mathematics(All Subjects upto University Level)
Course Details & Curriculum
Trignometry
Calculus
Geometry
Linear Algebra
Statistics
Probability
Numbers
Statistics
Graphs and Networks
Lines,Circles and Parabolas
FAQ
Will this course help me clear the certification exam?
+
Which is better - Self-paced training or Instructor-led training?
+
What if I miss a class?
+
How will I execute the practical?
+
Is the course material accessible after completion of the course?
+
Is there any offer/discount that I can avail?
+
Will I get a refund if I cancel my enrollment?
+
What if I have queries after completion of the course?
+