40 Hours
Online Instructor-led Training
USD 1399 (USD 2800)
Save 50% Offer ends on 31-Dec-2023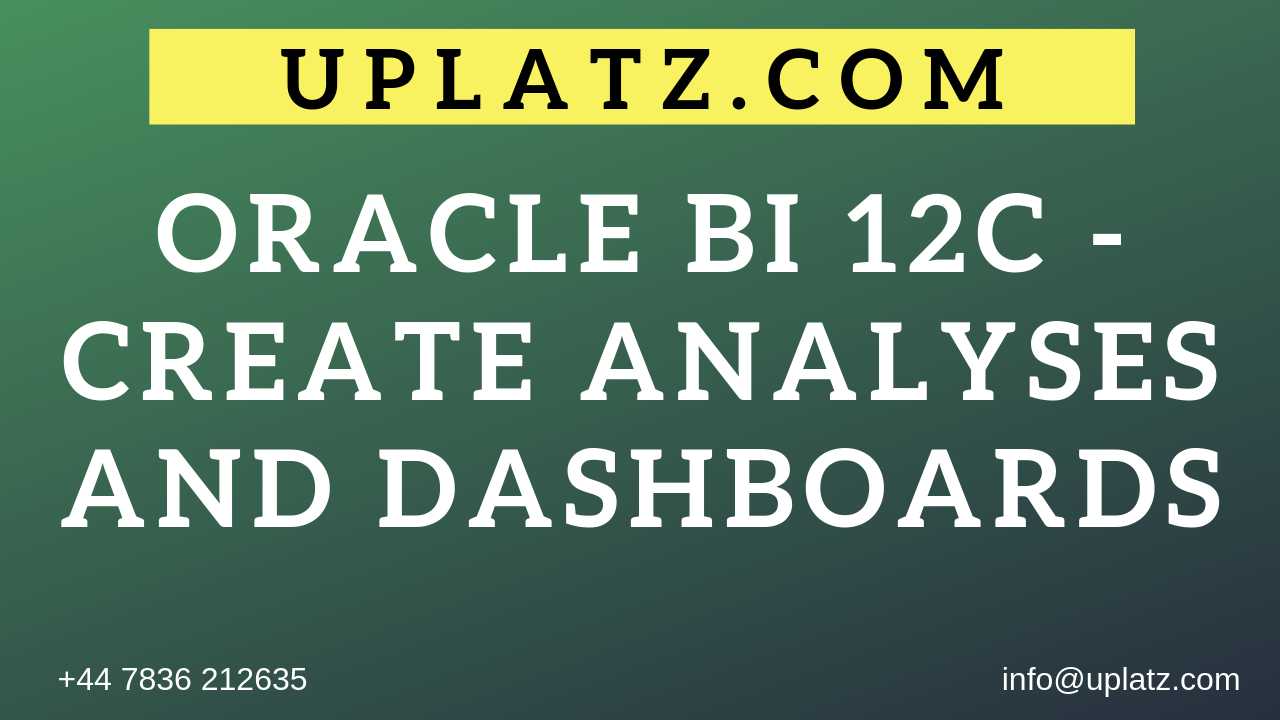 About this Course
Oracle Business intelligence Dashboards online course refers to step-by-step guidelines for creating Oracle BI analyses and dashboards using business intelligence applications. Oracle Business intelligence Dashboard online course intention is to get used to a platform that enables to build basic analyses to fit into the dashboards towards complex scenarios.

Learn how to create Oracle BI analyses and dashboards in business intelligence applications in Oracle BI 12c: Create Analyses and Dashboards course. Start building basic analyses to include in dashboards, with more complexity as the course progresses.
Learn To:
Build analyses and dashboards.
Build and use views and graphs in analyses.
Create and work with KPIs and scorecards.
Create and modify Oracle BI dashboards.
Use Oracle Business Intelligence Mobile to access BI content.
Create mobile applications with Oracle Business Intelligence Mobile App Designer.
Integrate BI content into MS Office applications using Oracle Hyperion Smart View for Office.
Administer objects in the Presentation Services Catalog.
-------------------------------------------------------------------------------------------------------------------------------
The Oracle business intelligence Dashboards training is intended for the individuals who seek to implement their knowledge, skills and expand their career in with the help of Oracle Business Intelligence. The dedicated mentors make sure the learners to cover all topics under Oracle business intelligence Dashboard curriculum which will be useful for their career growth. Uplatz offers Oracle business intelligence Dashboard training to become a skilled Business Intelligence specialist.
-------------------------------------------------------------------------------------------------------------------------------
Course Description
Oracle business intelligence Dashboard course program will let the participants gain complete proficiency in creating dashboards using business intelligence platform.
The Oracle business intelligence Dashboards online course is ideally developed for end users, and implementation team members who can analyse, build, modify and manage dashboards.
In the Oracle business intelligence Dashboards course, Uplatz provides an in-depth training for the participants or learners to make them understand that the Business Intelligence applications offers solution to create Oracle BI analyses and dashboards. The Business Intelligence application assures to transform the organization data into intelligence format for better decision making.
The Oracle business intelligence Dashboard technology is useful in transforming the raw data into intelligence level data for enhanced decision-making and provide accurate insights.
With the help of Oracle business intelligence Dashboard online course, the learners can:
Build, analyse and create dashboards.

Make use of graphs and views in analyses.

Work with KPI's and scorecards.

Create and change Oracle BI dashboards.

Build mobile applications using Oracle Business Intelligence Mobile App designer.
Uplatz provides an in-depth training to the learners to accelerate their knowledge and skill set required for Business Intelligence specialist job.
-------------------------------------------------------------------------------------------------------------------------------
The Oracle business intelligence Dashboard course is intended for the below mentioned target audience, still if you are a newbie and want to make a career as Business Intelligence specialist by making use of the Oracle business intelligence platform then the Oracle business intelligence Dashboard course is the best option you can choose.
Administrator

Analyst

Developer

Professionals who want to build their career in business intelligence domain.
-------------------------------------------------------------------------------------------------------------------------------

Oracle BI 12c - Create Analyses and Dashboards
Course Details & Curriculum
Introduction to Oracle Business Intelligence Enterprise Edition
Introduction to Oracle BI EE

Oracle BI 12c Highlights

Oracle BI 12c Architecture
Working with Oracle Business Intelligence Analyses
Adding basic formatting

Working with analyses in Oracle BI

Introduction to Oracle BI Analysis Editor

Setting analysis properties

Oracle BI column types

Using advanced formatting
Filtering Data for Analyses
Adding prompts to analyses

Using saved analyses as filters

Dynamic filtering

Creating, editing, and grouping filters

Introduction to filters and selections
Selecting and Grouping Data for Analysis
Creating calculated items

Including advanced SQL clauses in your analysis

Creating selection steps

Creating direct database analysis requests

Creating groups
Advance Visualization in Analysis
Working with views in Compound Layouts

Performing common view tasks

Introduction to views, graphs, and editors

Creating and editing graphs
Showing Results with Pivot Tables
Using hierarchical columns

Building calculations and displaying running sums

Showing an item's relative value

Creating, arranging, and formatting a pivot table

Setting aggregation and using totals

Sorting in pivot tables
Working with Additional Views in Analyses
Creating simple and advanced trellis views

Creating performance tile views

Linking master-detail views

Working other view types like Treemap and Heat Matrix
Visualizing Data on Maps
Oracle spatial components

Managing map data

Other applications and points of integration for map views

Interacting with map views

Creating and editing Map views
Creating Oracle Business Intelligence Dashboards
Publishing dashboard pages

Using the Dashboard Builder

Exploring dashboard object properties and options

Creating and editing dashboards

Creating personal customizations and using other page options
Configuring Oracle Business Intelligence Dashboards
Embedding content in dashboards

Exploring types of dashboard content
Creating Dashboard Prompts and Variables
Adding variable prompts to a dashboard

Creating additional prompt page and setting page preferences

Adding a named dashboard prompt to a dashboard

Understanding variables

Adding a hidden named dashboard prompt to a dashboard
Scorecards and Key Performance Indicators
Editing scorecards and KPIs

Objects and components of Oracle Scorecard and Strategy Management

Creating scorecard documents

Scorecard document types

Creating scorecards and KPIs

Key Performance Indicator (KPI) overview
Visual Analyzer, BI Ask, and Data Mashup
Creating Visual Analyzer Projects

Adding and rearranging the Visualizations

Data Mashups

BI Ask
Working with BI Content in Smart View
Creating and publishing views using the View Designer

Federating data from multiple data sources

Inserting BI views in to Smart View clients

Working with Views in Smart View Clients

Customizing BI data in MS Office

Copying and pasting views between Smart View clients
Oracle Business Intelligence Mobile
Navigating the Oracle BI mobile application

Oracle BI Mobile Security Toolkit

Downloading and using the Oracle BI mobile application

Working with BI content

Working with favorites and local content
Using Oracle Business Intelligence Delivers
Adding an Alert Section to a dashboard

Configuring an Agent

Subscribing to an Agent

Using Analysis and KPI conditions to deliver content with Agents

Configuring delivery devices and adding delivery profiles
Administering the Presentation Catalog
Working with Oracle BI Briefing Books

Setting object permissions

Setting system privileges

Managing security using roles

Oracle BI and catalog security overview

Understanding security inheritance

Archiving catalog items
Direct Database Analysis
Creating and Executing a Direct Database Analysis

Changing Direct Database Analysis Privileges

Direct Database Analysis Overview
Expressions
Advance Analytics Internal Logical SQL Functions

Running Aggregate Functions

Advance Analytics External Logical SQL Functions

SQL Syntax and Semantics
Career Path
The Oracle certified Business Intelligence specialist certification course with the help of expert professionals training is recognized across the globe. Because of the increased adoption of the Business Intelligence software in various companies the participants are able to find the job opportunity easily. The leading companies hire Business Intelligence specialist to handle business intelligence systems planning and strategy implementation. The Business Intelligence specialist can pursue a wide range of career paths.
The following are the job titles:
Oracle BI consultant

Oracle BI Developer

BI Consultant Professional

Enterprise Analytics

-------------------------------------------------------------------------------------------------------------------------------
Job Prospects
The Business Intelligence specialist draws an average salary of $100,453 per year depending on the knowledge and hands-on experience. The Business Intelligence specialist job roles are in high demand and make a rewarding career.
-------------------------------------------------------------------------------------------------------------------------------
Interview Questions
Define Business Intelligence?
The Business Intelligence' (BI) is used for reporting the specified data of any business which is very critical and used by top management of any organization to make wise decision for the growth of their business.
Mention the vital decisions made by an organization using business intelligence?
The below decisions are decided from Business Intelligence tool:
determine whether a business is running as per plan.

analyse which things are actually going wrong.

Monitor corrective actions.

Identify the current trends of their business.
3.Mention the different stages of Business Intelligence?
The five stages of Business Intelligence:
Data Source: deals with data extraction from multiple data source.
Data Analysis: It is used to provide proper analysis report based on useful knowledge from a data collection.

Decision-Making: It makes use of the information in the proper way to provide proper graph on important events such as market changes, and poor staff performance.

Situation Awareness: It is about ignoring irrelevant information and retain the remaining information in the context of the business.

Risk Management: It is used to discover the corrective actions to be taken, or decisions made, at different scenarios.
List out the benefits of Business intelligence?
The different benefits of Business Intelligence:
Improvised decisions making.

Optimize internal business process.

Increase operational efficiency.

drive oppurtunities for new revenues.

Growing in terms of competitive markets.
4. Mention the various Business Intelligence tools available in the market?
Oracle Business Intelligence Enterprise Edition (OBIEE)

Cognos

Microstrategy

SAS Business Intelligence

Business Object

Tableu

Microsoft Business Intelligence Tool

Oracle Hyperion System
5. Define universe in Business Analytics?
The universe is type of semantic layer existing between database and user interface. it is one of the interfacing layers present in between the client (business user) and data warehouse. It is used to define a relationship between various tables in a data warehouse.
6. Define dashboard in a data warehouse?
The dashboard is nothing but the order arrangement of all the reports and graphs in a page. It is the collection of reports available in different format.
7. Define Fact table?
A Fact table is the center table present in star schema of a data warehouse. It is used to hold quantitative information for analysis.
8. Define Dimension table?
A dimension table is one of the key tables in a star schema of a data warehouse, which saves attribute, or dimension, that describe the objects in a fact table.
9. Define a RAGGED hierarchy?
Ragged hierarchy is used to maintain a relationship in case of parent member of at least one member of the dimension is not in the level immediately above the member.
10. Define universe in Business Analytics?
Universe is an interfacing layer between client and data warehouse. Universe specifies the relationship between various tables in data warehouse. It holds different names in different tools. It is called as repository or RPD in OBIEE.
11.Mention the different types of Data warehouse Systems?
Data Mart

Online Analytical Processing (OLAP)

Online Transactional Processing

Predictive Analysis

-------------------------------------------------------------------------------------------------------------------------------
FAQ
Will this course help me clear the certification exam?
+
Which is better - Self-paced training or Instructor-led training?
+
What if I miss a class?
+
How will I execute the practical?
+
Is the course material accessible after completion of the course?
+
Is there any offer/discount that I can avail?
+
Will I get a refund if I cancel my enrollment?
+
What if I have queries after completion of the course?
+