30 Hours
Online Instructor-led Training
USD 1399 (USD 2800)
Save 50% Offer ends on 31-Dec-2023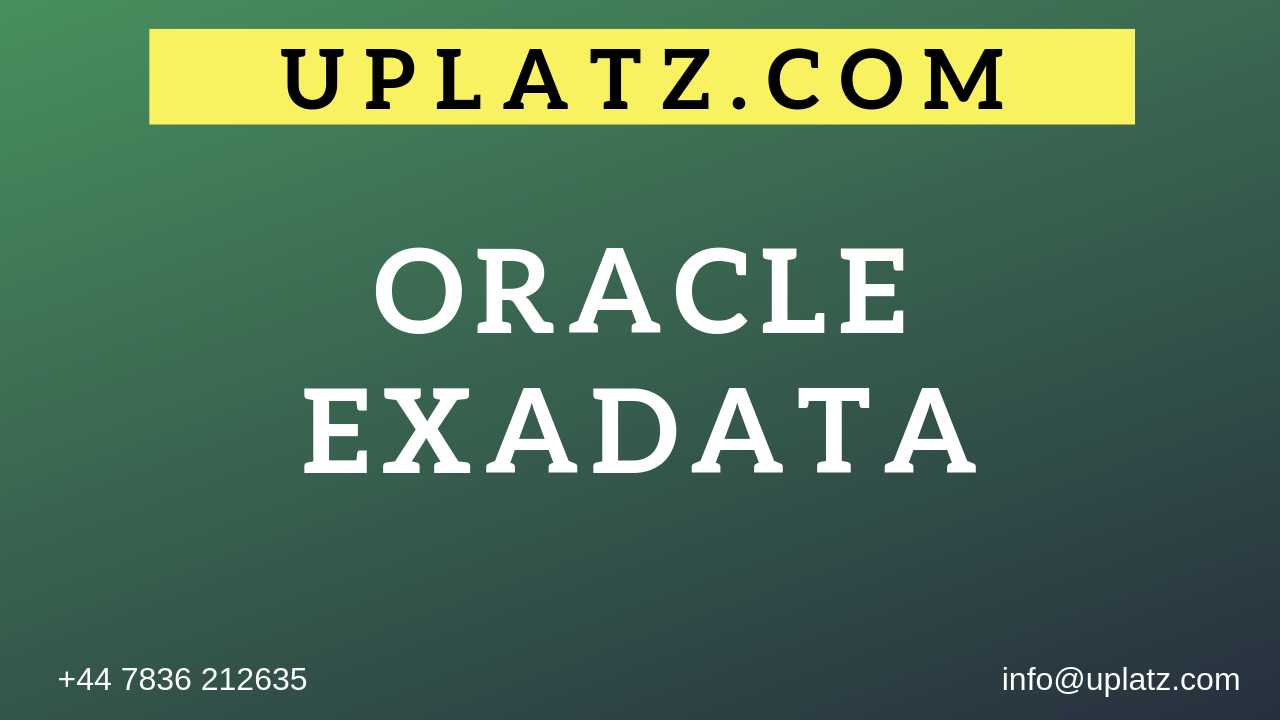 About this Course
Oracle Exadata refers to database machine with cloud-based architecture which is optimized for running oracle database. The Oracle Exadata online course intention is to run oracle database workloads which includes OLTP application along with analytics processing.
Learn Oracle Exadata concepts and end-to-end implementation.
Looking at the benefits of Exadata like Smart Storage, Smart Scans, InfiniBand network, distributed command lines etc. and its robust performance, a large number of organizations are migrating to Exadata to manage their heavy workloads.
--------------------------------------------------------------------------------------------------------------------------------------------------------------
The Oracle Exadata administration training is intended for the individuals who seek to implement their knowledge, skills and expand their career as oracle Exadata administrator. The dedicated mentors make sure the learners to cover all topics under Oracle Exadata curriculum which will be useful for their career growth. Uplatz offers Oracle Exadata training to become a skilled oracle Exadata administrator job.
--------------------------------------------------------------------------------------------------------------------------------------------------------------

Course Description
Oracle Exadata administration course program will let the participants gain complete proficiency to access oracle database cloud infrastructure.
The Oracle exadata administration course is ideally developed for database administrators who can run the database servers.
In the Oracle Exadata administration course, Uplatz provides an in-depth training for the participants or learners to make them understand the experience of developing core skills to gear up with oracle Exadata database solution.
The Oracle Exadata database technology is a perfect combination of hardware and software to enable customers to have complete ownership.
With the help of Oracle Exadata administration online course, the learners can:
Install hardware and maintain whenever an upgrade is required

Handle server availability while patching with available management

Deal with Grid infrastructure administration
Uplatz provides an in-depth training to the learners to accelerate their knowledge and skill set required for oracle Exadata administrator job.
--------------------------------------------------------------------------------------------------------------------------------------------------------------
The Oracle Exadata administration course is intended for the below mentioned target audience, still if you are a newbie and want to make a career as a oracle Exadata administrator, then the Oracle Exadata administration course is the best option you can choose.
System Administrators

Database administrator
--------------------------------------------------------------------------------------------------------------------------------------------------------------
Oracle Exadata Training
Course Details & Curriculum
1. Exadata Machine Overview & Architecture
General Configuration

Classic Database I/O and SQL Processing Model

Exadata Smart Scan Model

Exadata Smart Storage Capabilities

Exadata Hybrid Columnar Compression Data Organization

Exadata Smart Flash Cache Intelligent Caching

Storage Index with Partitions

Database File System

I/O Resource Management: Overview
2. Exadata Storage Server Configuration
Exadata Storage Server Administration: Overview

Testing Storage Server Performance Using CALIBRATE

Configuring the Exadata Cell Server Software

Creating Flash-Based Grid Disks

Creating Smart Flash Log

Configuring ASM and Database Instances to Access Exadata Cells

Exadata Storage Security: Overview

Exadata Storage Security Implementation
3. Resource Management
I/O Resource Management: Overview

IORM Architecture

Getting Started with IORM

Enabling Inter database Resource Management

Setting Database I/O Utilization Limits

Inter database Plans and Database Roles

Using Database I/O Metrics

IORM and Exadata Storage Server Flash Memory
4. Optimizing Database Performance
Optimizing Performance

Flash Memory Usage

Compression Usage

ASM Allocation Unit Size

Minimum Extent Size

Optimizing Database Performance with Exadata
5. Smart Scan Overview
Exadata Smart Scan: Overview

Smart Scan Requirements

Monitoring Smart Scan in SQL Execution Plans

Smart Scan Join Processing with Bloom Filters

Other Situations Affecting Smart Scan

Exadata Storage Server Statistics: Overview

Other Situations Affecting Smart Scan

Exadata Storage Server Wait Events: Overview

Using Smart Scan
6. Migrating Database to ExaData
Migration Best Practices: Overview

Performing Capacity Planning Overview

Database Machine Migration Considerations

Choosing the Right Migration Path

Logical Migration Approaches

Physical Migration Approaches

Post-Migration Best Practices

Migrating to Databases Machine Using Transportable
7. Exadata Database Machine Platform Monitoring Introduction
Monitoring Technologies and Standards

Simple Network Management Protocol (SNMP)

Intelligent Platform Management Interface (IPMI)

Integrated Lights Out Manager (ILOM)

Exadata Storage Server Metrics, Thresholds, and Alerts

Automatic Diagnostic Repository (ADR)

Enterprise Manager Grid Control

Enterprise Manager Database Control
8. Configuring EMGC11G To Monitor Exadata Machine
Enterprise Manager Grid Control Architecture: Overview

Grid Control Monitoring Architecture for Exadata Database Machine

Configuring Grid Control to Monitor Exadata Database Machine

Deploying the Oracle Management Agent

Configuring ASM and Oracle Database Targets

Deployment Overview for System Monitoring Plug-ins

Recommended Plug-in Deployment Strategy

Switch
9. Monitoring Exadata Storage Server
Exadata Metrics and Alerts Architecture

Monitoring Exadata Storage Server with Metrics

Monitoring Exadata Storage Server with Alerts

Monitoring Exadata with Active Requests

Monitoring Exadata Storage Server with Grid Control: Overview

Monitoring Hardware Failure and Sensor State
10. Monitoring DB Server
Monitoring Database Servers: Overview

Monitoring Hardware

Monitoring the Operating System

Monitoring Oracle Grid Infrastructure

Monitoring Oracle Database

Monitoring Oracle Management Agent
11. Monitoring Infiniband
InfiniBand Network Monitoring: Overview

Manually Monitoring the InfiniBand Switches

Monitoring the InfiniBand Switches with Grid Control

Monitoring the InfiniBand Switch Ports

Monitoring the InfiniBand Ports on Database Machine Servers

Monitoring the InfiniBand Fabric: Subnet Manager Master Location

Monitoring the InfiniBand Fabric: Network Topology and Link Status
12. Important Maintenance Tasks
Database Machine Maintenance: Overview

Powering Database Machine Off and On

Safely Shutting Down a Single Exadata Storage Server

Moving All Disks from One Cell to Another

Using the Exadata Cell Software Rescue Procedure
13. Other Monitoring Components
Exachk: Overview

Running Exachk

Exachk Output

DiagTools: Overview

Using ADRCI on Exadata Storage Servers

Image info: Overview

Image history: Overview

OSWatcher: Overview
14. Backup & Recovery
Using RMAN with Database Machine

General Recommendations for RMAN

Disk-Based Backup Strategy

Disk-Based Backup Recommendations

Tape-Based Backup Strategy

Connecting the Media Server Using Ethernet

Backup and Recovery of Database Machine Software
Certification
Oracle Exadata
The Exadata X5 administrator certification exam 1Z0-070 conducted by Oracle validates that the participants possess the hands-on experience in implementing oracle Exadata concepts and implement using Exadata database administration. Uplatz online training ensures to impart the subject knowledge and equip the participants to successfully go through the Exadata X5 administrator certification exam.
Below mentioned are other details about Exadata X5 administrator certification exam:
Exam Mode: Online

Time duration: 120 minutes

Total number of questions: 90

Pass score: 60%

Prerequisite: None; course attendance is highly recommended
Please note that no hard-copy or other online materials should be referenced during the exam.
--------------------------------------------------------------------------------------------------------------------------------------------------------------
Career Path
The Oracle certified Exadata X5 administrator certification course with the help of expert professionals training is recognized across the globe. Because of the increased adoption of the Exadata concepts in various companies the participants are able to find the job opportunity easily. The leading companies hire Exadata administrator considering the mastering of skills over Exadata specific database administration, network administration and linux administration. The oracle Exadata administrator can pursue a wide range of career paths.
The following are the job titles:
Exadata machine administrator

Oracle Exadata specialist

Oracle Exadata consultant

Oracle Exadata implementer
--------------------------------------------------------------------------------------------------------------------------------------------------------------
Job Prospects
The Oracle Exadata administrator draws an average salary of $122,640 per year depending on the knowledge and hands-on experience. The oracle Exadata administrator job roles are in high demand and make a rewarding career.
1. Mention a suitable environment for Exadata?
Exadata was designed for the purpose of warehouse environment. Later it was improvised for use in the OLTP databases as well.
2. What are the benefits of Exadata?
The Exadata cluster enables consistent performance while allowing for increased throughput.

List out key abilities and features of exadata database machine and exadata storage server.

Implement exadata storage server security.
3.What is the reason behind Exadata's higher throughput?
Exadata ships less amount of data through the pipes between the storage and the database nodes and other nodes in the RAC cluster. Also it's capability to run parallel processes across all the nodes in the cluster is useful to gain higher level of throughput.
4.List out the different Exadata configurations?
The Exadata Appliance configuration formats are Full Rack, Half Rack, Quarter Rack or 1/8th rack.
5. Explain full rack configuration?
The Full Rack X2-2 has 6 CPU's per node with Intel Xeon 5670 processors and a total of 8 Database Server nodes. These servers have 96GB of memory on each node. A total of 14 Storage server cells communicate with the storage and push the requested data from the storage to the compute nodes.
6. Explain Half rack?
The Half Rack has exactly half the capacity. It has 6 CPU's per node with core Intel Xeon 5670 processors and a total of 4 Database Server nodes. It has 96GB of memory per database server node with a total of 7 Storage server cells.
7. Mention the key Hardware components?
DB Server

Storage Server Cells

High Speed Infiniband Switch

Cisco Switch
What are the Key Software Features?
Smart Scan,

Smart Flash Cache

Storage Index

Exadata Hybrid Columnar Compression (EHCC)

IORM (I/O Resource Manager)
8. Explain Cell ?
A cell or Exadata Storage server cell is a mixed combo of Disk Drives put together to store user data. Each Cell Disk relates to a LUN (Logical Unit) which has been formatted by the Exadata Storage Server Software. Each cell has 12 disk drives mapped to it.
9. Explain Grid disks?
Grid Disks is present on top of Cell Disks and are presented to Oracle ASM as ASM disks. Space is allotted in chunks from the outer tracks of the Cell disk and moves inwards. A particular user can have multiple Grid Disks per Cell disk.
10. Define IORM?
IORM stands for I/O Resource Manager. It is used to manage the I/O demand depending on the configuration, with the amount of available resources. It makes sure that none of the I/O cells become oversubscribed with the I/O requests. This is accomplished by managing the incoming requests at a consumer group level.
11. Define hybrid columnar compression?
Hybrid Columnar compression, also known as HCC, is a feature of Exadata which is used to compress data at column level for a table.
The different types of HCC compression include:
Query Low

Query High

Archive High

Archive Low
12. Define Flash cache?
Four 96G PCIe flash memory cards is available on each Exadata Storage Server cell which provide fast access to the data stored on it. A total flash storage of 384GB per cell is available on the Exadata appliance.

--------------------------------------------------------------------------------------------------------------------------------------------------------------

FAQ
Will this course help me clear the certification exam?
+
Which is better - Self-paced training or Instructor-led training?
+
What if I miss a class?
+
How will I execute the practical?
+
Is the course material accessible after completion of the course?
+
Is there any offer/discount that I can avail?
+
Will I get a refund if I cancel my enrollment?
+
What if I have queries after completion of the course?
+