10 Hours
Online Instructor-led Training
USD 980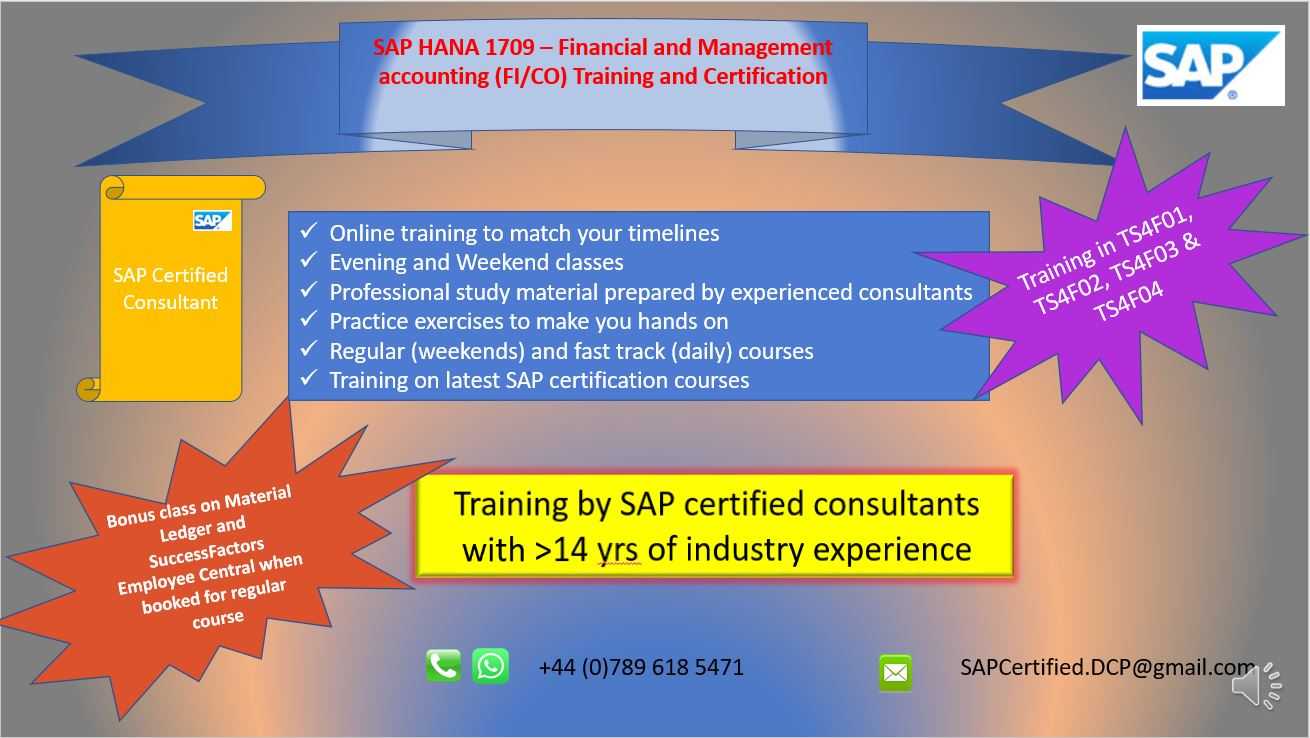 About this Course
S/4 HANA 1709 - Financial Accounting

The S/4 HANA 1709 - Financial Accounting course will give you a broad and deep knowledge of Financial Accounting in SAP S/4HANA and proof this by taking a certification.
Participants of this course will gain an overview of the fundamental business processes and configuration of core components of Financial Accounting with SAP S/4HANA. General Ledger Accounting, Accounts Payable, Accounts Receivable, and Bank Accounting and their integration are all discussed in this course.
Goals:
Become familiar with the configuration and usage of Global Settings for Financial Accounting, General Ledger Accounting, Accounts Receivable & Accounts Payable, Asset Accounting and Financial Closing.
S/4 HANA 1709 - Financial Accounting
Course Details & Curriculum
Session 1: Introduction
Overview of SAP S/4 HANA
Finance Master Data
Managing Business Partners
Session 2: Financial Accounting Configuration
Managing Financial Accounting Organizational Units
Managing Currency Types
Managing Posting Periods and various configurational variants
Session 3: General Ledger, AR and AP
Managing Parallel Ledgers
Managing Treasury (Banking configuration)
Automatic Payment Program
Correspondence
Validations and Substitutions
Session 4: Asset Accounting
Managing Chart of Depreciation
Managing Depreciation Areas
Managing Depreciation Keys
Managing Period Closing in Asset Accounting
Session 5: Financial Closing
Periodic Processing and Valuation
Financial Closing Cockpit (FCC)
Intercompany Reconciliation (SAP-ICR)
Career Path
Knowledge of Financial and Management Accounting
FAQ
Will this course help me clear the certification exam?
+
Which is better - Self-paced training or Instructor-led training?
+
What if I miss a class?
+
How will I execute the practical?
+
Is the course material accessible after completion of the course?
+
Is there any offer/discount that I can avail?
+
Will I get a refund if I cancel my enrollment?
+
What if I have queries after completion of the course?
+