80 Hours
Online Instructor-led Training
USD 9799 (USD 11200)
Save 13% Offer ends on 31-Dec-2023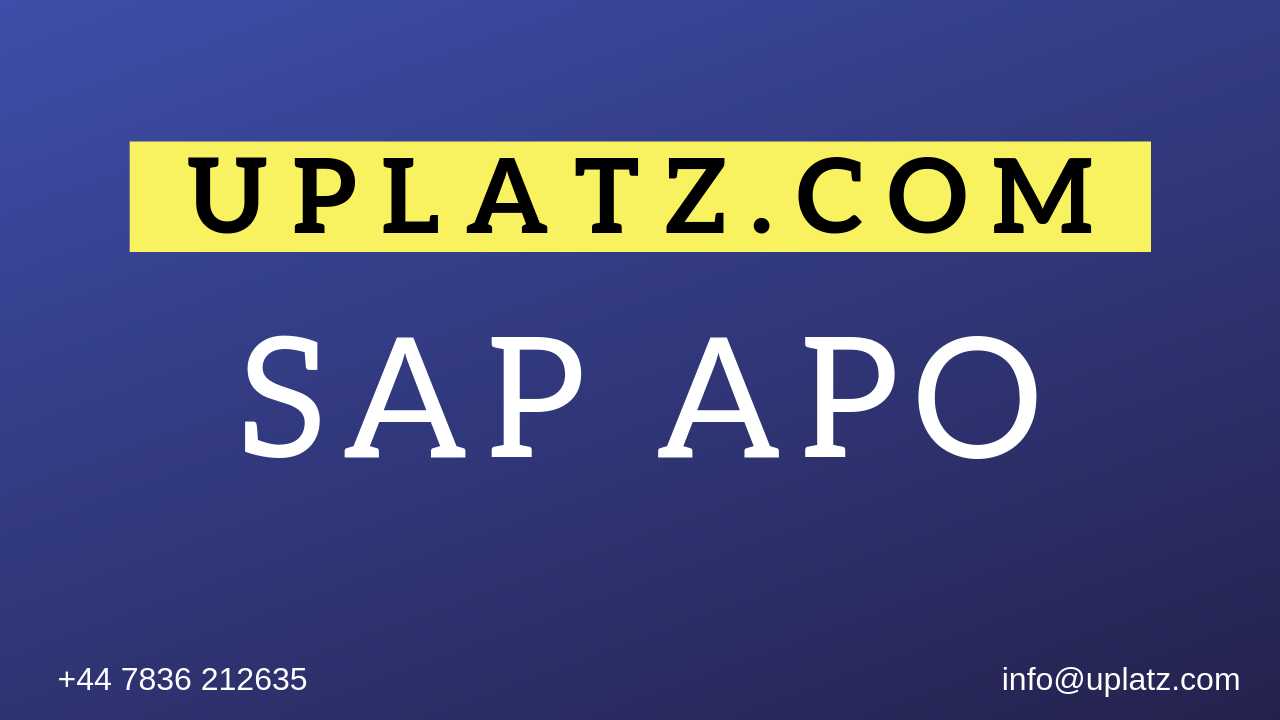 About this Course
SAP APO stands for Advanced Planner Optimizer, and is used to plan and execute company's supply chain process. It is also known as APS (Advance Planning and Scheduling) tool. SAP APO is a key component of SAP and forms a technical foundation for many SAP modules. The tool is designed to achieve high consistency in business processes, right through from order generation to production planning and improving customer service while reducing costs. It is used for SCM (Supply Chain Management) in industries. Another important function of SAP APO is the SCC (Supply Chain Cockpit), it provides users with a graphical instrument panel for controlling and managing the supply chain. Various department of a company uses SCC like demand planners, strategic planners and production planners. What can SAP APO training provide you? SAP APO Training could eventually prove beneficial for the fresher's as well as professionals to take their career to a new level altogether.
Welcome to Uplatz, the SAP Training UK biggest hub!
Uplatz is UK-based leading provider of SAP training, Oracle training, Big Data & Machine Learning courses, Programming & IT courses.
SAP Training can help you master the in-demand industry skills and significantly increase your chances of working with leading companies of the world. An SAP course can turnaround your career by placing you in the elite company of top domain consultants.
Going through this comprehensive course, you'll also be able to prepare for SAP certification for this module.
Doing an SAP course online can jumpstart your career in just 40 hours!
SAP training courses are currently the most sought-after courses globally.
An SAP consultant earns a salary of $80,000 per year going upto $300,000 per year based on the skills and experience.


Interested to learn?
Get in touch with us Phone: +44 7836 212635
Whats App: + 44 7836 212635
Website: https://www.uplatz.com
Browse www.uplatz.com to see more courses.
Uplatz.com is a leading Marketplace for IT and Certification courses.
--------------------------------------------------------------------------------------
SAP APO Training (DP, SNP, PPDS, CIF)
Course Details & Curriculum
SAP APO Training Course Structure
Demand Planning
APO – BI set-up & Configuration
Create Info-area
Create Characteristic Catalogue
Create Key Figure Catalogue
Create Characteristics and Key Figure as Info Object
Create Info-cube
Create DTP
APO Set-up & Configuration
Create MPOS
Create Planning Area
Create time bucket and storage bucket profile
Create Planning Book
Create Planning views
Create selection IDs
APO Demand planning Process & Execution
Load Data in Characteristic Attributes
Load data in Info-cube
Create CVC
Load Data in Planning book
Create forecast profiles
Assign Forecast Profiles
Statistical forecasting & various methods
Lifecycle Planning
Promotion Planning
Alerts monitoring
Create Macros and assign to the planning book
Data realignment
Sales history realignment
Process Chain
Supply Network planning
ECC Set-Up & Configuration
Set-Up material is ECC
Create Work center (optional)
Set-up BOM (optional)
Set-up routing (optional)
Set-up production version
CIF Configuration & Set-up
CIF Configuration
IMOD Creation
IMOD execution
CIF / Queue monitoring
APO-BI – SNP set-up & Configuration
Create Info-area
Create key Figure Catalogue
Key figures as info-object
APO-SNP master data Set-up
Create MPOS
Create Planning Area
Create time bucket and storage bucket profile
Create Planning Book
Create Planning views
Create selection IDs
Supply network planning & Execution
Supply Net-work planning interactively
Transportation Lane
Demand Planning to SNP release
SNP Heuristic
SNP Optimizer (optional)
SNP Distribution forecast review
Source of supply automatic assignment
Forecast consumption
Alternate source of supply determination
Distribution forecast realignment
Deployment Planning
Deployment planning
Deployment Run
Publish in ECC through CIF
Goods receipts in ECC
Deployment Optimization
Transportation Load Builder
TLB set-up
TLB profiles
TLB run
Mode of transport
TLB run
Publish to ECC
--------------------------------------------------------------------------------------
Job Prospects
The average salary ranges from approx. £62,382 per year for SAP APO Consultant to £117,656 per year for SAP APO Lead/Manager.
There are currently 9,000+ open SAP APO jobs in UK ranging from APO end-users to consultants to managers.
For more details, please visit Uplatz Resourcing

------------------------------------------------------------------------------------------------------

FAQ
Will this course help me clear the certification exam?
+
Which is better - Self-paced training or Instructor-led training?
+
What if I miss a class?
+
How will I execute the practical?
+
Is the course material accessible after completion of the course?
+
Is there any offer/discount that I can avail?
+
Will I get a refund if I cancel my enrollment?
+
What if I have queries after completion of the course?
+