50 Hours
Online Instructor-led Training
INR 20565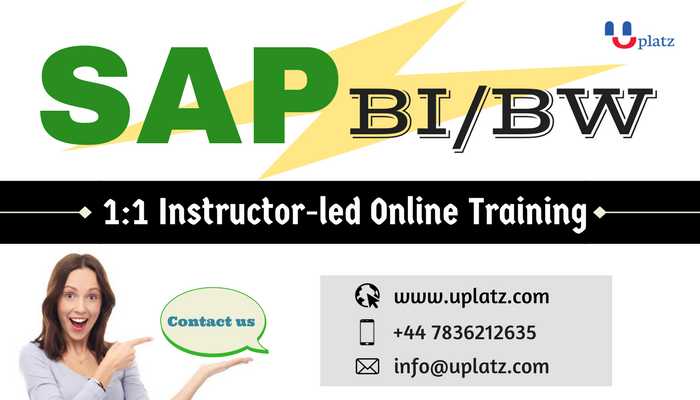 About this Course
SAP Business Warehouse (BW) powered by SAP HANA helps you speed up data analysis by consuming data via a Data Warehouse (DW) for analytical reporting and data analysis. You can achieve key opportunities like real-time data integration and data modeling, and hence real-time BI reporting on large amount of data in the database.
SAP Business Warehouse continues to act like a powerful data warehouse tool to consolidate master data and provide flexible reporting options. With SAP HANA underneath BW system as a database, you can use a combination of DW capabilities with fast in-memory database to achieve performance improvements and exceptional modeling capabilities.
HANA in-memory database is much faster as compared to other common databases like Oracle, SQL Server, and hence DW performs much faster when powered by HANA as database underneath it. It combines the power of both the tools - BW Modeling and HANA in-memory computing engine to process huge amounts of data.
BW on HANA supports various exceptional databases and reporting capabilities that are not possible using other databases - like transformations and DSOs are moved to HANA database to provide much faster processing of data, data load performance, query processing and optimization, exceptional HANA modeling capabilities, etc.
SAP BW
Course Details & Curriculum
Introduction (10 Hours)
➢ General Introduction.
➢ SAP introduction.
➢ Data warehousing/ BW/ BI Introduction
➢ Master data; Attributes, Texts, and Hierarchies.
➢ Standard Naming conventions in SAP and BI


Data Modeling (15 Hours)
➢ Info Objects: Definitions
➢ Types: Characteristics, Key Figures, Time, and Unit.
➢ InfoCube: Definitions.
➢ Types: Standards, real time, remote.
➢ Design of InfoCube: Star Schema concepts. Precautions.
➢ Data Store objects (DSO):
➢ Types: Standards, Real time.
➢ Info Sets
➢ MultiProviders: Scenarios to create Multiproviders.
➢ InfoCube VS DSO
➢ Hybrid Provider
➢ Semantic Provider


Defining extraction (10 hours)
➢ For SAP source systems: Creating Generic datasource and maintaining SAP delivered datasource.
➢ Or for files: Creating datasource for File Source Systems


Defining transformations (2 hours)
➢ Transformations and different scenarios.
Defining the data flow:
➢ Creating data transfer processes
➢ Creating process chains


Scheduling and monitoring: (3 Hours)
➢ Checking process chain runs
➢ Monitor for extraction processes and data transfer processes


Performance optimization: (3 hours)
➢ Creating the first aggregate for an InfoCube
➢ Using compression, partitioning, indexing on cube.
Transports:
➢ Real business scenarios on different system environments, Moving objects from one system to
another.


BI SUITE: Business Explorer (7 Hours)
➢ BEx Query Designer
➢ Queries: New queries, Restricting Characteristics, Formulas and Exception Cells
➢ Query Design: Defining Exceptions, Conditions, Restricted and Calculated Key Figures
➢ Variables: The Variable Wizard, Variable Types and Processing Types, query Properties
➢ Component Properties: Properties of Characteristics, Attributes, Structure, Formula, Key Figures Activities
➢ BEx Analyzer
.
OLAP
➢ OLAP v OLTP: The OLAP Concept and differences between OLAP and OLTP
➢ OLAP Functions: Aggregation, Currency Translation, Report-to-Report Interface
➢ Metadata Repository: Searching for Metadata
Career Path
Before you start proceeding with this tutorial, we assume that you are well-versed with basic Data warehousing concepts, like joins, rows and columns, star schema and few more topics.
FAQ
Will this course help me clear the certification exam?
+
Which is better - Self-paced training or Instructor-led training?
+
What if I miss a class?
+
How will I execute the practical?
+
Is the course material accessible after completion of the course?
+
Is there any offer/discount that I can avail?
+
Will I get a refund if I cancel my enrollment?
+
What if I have queries after completion of the course?
+