30 Hours
Online Instructor-led Training
USD 1399 (USD 2800)
Save 50% Offer ends on 31-Dec-2023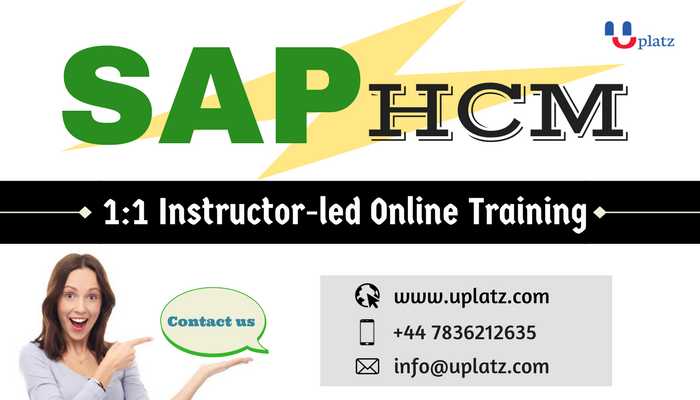 About this Course
SAP HCM Payroll
module allows you to process payroll for employees in any country, using data from SAP Personnel Administration and advantages under a broad variety of configurations. The SAP Payroll system also offers a number of standard payroll reports. The Tax Reporter elements allows you to generate all required state and federal tax forms, like SUI reports and W-2s. More reports can be generated using Ad Hoc Query in conjunction with an SAP Payroll info type.
SAP HCM Payroll
Course Details & Curriculum
SAP HR/HCM Payroll – Course Syllabus
1) INTRODUCTION
• ERP
• Why ERP
• SAP Difference with other ERPs
• Who is client, Process owners And Implementation Partners?
• R/3 architecture
2) STRUCTURES IN HUMAN RESOURCES
• Enterprise Structure
• Company code, personnel area and personnel subarea and
• Cost Center
• Personnel Structure
• Employee group, Employee subgroup, Payroll accounting
• area and Contract type
• Organization Structure
• Organizational units, Jobs and Positions
• Pay scale structure
• Pay scale Type, Pay scale Area, Pay scale Groups and Pay
• scale Level
3) ORGANIZATIONAL MANAGEMENT
• Integration with other modules and process flow
• Plan version
• Objects in OM
• Evaluation path and Object
• Characteristics
• OM Related Info types and Tables
• Simple Maintenance
• Expert Mode
• Organization Staffing
4) TIME MANAGEMENT
• Important Info types in time management
• Concepts of Positive and Negative Time Recording
• Time Management Status and important
• Time Management related features
• Setting up Holiday Calendar and concept of Factory calendar
• Configuration of Work Schedule-Break, Period, work schedule rule
• Daily Work Schedules Variant and Daily Work Schedules Rule
• Day Types and Rules
• Absence/Attendances and Concept of Factory Calendar
• Configuration of Counting Rules, Deduction Rules, Base
• Entitlement Rules and Selection Rules
• Generation of Quotas through RPTWTA00 and Time
• Evaluation
• Time Data Recording
• Time Evaluation Process, Schemas Rules, Functions, and Operations
• Clusters B1 and B2 and lateral Tables relating to Time Management
• Time Management Pools
5) PERSONNEL ADMINISTRATION
• Customizing Procedures
• Info type Menus
• Info type Menu
• Determine Choice of Info type Menus
• Actions
• User Group Dependency on Menus and Info groups
• Define Info groups
• Hiring Action
• Separation Action
• Set up Personnel Actions
• Update Info type 0302 when Executing an Action
• Additional Actions
• Personnel Action Types
• Create Reasons for Personnel Action
• User Group Dependency on Menus and Info Groups
• Change Action Menu
• Dynamic Actions
• Customizing User Interfaces
• Info type Headers
• Time constraints 1, 2, 3, A,B and T
6) PAYROLL
• Maintaining of Indian Specific Info types (0580 to 0591)
• Payroll Area
• Feature ABKRS
• Control record
• PCR and CAP configuration
• Date modifiers
• Period parameters
• Pay scale structure
• Pay scale Type
• Pay scale area
• Pay scale groups and pay scale levels
• Feature TARIFF
• Basic pay configuration
• Wage type creation, wage type permissibility, Wage type characteristics
• Direct evaluation/indirect evaluation
• Country specific payroll drivers and programs
• Info types 0003 payroll status (how to lock a one person in payroll etc)
• Info types required to run a payroll
• Paycheck design
• Additional payments
• Recurring payments & deduction
7) BENEFITS
• Introduction of Benefits
• Integration with other models.
• Benefits related Info types.
• Demerit Area, Criteria or Parameter Group, Plan Status and Plan Types.
• Features in Benefits.
• Configuration of Demerit Plans.
• Integration of Benefits with Payroll.
• Benefit adjustment and Employee Eligibility
8)RECRUITMENT
• Introduction of Recruitment
• Basic Settings
• Work Force Requirements & Advertising
• Applicant Administration
• Applicant Selections
• Dialog Control
9) COMPENSATION MANAGEMENT
• Introduction of Compensation Management
• Basic settings
• Job Pricing etc.
Certification
SAP HCM PAYROLL Certification
Course Completion Certificate