40 Hours
Online 1:1 Instructor-led Training
USD 700 (USD 1120)
Save 38% Offer ends on 31-May-2019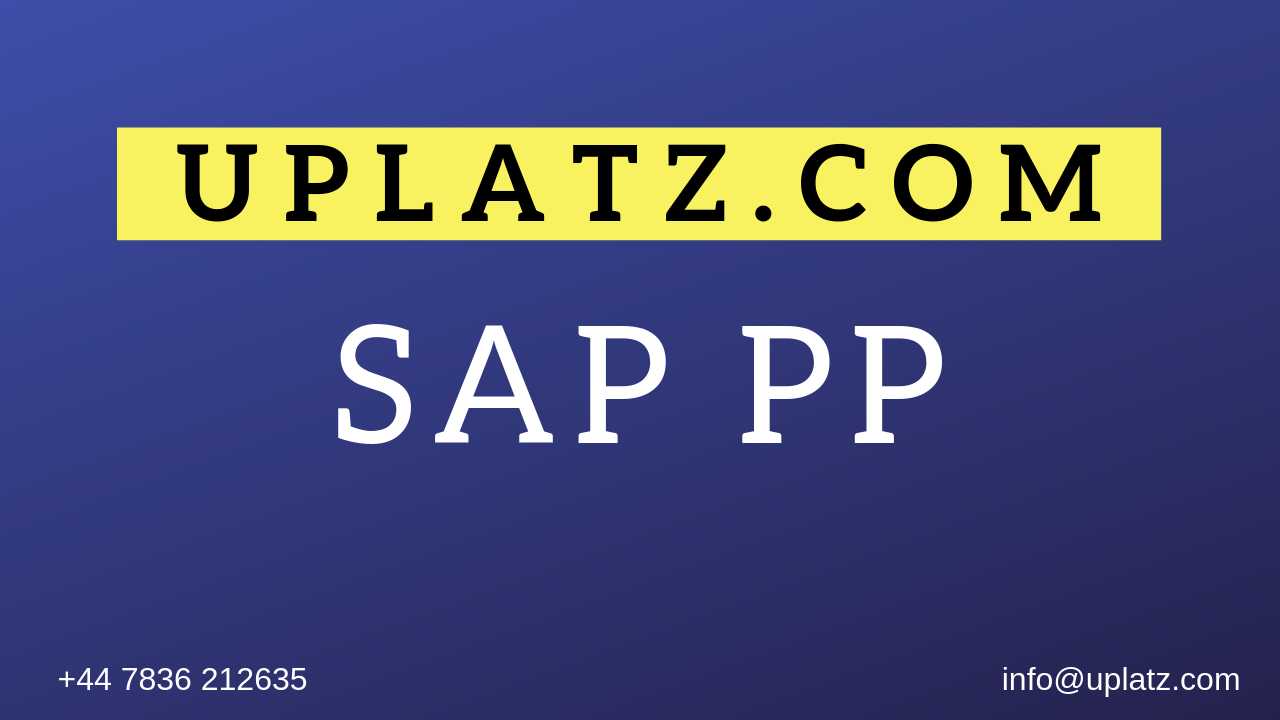 About this Course
Production Planning is the process of aligning demand with manufacturing capacity to create production and procurement schedules for finished products and component materials.It tracks and makes a record of the manufacturing process flows, for example, the planned and actual costs. Also, goods movements from the conversion of raw material to semi-finished goods.
SAP PP is one of most important modules of SAP ERP which deals with the production planning processes like Material Requirement Planning, Capacity Planning, Movement of raw material and goods, Cost management etc.

SAP Production and Planning (PP) application tool plays a very important role in systematic management of production and planning process of any manufacturing companies by providing analytical data reports of production processes which are running in that organization, there data reports play a crucial role in the further planning process in the right direction at the right time that will help smooth running of the entire production process. Therefore most of the manufacturing companies are now using SAP PP ERP application tools.
Because of great market demand of SAP PP consultants in manufacturing companies, most of the working professionals and fresher's are interested to learn SAP PP application tool to increase their work effectively and knowledge so that they can better perfectly work in Production & Planning Processes.
Uplatz is top rated SAP online training provider in the market, and working hard to provide a high quality of SAP PP online training.Our SAP PP online training syllabus is best designed and delivered by the industrial SAP PP expert consultants, it covers all the basic fundamentals to advance level of SAP Production & Planning Industrial requirements.
This SAP PP online course is helpful in leaning practically all the important aspects of production and planning module and after completion of this PP course, you would be able to qualify the global SAP PP certification Exam to validate your practical and theoretical knowledge. SAP PP training participants are able to learn the key components of SAP production and planning required in the smooth functioning of manufacturing processes.
SAP PP is fully integrated with the other SAP modules such as SD, MM, QM, FICO, PM.
What is the target audience?
• Anyone interested in learning SAP customizing
• Anyone interested in learning SAP PP Production Planning
• Anyone wanting to get his own access to an SAP System
• Anyone interested in understanding how to solve business challenges by using SAP
Which Certification Exam students can give after this course?
We are working with an aim to provide the best quality SAP online training, that is helpful to make you understand all the fundamentals of SAP modules. We motivate our SAP PP training participants to appear and qualify the global PP certification Exams and prove their ability and knowledge in the field of their learned module.
SAP PP Certification Exam Codes:

· C_TSCM42_65
· C_TSCM42_66
· C_TSCM42_67
SAP PP Training module has two levels of examination:

1. Associate (Fresher)
Exam Duration: 180 Minutes
Total Questions: 80
Types of Questions: MCQs, multiple response matching questions and answers
2. Professional (Experienced)
Exam Duration: 180 Minutes
Total Questions: 80
Types of Questions: MCQs, multiple response, scenario-based and matching questions and answers.


Career Path
After successful completion of SAP PP training & Certification, the participant would get many job opportunities that boost their career.

1. SAP PP Consultant
2. SAP PP User
3. SAP PP project manager
4. SAP PP Analyst
5. PP Operation Manager
------------------------------------------------------------------------------------------------
SAP PP Training
Course Details & Curriculum
1. SAP Overview
• my SAP Business Suite
• PP Overview

2. Master Data
• Organizational Overview
• Material Master
• Bills of Material
• Work center
• Routings

3. Sales and Operations Planning
• Sales Operations Planning
• Basics
• Standard SOP
• Flexible Planning

4. Demand Management
• Overview of Demand
• Management
• Make to Stock versus Make to Order
• Make to Stock Planning Strategies
• Make to Order Planning Strategies
• Settings and Customizing

5. Material Requirement Planning (MRP)
• Concept of Material

6. Requirements Planning
• Technical process of the MRP run
• Prerequisites for Running MRP
• Methods for Executing planning run
• Factors influencing the MRP run
• Stock requirements list and MRP list
• Analyzing MRP results

7. Production Orders Execution
• Production Order Creation
• Availability Check
• Production Order Release
• Capacity Planning
• Scheduling
• Production Order Printing
• Goods Issue of components
• Confirmations
• Goods Receipt
• Product Costing & Settlement

8. Repetitive Manufacturing
• Master Data
• Planning (line loading)
• Material Staging
• Back flush and Receipts
• Evaluations
Job Prospects
The average salary ranges from approx. £42,206 per year for SAP PP Consultant to £119,856 per year for SAP PP Lead/Manager.
There are currently 12,000+ open SAP PP jobs in UK ranging from PP end-users to consultants to managers.
For more details, please visit Uplatz Resourcing
------------------------------------------------------------------------------------------------------
FAQ
What coding language is required to learn SAP PP training module?
+
Who can go for SAP PP Training?
+
How much time it will take to learn SAP PP module?
+
How will SAP PP training help me in my career growth?
+
How many types of data exist under Production Planning?
+
What are the uses of Routing?
+
Which code is used to create Goods Receipt under SAP PP?
+
What is the code used for Goods Issued under SAP PP?
+
What is Stock Overview?
+
Which code is used for Stock overview?
+
What is MRP Controlling in SAP PP?
+
How many BOM can be created in SAP PP?
+
What is Material staging?
+