40 Hours
Online Instructor-led Training
USD 1399 (USD 2800)
Save 50% Offer ends on 31-Dec-2023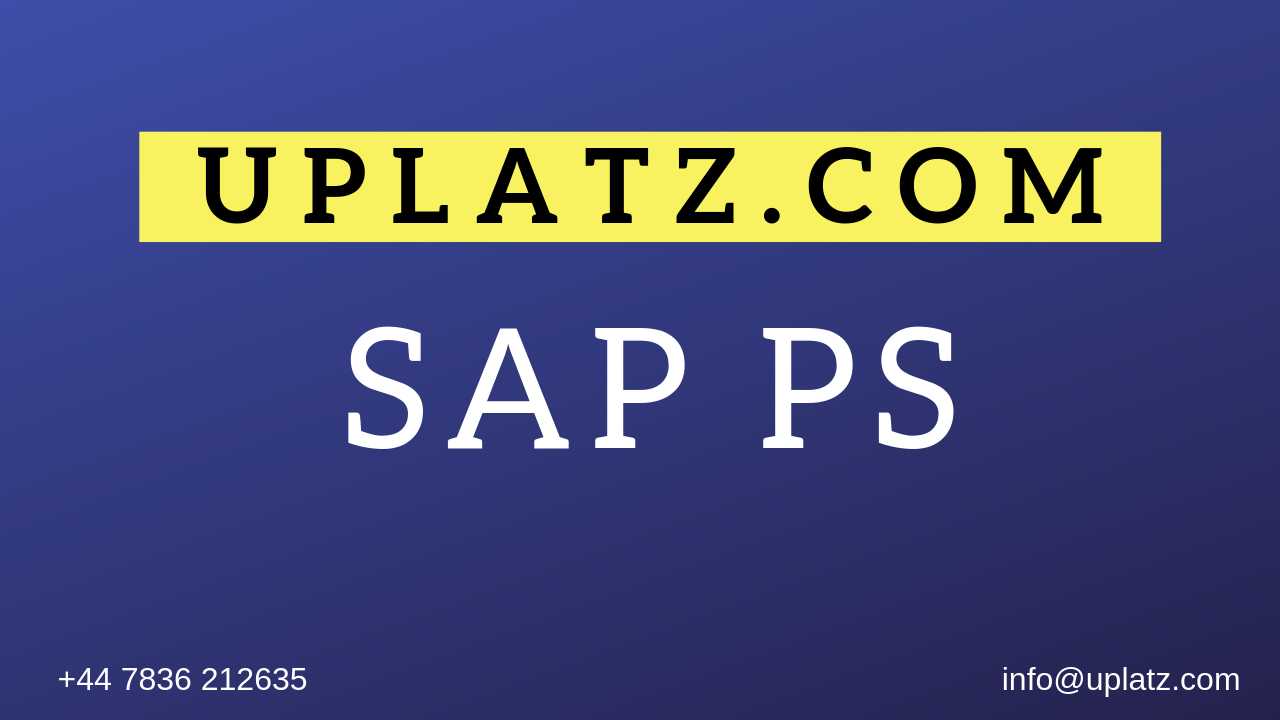 About this Course
SAP Project System (PS) is a project management software tool that integrates with other components of the SAP Enterprise Resource Planning (SAP ERP) system.


SAP Project systems module (SAP PS) is an integrated project management software tool that monitors all aspects of your project system and integrates with other components of the SAP Enterprise Resource Planning (SAP ERP) system.
SAP PS is an on-premise functional module/component of the SAP ERP system and allows users to direct funds & resources where needed as well to control each stage of the project to ensure punctual delivery within budget.


This tool ensures that an organization's business processes are handled efficiently and quickly. SAP Project System can manage both small scale and large scale projects of an organization.
In business scenario, everything is viewed as a project. Projects are generally complex, unique and involve a high risks. Project management with efficiency is hugely dependent on having the right information available when it is needed and on implementing an automated data processing to deal with the project.
SAP PS helps in planning, controlling and collects cost and revenues through structures (WBS). The important functionality of SAP PS module is to manage all stages of project very efficiently from planning stage to completion stage.
SAP PS module is completely integrated with other SAP R/3 modules such as SAP SD, SAP HCM, SAP PM, SAP PP, SAP FICO, SAP MM, SAP QM and with other SAP R/3 applications. This integration with other modules enables the organization to plan and execute all the tasks associated with a project. With the help of this integration PS module can access the data from the departments involved in a project and can provide consistent real time data.
SAP PS training by Uplatz provides comprehensive coverage of all topics of SAP PS module right from understanding of basic concepts to most advanced concepts and their implementation in real-time projects. After completion of SAP PS course, it is advisable to go for SAP PS certification that will help you validate your knowledge and also to move to a high-flying career in SAP. With the dynamic industry needs, SAP PS consultants are in great demand these days.
------------------------------------------------------------------------------------------------------
SAP PS Training
Course Details & Curriculum
Work Breakdown Structure (WBS)
Activities and networks
Milestones
Standard structures
Simulations and project versions
Project Builder & Project Planning Board
Mass changes, substitution, and validation
Network
Project Builder & Project Planning Board
Appointment Planning
Resource Planning
Project Material
Cost Planning, Revenue Planning
Budgeting
Commitment and Actual Data
Period-End Processing
Information Systems
Cost planning, structure planning, detailed planning, easy cost planning, network calculation
Revenue planning – structure planning, billing plan, integration with sales and distribution
Budgeting – cost projects, investment projects, availability controls
Commitment management
Project stock (valuated/unvaluated)
Actual costs – confirmation, CATS, purchasing, execution services
Actual revenues – resource-based billing, milestone billing
Period end closing – overhead rates, interest determination, overhead rates, accounting
------------------------------------------------------------------------------------------------------
Job Prospects
The average salary ranges from approx. £32,748 per year for SAP PS Consultant to £118,910 per year for SAP PS Lead/Manager.
There are currently 7,000+ open SAP PS jobs in UK ranging from PS end-users to consultants to managers.
For more details, please visit Uplatz Resourcing
------------------------------------------------------------------------------------------------------
FAQ
Will this course help me clear the certification exam?
+
Which is better - Self-paced training or Instructor-led training?
+
What if I miss a class?
+
How will I execute the practical?
+
Is the course material accessible after completion of the course?
+
Is there any offer/discount that I can avail?
+
Will I get a refund if I cancel my enrollment?
+
What if I have queries after completion of the course?
+