BUY THIS COURSE (USD 17 USD 41)
Build your Career in Data Science
You will learn the techniques of recording, analyzing, and storing data to extract insights, future predictions from structured and unstructured data.
( add to cart )
Save 59% Offer ends on 30-Nov-2023
Preview Build your Career in Data Science course
Price Match Guarantee
Full Lifetime Access
Access on any Device
Technical Support
Secure Checkout
&nbsp Course Completion Certificate
Job-oriented
New & Hot
Trending
Instant access
Students also bought -
45 Hours
USD 17
2931 Learners
70 Hours
USD 23
3110 Learners
300 Hours
GBP 32
6978 Learners
Completed the course? Request here for Certificate.
ALL COURSES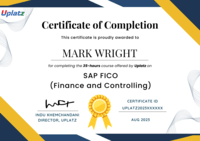 Data science is an interdisciplinary subject that uses scientific techniques, procedures, algorithms, and systems to extract information and insights from structured and unstructured data, as well as to apply that knowledge and actionable insights to a variety of application areas. Data mining, machine learning, and big data are all linked to data science.
Data science is an interdisciplinary approach to deriving meaningful insights from today's businesses' massive and ever-increasing amounts of data. Preparing data for analysis and processing, doing sophisticated data analysis, and presenting the results to expose trends and allow stakeholders to make educated decisions are all part of data science. Data needs to be collected from multiple sources and analyzed. Data analysis and visualization have to be performed on the data to get valuable insights into the data. Machine learning tools are deployed to build predictive models that transform the raw data into actionable information. Knowledge Representation and Artificial Intelligence algorithms are creating intelligent machines capable of solving complex problems. Trending technologies like cloud computing, blockchain, quantum computing are transforming data science. Effective data architecture needs to be designed for useful storage and retrieval.
Making sense of the enormous data available is a challenge, the Data Scientist requires skills in diverse areas such as computational mathematics, data analytics, machine learning, artificial intelligence, data visualization, and even programming languages. In addition, knowledge is required in diverse domains like statistics, business, economics, finance, production etc. Hence the skill set required for data science is inter-disciplinary.
The data scientist is one who has been working in diverse domains. The data scientist is able to define the problem statement, project objectives in line with the business goals. They help identify patterns and trends using artificial intelligence, machine learning and make predictions based on data. They are required to have a strong background in the related subjects of artificial intelligence, machine learning, statistics and data engineering.
These videos will explain how to build your career in the data science industry, by helping you identify the different careers in data science and boost your efficiency in discovering suitable data science roles.
These videos will also give you the know-how you need to pursue your professional data science path.
Course/Topic - Build your Career in Data Science - all lectures
In this lecture about how to learn data science with a step by step explanation. This video will talk about the career path in data science specially from a fresher's point of view. Further we will talk about the skills required to become a successful data scientist and also about the compensation of a data scientist. Lastly we will see the platforms and data science tools used to learn data science. This video also clarifies whether a person would need a degree for a successful career in data science.

This video talk majorly about the data science career path. There are different career options in data science. You will know how attending a one-week duration bootcamps on data science will help you more over a 3 years' degree. The courses are intended to make the student job ready and be equipped with the skills necessary for becoming a Data Scientist.

In this session we learn about the importance and introduction for Data Science. In this video we will also talk about the different technologies in data science and strong foundations of R programming language. We will also see the jobs in data science and the types of jobs in data science. Furthermore, we will see prerequisites for data science and difference between BI and Data Science.

In this lecture about how to learn data science with a step by step explanation. This video will talk about the career path in data science specially from a fresher's point of view. Further we will talk about the skills required to become a successful data scientist and also about the compensation of a data scientist. Lastly we will see the platforms and data science tools used to learn data science. This video also clarifies whether a person would need a degree for a successful career in data science.
After the completion of this course, you will be able to:
• Explain how these results can be used to solve business problems.
• Use mathematics, statistics, and the scientific method to solve problems
• Evaluate and prepare data using a variety of tools and techniques, including SQL, data mining, and data integration approaches.
• Use predictive analytics, such as machine learning and deep learning models, to extract insights from data.
• Create data-processing and calculation-automation apps.
Data science Certification consists of 80 multiple choice questions which you need to complete in 240 minutes of time. Data science has released exams based on the latest version of data science.
Data science continues to evolve as one of the most promising and in-demand career paths for skilled professionals. Today, successful data professionals understand that they must advance past the traditional skills of analyzing large amounts of data, data mining, and programming skills. In order to uncover useful intelligence for their organizations, data scientists must master the full spectrum of the data science life cycle and possess a level of flexibility and understanding to maximize returns at each phase of the process.
The professionals and graduates want to excel in their chosen areas. It is also well suited for those who are already working and would like to take certification for further career progression.
Uplatz online training guarantees the participants to successfully go through the Data Science certification provided by Uplatz. Uplatz provides appropriate teaching and expertise training to equip the participants for implementing the learnt concepts in an organization.
Course Completion Certificate will be awarded by Uplatz upon successful completion of the Data Science online course.
The Data scientist draws an average salary of $150,080 per year depending on the knowledge and hands-on experience. The Data scientist job roles are in high demand and make a rewarding career.
A data scientist is someone who makes value out of data. Such a person proactively fetches information from various sources and analyzes it for better understanding about how the business performs, and to build AI tools that automate certain processes within the company.
Note that salaries are generally higher at large companies rather than small ones. Your salary will also differ based on the market you work in.
The following are the job titles:
1. Data Scientist.
2. Data analyst.
3. Data engineers.
1. What does one understand by the term Data Science?
An interdisciplinary field that constitutes various scientific processes, algorithms, tools, and machine learning techniques working to help find common patterns and gather sensible insights from the given raw input data using statistical and mathematical analysis is called Data Science.

The following figure represents the life cycle of data science.
It starts with gathering the business requirements and relevant data.

Once the data is acquired, it is maintained by performing data cleaning, data warehousing, data staging, and data architecture.

Data processing does the task of exploring the data, mining it, analyzing it which can be finally used to generate the summary of the insights extracted from the data.

Once the exploratory steps are completed, the cleansed data is subjected to various algorithms like predictive analysis, regression, text mining, recognition patterns, etc depending on the requirements.

In the final stage, the results are communicated to the business in a visually appealing manner. This is where the skill of data visualization, reporting, and different business intelligence tools come into the picture.
2. What is the difference between data analytics and data science?
Data science involves the task of transforming data by using various technical analysis methods to extract meaningful insights using which a data analyst can apply to their business scenarios.

Data analytics deals with checking the existing hypothesis and information and answers questions for a better and effective business-related decision-making process.

Data Science drives innovation by answering questions that build connections and answers for futuristic problems. Data analytics focuses on getting present meaning from existing historical context whereas data science focuses on predictive modeling.

Data Science can be considered as a broad subject that makes use of various mathematical and scientific tools and algorithms for solving complex problems whereas data analytics can be considered as a specific field dealing with specific concentrated problems using fewer tools of statistics and visualization.
3. What are some of the techniques used for sampling? What is the main advantage of sampling?
Data analysis can not be done on a whole volume of data at a time especially when it involves larger datasets. It becomes crucial to take some data samples that can be used for representing the whole population and then perform analysis on it. While doing this, it is very much necessary to carefully take sample data out of the huge data that truly represents the entire dataset.
4. List down the conditions for Overfitting and Underfitting.
Overfitting:
The model performs well only for the sample training data. If any new data is given as input to the model, it fails to provide any result. These conditions occur due to low bias and high variance in the model. Decision trees are more prone to overfitting.
12. Define confounding variables.

Confounding variables are also known as confounders. These variables are a type of extraneous variables that influence both independent and dependent variables causing spurious association and mathematical relationships between those variables that are associated but are not casually related to each other.
13. How are the time series problems different from other regression problems?
Time series data can be thought of as an extension to linear regression which uses terms like autocorrelation, movement of averages for summarizing historical data of y-axis variables for predicting a better future.

Forecasting and prediction is the main goal of time series problems where accurate predictions can be made but sometimes the underlying reasons might not be known.

Having Time in the problem does not necessarily mean it becomes a time series problem. There should be a relationship between target and time for a problem to become a time series problem.

The observations close to one another in time are expected to be similar to the ones far away which provide accountability for seasonality. For instance, today's weather would be similar to tomorrow's weather but not similar to weather from 4 months from today. Hence, weather prediction based on past data becomes a time series problem.
14. Suppose there is a dataset having variables with missing values of more than 30%, how will you deal with such a dataset?
Depending on the size of the dataset, we follow the below ways:
In case the datasets are small, the missing values are substituted with the mean or average of the remaining data. In pandas, this can be done by using

mean = df.mean()

where df represents the pandas dataframe representing the dataset and mean() calculates the mean of the data. To substitute the missing values with the calculated mean, we can use

df.fillna(mean)

.

For larger datasets, the rows with missing values can be removed and the remaining data can be used for data prediction.
15. What is Cross-Validation?

Cross-Validation is a Statistical technique used for improving a model's performance. Here, the model will be trained and tested with rotation using different samples of the training dataset to ensure that the model performs well for unknown data. The training data will be split into various groups and the model is run and validated against these groups in rotation.
Q1. What are the payment options? A1. We have multiple payment options: 1) Book your course on our webiste by clicking on Buy this course button on top right of this course page 2) Pay via Invoice using any credit or debit card 3) Pay to our UK or India bank account 4) If your HR or employer is making the payment, then we can send them an invoice to pay. Q2. Will I get certificate? A2. Yes, you will receive course completion certificate from Uplatz confirming that you have completed this course with Uplatz. Once you complete your learning please submit this for to request for your certificate https://training.uplatz.com/certificate-request.php Q3. How long is the course access? A3. All our video courses comes with lifetime access. Once you purchase a video course with Uplatz you have lifetime access to the course i.e. forever. You can access your course any time via our website and/or mobile app and learn at your own convenience. Q4. Are the videos downloadable? A4. Video courses cannot be downloaded, but you have lifetime access to any video course you purchase on our website. You will be able to play the videos on our our website and mobile app. Q5. Do you take exam? Do I need to pass exam? How to book exam? A5. We do not take exam as part of the our training programs whether it is video course or live online class. These courses are professional courses and are offered to upskill and move on in the career ladder. However if there is an associated exam to the subject you are learning with us then you need to contact the relevant examination authority for booking your exam. Q6. Can I get study material with the course? A6. The study material might or might not be available for this course. Please note that though we strive to provide you the best materials but we cannot guarantee the exact study material that is mentioned anywhere within the lecture videos. Please submit study material request using the form https://training.uplatz.com/study-material-request.php Q7. What is your refund policy? A7. Please refer to our Refund policy mentioned on our website, here is the link to Uplatz refund policy https://training.uplatz.com/refund-and-cancellation-policy.php Q8. Do you provide any discounts? A8. We run promotions and discounts from time to time, we suggest you to register on our website so you can receive our emails related to promotions and offers. Q9. What are overview courses? A9. Overview courses are 1-2 hours short to help you decide if you want to go for the full course on that particular subject. Uplatz overview courses are either free or minimally charged such as GBP 1 / USD 2 / EUR 2 / INR 100 Q10. What are individual courses? A10. Individual courses are simply our video courses available on Uplatz website and app across more than 300 technologies. Each course varies in duration from 5 hours uptop 150 hours. Check all our courses here https://training.uplatz.com/online-it-courses.php?search=individual Q11. What are bundle courses? A11. Bundle courses offered by Uplatz are combo of 2 or more video courses. We have Bundle up the similar technologies together in Bundles so offer you better value in pricing and give you an enhaced learning experience. Check all Bundle courses here https://training.uplatz.com/online-it-courses.php?search=bundle Q12. What are Career Path programs? A12. Career Path programs are our comprehensive learning package of video course. These are combined in a way by keeping in mind the career you would like to aim after doing career path program. Career path programs ranges from 100 hours to 600 hours and covers wide variety of courses for you to become an expert on those technologies. Check all Career Path Programs here https://training.uplatz.com/online-it-courses.php?career_path_courses=done Q13. What are Learning Path programs? A13. Learning Path programs are dedicated courses designed by SAP professionals to start and enhance their career in an SAP domain. It covers from basic to advance level of all courses across each business function. These programs are available across SAP finance, SAP Logistics, SAP HR, SAP succcessfactors, SAP Technical, SAP Sales, SAP S/4HANA and many more Check all Learning path here https://training.uplatz.com/online-it-courses.php?learning_path_courses=done Q14. What are Premium Career tracks? A14. Premium Career tracks are programs consisting of video courses that lead to skills required by C-suite executives such as CEO, CTO, CFO, and so on. These programs will help you gain knowledge and acumen to become a senior management executive. Q15. How unlimited subscription works? A15. Uplatz offers 2 types of unlimited subscription, Monthly and Yearly. Our monthly subscription give you unlimited access to our more than 300 video courses with 6000 hours of learning content. The plan renews each month. Minimum committment is for 1 year, you can cancel anytime after 1 year of enrolment. Our yearly subscription gives you unlimited access to our more than 300 video courses with 6000 hours of learning content. The plan renews every year. Minimum committment is for 1 year, you can cancel the plan anytime after 1 year. Check our monthly and yearly subscription here https://training.uplatz.com/online-it-courses.php?search=subscription Q16. Do you provide software access with video course? A16. Software access can be purchased seperately at an additional cost. The cost varies from course to course but is generally in between GBP 20 to GBP 40 per month. Q17. Does your course guarantee a job? A17. Our course is designed to provide you with a solid foundation in the subject and equip you with valuable skills. While the course is a significant step toward your career goals, its important to note that the job market can vary, and some positions might require additional certifications or experience. Remember that the job landscape is constantly evolving. We encourage you to continue learning and stay updated on industry trends even after completing the course. Many successful professionals combine formal education with ongoing self-improvement to excel in their careers. We are here to support you in your journey! Q18. Do you provide placement services? A18. While our course is designed to provide you with a comprehensive understanding of the subject, we currently do not offer placement services as part of the course package. Our main focus is on delivering high-quality education and equipping you with essential skills in this field. However, we understand that finding job opportunities is a crucial aspect of your career journey. We recommend exploring various avenues to enhance your job search: a) Career Counseling: Seek guidance from career counselors who can provide personalized advice and help you tailor your job search strategy. b) Networking: Attend industry events, workshops, and conferences to build connections with professionals in your field. Networking can often lead to job referrals and valuable insights. c) Online Professional Network: Leverage platforms like LinkedIn, a reputable online professional network, to explore job opportunities that resonate with your skills and interests. d) Online Job Platforms: Investigate prominent online job platforms in your region and submit applications for suitable positions considering both your prior experience and the newly acquired knowledge. e.g in UK the major job platforms are Reed, Indeed, CV library, Total Jobs, Linkedin. While we may not offer placement services, we are here to support you in other ways. If you have any questions about the industry, job search strategies, or interview preparation, please dont hesitate to reach out. Remember that taking an active role in your job search process can lead to valuable experiences and opportunities.