BUY THIS COURSE (USD 23 USD 69)
Bundle Course - BI Tools (Tableau - Power BI - SAP BO)
You will develop your skills as a BI/Analytics Professional to derive information from data, analyze complex business problems, derive useful trends.
( add to cart )
Save 67% Offer ends on 31-Dec-2023
Preview Bundle Course - BI Tools (Tableau - Power BI - SAP BO) course
View Course Curriculum
Price Match Guarantee
Full Lifetime Access
Access on any Device
Technical Support
Secure Checkout
&nbsp Course Completion Certificate
Cutting-edge
Trending
Job-oriented
Instant access
Students also bought -
50 Hours
USD 17
816 Learners
300 Hours
USD 45
6978 Learners
200 Hours
USD 23
3788 Learners
Completed the course? Request here for Certificate.
ALL COURSES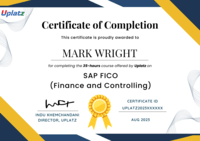 BI Tools bundle course consists of self-paced courses on 3 of the leading Business Intelligence & Reporting tools in the industry. These are:

1) Tableau
2) Power BI
3) SAP BusinessObjects Business Intelligence
Tableau is a visual investigation platform changing the manner in which we use information to tackle issues—enabling individuals and associations to capitalize on their information. As the leader in modern business intelligence, the Tableau platform is known to quickly and easily transform any type of data from nearly any system into active insights. It's as easy as dragging and dropping.
With Uplatz's Tableau course you will learn -
Data Visualization, Business Intelligence tools, Introduction to Tableau, Tableau Architecture, Tableau Server Architecture, VizQL, Introduction to Tableau Prep, Tableau Prep Builder User Interface, Data Preparation techniques using Tableau Prep Builder tool, and more.
Power BI is a Business Intelligence, cloud-based platform that provides non-technical users with tools to analyse, visualize and store data. Power BI is simple and user friendly and best for the user familiar with Excel. It converts data from different sources to interactive dashboards and BI reports and is used by data analyst and business intelligence to a create report. Power BI includes several components: Power BI desktop, gateway, mobile app and services. It allows user to connect to SQL database, Azure cloud and web platform like Facebook, Google analytics etc.
This PowerBI course by Uplatz provides comprehensive knowledge on the end to end process involved in PowerBI. This training will help you to master in data analyst and business intelligence in great details.
SAP BusinessObjects Business Intelligence (simply known as SAP BO or BOBJ) is a reporting and analytics tool aimed at providing business insights and management reporting. SAP BO suite consists of a number of reporting applications that allow users to discover data, perform analysis to derive insights and create reports that visualize the insights.
SAP BusinessObjects BI enable the organizations to connect to any data source, structured and unstructured, relational, multidimensional or hybrid databases, OLAP cubes, documents, e-mails, social media, etc., process this data into useful information, and place it in the users hands for easy, yet dynamic and personalized visualization leading to increased sales, conversions, and customer experience.
Course/Topic 1 - Tableau (basic to advanced) - all lectures
Tableau Tutorial provides basic and advanced concepts of Tableau. Our Tableau Tutorial is designed for beginners and professionals both. Tableau is a data visualization tool or business intelligence tool which analyzes and shows data in a chart or report fast. It is very easy to use, because it does not require any programming skill.

In this tutorial, we are going to learn about data sources or data connections in Tableau. We will start with the basics and explore in detail how to make connections with different types of data sources in Tableau. So, let's get started.

In this tutorial, we will discuss about Dimensions and Measures, what they are and how we use them.

This tutorial walks you through the features and functions of Tableau Desktop. As you work through this tutorial, you will create multiple views in a Tableau workbook. The steps you'll take and the workbook you'll work in are based on a story about an employee who works at headquarters for a large retail chain. The story unfolds as you step through asking questions about your business and its performance.

In this session you will learn to combine dimensions if you want to encode a data view using multiple dimensions.

In this tutorial, Measures can share a single axis so that all the marks are shown in a single pane. To blend multiple measures, drag one measure or axis and drop it onto an existing axis.

Building a table of multiple measures in Tableau is straightforward. You can build the table using only two pills. Use the dimension Measure Names and the measure Values. This also works to compare multiple measures side by side in a Tableau bar chart. Building the multiple measures bar chart is covered towards the end of this video.

This tutorial walks you through some of the most common tasks you might perform when creating maps in Tableau.You'll learn how to connect to and join geographic data; format that data in Tableau; create location hierarchies; build and present a basic map view; and apply key mapping features along the way.

In this Tableau Tutorial, you will learn how to apply filters on data in a Tableau workbook. Here, you will learn about applying simple Tableau filters on data visuals as well as about some advanced types like extract filters, interactive filters, etc. So, open your Tableau Desktop and learn with us!

Tableau provides the ability to filter individual views or even entire data sources on dimensions, measures, or sets. What's more, most of these filters can be put into the hands of you and your end users to change – a powerful tactic for finding stories in the data.

The filters can be applied in a worksheet to restrict the number of records present in a dataset. Various types of filters are used in Tableau Desktop based on different purposes. The different types of filters used in Tableau. The name of filter types is sorted based on the order of execution in Tableau.

Data joining is a very common requirement in any data analysis. You may need to join data from multiple sources or join data from different tables in a single source. Tableau provides the characteristics to join the table by using the data pane available under Edit Data Source in the Data menu.

Data Blending is a very powerful feature in Tableau. It is used when there is related data in multiple data sources, which you want to analyze together in a single view.

Hierarchies are logical relationships between categories such as Country, State, City. Groups are selections of attributes that you may want to examine because they are outliers or of a specific type.

This video puts together different Tableau Charts with the type of data you're analyzing and questions you want to answer, to help you find the appropriate chart for your needs.

Cascading filters are filters in which the selections in the first filter can change the options in the second filter to limit them to only those values that are relevant to the first filter.

As tableau being a visual intelligence tool, we can display the output in the form of visuals. If you want to display the values associated in the form of image, then we can be able to perform the imaged processing in tableau.

Sorting of data is a very important feature of data analysis. Tableau allows the sorting of data of the fields, which are called dimensions.

This video describes how to create and use calculated fields in Tableau using an example. If you're new to Tableau calculations or to creating calculated fields in Tableau, this is a good place to start.

You'll learn Tableau calculation concepts, as well as how to create and edit a calculated field. You will also learn how to work with the calculation editor and use a calculated field in the view.

Table Calculations are basically a special type of field that computes on the local data. The following article is going to take you through all you need to know to start using Table Calculations in Tableau.

Table calculations in Tableau are basically transformations you apply to the values in a visualization. They are calculated based on what is currently in the visualization and do not consider any measures or dimensions that are filtered out of the visualization.

Tableau Table Calculations are the special type of calculated field. Unlike regular calculated fields, table calculations in Tableau are based on the data that is currently visualized in a report. This article shows how to create Tableau table calculations, and how to use their properties.

In this Tableau tutorial I will discuss a basic quick table calculation and try to demystify what is happening behind the scenes. All of the following will hopefully be made clearer in the video.

Data Blending is a very powerful feature in Tableau. It is used when there is related data in multiple data sources, which you want to analyze together in a single view. It is a method for combining data that supplements a table of data from one data source with columns of data from another data source.

You can show trend lines in a visualization to highlight trends in your data. You can publish a view that contains trend lines, and you add trend lines to a view as you edit it on the web.

Table calculations are among the most powerful features Tableau has to offer for answering your analytical questions. You can select from a collection of pre-defined calculations or create your own Table Calculation from scratch using Table Calculation functions.

A table calculation is a transformation we apply to the values of a single measure in our view, based on the dimensions in the level of detail.

Tableau provides a complete range of chart styles. You really don't even have to understand why a particular chart is better. If you rely on the show me button, tableau will provide an appropriate chart based on the combination of measures and dimensions you've selected.

In this session you will learn about the next step of advanced chart which help you in creating the chart.

Level of Detail (LOD) expressions are used to run complex queries involving many dimensions at the data source level instead of bringing all the data to Tableau interface. A simple example is adding dimension to an already calculated aggregate value.

Moving on with our Tableau learning spree, in this tutorial we are going to learn about another interesting topic, that is, Level of Detail or LOD in Tableau. In this tutorial, we are going to learn about the types of LOD expressions, how to create LODs in Tableau with examples.

Add context and interactivity to your data using actions. Users interact with your visualizations by selecting marks, or hovering, or clicking a menu, and the actions you set up can respond with navigation and changes in the view.

Using the Sample-superstore, plan to create a dashboard showing the sales and profits for different segments and Sub-Category of products across all the states.

Tableau dashboard is a group of various views which allows you to compare different types of data simultaneously. Datasheets and dashboards are connected ones if any modification happens to the data that directly reflects in dashboards. It could be the best way to visualize and analyze the data.

A dashboard is a collection of different kinds of visualizations or views that we create on Tableau. We can bring together different elements of multiple worksheets and put them on a single dashboard. The dashboard option enables us to import and add charts and graphs from worksheets to create a dashboard. On a dashboard, we can place relevant charts and graphs in one view and analyze them for better insights. Now, we will learn in a stepwise manner how to create a dashboard in Tableau Desktop.

Tableau has a very wide variety of formatting options to change the appearance of the visualizations created. You can modify nearly every aspect such as font, color, size, layout, etc. You can format both the content and containers like tables, labels of axes, and workbook theme, etc.

In our part 2, we study how to create a word cloud in Tableau, in this tutorial, we are going learn about the Tableau formatting, the various types of formats in Tableau: Formatting the Axes, Change the Font, Change the Shade and Alignment, Format Borders. We will learn about them and thus move a step further in our journey of mastering Tableau. So, let's start Tableau Formatting.

Sometimes, analyzing data that is stored in a crosstab format can be difficult in Tableau. When working with Microsoft Excel, text file, Google Sheets, and .pdf data sources, you can pivot your data from crosstab format into columnar format. If you are working with other data sources, you can Pivot using custom SQL (Tableau Desktop).

In this session you will learn about the order of operations in Tableau, sometimes called the query pipeline, is the order in which Tableau performs various actions. Actions are also known as operations. Many operations apply filters, which means that as you build a view and add filters, those filters always execute in the order established by the order of operations.

In this last video, you will understand how Tableau works it is useful to know the order in which it manipulates and filters data when producing your view. This process is called the order of operations. It helps to know the order of operations so you can use it to your advantage when using any kind of filter or level of detail calculation, or if you ever find yourself confused as to why Tableau won't produce the view you want.
Course/Topic 2 - Tableau - all lectures
In this video lecture we learn basic about Tableau. Tableau is a business intelligent tool for visually analysing the data.

In this video we talk about Tableau Desktop Basics and also cover all the Basic topics of Tableau Desktop.

In this video we learn how to install Tableau business intelligent tool into your desktop and process of Tableau Desktop Installation.

In this video we about Tableau Desktop Workspace Navigation and cover all the importance of Tableau Desktop Workspace Navigation.

In this session we talk about Tableau Design Flow and also cover all the different types of Tableau Design Flows.

In this video we learn about Connections to Multiple Data Sources and cover all techniques of data sourcing.

In this video we talk about Hands-on - Tableau Data Connection and also cover different between live and exact Tableau Data Connection.

In this session we learn basic about Tableau Filters and different types of filters we can use in Tableau business tool.

Data can be organized and simplifies by using various techniques in Tableau. In this session we also cover types of filters and condition of filters in Tableau.

In this session we learn about Tableau Operators. Types of Tableau Operators and how to use these Tableau Operators.

In this video we talk about Bins - Groups - Sets – Parameters and also cover all the parameters we use in Tableau.

In this session we learn about Hands on - Tableau Sets and cover all different sets in Hands on - Tableau Sets..

In this session we talk about Basic Tableau Charts and learn about different types of charts.

In this video we talk about Hands on - Basic Tableau Charts how to make pie chart and importance of charts in Tableau business tool.

In this lecture we learn the Tableau Advanced Topics like Advance graphs, LODS and its usage and extensions etc.

In this video we talk about Tableau Extensions and cover all different types of extensions in a single video.

In this Lecture section we talk and overview the Tableau Dashboards and explore the Dashboards of Tableau.

In this lecture session we talk about the Tableau Story. In Tableau story is a sequence of visualization that work together to convey the information.

In this video we talk about Tableau LODs extension and importance of LODs extension in Tableau business tool.

In this lecture session we talk about Tableau Actions and also cover all Actions filters.
Course/Topic 3 - Power BI (basic to advanced) - all lectures
This is an introductory video of Power BI to get you started in this tutorial video, learn how to get started using Microsoft Power BI. Power BI allows you to get insight from your business data.

Microsoft Power BI is one of the most popular Data Visualization and Business Intelligence tool. The Power BI tool is the collection of apps, data connectors, and software services which are used to get the data from different data sources, transforms data, and produces useful reports.

In Microsoft Power BI services which are based on SaaS and mobile Power BI apps that are available for different platforms. These set of services are used by the business users to consume data and to build Power BI reports.

This tutorial helps you to clear all the essential concepts in Power BI and provides enough knowledge on how to use Power BI or how to work on Power BI.

The BI term refers to Business Intelligence. It is a data-driven decision support system, which helps you to analyse the data and provide actionable information. It helps the business manager, corporate executives, and other users in making their decisions easily.

This Business intelligence refers to the applications, technologies, and practices for the collection, analysis, integration, and presents the business information. The purpose of business intelligence is to support better decision making.

Business intelligence is used to improve all parts of a company by improving access to the firm's data and then using that data to increase profitability. Companies that practice BI can translate their collected data into insights their business processors.

Power BI is a Data Visualization, and Business Intelligence tool which helps to convert data from different data sources into interactive dashboards and BI reports. It provides interactive visualizations with self-service business intelligence capabilities where end users can create reports and dashboards by themselves, without having to depend on information technology staff or database administrators.

Power BI provides multiple connectors, software, and services. These services based on the SaaS and mobile Power BI apps which are available for different platforms. These set of services are used by business users to consume data and to build BI reports.

Power BI dashboard is a single page, also called a canvas that uses visualization to tell the story. It is limited to one page; therefore, a well-designed dashboard contains only the most essential elements of that story.

A Power BI report is a multi-perspective view into the dataset, with visualizations which represent different findings and insights from that dataset.

Power BI Desktop and Power BI Services support a large range of data sources. Click on the Get Data button, and it shows you all the available data connections. You can connect to different Flat files, Azure cloud, SQL database, and Web platforms, also such as Google Analytics, Facebook, and Salesforce objects. It includes an ODBC connection to connect to other ODBC data sources.

In this section of the Power BI tutorial, we will learn about each of these Power BI services or components and their roles.

In this section, we will briefly walk through a case study of Power BI. This will help to understand the role of Power BI in a real-life scenario.

Moving forward in our Power BI tutorials series, let us explore some important features of Power BI thoroughly. Power BI is an efficient business intelligence tool loaded with data visualization and analytics rich features.

This Power BI tutorial we're going to learn from the basics then we will gradually move upwards, learn about its components and how it works.

In this tutorial, we studied Power BI Architecture. Today, we will discuss Power BI Building Blocks. In this Power BI Tutorial, we are going to explore the components of Power BI: Visualizations, Datasets, Reports, Dashboards, and Tiles. So, let's start the Power BI Building Blocks Tutorial.

In this Power BI Tutorial, we will discuss Power BI Query, Power BI Pivot, Power BI View, Power BI Map, Power BI Q&A, Power BI Desktop, Power BI Website, and Power BI Mobile Apps. So, let's start the Power BI Components Tutorial.

we learn how to download and Install Power BI. First of all, we will see a list of an operating system which supports Power BI. Moreover, we will study, seven simple and quick steps to install power BI on windows.

In this lesson, we are going to discuss the pros and cons of Power BI. As we learned from the tutorial on Features of Power BI, it's a great tool to use for data analysis and discovering important insights. But, let us go into a little detail and learn about the advantages and disadvantages of Power BI so that you can have some basis to compare it with other tools.

In this Power Bi tutorial, we will study about Power BI data modeling. Moreover, we will see how we use Data Modeling in Power BI, and how to Create Calculated Columns in Data Modeling in Power BI.

In addition, we will talk about how to Create a Calculated table in Power BI Data Modeling and Use information Modeling and Navigation.