BUY THIS COURSE (USD 23 USD 69)
Bundle Course - Oracle APEX and APEX Admin
Learn Oracle Application Express (APEX) from scratch & develop web-based applications. Manage APEX instances, configuration, metadata, user, workspace
( add to cart )
Save 67% Offer ends on 30-Nov-2023
Preview Bundle Course - Oracle APEX and APEX Admin course
Price Match Guarantee
Full Lifetime Access
Access on any Device
Technical Support
Secure Checkout
&nbsp Course Completion Certificate
New & Hot
Job-oriented
Cutting-edge
Instant access
Students also bought -
10 Hours
GBP 12
799 Learners
200 Hours
USD 45
6123 Learners
20 Hours
USD 17
58 Learners
Completed the course? Request here for Certificate.
ALL COURSES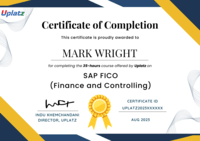 Uplatz provides this bundle course on:
1) Oracle APEX
2) Oracle APEX Administration
Oracle Application Express (APEX) is a free Oracle product that enables developers to quickly create web-based applications on an Oracle database by using just a web browser. The APEX tool runs in a web browser and allows the creation of web applications in a declarative manner, by simply selecting pre-built components, configuring them and bundling them up in a web application, all without the need to write too much code.
APEX is a web application that is tightly coupled to an Oracle database. It has several uses: you can use its SQL Workshop tool to query the database, modify its contents, or change its structure; you can use its Application Builder tool to create your own web applications that interact with the database, and you can run the web applications created by you and others.
The APEX application builder is especially interesting because it provides a simple, nontraditional way to build web pages. You do not specify code for the page directly; instead, you choose from a set of built-in templates. There is a template for the overall page and templates for each kind of component that you want to put on the page (such as reports, buttons, and so on). Each template has a set of properties, whose values determine where each component is located on the page, what it looks like, and how it behaves. You create a page simply by choosing templates for the components you want and assigning values to their properties.
The advantage of using an HTML generator such as APEX is that you can build web pages without any knowledge of HTML (or CSS, JavaScript, or PHP). Moreover, because APEX is tightly coupled to an Oracle database, it automatically handles the intricacies of database interaction. APEX makes it possible to easily create good-looking, highly functional, and database-aware pages with only a rudimentary knowledge of SQL.
Instance administrators manage an entire APEX hosted instance using the Oracle APEX Administration Services (Administration Services) application. Their key tasks are:
1) Understanding Administration Services
2) Managing Requests
3) Managing Feature Configuration
4) Configuring Oracle APEX Security
5) Configuring Oracle APEX Instance Settings
6) Purging Inactive Workspaces
7) Managing Public Themes
8) Managing Meta Data
9) Installing Exported Applications in Oracle Application Express Runtime Environment
10) Communicating Using Messages, Banners, and Resources List
11) Creating a Service Signup Wizard
12) Managing Schemas
13) Creating Workspaces in Administration Services
14) Managing Existing Workspaces
15) Managing Users Across an Oracle APEX Instance
16) Monitoring Activity Across an Oracle Application Express Instance
17) Configuring and Deleting Logs and Log Entries
Course/Topic 1 - Oracle APEX - all lectures
This video entails the terms Oracle Application Express (APEX) which is an easy to use platform for developing data-centric web-based applications. Oracle Application Express (APEX) is a low-code development platform that enables you to build scalable, secure enterprise apps, with world-class features, that can be deployed anywhere.

In the lecture you will learn about the App Builder which is a low code, high productivity integrated development environment where you can develop applications on top of your data.

This video shows Oracle Forms and Reports, there are several options available to you to modernize the web stack. Some of these options, place a facade on Oracle Forms, requiring customers to pay ongoing support and maintenance fees for Oracle Forms and Reports as well as the Web logic licensing to support these technologies.

In this video you will learn about build pages in the Page which is Designer by dragging components from the Components palette and positioning them on the canvas to create business objects, design forms and to organize page elements.

In this tutorial you will see master detail form which reflects a one to many relationships between two tables in a database. Typically, a master detail form displays a master row and multiple detail rows. When you create a master detail form using the Create Page or Create Application Wizards, you choose the tables on which to build the master form and the detail form.

In this video you will learn about Column attributes enable developers to control the display, features, and column behavior. Developers edit Column attributes to alter nearly all aspects of column behavior, including altering the layout and appearance, defining column links, creating column filters, and adding support for export and printing.

In this tutorial you will learn about an interactive grid presents users which is a set of data in a searchable, customizable report. In an editable interactive grid, users can also add to, modify, and refresh the data set directly on the page and the interactive reports enable the user to customize the appearance of the data through searching, filtering, sorting, column selection, highlighting, and other data manipulations.

In this tutorial we will see Oracle Application Express (APEX) has integrated charting which is based on Oracle JavaScript Extension Toolkit (JET) Data Visualizations. For more information on Oracle JET and the Data Visualizations components, please refer to the Oracle JET Get Started documentation and oj Chart API guide.

This Video Covers Menu in Oracle Apps Menu which is nothing but a logical or hierarchical listing of functions (forms) so that the user can easily navigate through the forms once he is in a responsibility. Every responsibility will be assigned only one main menu. Under that main menu, you can have either have other sub menus or functions.

In this tutorial you will cover APEX Tree region is intentionally very simple. It is just for display of a hierarchy with simple single selection or navigation. The tree View widget can do much more but the "documentation" is only in the source file. Also it can be difficult to change some settings because you don't have direct access to how the widget is created

This Tutorial Video teach you about Oracle provides a number of authentication and authorization which is a mechanisms to meet user requirements, from simple locally based password authentication to centralized directory service integration to handle both authentication and authorization.

In this video you will learn about the page which is the basic building block of a database application. Individual pages are organized using containers called regions.

In this session you will learn about the A template has what you need to get started with a site, including the site code framework, a default site with sample pages and content, a theme with styling, resources such as images, and even custom components. A theme defines the general look-and-feel the overall style of a site, including color scheme, font size, font type, and page backgrounds.

In this Video you will learn about the Dynamic actions which provide a way to define complex client-side behavior declaratively without the need for JavaScript. Using the Dynamic Action Create wizard, you specify an action that is performed when a defined set of conditions occur. You can also specify which elements are affected by the action, and when and how they are affected.

This Video Tutorial will teach you about the validation which is an edit check. Validations specific to a single item are page item validations. Validations that apply to an entire page are page validations. Validations for tabular forms specific to a single column are column level validations. Validations for tabular forms that do not apply to a single column are tabular form row validations.

This session will teach you about the page process which performs an action at a specified point during the rendering or submission of the page. For example, you can create a page process to execute logic or to make a call to the Application Express engine. A page process is a unit of logic that runs when a specific event occurs, such as loading or submitting a page.

This video will teach you about the how to create a Branch Process to open another page after submitting the current page. Because a Branch process executes on the page submit. Using the Branch Process in Oracle Apex, you can open a dialog page or a normal page

This video will teach you about the Shared components which are common elements that can be display or be applied on any page within an application. You can use the tools and wizards on the Shared Components page either at the application-level or on specific pages.

This video will teach you about the a list of values (LOV) which is a static or dynamic set of values used to display a specific type of page item, such as popup lists of values, a select list, a check box, a radio group, or multiple select lists.

This tutorial will teach you about the use of Performance Management Architect to create Essbase (ASO) and Essbase (BSO) applications, providing reporting based on the dimensionality of Essbase as well as other applications, such as Planning or Profitability and Cost Management.

This video will teach you about the Global Page which is a special page. Unlike all other pages it has no processes, validations or branches. It functions as a master page in that APEX renders all the components you add to this page onto every page within your application

This tutorial will teach you about the export an application and which is related files, you must import them into the target Oracle Application Express instance and then install them.
Course/Topic 2 - Oracle APEX Administration - all lectures
Oracle APEX is a fully integrated, low-code development platform for building, deploying, and maintaining data-driven applications.

In this session, you will learn about the installation of windows 10 on Oracle VM.

In this session, you will learn about the Installation of Oracle Database 19c and Create Database.

In this session, you will learn about the Installation and Configuration of APEX 20.1.

In this session, you will learn about the Installation of Tomcat.

This video will give an introduction to ORDS. It then shows you how to install ORDS feasible for a production environment using WebLogic Server and an Oracle 12c.

This section describes tasks an Oracle Application Express administrator performs when administering an Oracle Application Express hosted instance.
Q1. What are the payment options? A1. We have multiple payment options: 1) Book your course on our webiste by clicking on Buy this course button on top right of this course page 2) Pay via Invoice using any credit or debit card 3) Pay to our UK or India bank account 4) If your HR or employer is making the payment, then we can send them an invoice to pay. Q2. Will I get certificate? A2. Yes, you will receive course completion certificate from Uplatz confirming that you have completed this course with Uplatz. Once you complete your learning please submit this for to request for your certificate https://training.uplatz.com/certificate-request.php Q3. How long is the course access? A3. All our video courses comes with lifetime access. Once you purchase a video course with Uplatz you have lifetime access to the course i.e. forever. You can access your course any time via our website and/or mobile app and learn at your own convenience. Q4. Are the videos downloadable? A4. Video courses cannot be downloaded, but you have lifetime access to any video course you purchase on our website. You will be able to play the videos on our our website and mobile app. Q5. Do you take exam? Do I need to pass exam? How to book exam? A5. We do not take exam as part of the our training programs whether it is video course or live online class. These courses are professional courses and are offered to upskill and move on in the career ladder. However if there is an associated exam to the subject you are learning with us then you need to contact the relevant examination authority for booking your exam. Q6. Can I get study material with the course? A6. The study material might or might not be available for this course. Please note that though we strive to provide you the best materials but we cannot guarantee the exact study material that is mentioned anywhere within the lecture videos. Please submit study material request using the form https://training.uplatz.com/study-material-request.php Q7. What is your refund policy? A7. Please refer to our Refund policy mentioned on our website, here is the link to Uplatz refund policy https://training.uplatz.com/refund-and-cancellation-policy.php Q8. Do you provide any discounts? A8. We run promotions and discounts from time to time, we suggest you to register on our website so you can receive our emails related to promotions and offers. Q9. What are overview courses? A9. Overview courses are 1-2 hours short to help you decide if you want to go for the full course on that particular subject. Uplatz overview courses are either free or minimally charged such as GBP 1 / USD 2 / EUR 2 / INR 100 Q10. What are individual courses? A10. Individual courses are simply our video courses available on Uplatz website and app across more than 300 technologies. Each course varies in duration from 5 hours uptop 150 hours. Check all our courses here https://training.uplatz.com/online-it-courses.php?search=individual Q11. What are bundle courses? A11. Bundle courses offered by Uplatz are combo of 2 or more video courses. We have Bundle up the similar technologies together in Bundles so offer you better value in pricing and give you an enhaced learning experience. Check all Bundle courses here https://training.uplatz.com/online-it-courses.php?search=bundle Q12. What are Career Path programs? A12. Career Path programs are our comprehensive learning package of video course. These are combined in a way by keeping in mind the career you would like to aim after doing career path program. Career path programs ranges from 100 hours to 600 hours and covers wide variety of courses for you to become an expert on those technologies. Check all Career Path Programs here https://training.uplatz.com/online-it-courses.php?career_path_courses=done Q13. What are Learning Path programs? A13. Learning Path programs are dedicated courses designed by SAP professionals to start and enhance their career in an SAP domain. It covers from basic to advance level of all courses across each business function. These programs are available across SAP finance, SAP Logistics, SAP HR, SAP succcessfactors, SAP Technical, SAP Sales, SAP S/4HANA and many more Check all Learning path here https://training.uplatz.com/online-it-courses.php?learning_path_courses=done Q14. What are Premium Career tracks? A14. Premium Career tracks are programs consisting of video courses that lead to skills required by C-suite executives such as CEO, CTO, CFO, and so on. These programs will help you gain knowledge and acumen to become a senior management executive. Q15. How unlimited subscription works? A15. Uplatz offers 2 types of unlimited subscription, Monthly and Yearly. Our monthly subscription give you unlimited access to our more than 300 video courses with 6000 hours of learning content. The plan renews each month. Minimum committment is for 1 year, you can cancel anytime after 1 year of enrolment. Our yearly subscription gives you unlimited access to our more than 300 video courses with 6000 hours of learning content. The plan renews every year. Minimum committment is for 1 year, you can cancel the plan anytime after 1 year. Check our monthly and yearly subscription here https://training.uplatz.com/online-it-courses.php?search=subscription Q16. Do you provide software access with video course? A16. Software access can be purchased seperately at an additional cost. The cost varies from course to course but is generally in between GBP 20 to GBP 40 per month. Q17. Does your course guarantee a job? A17. Our course is designed to provide you with a solid foundation in the subject and equip you with valuable skills. While the course is a significant step toward your career goals, its important to note that the job market can vary, and some positions might require additional certifications or experience. Remember that the job landscape is constantly evolving. We encourage you to continue learning and stay updated on industry trends even after completing the course. Many successful professionals combine formal education with ongoing self-improvement to excel in their careers. We are here to support you in your journey! Q18. Do you provide placement services? A18. While our course is designed to provide you with a comprehensive understanding of the subject, we currently do not offer placement services as part of the course package. Our main focus is on delivering high-quality education and equipping you with essential skills in this field. However, we understand that finding job opportunities is a crucial aspect of your career journey. We recommend exploring various avenues to enhance your job search: a) Career Counseling: Seek guidance from career counselors who can provide personalized advice and help you tailor your job search strategy. b) Networking: Attend industry events, workshops, and conferences to build connections with professionals in your field. Networking can often lead to job referrals and valuable insights. c) Online Professional Network: Leverage platforms like LinkedIn, a reputable online professional network, to explore job opportunities that resonate with your skills and interests. d) Online Job Platforms: Investigate prominent online job platforms in your region and submit applications for suitable positions considering both your prior experience and the newly acquired knowledge. e.g in UK the major job platforms are Reed, Indeed, CV library, Total Jobs, Linkedin. While we may not offer placement services, we are here to support you in other ways. If you have any questions about the industry, job search strategies, or interview preparation, please dont hesitate to reach out. Remember that taking an active role in your job search process can lead to valuable experiences and opportunities.