BUY THIS COURSE (USD 69)
Bundle Course - SAP SCM (Supply Chain Management)
You will learn practical implementation, configuration, and management of the SAP SCM modules. Carve your career path as an SAP Functional Consultant.
( add to cart )
Preview Bundle Course - SAP SCM (Supply Chain Management) course
Price Match Guarantee
Full Lifetime Access
Access on any Device
Technical Support
Secure Checkout
&nbsp Course Completion Certificate
Bestseller
Trending
Job-oriented
Instant access
Students also bought -
20 Hours
USD 41
250 Learners
18 Hours
USD 41
402 Learners
500 Hours
USD 139
7893 Learners
Completed the course? Request here for Certificate.
ALL COURSES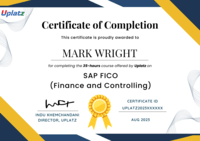 This SAP Supply Chain Management (SAP SCM) course is a bundle of relevant courses provided by Uplatz consisting of self-paced videos on the following SAP modules under SAP SCM:
1. SAP APO (Advanced Planner and Optimizer)
2. SAP MM (Materials Management)
3. SAP PP (Production Planning)
4. SAP SD (Sales and Distribution)
5. SAP WM (Warehouse Management)
6. SAP EWM (Extended Warehouse Management)
7. SAP S/4HANA MM, Sourcing & Procurement
8. SAP S/4HANA EWM (Extended Warehouse Management)
9. SAP S/4HANA TM (Transportation Management)
10. SAP S/4HANA Logistics
11. SAP S/4HANA SD (Sales and Distribution)
12. SAP Ariba Sourcing
13. SAP Ariba Procurement
Supply Chain Management (SCM) plays a crucial role in modern business operations, ensuring the efficient flow of goods, services, information, and funds from raw material suppliers to end customers. SAP SCM (Supply Chain Management) is a suite of software solutions designed to streamline, optimize, and manage various aspects of the supply chain process. In this article, we will delve into the key components of SAP SCM and its significance in today's competitive business landscape.
Key Components of SAP SCM
1. Demand Planning: SAP SCM offers demand planning tools that enable organizations to forecast customer demand accurately. These tools use historical data, market trends, and statistical algorithms to create demand forecasts, helping businesses optimize inventory levels and align production accordingly.
2. Supply Network Planning: This component focuses on optimizing the distribution of products across various locations within the supply chain network. It considers factors such as production capacities, transportation constraints, and lead times to ensure products reach customers efficiently.
3. Production Planning and Detailed Scheduling (PP/DS): PP/DS helps organizations manage production processes by creating detailed production schedules based on demand forecasts, inventory levels, and resource availability. It optimizes production plans to meet customer demands while minimizing costs and maximizing resource utilization.
4. Logistics Execution: This component handles the physical movement of goods through the supply chain. It includes functionalities such as transportation planning, warehouse management, and order fulfillment. SAP SCM ensures timely delivery of products to customers and efficient management of inventory in warehouses.
5. Global Available-to-Promise (Global ATP): Global ATP provides real-time information about product availability, considering current stock levels, incoming shipments, production orders, and customer orders. This helps sales and customer service teams provide accurate delivery promises to customers.
6. Supplier Network Collaboration (SNC): SNC allows organizations to collaborate with their suppliers to optimize procurement processes. It facilitates communication, demand visibility, and order management between organizations and their suppliers.
7. Integrated Business Planning (IBP): IBP brings together different aspects of the supply chain, including demand, supply, finance, and sales, to create a unified plan. It enables organizations to align their strategic, tactical, and operational plans to achieve their business goals.
8. Advanced Planning and Optimization (APO): APO is an older module within SAP SCM that focuses on advanced planning techniques like optimization, simulation, and scenario planning. However, SAP is transitioning its functionality to newer modules like SAP IBP.
Uplatz provides this bundle course covering each SAP SCM module in detail. You will learn the practical implementation, configuration, and management of the SAP modules involved in complete supply chain management processes within an organization.
Course/Topic 1 - SAP APO (DP and SNP) - all lectures
In this introductory lecture we learn about what is Supply Chain Management, how to do Advance Planning and Optimization (APO) in SAP SCM. And we will see different modules of APO.

In this lecture we learn about configuration part of the demand planning life cycle, and also its end-to-end implementation. And discuss about different topics such as planning area, storage and bucket, master forecast profile.

In this lecture we talk about the master planning part of MPOS.

In this lecture we talk about the part 2 of MPOS that is the characteristics of Object Planning.

In this session we will talk about the planning area of MPOS then designing of the Planning book.

In this lecture we will cover the creation of master forecast profile, Univariate profile, Multiple Linear Regression Profile in detail.

In this session we will talk about the important features of SAP APO that are Macros, Life cycle Planning, and Alert management. We will discuss Life cycle planning in detail.

In this lecture we will talk about the feature Macros in detail.

In this lecture we will talk about the feature Macros in detail.

In this session we will talk about the extended feature of Macros feature that is Alert management in detail.

In this lecture we will talk about the background jobs and mass processing of SAP DP.

In this lecture we talk about the topic proportional factors of SAP APO DP.

In this lecture we will learn how to pass final demands to SNP.

In this lecture we will study about the product and location split topic.

Here we will study about the infocube of the BW data.

In this lecture we will study in detail about the core Interface of the SNP.

In this lecture we will talk about the supply network planning and an overview of its administrative data.

In this lecture we study about the master data of SNP

In this lecture we study about the master data of SNP, product, location, resource etc of SNP.

In this lecture we will talk about the safety stock planning, and SNP planning run, Heuristic, optimization, and capable to match.

Here in this lecture we will learn about the feature optimizer of APO in detail.

In this lecture we will study about one of the MRP engine of APO that is CTM.
Course/Topic 2 - SAP MM (basic to advanced) - all lectures
In this first video of the Introduction to ERP & SAP course, you will get a brief introduction to ERP like what is ERP, why it is used, what are the characteristics for a software product to be called as an ERP product, what is planning and resources and others. Further, you will get an introduction to SAP, the divisions of the basic product namely Functional, Technical and Administration.

This tutorial teaches a step-by-step approach to acquaint the readers with the SAP MM environment and how to make good use of its features. It will also help students to perform procurement of stock materials in SAP.

Organization structure is the framework of a company according to which business is conducted in every company.

Organization structure is also referred as enterprise structure. Enterprise structure is made up of many organizational units having relationship with one another.

Organization structure consists of many levels having direct or indirect relationship with one another.

This video will look at one of the company units, SAP Controlling Area, on a more detailed level. The intent is to help you understand how the Controlling Area organizes postings within the CO module and how it integrates with Financial Accounting (FI).

This tutorial which is part of our SAP MM course talks about SAP MM Material Master in Materials Management. You will learn about material master records in SAP MM, their functions, and how to create a new material in SAP. We will mention the SAP transactions that are related to this process.

SAP MM Material Master is an important element of master data in SAP which is used by most of the departments in a company. SAP MM material master enables the company to store all the information about a particular material (or product).

This session includes material master and vendor master. Material and vendor master are separate data records for keeping information of materials and vendors from where material is procured. The combined information of material and vendor altogether is kept in a record that we call as purchase info record.

A particular material can be procured from different vendors depending upon the requirement. In this way, the total requirement of a material is distributed to different vendors, which is the quota is assigned to each source of supply.

SAP ERP was introduced so that procurement can be done efficiently in terms of time and cost. Procurement can be done for various types of goods and services. Procurement starts with creating a purchase order which is a formal document given to vendors and it includes a list of goods and materials that are to be procured.

This video shows the purchase orders can be created for different types of procurement.

This chapter describes some of the important configurations in SAP MM. SAP MM is flexible enough to allow its configurations to be modified in the background to suit the business requirements of an organization. Configurations help in making custom enhancements in the structure.

Vendor selection is an important process in the procurement cycle. Once requirements are gathered, we start looking for possible suppliers who can fulfil the requirements at the best possible price.

A contract is a longer-term agreement with a vendor (one of the two forms of "outline agreement" in the SAP system) to supply a material or provide a service for a certain period of time.

A contract is a long-term outline agreement between a vendor and an ordering party over a predefined material or service over a certain framework of time.

Scheduling agreements are defined and managed as documents in the system.

In this part, we will configure all things which is required for quota arrangement.

A purchasing document is an instrument used by Purchasing to procure materials or services.

It is an approval process for Purchasing requisition and external Purchasing documents.

Pricing procedure in MM module is a way to determine prices in purchasing documents. It gives us functionality to assign different calculation types for different needs

Service master record contains the details of all the services that can be procured from an external vendor within an organization. It contains the description of services along with their unit of measure.

Inventory management deals with placing and handling the stock received from the vendors in correct place within the company's premises.

Procurement process starts with gathering requirements and ends with procuring goods from vendors. Once the goods are procured from a vendor, they need to be placed in the company's premises in correct place so that they can be consumed when required.

Inventory management deals with the management of stock, either on value or quantity basis.

Considering you have basic understanding of the process as discussed above let us jump in to the functional and technical process of the same.

This component allows you to carry out a physical inventory of your company's warehouse stocks for balance sheet purposes. Various procedures can be implemented for this.

Inventory for a company's stock and for special stocks (such as consignment stock at customer, external consignment stock from vendor, or returnable packaging) must be taken separately (in different physical inventory documents),

This video will help you to learn about SAP MM Batch Management Process.

In this video, we will learn about invoice verification in sap mm.

This video is about SAP FI MM integration flow. Learn the integration of SAP MM with SAP FI in depth.

In this video, we describe the major aspects of SAP MM integration with SAP PP module.

In this session, you get detailed knowledge of integration of SAP MM with SAP SD module.

This last video will help to provide a detailed process of integration of SAP MM and SAP WM modules.
Course/Topic 3 - SAP PP course - all lectures
Lecture 1 - SAP PP Introduction

Lecture 2 - Master Data in PP

Lecture 3 - Configuration Settings for Master Data - part 1

Lecture 4 - Configuration Settings for Master Data - part 2

Lecture 5 - Material Master - part 1

Lecture 6 - Material Master - part 2

Lecture 8 - Work Center in PP

Lecture 9 - PRT and Routing

Lecture 10 - Production Version and Different Types of Scrap

Lecture 11 - Scraps - Assembly and Component and Operation

Lecture 12 - MRP Planning and Consumption-based Planning

Lecture 13 - Forecast-based Planning and Time-phased Planning

Lecture 14 - Automatic Reorder Point (ROP) Planning and Manual ROP Planning

Lecture 15 - Internal Procurement Process - part 1

Lecture 16 - Internal Procurement Process - part 2

Lecture 17 - Internal Procurement Process - part 3

Lecture 18 - Internal Procurement Process - part 4

Lecture 19 - Batch Management in PP

Lecture 20 - Serial Number Management in PP

Lecture 21 - Sales and Operations Planning - SOP

Lecture 22 - Strategy Group for MTS and MTO Process

Lecture 23 - Strategy Group 25 - MTO Configurable Material or Variant Configuration

Lecture 24 - SAP PP integration with SAP QM

Lecture 25 - Availability Check in MRP and Introduction to MPS

Lecture 26 - Master Production Schedule (MPS)

Lecture 27 - Repetitive Manufacturing Process

Lecture 28 - SAP PP integration with SAP PI

Lecture 29 - SAP PP integration with SAP FI