BUY THIS COURSE (USD 23 USD 69)
Bundle Multi (3-in-1) - SAP FICO
You will learn how to start the module from the basics.
( add to cart )
Save 67% Offer ends on 31-Dec-2023
Preview Bundle Multi (3-in-1) - SAP FICO course
View Course Curriculum
Price Match Guarantee
Full Lifetime Access
Access on any Device
Technical Support
Secure Checkout
&nbsp Course Completion Certificate
Popular
Trending
Job-oriented
Instant access
Students also bought -
50 Hours
USD 23
242 Learners
200 Hours
USD 23
3788 Learners
60 Hours
USD 23
323 Learners
Completed the course? Request here for Certificate.
ALL COURSES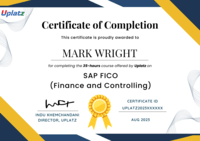 This is the Bundle Multi (3-in-1) – SAP FICO course by Uplatz which consists of 2 courses namely:
1) SAP FICO (comprehensive)
2) SAP FICO (Finance and Controlling)
3) SAP FICO (basic to advanced)
SAP Financial Accounting or FI is one of the primary modules of the ERP system, dealing with the financial data of an organization. It helps to monitor and analyze a company's financial data which in turn helps an organization in the smooth functioning of managing the transactions and other financial parts. It can be integrated with other SAP modules such as SAP SD, SAP MM, SAP SCM etc.
SAP Controlling or CO deals with managing all the processes within an organization. It involves configuring Master Data which covers the cost and profit centres, cost elements and other functional areas.
There are different sub-modules under SAP FI which deals with the accounting processes. Some of these are (i) General Ledger (ii) Accounts Receivable (iii) Accounts Payable (iv) Asset Accounting (v) Bank Ledger and others. Like SAP FI, Controlling also has sub-modules that handle specific processes such as Cost Elements, Cost Centers, Internal Orders, Profit Centers and others.
With this SAP FICO Bundle course by Uplatz, you will not only have a deeper understanding on the module but also will be able to start the module from the basics if you are a beginner and thinking of making your career as an SAP Consultant who wants to have the responsibility of implementing Financial Accounting and Cost Accounting for the organization.
Course/Topic 1 - SAP FICO course - all lectures
Demo Session - Accounts Payable

PART 1 - Enterprise Structure

PART 5 - TOOLS FOR END USER

PART 6 - MONTH END PR OPEN ITEM

In this first video tutorial, you will get a brief introduction on Controlling and the different concepts related to CO such as what is a Cost Center Standard Hierarchy, how to create the Controlling Area in CO and also what is FI and why is it necessary to assign company code through FI. Further, you will get a practical demonstration by the instructor on the basics of working with new entries in the SAP CO system.

In this tutorial, you will learn and understand an overview of Cost Elements, what are the different types of Cost Elements which are basically Primary Cost Element and Secondary Cost Element. You will also learn how you can create a Primary Cost Element, Cost Centers and Cost Center Groups. Moreover, you will also understand the concept of CO document, working with maintaining number ranges groups, maintaining versions and the difference between the Plan and Actual Data Variance. All theses will be taught with practical demonstration in the SAP CO system by the instructor.

In this video, you will learn the different concepts related to the Internal Order in the SAP CO module such as its different types, what is a Statistical Order and Real Order, how to work on these two in the CO system, creation of Order Types and also creating Internal Order in the system. Further, you will also learn about the maintenance of Allocation Structure in the SAP CO system.

This is a complete practical demonstration video on the creation of Order Type along with creating Internal Orders in the SAP CO system. Further, you will understand how to work on the CO documents with Profit Center Accounting and an overview and practical demonstration of creating Account Groups in the SAP CO system.

In this last tutorial, you will learn to link the different G/L accounts with the Profit Centers in the SAP CO system. Along with this, you will also learn about the posting of transactions such as Revenue Posting and Expenses, FI-MM integration, what are the activities to be performed as an MM consultant in the FI-MM integration process and what are the prerequisites needed for the integration. All these steps will be succeeded with a detailed demonstration by the instructor in the SAP CO module system.

PART 29 - YEAR END ACTIVITIES
Course/Topic 2 - SAP FICO (comprehensive) - all lectures
This introduction of SAP FICO module will be extremely useful for professionals who aspire to learn the ropes of SAP FICO and implement it in practice. It is especially going to help the consultants who are mainly responsible for implementing Financial Accounting and Cost Accounting with SAP ERP Financials.

In this session, you will learn about the Enterprise structure in SAP is an organizational diagram that shows how the whole group is mapped in SAP. It consists of some company units of different modules created for a specific business-related reason and are grouped together.

This session of SAP FI enterprise structures which are the bedrock of the financial solution; without them, you couldn't integrate and configure your program.

This video of SAP Financial Accounting enterprise structure is Organizational Structure that represent an Enterprise Structure in SAP and Enterprise Structure is the key building block to the entire organization.

This General Ledger (G/L) accounts which are used to provide a picture of external accounting and accounts and to record all the business transactions in a SAP system.

The FI chart of accounts represents the list of GL accounts that are used to meet the daily needs and the operating country's legal requirement in a company. The master chart of accounts must be assigned to each company code.

Validation and substitution in SAP are used in document posting. In SAP all input values are validated either by a program or with a table. However, certain validations are not carried on by these standard programs so you have to specifically use validation program to create validation rules in sap for your specific requirements.

In this video of reversal, you will learn about the reversed document, just go to document posting by entering transaction details in the command field and then start the process step by step.

In this SAP Accounts Payable video, you will learn Accounts Payable submodule in SAP FICO step by step from basics to advanced concepts with scenarios. At the end of the video, you will be able to recognize the scope and function of accounts payable, or the AP sub component of financial accounting.

In this video you will understand any postings made in Accounts Payable is updated in General Ledger as well. The Accounts Payable submodule has tons of reports and forecasting to features to track vendor outstanding and payments.

SAP Accounts Payable is one of the important components of SAP Financial (FI) Module. It represents as FI-AP respectively. This video contains the details about those modules.

In this video, you will learn about Manual Bank reconciliation statement which is reconciliation between the account maintained by your company and the account maintained by the bank.

The Data cap Accounts Payable application uses optical character recognition and location rules to capture invoice data.

Check management is used in cases where, when issuing your checks, you do not want to use the payment document number as the check number, but a different numbering method instead.

In this video we have described the SAP Accounts Receivable sub-module in detail. SAP FI Accounts Receivable component records and manages accounting data of all customers. It is also an integral part of sales management. This session will guide you through the basics of AR and AP, what they are, why they're important, and some things you should keep in mind when recording transactions related to them.

This session is all about the AR/accounts receivable which is any money owed by customers to a company. In other words, it's money that a company has a right to receive because it has provided a product or service. This video also guides you about configuration settings of Accounts Receivable in SAP FICO step by step.

In this video the topics provide an introduction to the SAP FICO Accounts Receivable and Accounts Payable application components. Accounts Receivable is a submodule of SAP FI used to manage and record accounting data for all the customers. It handles customer invoices, approvals, payments and other allied activities.

This video describes the process of recording accounts receivable and the allowance for doubtful accounts. The Accounts Payable application component records and manages accounting data for all vendors. The Accounts Receivable application component records and administers accounting data of all customers. It is also an internal part of Sales Management.

This session explains what is Dunning and how to perform Dunning Run Process along with technical information. You will also understand that if a customer misses the payment for the outstanding invoice by payment due date, then how you can generate a dunning letter using SAP FI and send it to the customer address to remind them of the outstanding payment.

In this part we will learn about SAP FI Tax functionality. This is an introductory tutorial about taxes in SAP FI included in our SAP FI course. Learn about the high-level flow of processing of taxes in FI module of SAP ERP. This tutorial also explains how to implement and configure SAP FI (Financial Accounting) and SAP CO (Controlling) module step by step.

In this tutorial on SAP International Currencies you will learn why and how foreign currency valuation is carried out in SAP. This video explains how to configure valuation methods and areas, and teaches you how to execute the valuation. Overall you will understand the international currencies within SAP FI Accounts Receivable.

Many company codes are involved in a cross-company code transaction. In a cross-company code transaction, the system posts a separate document with its own document number in each of the company codes.

Asset Accounting is an important module in SAP that manages assets of an organization by master records. Asset accounting is a sub ledger to the SAP FI module for managing the Asset records.

The FI-Asset Accounting (FI-AA) component is used for managing the fixed assets in FI system. In Financial Accounting, it serves as a subsidiary ledger to the General Ledger, providing detailed information on transactions involving fixed assets.

SAP Asset Accounting is also called as sub ledger accounting, it is one of the important sub-module of SAP financial accounting (SAP FICO) module. Asset Accounting in SAP (FI-AA) is used for managing and supervising the fixed assets of an organization.

Asset Accounting is a sub component of SAP FI Module. It deals with the fixed assets of the company for their management and analysis. It provides the complete information about the fixed assets transactions inside a company.

The SAP HR Payroll India component integrates with other SAP HR components like Personnel Administration (PA) and Personnel Time Management. There are interfaces to Financial Accounting and Controlling (SAP FICO).

SAP HCM is basically Integrated with FICO through the Cost Centre, GL account, Vendor Account etc. For integration link the symbolic accounts (from HR) to GL accounts. Symbolic accounts are the point of integration between FI and HR.

In this tutorial, you will learn about the integration points between MM and FI (there are several of them) and see an example of the integration in action. This tutorial is part of both our SAP MM course and SAP FI course.

SAP ensures that data from one module automatically flows to another module. In case of SAP MM FI integration, functionality and data from SAP MM (Materials Management) module triggers automatic postings in SAP FI (Financial Accounting) module.

In this part, we learn about SD and FI integration point. Whenever we sale a finish material to customer, then the customer have to pay for that. We send a bill to customer. In that position all billing document which is happens to sales and distribution module will be posted into FI module.

ASAP Methodology (Accelerated SAP) is a standard SAP related project preparation and systems implementation method, developed and updated by consultants that are involved in implementing SAP software products. This methodology is also useful for project managers and others who implement systems that support business processes.

The LSMW (Legacy System Migration Workbench) is a tool based on SAP software that supports single or periodic data transfer from non-SAP to SAP systems (and with restriction from SAP-to-SAP system).

In SAP FICO module, FI stands for Financial Accounting and SAP CO stands for Controlling. SAP FICO is one of the important modules of ERP SAP R/3 that deals with financial activities of an organization. This SAP FICO tutorials are designed for beginners from basic concepts including examples and real time scenarios.

This is an elementary session and you can easily understand the concepts explained here with a basic knowledge of how a business deals with its Financials. However, it will help if you have some prior exposure to accounting and how to deal with financial data.

This tutorial on Controlling (CO) module of SAP provides information to managers & decision makers to understand where the company's money is being spent. Controlling is not restricted by any legal requirements as in case of FI & is essentially an internal cost accounting tool.

This SAP Controlling video provides information on a variety of tools that can be used to provide operational information to the management to support business analysis and decision making.

This SAP controlling video provides core information to management on how to use SAP CO module for effective planning, reporting and monitoring of the business operations of an organization.

In this tutorial, you will learn how to implement SAP Controlling module step-by-step for a business organization with real time scenarios. You will develop skills in managing and configuring master data that covers cost and profit centers, internal orders, and other cost elements and functional areas.

SAP CO Product Costing module is used to find the value of internal cost of products. It is also used for profitability and management accounting for production.

This part will give you an overview of important reports which are used frequently in SAP FICO.
Course/Topic 3 - SAP FICO (basic to advanced) - all lectures
SAP FICO training materials teaches you in an easy method with step by step. SAP FICO Tutorials are especially designed for all SAP beginners and SAP professionals so that you can configure and implement SAP FICO step by step.

In this video, SAP general ledger in which SAP R/3 is highly assorted. R/3 customers have to implement several SAP components to fulfil accounting requirements.

In this session you will get to ease this problem, SAP has created a new, flexible general ledger solution in SAP ERP. New G/L merges the classic general ledger with profit centre accounting, special ledger.

You can learn about the portray parallel accounting in your SAP System. This enables you to perform valuations and closing preparations for a company code according to the accounting principles of the group as well as other accounting principles, such as local accounting principles.

Input and output tax is calculated on revenue or expense items (base amount). The tax amounts are posted to separate tax accounts and refunded by the tax office (input tax) or paid to the tax office (output tax).

Document splitting allows you to display documents using a differentiated representation. In the representation, line items are split according to selected dimensions. So, you can draw up financial statements for the selected dimensions at any time.

Several company codes are involved in a cross-company code transaction. In a cross-company code transaction, the system posts a separate document with its document number in each of the company codes.

The SAP Asset Accounting component is used for managing and supervising fixed assets with the SAP R/3 System. In SAP R/3 Financial Accounting, it serves as a subsidiary ledger to the FI General Ledger, providing detailed information on transactions involving fixed assets.

Customer payments are posted into the system to represent the collection of money and the application of this money against Customer liabilities to the company.

A large number of outstanding receivables or bad debts can have a not inconsiderable impact on company performance. Using Credit Management, you can minimize your credit risk by defining a credit limit for your customer.

We calculate interest on overdue customer accounts and general ledger accounts. Interest can be calculated by using the line items interest or overall account balances.

You use Cost Centre Accounting for controlling purposes within your organization. The costs incurred by your organization should be transparent. This enables you to check the profitability of individual functional areas and provide decision-making data for management.

This requires that all costs be assigned according to their source. However, a source-related assignment is especially difficult for overhead costs. Cost Centre Accounting lets you analyse the overhead costs according to where they were incurred within the organization.