BUY THIS COURSE (USD 45 USD 139)
Career Path - Artificial Intelligence & Machine Learning Engineer
Learn programming, data science, computer sc, math, statistics, problem-solving, machine learning, deep learning to become a Machine Learning engineer
( add to cart )
Save 68% Offer ends on 30-Nov-2023
Preview Career Path - Artificial Intelligence & Machine Learning Engineer course
Price Match Guarantee
Full Lifetime Access
Access on any Device
Technical Support
Secure Checkout
&nbsp Course Completion Certificate
Cutting-edge
Trending
Job-oriented
Instant access
Students also bought -
300 Hours
GBP 32
4412 Learners
300 Hours
USD 45
6978 Learners
55 Hours
USD 23
2347 Learners
Completed the course? Request here for Certificate.
ALL COURSES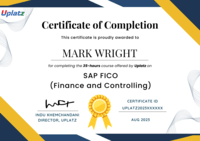 Courses included in Artificial Intelligence & Machine Learning Engineer Career Path Program are the following:
1) Python Programming
2) Python Programming (basic to advanced)
3) R Programming (basic to advanced)
4) Data Visualization with Python
5) Data Visualization with R
6) Machine Learning (basic to advanced)
7) Machine Learning with Python
8) Deep Learning Foundation
9) Deep Learning with Keras
10) Deep Learning with TensorFlow
11) Interview Questions - Machine Learning
12) Interview Questions - TensorFlow
Machine learning (ML) is a type of artificial intelligence that allows software applications to become more accurate at predicting outcomes without being explicitly programmed to do so. Machine learning algorithms use historical data as input to predict new output values. Artificial Intelligence (AI) is a computer system's ability to mimic human behavior. Machines demonstrate this sort of intelligence, which can be compared to a natural intelligence that humans and animals demonstrate. An AI engineer builds AI models using machine learning algorithms and deep learning neural networks to draw business insights, which can be used to make business decisions that affect the entire organization. These engineers also create weak or strong AIs, depending on what goals they want to achieve.
At a very high level, machine learning is the process of teaching a computer system how to make accurate predictions when fed data. Those predictions could be answering whether a piece of fruit in a photo is a banana or an apple, spotting people crossing the road in front of a self-driving car, whether the use of the word book in a sentence relates to a paperback or a hotel reservation, whether an email is spam, or recognizing speech accurately enough to generate captions for a YouTube video.
As an AI engineer, you need to perform certain tasks, such as develop, test, and deploy AI models through programming algorithms like random forest, logistic regression, linear regression, and so on. An Artificial Intelligence (AI) architect develops, manages and oversees AI initiatives within an organization. An AI architect should have deep knowledge in mathematics and statistics. Professionals who are finding how to become an AI engineer should also know about the skills required in this field. Some of them include: Programming Skills, Linear Algebra, Probability, and Statistics, Spark and Big Data Technologies, Algorithms and Frameworks, Communication and Problem-solving Skills.
This Machine Learning Career Path program by Uplatz will help you acquire skills necessary to become a successful Machine Learning / Deep Learning Engineer. This can be a game-changer for your career and can put you on track for a highly-paid lucrative and challenging career in cutting-edge technology.
Course/Topic 1 - Python Programming - all lectures
In this lecture session we learn about introduction to python programming for beginners and also talk about features of python programming.

In this lecture session we learn about basic elements of python in python programming and also talk about features of elements of python.

In this lecture session we learn about installation of python in your system and also talk about the best way of installation of python for beginners.

In this lecture session we learn about input and output statements in python programming and also talk about features of input and output statements.

In this lecture session we learn about data types in python programming and also talk about all the data types in python programming.

In this lecture session we learn about operators in python and also talk about how we use operators in python programming.

In this lecture session we learn about different types of operators in python programming and also talk about features of operators in python.

In this lecture session we learn about type conversion in python programming and also talk about features of type conversion in python.

In this lecture session we learn about basic programming in python programming for beginners.

In this lecture session we learn about features of basic programming in python and also talk about the importance of programming in python.

In this lecture session we learn about math modules in python programming and also talk about features of math modules in python.

In this lecture session we learn about conditional statements in python and also talk about conditional statements in python programming.

In this lecture session we talk about basic examples of conditional statements in python.

In this lecture session we learn about greater and less then conditional statements in python programming.

In this lecture session we learn about nested IF Else statements and also talk about features of nested IF else statements.

In this lecture session we learn about looping in python in programming for beginners and also talk about looping in python.

In this lecture session we learn about break and continue keywords and also talk about features of break continue keywords.

In this lecture session we learn about prime number programs in python and also talk about functions of prime number programs in python.

In this lecture session we learn about while loop in python programming and also talk about features of while loop in python.

In this lecture session we learn about nested For loop in python programming and also talk about features of nested For loop.

In this lecture session we learn about features of nested for loop in python and also talk about the importance of nested For loop in python.

In this lecture session we learn about functions in python and also talk about different types of functions in pythons.

In this lecture session we learn about passing arguments to functions in python programming and also talk about features of passing arguments to functions

In this lecture session we learn about return keywords in python and also talk about features of return keywords in python.

In this lecture session we learn about calling a function in python programming and also talk about calling a function.

In this lecture session we learn about factors of calling a function in python programming and also talk about features of calling a function.

In this lecture session we learn about a program to swap 2 numbers using calling a function in python programming.

In this lecture session we learn about functions of arbitrary arguments in python programming and also talk about features of arbitrary arguments.

In this lecture session we learn about functions keywords arguments in python programming and also talk about features of keyword arguments.

In this lecture session we learn about functions default arguments in python programming and also talk about features of default argument.

In this lecture session we learn about global and local variables in python programming and also talk about features of global and local variables.

In this lecture session we learn about global and local keywords and also talk about features of global and local keywords.

In this lecture session we learn about strings in python programming and also talk about features of string in python.

In this lecture session we learn about string methods in python programming and also talk about features of string methods in python.

In this lecture session we learn about string functions in python and also talk about features of strings functions in python.

In this lecture session we learn about string indexing in python programming and also talk about features of string indexing in python programming.

In this lecture session we learn about introduction of lists in python programming and also talk about features of introduction to lists.

In this lecture session we learn about basics of lists python programming and also talk about features of basics of lists in python.

In this lecture session we learn about list methods and also talk about features of list method python programming.

In this lecture session we learn about linear search on list and also talk about features of linear search on list in brief.

In this lecture session we learn about the biggest and smallest number of the list and also talk about features of MAX and Min in a list.

In this lecture session we learn about the difference between 2 lists in python programming and also talk about features of 2 lists.

In this lecture session we learn about tuples in python programming and also talk about tuples in python programming.

In this lecture session we learn about introduction to sets in python and also talk about functions of introduction to sets in python.

In this lecture session we learn about set operations in python programming and also talk about features of set operation in brief.

In this lecture session we learn about set examples and also talk about features set examples.

In this lecture session we learn about introduction to dictionaries in python programming and also talk about featured dictionaries.

In this lecture session we learn about creating and updating dictionaries in python programming and also talk about features of creating and updating dictionaries.

In this lecture session we learn about deleting items in a dictionary in python programming and also talk about features of deleting items in a dictionary.

In this lecture session we learn about values and items in a dictionary in python programming and also talk about features of values and items in the dictionary.

In this lecture session we learn about dictionary methods in python programming and also talk about features of dictionary methods.

In this lecture session we learn about built in methods in python programming and also talk about features of built in methods in python.

In this lecture session we learn about lambda functions and also talk about features of lambda function in python programming.

In this lecture session we learn about file handling in python programming and also also talk about the importance of file handling in python.

In this lecture session we learn about file handling in python programming and also talk about features of file handling in python.

In this lecture session we learn about exception handling in python and also talk about features of exception handling in python.

In this lecture session we learn about exception handling examples in python programming.

In this lecture session we learn about python programs in python programming and also talk about features of python programs

In this lecture session we learn about the program of printing odd numbers in python programming and also talk about the best way of printing.

In this lecture session we learn about counting the number of vowels and consonants in a string and also talk about features of these programs.

In this lecture session we learn about python programs of swapping two numbers in a list by taking indexes as parameters.

In this lecture session we learn about bubble sort and also talk about features of bubble sort in brief.

In this lecture session we learn about operator precedence in python and also talk about features of operator precedence in python.

In this lecture session we learn about operator precedence in python and also talk about features of operator precedence types.

In this lecture session we learn about recursion in python and also talk about features of recursion in python.

In this lecture session we learn about binary search in python and also talk about features of binary search in python programming.

In this lecture session we learn about binary search in python and also talk about the importance of binary search in python.

In this lecture session we learn about object oriented programming and also talk about features of object oriented programming in brief.

In this lecture session we learn about factors and types of object oriented programming in python programming.

In this lecture session we learn about OOPS and procedural programming and also talk about features of OOPS and procedural programming in OOPS.

In this lecture session we learn about OOPS programs in python and also talk about the importance of OOPS.

In this lecture session we learn about inheritance in python programming and also talk about features of inheritance.

In these lecture sessions we learn about features of object creation in python programming and also talk about object creation in python.

In this lecture session we learn about OOPS terminology and functions and also talk about features of OOPS terminology and functions.

In this lecture session we learn about built in class attributes and garbage collection in python programming.

In this lecture session we learn about inheritance in python and also talk about features of inheritance in python.

In this lecture session we learn about the importance of inheritance in python programming and also talk about functions of inheritance.

In this lecture session we learn about programs in inheritance in python programming and also talk about features of inheritance in python.

In this lecture session we learn about polymorphism in python programming polymorphism and also talk about polymorphism in python.

In this lecture session we learn about features of polymorphism in python and also talk about the importance of polymorphism in python.

In this lecture session we learn about the time module in python and also talk about features time module in python in features.

In this lecture session we learn about the importance of time modules in python time module in python in brief.

In this lecture session we learn about the calendar module in python programming in brief.

In these lecture sessions we learn about calendar methods in python programming and also talk about the importance of calendar methods.

Class 28.1 - Boolean in Python