BUY THIS COURSE (USD 45 USD 139)
Career Path - Database Manager
Learn to develop & maintain databases. Create data storage & retrieval systems, troubleshoot db issues, perform admin tasks, supervise database teams.
( add to cart )
Save 68% Offer ends on 31-Dec-2023
Preview Career Path - Database Manager course
Price Match Guarantee
Full Lifetime Access
Access on any Device
Technical Support
Secure Checkout
&nbsp Course Completion Certificate
New & Hot
Trending
Job-oriented
Instant access
Students also bought -
100 Hours
USD 45
1167 Learners
5 Hours
USD 18199
79 Learners
10 Hours
USD 17
22 Learners
Completed the course? Request here for Certificate.
ALL COURSES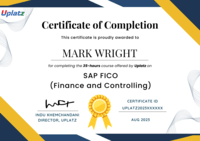 The Database Manager Career Path program by Uplatz consists of the following courses:
1) Oracle 21c DBA
2) Oracle Database Administration
3) Oracle Multitenant DBA
4) Oracle PL/SQL
5) SQL Programming with MySQL
Data managers or database managers manage all access to the database, since their purpose is to serve as an interface between the database, the user and the applications. Among their functions are to allow business users to store information, modify data and access the organization's knowledge assets. In addition, database management systems can be understood as a collection of interrelated data, structured and organized in the ecosystem formed by this set of programs that access them and facilitate their management. Simply put, the database manager controls any operation executed by the user against the DB. To perform this function, it is normal that specific tools are required, such as search and reporting systems, as well as various applications. Database managers also allow the following:
a) That interactions with any managed databases can always be developed separately from the programs or applications that manage them.
b) The manipulation of databases, ensuring their security, integrity and consistency.The definition of databases at different levels of abstraction.
Some of the key responsibilities of a database manager are:
1. They contribute to the creation of more efficient and consistent databases.
2. They determine the storage structures of the system.
3. They facilitate data searches of any type and origin for business users.
4. They help to maintain the integrity of the company's information assets.
5. Introduce changes in the information, if required.
6. Simplify consultation processes.
7. Control the movements observed in the database.
8. Establish the needs of users and monitor user access and security
9. Mmonitor performance and manage parameters to provide fast responses to front-end users
10. Map out the conceptual design for a planned database
11. Consider both back-end organisation of data and front-end accessibility for end-users
12. Refine the logical design so that it can be translated into a specific data model
13. Further refining the physical design to meet system storage requirements
14. Install and test new versions of the database management system (DBMS)
15. Maintain data standards, including adherence to the Data Protection Act
16. Write database documentation, including data standards, procedures and definitions for the data dictionary (metadata)
17. Control access permissions and privileges
18. Develop, manage and test back-up and recovery plans
19. Ensure that storage and archiving procedures are functioning correctly
20. Carry out capacity planning
21. Work closely with IT project managers, database programmers and multimedia programmers
22. Communicate regularly with technical, applications and operational staff to ensure database integrity and security
23. Commission and install new applications and customise existing applications in order to make them fit for purpose
24. Manage the security and disaster recovery aspects of a database.
Course/Topic 1 - Oracle 21c DBA - all lectures
Episode 1 - Installation of Oracle Linux 8 on Oracle VM

Episode 2 - Introduction to Oracle 21c Database

Episode 3 - Oracle 21c Architecture

Episode 4 - Practice 1 - Creating a CDB

Episode 5 - Practice 2 - Creating PDBs from the Seed

Episode 6 - Practice 3 - Performing Basic CDB Administration Tasks

Episode 7 - Practice 4 - Managing Common and Local Users

Episode 8 - Practice 5 - Backup and Recovery in CDB and PDBs

Episode 9 - Practice 6 - Flashback and Point-in-time Recovery
Course/Topic 2 - Oracle DBA - all lectures
This video comprehends the terms Oracle Database which is an object-relational database management system developed and marketed by Oracle Corporation. Oracle Database is commonly referred to as Oracle RDBMS or simply Oracle.

This topic will cover, DBCA which can create Standby Databases directly, but with some restrictions, like only for Single Instance Databases and only non-container Databases.

In this tutorial, you will learn how to use the Oracle create user statement to create a new user in the Oracle database. The create user statement allows you to create a new database user which you can use to log in to the Oracle database.

In this video you will learn about the an Oracle database which is made up of physical and logical structures. Physical structures can be seen and operated on from the operating system, such as the physical files that store data on a disk.

In this tutorial you will know about the Oracle Database creates and manages information that is used to roll back, or undo, changes to the database. Such information consists of records of the actions of transactions, primarily before they are committed. These records are collectively referred to as undo.

In this video you will learn about the Oracle Flashback Technology which is a group of Oracle Database features that let you view past states of database objects or to return database objects to a previous state without using point-in-time media recovery.

In this tutorial you will learn about the installing Oracle Database, which is a fully functional database with a client/server network environment that has been minimally configured. This chapter helps you configure your server network.

In this tutorial we will learn about the Locking which protect table when several users are accessing the same table. Locking is a concurrency control technique in oracle. It helps in data integrity while allowing maximum concurrency access to data. Oracle offers automatic locking whenever situation requires.

In this video tutorial you will learn about the Auditing which is the monitoring and recording of configured database actions, from both database users and non-data base users.

In this session you will learn about the Oracle Data Pump technology which enables very high-speed movement of data and metadata from one database to another.

This tutorial teaches you about the Backup and recovery procedures which protect your database against data loss and reconstruct the data, should loss occur. The reconstructing of data is achieved through media recovery, which refers to the various operations involved in restoring, rolling forward, and rolling back a backup of database files.

In this video you will learn about the backup recovery scheme which you devise for an Oracle database, operating system backups of the database's datafiles and control files are absolutely necessary as part of the strategy to safeguard against potential media failures that can damage these files.

This tutorial teaches you the Recovery processes which are dependent on the type of failure that occurred, the structures affected, and the type of recovery that you perform. If no files are lost or damaged, recovery may amount to no more than restarting an instance. If data has been lost, recovery requires additional steps.

This session teaches you the Recovery Manager (RMAN which is an Oracle Database client that performs backup and recovery tasks on your databases and automates administration of your backup strategies. It greatly simplifies backing up, restoring, and recovering database files.

In this video you will learn about the Oracle offers which is a wide range of migration services to help you optimize your usage of Oracle technology. Through the use of tools, resources, and proven best practices, Oracle can provide support for migrating from legacy or non-Oracle technologies to Oracle.
Course/Topic 3 - Oracle Multitenant DBA - all lectures
In this tutorial you will provides an overview of the Oracle Database DBA from which you will get to know about the multitenant which represents one of the biggest architectural changes in the history of the Oracle database.

This video describes step by step process of setting up Oracle Linux 7.8 in Oracle VirtualBox. This is the exactly same method we use every-time when we have to create a VM and practice Oracle.

In this video we will show you how to properly install Oracle Database 19c software. Just to make the installation less complex and easy to understand we create simple sections.

This tutorial shows you how to create the Container Database (CDB) and non-container database with a typical configuration. You can also create a non-CDB either automatically or manually. Oracle suggest that you can use the automatic creation procedure outlined in creating a Database automatically.

In this video you will know to about CREATE PLUGGABLE DATABASE statement to create a new PDB by using the files of the PDB seed or an application PDB from the files of an application seed or the PDB seed.The statement copies these files to a new location and associates them with the new PDB. The following figure illustrates how this technique creates a new PDB in a CDB with the CDB root as the current container.

As an Oracle database administrator (DBA), you can expect to be involved in the following tasks such as Installing Oracle software, Creating Oracle databases, Performing upgrades of the database and software to new release levels, Starting and shutting down the database instance, Managing the storage structures of the database and many more.

In this video you will learn how to Creating a PDB by Cloning from Local and Remote PDBs and how to use them.

In this session, Create and define a destination for the new data files, plug the unplugged PDB into the CDB, and then copy the data files of the unplugged PDB. Use the data files of the unplugged PDB to plug the PDB into the CDB and copy the data files to a new location.

In this video, you need to convert a non-CDB database into a CDB pluggable database. This video describes methods that you can use to convert a non-CDB database into a CDB database.

To Connect to the local database to initiate the relocate. Check the local CDB is in local undo mode and archive log mode. Create a public database link in the local CDB, pointing to the remote CDB. Remember to remove this once the relocate is complete.

A Common user is a user which have the same username and password authentication across of PDBs of CDB. Common users and Local users: This concept came with Oracle Database 12c. Common Users.

A backup of the root container is a backup of the CDB, excluding any of the PDBs. Connect to RMAN using OS authentication and backup the root container using the command in this video.

Oracle Flashback Database gives a more efficient direct alternative to database point-in-time recovery. It is unlike the other flashback features in that it operates at a physical level. When you use Flashback Database, your current datafiles revert to their contents at a past time.

In this video, you can use PL/SQL package procedures to administer Oracle Resource Manager (Resource Manager) to allocate resources to pluggable databases (PDBs) in a multitenant container database (CDB).

A PDB is a portable set of schemas, schema objects, and non-schema objects that appear to an Oracle Net client as a non-CDB. A multitenant container database (CDB) is an Oracle database that includes zero, one, or many user-created pluggable databases (PDBs).

In this last video You can learn the administer application containers, including application roots and application PDBs. You can also administer the applications installed in application containers.
Course/Topic 4 - Oracle PL/SQL - all lectures
Declaring PL/SQL Variables

Writing Executable Statements

Interacting with Oracle DB Server

Writing Control Structure

Working with Composite Data Types

Using Oracle-supplied Packages in Application Development

Design considerations for PL/SQL Code

Creating Triggers - Creating Compound, DDL, and Event Database Triggers
Course/Topic 5 - SQL Programming with MySQL Database - all lectures
In this video get an in-depth introduction to the terminology, concepts, and skills you need to understand database objects, administration, security, and management tools. Plus, explore T-SQL scripts, database queries, and data types

In this video learn basic of SQL Programming and overview the SQL basic commands and how we use these commands in SQL Programming. This SQL tutorial will teach you basics on how to use SQL in MySQL, SQL Server, MS Access, Oracle, Sybase, Informix, Postgres, and other database systems.

In this video we talk about DDL (DATA DEFINATION LANGUAGE) and also cover all the basic techniques of DDL.In this video we will learn about the SQL commands – DDL, DML, DCL; SQL Constraints – Keys, Not Null, Check , Default, and also MYSQL Hands-on and basic Querying

In this video session we learn SQL commands and how to use these commands like select command, insert command, delete command etc. In this video we will learn about hands-on experience on the terminal, creating database, Tables and manipulating data.

In this video we learn about SQL Basic and Aggregate Functions and also cover different functions of SQL. This tutorial teaches us about clauses and the update command. We will also cover making records, updating and modifying rows.

In this session we talk about SQL Regular Expression and we also cover all techniques of SQL Regular Expression.This tutorial teaches us about clauses and the update command. We will also cover making records, updating and modifying rows and EML commands.

In this video we learn about SQL Comparison Clauses and how we use Comparison Clauses in SQL. This tutorial covers Comparison Operators by relating values by a mathematical symbol which is used to compare two values. Learn about comparison operators result - TRUE, FALSE, or UNKNOWN

In this session we learn about SQL String and also cover all types of string in SQL and how we can use SQL Strings. In this video we will learn about the basic string functions such as concat_ws, file format, and insert function, L-case, u case, and lower case. We will also learn about basic functions such as upper functions.

In this session we cover advance level string function and also cover all different commands we use in SQL String Function. This video is a sequel for string functions tutorial. In this tutorial we will learn few most useful string functions such as spaces and null issue as well, L-Pad command.

In this SQL String function part 3 we learn select Repeat function and Select Replace function and also cover different between Select Repeat function and Select Replace function. This tutorial is another sequel to string functions, however, these functions are used less and not used that frequently. We will further learn here about the repeat function, absolute function, ceiling, and floor and down functions.

In this session we learn about SQL Numeric Functions and how we use Numeric functions in SQL. In this video, we will be covering numerical functions. Learn about the basic date functions and also about truncate functions.

In this video session we learn about SQL Numeric Function and also cover the basic functionality of SQL Numeric Function. SQL Data Functions. In this video we will learn about few more Date functions. We will further look into the day function option as well. This tutorial covers basic querying over a single table.

: In this video we talk about SQL Joins Introduction and Demonstration and basic join's function and how to make table using joins. In this tutorial learn about joints in SQL. This tutorial teaches us how to connect two different tables with joints. We will also cover the topic of querying two or more tables and about subquery .

In this lecture last session we talk about MySQL Workbench and procedures and Views and MySQL Workbench functionality. In this tutorial learn about SQL in automating things. This tutorial covers stroll procedure, functions and views which are helpful for automation purposes in SQL.
· You will become very familiar with the core concepts of Database Management Systems
· You will be able to challenge the interviewer on questions related to Database Management Systems
· You will view Computer Science in a different dimension
· You will be able to answer all questions of exams like GATE,PGEE,ISRO
· You will be able to get a top grade in your Database Management Systems course in your Bachelor's degree
· Understand how Database Management Systems work
The Database Manager Certification ensures you know planning, production and measurement techniques needed to stand out from the competition.
A database manager is responsible for developing and maintaining an organizations' systems that store and organize data for companies. By implementing several security programs, they ensure the safety of stored data.
A database manager, sometimes called a database administrator, is an IT professional who oversees a company's databases, data storage methods and database retrieval systems. Their goal is to ensure that company databases, files and other important data remain accessible and secure for company use.
Structured query language database administrators (SQL DBAs) are in high demand and yield high salaries. Their work is dynamic and challenging, though it can be stressful. SQL DBAs manage an organization's data using the database language SQL.
A database management system is a software tool that makes it possible to organize data in a database. It is often referred to by its acronym, DBMS. The functions of a DBMS include concurrency, security, backup and recovery, integrity and data descriptions.
Uplatz online training guarantees the participants to successfully go through the JSP (Database Manager Certification provided by Uplatz. Uplatz provides appropriate teaching and expertise training to equip the participants for implementing the learnt concepts in an organization.
Course Completion Certificate will be awarded by Uplatz upon successful completion of the Database Manager Online course.
The Database Manager Draws an average salary of $122,000 per year depending on their knowledge and hands-on experience.
The database management professionals are offered with many opportunities throughout their career. Database management professionals or experts may work in the capacity of software implementation, business intelligence consulting, database administration, database engineering or database analysis.
The services of Database administrators are required in offices and labs. It is a nine to five job and also has the flexibility of working from home in certain offices. Their work requires them to be computer friendly and fast in typing. They should also be very attentive as they will have to pay attention to detail.
Note that salaries are generally higher at large companies rather than small ones. Your salary will also differ based on the market you work in.
Database Manager
Q1. What are the payment options? A1. We have multiple payment options: 1) Book your course on our webiste by clicking on Buy this course button on top right of this course page 2) Pay via Invoice using any credit or debit card 3) Pay to our UK or India bank account 4) If your HR or employer is making the payment, then we can send them an invoice to pay. Q2. Will I get certificate? A2. Yes, you will receive course completion certificate from Uplatz confirming that you have completed this course with Uplatz. Once you complete your learning please submit this for to request for your certificate https://training.uplatz.com/certificate-request.php Q3. How long is the course access? A3. All our video courses comes with lifetime access. Once you purchase a video course with Uplatz you have lifetime access to the course i.e. forever. You can access your course any time via our website and/or mobile app and learn at your own convenience. Q4. Are the videos downloadable? A4. Video courses cannot be downloaded, but you have lifetime access to any video course you purchase on our website. You will be able to play the videos on our our website and mobile app. Q5. Do you take exam? Do I need to pass exam? How to book exam? A5. We do not take exam as part of the our training programs whether it is video course or live online class. These courses are professional courses and are offered to upskill and move on in the career ladder. However if there is an associated exam to the subject you are learning with us then you need to contact the relevant examination authority for booking your exam. Q6. Can I get study material with the course? A6. The study material might or might not be available for this course. Please note that though we strive to provide you the best materials but we cannot guarantee the exact study material that is mentioned anywhere within the lecture videos. Please submit study material request using the form https://training.uplatz.com/study-material-request.php Q7. What is your refund policy? A7. Please refer to our Refund policy mentioned on our website, here is the link to Uplatz refund policy https://training.uplatz.com/refund-and-cancellation-policy.php Q8. Do you provide any discounts? A8. We run promotions and discounts from time to time, we suggest you to register on our website so you can receive our emails related to promotions and offers. Q9. What are overview courses? A9. Overview courses are 1-2 hours short to help you decide if you want to go for the full course on that particular subject. Uplatz overview courses are either free or minimally charged such as GBP 1 / USD 2 / EUR 2 / INR 100 Q10. What are individual courses? A10. Individual courses are simply our video courses available on Uplatz website and app across more than 300 technologies. Each course varies in duration from 5 hours uptop 150 hours. Check all our courses here https://training.uplatz.com/online-it-courses.php?search=individual Q11. What are bundle courses? A11. Bundle courses offered by Uplatz are combo of 2 or more video courses. We have Bundle up the similar technologies together in Bundles so offer you better value in pricing and give you an enhaced learning experience. Check all Bundle courses here https://training.uplatz.com/online-it-courses.php?search=bundle Q12. What are Career Path programs? A12. Career Path programs are our comprehensive learning package of video course. These are combined in a way by keeping in mind the career you would like to aim after doing career path program. Career path programs ranges from 100 hours to 600 hours and covers wide variety of courses for you to become an expert on those technologies. Check all Career Path Programs here https://training.uplatz.com/online-it-courses.php?career_path_courses=done Q13. What are Learning Path programs? A13. Learning Path programs are dedicated courses designed by SAP professionals to start and enhance their career in an SAP domain. It covers from basic to advance level of all courses across each business function. These programs are available across SAP finance, SAP Logistics, SAP HR, SAP succcessfactors, SAP Technical, SAP Sales, SAP S/4HANA and many more Check all Learning path here https://training.uplatz.com/online-it-courses.php?learning_path_courses=done Q14. What are Premium Career tracks? A14. Premium Career tracks are programs consisting of video courses that lead to skills required by C-suite executives such as CEO, CTO, CFO, and so on. These programs will help you gain knowledge and acumen to become a senior management executive. Q15. How unlimited subscription works? A15. Uplatz offers 2 types of unlimited subscription, Monthly and Yearly. Our monthly subscription give you unlimited access to our more than 300 video courses with 6000 hours of learning content. The plan renews each month. Minimum committment is for 1 year, you can cancel anytime after 1 year of enrolment. Our yearly subscription gives you unlimited access to our more than 300 video courses with 6000 hours of learning content. The plan renews every year. Minimum committment is for 1 year, you can cancel the plan anytime after 1 year. Check our monthly and yearly subscription here https://training.uplatz.com/online-it-courses.php?search=subscription Q16. Do you provide software access with video course? A16. Software access can be purchased seperately at an additional cost. The cost varies from course to course but is generally in between GBP 20 to GBP 40 per month. Q17. Does your course guarantee a job? A17. Our course is designed to provide you with a solid foundation in the subject and equip you with valuable skills. While the course is a significant step toward your career goals, its important to note that the job market can vary, and some positions might require additional certifications or experience. Remember that the job landscape is constantly evolving. We encourage you to continue learning and stay updated on industry trends even after completing the course. Many successful professionals combine formal education with ongoing self-improvement to excel in their careers. We are here to support you in your journey! Q18. Do you provide placement services? A18. While our course is designed to provide you with a comprehensive understanding of the subject, we currently do not offer placement services as part of the course package. Our main focus is on delivering high-quality education and equipping you with essential skills in this field. However, we understand that finding job opportunities is a crucial aspect of your career journey. We recommend exploring various avenues to enhance your job search: a) Career Counseling: Seek guidance from career counselors who can provide personalized advice and help you tailor your job search strategy. b) Networking: Attend industry events, workshops, and conferences to build connections with professionals in your field. Networking can often lead to job referrals and valuable insights. c) Online Professional Network: Leverage platforms like LinkedIn, a reputable online professional network, to explore job opportunities that resonate with your skills and interests. d) Online Job Platforms: Investigate prominent online job platforms in your region and submit applications for suitable positions considering both your prior experience and the newly acquired knowledge. e.g in UK the major job platforms are Reed, Indeed, CV library, Total Jobs, Linkedin. While we may not offer placement services, we are here to support you in other ways. If you have any questions about the industry, job search strategies, or interview preparation, please dont hesitate to reach out. Remember that taking an active role in your job search process can lead to valuable experiences and opportunities.