BUY THIS COURSE (GBP 12999 USD 20999)
Oracle 21c DBA
Learn database administration of Oracle 21c - installation, architecture, services, tools, configuration, admin tasks, tuning, backup, authentication
( add to cart )
Save 13% Offer ends on 30-Nov-2023
Preview Oracle 21c DBA course
Price Match Guarantee
Full Lifetime Access
Access on any Device
Technical Support
Secure Checkout
&nbsp Course Completion Certificate
Great Value
Trending
Bestseller
Instant access
Students also bought -
200 Hours
USD 45
6123 Learners
10 Hours
GBP 12
22 Learners
10 Hours
USD 17
15 Learners
Completed the course? Request here for Certificate.
ALL COURSES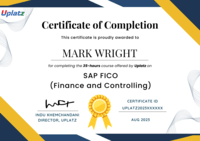 Oracle Database 21c is the database engine that runs Oracle Autonomous Database, Oracle Exadata Database Service, Oracle Exadata Database Cloud, and Oracle Exadata Database Machine in the cloud and on-premises. For a real-world production situation, you'll setup and configure Oracle Database Server.
To get started with database administration, you must understand basic database concepts, such as the types of database users, database security, and privileges. You must also be able to complete basic tasks, such as submitting commands and SQL to the database and creating a password file.
Types of Oracle Database Users
The types of users and their roles and responsibilities depend on the database site. A small site can have one database administrator who administers the database for application developers and users. A very large site can find it necessary to divide the duties of a database administrator among several people and among several areas of specialization.
Tasks of a Database Administrator
You must complete several specific tasks to design, implement, and maintain an Oracle Database.
SQL Statements
The primary means of communicating with Oracle Database is by submitting SQL statements.
Identifying Your Oracle Database Software Release
As many as five numbers may be required to fully identify a release.
About Database Administrator Security and Privileges
To perform the administrative tasks of an Oracle Database DBA, you need specific privileges within the database and possibly in the operating system of the server on which the database runs. Ensure that access to a database administrator's account is tightly controlled.
Database Administrator Authentication
As a DBA, you often perform special operations such as shutting down or starting up a database. Because only a DBA should perform these operations, the database administrator user names require a secure authentication scheme.
Creating and Maintaining a Database Password File
You can create a database password file using the password file creation utility, ORAPWD. For some operating systems, you can create this file as part of your standard installation.
Data Utilities
Oracle utilities are available to help you maintain the data in your Oracle Database.
In the Oracle Database 21c Administration course by Uplatz, we'll go above and beyond by implementing several backup schemes and performing multiple restoration operations. Patching activities are also considered. Because information security policies must be followed in these operations. The Oracle Database 21c version with long-term support was chosen for this course to teach you database management skills. It gives you the most stable platform for developing apps by providing the greatest degree of release stability and the longest term of maintenance and bug patches. You will become a confident Database Administrator after completing this Oracle 21c DBA course and will be ready to begin your career. You will gain practical experience doing the most typical administrative duties.
Course/Topic - Oracle 21c DBA - all lectures
Episode 1 - Installation of Oracle Linux 8 on Oracle VM

Episode 2 - Introduction to Oracle 21c Database

Episode 3 - Oracle 21c Architecture

Episode 4 - Practice 1 - Creating a CDB

Episode 5 - Practice 2 - Creating PDBs from the Seed

Episode 6 - Practice 3 - Performing Basic CDB Administration Tasks

Episode 7 - Practice 4 - Managing Common and Local Users

Episode 8 - Practice 5 - Backup and Recovery in CDB and PDBs

Episode 9 - Practice 6 - Flashback and Point-in-time Recovery
· Oracle Database Administration
· Oracle Database Architecture, Database Physical Files, Memory Structures, Memory Management, and Background Processes
· Accessing Oracle Database using sqlplus, sqlcl, and SQL Developer
· Managing Database Instance: Starting and shutting down DB, dealing with initialization settings, diagnosing issues, and working with Data Dictionary
· Oracle Net Services is a service provided by Oracle.
The Oracle 21c DBA Certification ensures you know planning, production and measurement techniques needed to stand out from the competition.
Provides platform-specific information for configuring and using Oracle Database software on the Windows platform. Topics discussed include: architecture, services, tools, configuration, administration, tuning, backup, accounts, passwords, user authentication, registry parameters, and application development.
Oracle Database 21c is the database engine that powers Oracle database services in the cloud and on-premises, including Oracle Autonomous Database, Oracle Exadata Database Service, Oracle Exadata Database.
Oracle Database 19c is the current long term release, and it provides the highest level of release stability and longest time-frame for support and bug fixes. Oracle Database 21c, also available for production use today as an innovation release, provides an early insight into the many enhancements and new capabilities.
Uplatz online training guarantees the participants to successfully go through the Oracle 21c DBA Certification provided by Uplatz. Uplatz provides appropriate teaching and expertise training to equip the participants for implementing the learnt concepts in an organization.
Course Completion Certificate will be awarded by Uplatz upon successful completion of the Oracle 21c DBA Online course.
The Oracle 21c DBA Draws an average salary of $134,000 per year depending on their knowledge and hands-on experience.
A career on the same is always a very key role for any candidate who is really expert in Oracle database management system. Also, looking for some challenging role and job satisfaction will be a good career to choose.
You'll find Oracle DBAs in virtually any and all industries as generally, every business needs some form of database management. According to the National Bureau of Labor Statistics, the demand for Oracle database jobs is set to rise 11% through 2026.
Note that salaries are generally higher at large companies rather than small ones. Your salary will also differ based on the market you work in.
Sr. Database Administrator (DBA).
Oracle EBS Solution Specialist.
Oracle GoldenGate DBA.
1. What are schema objects?
Schema objects are tables, indexes, databases, views, sequences, synonyms, triggers, functions, procedures, and packages.
2. What are the components of physical database structure in the Oracle database?
The components of the physical database structure are:
Greater than equal to two redo log files.
Greater than equal to one control file.
Greater than equal to one data file.
3. What are the components of logical database structure in Oracle database?
The two main components of logical database structure in the Oracle database are:
Tablespaces
Database's schema objects
A tablespace is the logical storage unit of an Oracle database. It is a set of related logical structures. The default tablespaces are:
SYSTEM and SYSAUX tablespaces
USERS tablespace
UNDOTBS1 tablespace
TEMP tablespace
4. Differentiate between Varchar and varchar2.
Varchar and Varchar2 are data types in Oracle to store character strings of varying lengths. While Varchar can store characters up to 2000 bytes, Varchar2 can store up to 4000 bytes. Varchar will hold space for all characters defined during declaration. Varchar2 will free up the space for characters that were unused.
5. What is an Oracle table?
A table is the basic unit of data storage in the Oracle database. Data is stored in rows and columns.
"CREATE TABLE" statement is used to create a new table.
6. What is a nested table?
Nested table is a data type in Oracle used to hold columns for storing multi-valued attributes. A nested table can hold an entire sub table.
7. How are comments represented in Oracle?
We can represent comments in Oracle in the following two ways:
a) Two dashes (–) before the line starts – Single statement
b) For block of statement, we can use /*—— */ to represent it as comments
8. Tell me how you would store images in an Oracle database.
While this is another knowledge check, how you approach your answer will be a little different. Instead of definitions, you need to outline your general process.
Typically, you won't need to go keystroke by keystroke when you describe what you would do. Instead, outline your general approach, any constraints, and similar points to round out your response.
9. What are schema objects?
Schema objects are tables, indexes, databases, views, sequences, synonyms, triggers, functions, procedures, and packages.
10. What is the relationship between database, tablespace and data file?
An Oracle database can contain one or more tablespaces or logical storage units. These tablespaces collectively store all the data in a database. Each tablespace consists of one or more files called data files. The data files are physical structures conforming to the operating system in which Oracle is running.
11. Explain the ANALYZE command in Oracle.
The "ANALYZE" command allows the user to perform various functions on index, table or cluster. It helps:
To identify migrated and chained rows of the table or cluster.
To validate structure of an object
To collect statistics about objects used by user, which are then stored onto the data dictionary
To delete statistics used by an object from the data dictionary
12. What types of Joins are used in SUBQUERIES?
A join is used to compare and combine specific rows of data from two or more tables in a database. The various joins are:
Self Join – to join table with itself
Outer Join – to join matching data and some dissimilar data from more than one table
Equi-join – with a join condition that returns only rows with equivalent values
13. What is DML?
We use Data Manipulation Language or DML to access and handle data in the existing objects. The DML statements are select, insert, update, and delete.
14. What size is RAW datatype in Oracle
The RAW datatype stores variable-length binary data or byte string values. The maximum size for a raw in a table is 32767 bytes.
15. What are Aggregate functions in Oracle?
In an aggregate function, multiple rows or records are combined, and operations performed on a set of values to get a single value as output. Common aggregate functions include:
Sum
Count
Average
16. What are Temporal data types?
Use temporal data types to store date, time, and time-interval information. Although you can store this data in character strings, it is better to use temporal types for consistency and validation.
Date Datatype
Time Stamp Datatype
Interval Datatype
17. What is a View?
View is a logical table based on one or more tables or views. A view does not store data physically. Tables upon which views are based are called Base tables.
18. How are pictures stored onto a database?
Long Raw Data type can be used to store pictures onto a database. Binary data of length 2GB can be stored using this datatype.
Q1. What are the payment options? A1. We have multiple payment options: 1) Book your course on our webiste by clicking on Buy this course button on top right of this course page 2) Pay via Invoice using any credit or debit card 3) Pay to our UK or India bank account 4) If your HR or employer is making the payment, then we can send them an invoice to pay. Q2. Will I get certificate? A2. Yes, you will receive course completion certificate from Uplatz confirming that you have completed this course with Uplatz. Once you complete your learning please submit this for to request for your certificate https://training.uplatz.com/certificate-request.php Q3. How long is the course access? A3. All our video courses comes with lifetime access. Once you purchase a video course with Uplatz you have lifetime access to the course i.e. forever. You can access your course any time via our website and/or mobile app and learn at your own convenience. Q4. Are the videos downloadable? A4. Video courses cannot be downloaded, but you have lifetime access to any video course you purchase on our website. You will be able to play the videos on our our website and mobile app. Q5. Do you take exam? Do I need to pass exam? How to book exam? A5. We do not take exam as part of the our training programs whether it is video course or live online class. These courses are professional courses and are offered to upskill and move on in the career ladder. However if there is an associated exam to the subject you are learning with us then you need to contact the relevant examination authority for booking your exam. Q6. Can I get study material with the course? A6. The study material might or might not be available for this course. Please note that though we strive to provide you the best materials but we cannot guarantee the exact study material that is mentioned anywhere within the lecture videos. Please submit study material request using the form https://training.uplatz.com/study-material-request.php Q7. What is your refund policy? A7. Please refer to our Refund policy mentioned on our website, here is the link to Uplatz refund policy https://training.uplatz.com/refund-and-cancellation-policy.php Q8. Do you provide any discounts? A8. We run promotions and discounts from time to time, we suggest you to register on our website so you can receive our emails related to promotions and offers. Q9. What are overview courses? A9. Overview courses are 1-2 hours short to help you decide if you want to go for the full course on that particular subject. Uplatz overview courses are either free or minimally charged such as GBP 1 / USD 2 / EUR 2 / INR 100 Q10. What are individual courses? A10. Individual courses are simply our video courses available on Uplatz website and app across more than 300 technologies. Each course varies in duration from 5 hours uptop 150 hours. Check all our courses here https://training.uplatz.com/online-it-courses.php?search=individual Q11. What are bundle courses? A11. Bundle courses offered by Uplatz are combo of 2 or more video courses. We have Bundle up the similar technologies together in Bundles so offer you better value in pricing and give you an enhaced learning experience. Check all Bundle courses here https://training.uplatz.com/online-it-courses.php?search=bundle Q12. What are Career Path programs? A12. Career Path programs are our comprehensive learning package of video course. These are combined in a way by keeping in mind the career you would like to aim after doing career path program. Career path programs ranges from 100 hours to 600 hours and covers wide variety of courses for you to become an expert on those technologies. Check all Career Path Programs here https://training.uplatz.com/online-it-courses.php?career_path_courses=done Q13. What are Learning Path programs? A13. Learning Path programs are dedicated courses designed by SAP professionals to start and enhance their career in an SAP domain. It covers from basic to advance level of all courses across each business function. These programs are available across SAP finance, SAP Logistics, SAP HR, SAP succcessfactors, SAP Technical, SAP Sales, SAP S/4HANA and many more Check all Learning path here https://training.uplatz.com/online-it-courses.php?learning_path_courses=done Q14. What are Premium Career tracks? A14. Premium Career tracks are programs consisting of video courses that lead to skills required by C-suite executives such as CEO, CTO, CFO, and so on. These programs will help you gain knowledge and acumen to become a senior management executive. Q15. How unlimited subscription works? A15. Uplatz offers 2 types of unlimited subscription, Monthly and Yearly. Our monthly subscription give you unlimited access to our more than 300 video courses with 6000 hours of learning content. The plan renews each month. Minimum committment is for 1 year, you can cancel anytime after 1 year of enrolment. Our yearly subscription gives you unlimited access to our more than 300 video courses with 6000 hours of learning content. The plan renews every year. Minimum committment is for 1 year, you can cancel the plan anytime after 1 year. Check our monthly and yearly subscription here https://training.uplatz.com/online-it-courses.php?search=subscription Q16. Do you provide software access with video course? A16. Software access can be purchased seperately at an additional cost. The cost varies from course to course but is generally in between GBP 20 to GBP 40 per month. Q17. Does your course guarantee a job? A17. Our course is designed to provide you with a solid foundation in the subject and equip you with valuable skills. While the course is a significant step toward your career goals, its important to note that the job market can vary, and some positions might require additional certifications or experience. Remember that the job landscape is constantly evolving. We encourage you to continue learning and stay updated on industry trends even after completing the course. Many successful professionals combine formal education with ongoing self-improvement to excel in their careers. We are here to support you in your journey! Q18. Do you provide placement services? A18. While our course is designed to provide you with a comprehensive understanding of the subject, we currently do not offer placement services as part of the course package. Our main focus is on delivering high-quality education and equipping you with essential skills in this field. However, we understand that finding job opportunities is a crucial aspect of your career journey. We recommend exploring various avenues to enhance your job search: a) Career Counseling: Seek guidance from career counselors who can provide personalized advice and help you tailor your job search strategy. b) Networking: Attend industry events, workshops, and conferences to build connections with professionals in your field. Networking can often lead to job referrals and valuable insights. c) Online Professional Network: Leverage platforms like LinkedIn, a reputable online professional network, to explore job opportunities that resonate with your skills and interests. d) Online Job Platforms: Investigate prominent online job platforms in your region and submit applications for suitable positions considering both your prior experience and the newly acquired knowledge. e.g in UK the major job platforms are Reed, Indeed, CV library, Total Jobs, Linkedin. While we may not offer placement services, we are here to support you in other ways. If you have any questions about the industry, job search strategies, or interview preparation, please dont hesitate to reach out. Remember that taking an active role in your job search process can lead to valuable experiences and opportunities.