BUY THIS COURSE (GBP 32 USD 139)
Career Path - IT Support Engineer
Become a front-line (L1) or backend (L2) IT Support Engineer. Learn how to handle technical or business queries. Troubleshoot and resolve tech issues.
( add to cart )
Save 68% Offer ends on 31-Dec-2023
Preview Career Path - IT Support Engineer course
Price Match Guarantee
Full Lifetime Access
Access on any Device
Technical Support
Secure Checkout
&nbsp Course Completion Certificate
Job-oriented
Popular
Great Value
Instant access
Students also bought -
150 Hours
USD 45
759 Learners
100 Hours
USD 45
372 Learners
50 Hours
USD 45
399 Learners
Completed the course? Request here for Certificate.
ALL COURSES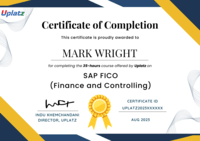 IT Support Engineer career path consists of courses that will lead you to a fulfilling career in the IT support area. The key courses included are:
1) ServiceNow
2) DevOps
3) Microsoft Project
4) PRINCE2 Fundamentals
5) Microsoft Excel
6) Google Sheets
IT support engineering is a promising career path that involves providing technical support to users and businesses, troubleshooting technical issues, and resolving problems related to hardware, software, and networking systems. To pursue a career in IT support engineering, you typically need a degree or diploma in computer science, information technology, or a related field. However, some employers may also accept candidates with relevant experience or certifications in IT support.
IT support engineers typically work in a fast-paced, challenging environment and may be required to work long hours or on-call shifts. They should possess strong problem-solving skills, attention to detail, good communication skills, and the ability to work well under pressure. Some common job titles in IT support engineering include help desk technician, technical support specialist, network support engineer, and system administrator.
IT support engineers may work in a variety of industries, such as healthcare, finance, retail, and government. The demand for skilled IT support professionals is expected to grow in the coming years, as businesses increasingly rely on technology to operate and grow. Overall, a career in IT support engineering can be both challenging and rewarding, with opportunities for advancement and competitive salaries.
In addition to the technical skills required for IT support engineering, there are also several non-technical skills that are important for success in this field. These include strong customer service skills, the ability to work well in a team environment, and excellent communication skills.
IT support engineers are often the first point of contact for users who are experiencing technical difficulties, so it is important that they are able to communicate effectively with users who may not have a technical background. Additionally, IT support engineers must be able to work well under pressure and prioritize tasks effectively in order to meet tight deadlines and minimize downtime for users.
Some common responsibilities of IT support engineers may include:
a) Providing technical support to users via phone, email, or in-person
b) Troubleshooting hardware, software, and networking issues
c) Installing, configuring, and maintaining computer systems and software
d) Monitoring and maintaining IT infrastructure
e) Developing and implementing IT policies and procedures
f) Collaborating with other IT professionals to ensure system compatibility and security
The salary for IT support engineers varies depending on factors such as location, experience, and education level. However, according to the Bureau of Labor Statistics, the median annual wage for computer support specialists (including IT support engineers) was $58,510 as of May 2022. Overall, a career in IT support engineering can offer a wide range of opportunities and challenges for those with a passion for technology and problem-solving. With the increasing reliance on technology in all industries, the demand for skilled IT support professionals is expected to continue to grow in the coming years.
Course/Topic 1 - ServiceNow - all lectures
Lecture 1 - Overview and How to get started with ServiceNow

Lecture 2 - ServiceNow Platform overview

Lecture 3 - Lists and Guided Setup Overview

Lecture 4 - Form Design - Layout - Physical Taskboard

Lecture 5 - Form Templates and Tasks

Lecture 6 - Notifications and Inbound Actions

Lecture 7 - Reports Dashboards and Performance Analytics

Lecture 8 - Knowledge Management and Performance Analytics

Lecture 9 - Service Catalogue - Order Guides - Report Producer

Lecture 10 - Flow Designer - Instance Stats - Events

Lecture 11 - Data Schema Overview

Lecture 12 - Access Control - Importing Data - Transform Map

Lecture 13 - Configuration Management Database (CMDB)

Lecture 14 - CMDB - Discovery - Service Mapping - Platform Scripting

Lecture 15 - Platform Scripting and Client Server Side Scripting

Lecture 16 - Migration - Integration - Upgrade

Lecture 17 - Custom Applications - Virtual Agent - Mobile Apps

Lecture 18 - ITIL ITSM overview

Lecture 19 - ITSM - Incident - Problem - Change

Lecture 20 - Mock Questions - Next Steps - Certification Path

Lecture 21 - ServiceNow Examination overview

Lecture 22 - ServiceNow Exam - Theoretical Concepts

Lecture 23 - ServiceNow Mock Questions Series

Lecture 24 - ServiceNow Interview Questions - part 1

Lecture 25 - ServiceNow Interview Questions - part 2

Lecture 26 - ServiceNow Interview Questions - part 3
Course/Topic 2 - Introduction to DevOps
In this session of you will get an intro about the DevOps.
Course/Topic 3 - Microsoft Project (basic to advanced) - all lectures
Lecture 1 - Overview of Microsoft Project

Lecture 3 - The Back Stage

Lecture 4 - Views and Tables in MSP

Lecture 5 - Project Initiation - part 1

Lecture 6 - Project Initiation - part 2

Lecture 7 - Tasks and Milestones

Lecture 8 - Linking Tasks

Lecture 9 - More on Linking Tasks

Lecture 10 - Creating Resources

Lecture 11 - Creating Resources - advanced

Lecture 12 - Assigning Resources

Lecture 13 - Applying Cost Tables

Lecture 14 - Units Work Duration

Lecture 15 - Handy Features - revised

Lecture 16 - Critical Path Identification

Lecture 17 - Resource Leveling

Lecture 19 - Updating Project - part 1

Lecture 20 - Updating Project - part 2

Lecture 21 - Updating Project - part 3

Lecture 23 - Controlling - part 1

Lecture 24 - Controlling - part 2

Lecture 25 - Reports Pack
Course/Topic 4 - PRINCE2 Fundamentals - all lectures
Lecture 1 - Introduction to PRINCE2

Lecture 2 - PRINCE2 Principles

Lecture 3 - Aspects - Phases - Conclusion
Course/Topic 5 - Microsoft Excel - all lectures
Lecture 1 - Introduction to Microsoft Excel

Lecture 3 - Font and Alignment

Lecture 4 - Cut Paste and Format Painter

Lecture 5 - Control plus Keys

Lecture 6 - Home Commands and Clipboard

Lecture 8 - Sorting and Filtering

Lecture 9.1 - Basic Formulas

Lecture 9.2 - Text Formulas

Lecture 10.1 - VLookup - part 1

Lecture 10.2 - VLookup - part 2

Lecture 10.4 - This is a bonus session on Vlookup from a different tutor

Lecture 10.5 - This is a bonus session on Vlookup from a different tutor

Lecture 11.1 - Pivot Tables - part 1

Lecture 11.2 - Pivot Tables - part 2

Lecture 11.3 - Pivot Tables - part 3

Lecture 11.4 - Pivot Tables - part 4

Lecture 12.1 - Charts - part 1

Lecture 12.2 - Charts - part 2

Lecture 12.3 - Column Charts

Lecture 12.4 - Bar Charts

Lecture 12.5 - Line Charts
Course/Topic 6 - Google Sheets course - all lectures
Lesson 1 - Introduction to Google Sheets

Lesson 2 - Menu Options - File

Lesson 3 - Menu Options - Edit

Lesson 4 - Menu Options - View

Lesson 5 - Menu Options - Insert

Lesson 6 - Menu Options - Format